Hi, Hackers.
I wanted to write about this topic since a while. Finally, I have the opportunity. This method works for projects that will be featured on PH and other websites, or already had been.
So, I have seen this many times on IndieHackers - a person releases a project on a Product Hunt (etc.), it gets excellent momentum, new users/visitors and then everything stops. The maker cannot replicate anything similar to the PH launch, and his project slide towards the land of forgotten.
Now, I will show you a technique to get long-term results using your launch power (SEO) to push you to the top of Google rankings.
A quick lesson: SEO is a way of getting your website to the top of the Google (or other search engines) results. There are three most popular methods to achieve that:
1) Making your site Google compliant and friendly (it's called onsite SEO optimization). This involves setting proper tags and head contents of your website.
2) Building meaningful content on your website. Google will treat you as a "quality source" and help you rank higher.
3) Creating offsite presence. This is the most popular SEO method. It is based on a Google algorithm. It checks how many backlinks link to your website and how good are they and based on that it gives you a score. It uses that to decide what your ranking will be. This is an enormous oversimplification, but good enough for this guide. The rule is one - the higher quality link (from trusted, popular site), the better.
Now, ProductHunt, BetaList, IndieHackers provide high-quality links back to your website (since they are human moderated - those links are always considered "premium"). Links like that alone can make a difference.
Presence, on other sites, like HackerNews, Twitter and even Facebook helps as well, even if you have got no interest from the audience there.
Note this - Google is not stupid, and when it looks at links from sites like that it is important for it to have:
a) much unique content on the page where the link is located (especially in comments)
b) high position (the higher position on the daily ranking, the better)
So, we have basics, right?
Let's now make all of this put to work for your project.
Keyword Research
First, we need to determine, where we want to appear on Google. We will pick a set of keywords that compliment our website in the best way (keywords = single words or phrases). They will drive traffic, so make sure they are relevant. Here is an example of what we can consider relevant keyword (let's say for Indie Hackers):
-community for startups
-community for bootstrappers
-bootstrapping startup
-launching a side project
-startup interviews
-startup revenue reports
Example of poor (generic) keywords:
-best website
-startups
-side project
-interviews
You can get help with research using UberSuggest (free, no need to signup) - https://neilpatel.com/ubersuggest/
Just type in generic keyword...

...and you will get multiple variations with traffic numbers and difficulty: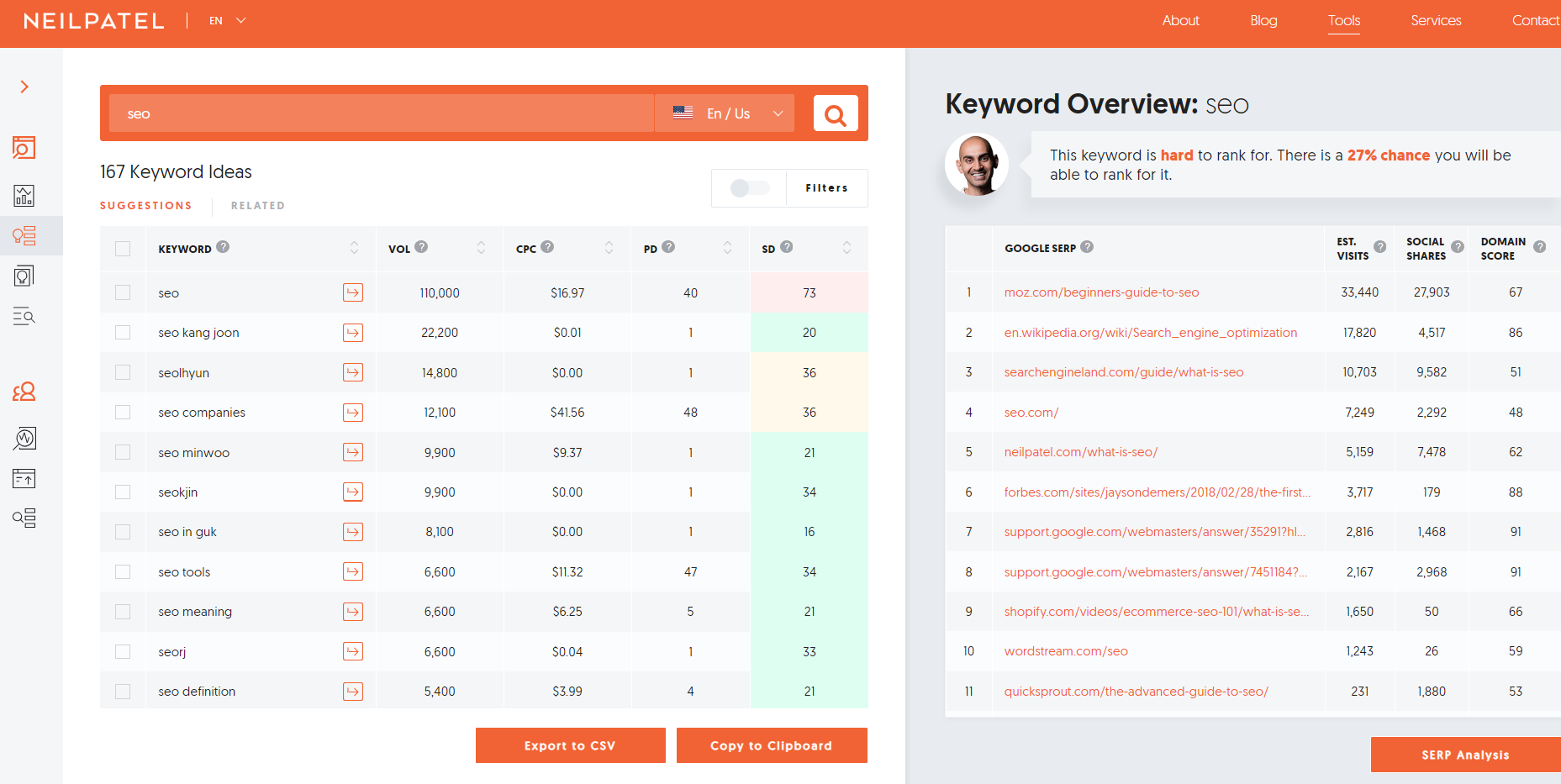 The SEO difficulty here is not too accurate, but you should aim at easy and medium keywords (in green), never at hard ones (yellow and red) - they require substantial investment!
Take your time and check all the keywords for competitors. Simply Google those phrases and see who is ranking on the first page. If you see many companies making a living from those ranking, then pass it. If you will see a mix of companies, news sites, and blogs - this is where you can try to rank usually.
Once you select 10-20 easy keywords, we can move onwards.
Onsite Optimization
Now, we have keywords, time to tell the Google that we want to rank for them! The easiest way is to use "meta" in your websites "head." We are looking for a part called meta keywords - you can suggest search engines what your website is about.
Before you put all your keywords there, you need to make a decision. First - you need main keyword, one that you want to rank for the most. It does not need to have the most traffic, but it should be the one, that can be used as a base for more keywords and one, that will drive actionable visitors to your site. So if I would get two fine keywords, like "startup community" and "indie developers community website" I would use the former. The reason for that is simple - if you rank for that keyword, you will automatically start ranking for variations of this keyword as well (at least in simplified theory). So besides "startup community" you will appear for "startup community list," "startup community bootstrap" etc. The latter will not result in many longer variations, as it is long enough and specific by itself.
You will use your primary keyword for your website title, description meta and (possibly) in your header of the website.
As of keywords meta - use your prime keyword and four additional ones (best ones), don't put all of 10-20 you have got in there!
Once you are done, your meta tags will look like this (my prime keyword here is "SEO for Startups"):

Your website header will look like this:

Great. Now take all your keywords and plan on where to put them across your homepage (if possible). You should have each keyword appear somewhere within the content. It should be natural so your readers won't be affected.
Additionally, you can create content (blog/articles) for your keywords. Pick each time three keywords and use them at least twice each across the content. Then make sure to adjust head for that page accordingly (using only three keywords in keyword meta and adjusting description and title to contain one of those keywords if possible).
Your Product Hunt (etc.) Submission
Now, what you want is backlinks from relevant pages. You need to do some work on those pages/submissions. Make sure, that your primary keyword is within the description of your product. Then you need to create some optimized content - use the comment section to achieve that. You have a list of 10-20 keywords, so try, if possible, to add them here and there while keeping your comments relevant. This can sound tricky at first, but you can use them as synonyms to your business name. So instead of saying IndieHackers for the 4th time, use "Community for startups" instead. Make sure you don't take shortcuts while responding. There is nothing more wasteful than answering in three words to the feedback you got. Try to explain everything in a few sentences at least - take your time to give back to commenters!
Moreover, make sure that your comments are real. Don't use them just to stuff keywords. The latter should be a bonus, not the leading cause!
Building Backlinks
While building backlinks should be a base of most SEO strategies, you can easily harm your authority and make Google penalize you by overdoing it. So don't fall in to "buy 1,000 best backlinks for $10" world - they will hurt you or give only short-term gain while affecting badly long term. Offers like that should be avoided unless you have extensive SEO knowledge.
If you want to build backlinks in a good way, then do it manually. Share your startup around the web regularly (at least once a week), and Google will notice that and award you!
If you have questions - use comment section!
If you would like to chat, I am available at hello@seodub.com
Also, I started recently an SEO agency that is focusing on startups - you can see our offer and launch promo (that expires in two weeks) on https://seodub.com