Bootstrapping In a Nutshell is a series of articles where you'll learn how to bootstrap a new online business from scratch through a real-world project.
Now that you have your idea you must set up a website. You need to build some credibility and trust with your visitors, so they may purchase something from you one day.
What you need is a real domain name. I mean, would you buy something from pinkrabbit91.blogspot.com? No way.
Let's be serious, please.

Before purchasing any domain, you should carefully think about its name. Because having a presence on the Internet is good, being visible in search engines is paramount. If you're not on the first page of Google, you're invisible.
As I'm not an SEO expert, I did my research to tackle this problem. If you're reading this and you are an SEO expert, please teach us your incredible useful knowledge by leaving a comment right know so we can sleep tonight as better-men-than-we-were-yesterday. Thanks in advance for your cooperation.
After reading some great articles about this subject, I started doing my homework and immediately applied what I learned.
Just a little tip before we continue: be careful about the publication date of the articles you read on the web. Try to read only recent content. Especially when it comes down to SEO. I discarded several articles from the #1 Google results page just because they were really outdated — 2012! Jeez! That's the equivalent of the ice age on the Internet!
Everything you must know before choosing a domain name
Using an EMD (Exact Match Domain) won't help you to rank better due to the EMD update made by Google in September 2012.
When you think about your domain name, think about your future brand.
A good brand name must be short — two words max. Unique. Easy to type. Easy to say. Easy to remember, so people can share it with their friends online and offline. Word of mouth is the best marketing tool ever. Never forget that.
Domain age doesn't count any more, so don't think because you're young you can't get through the noise! No excuses!
You should target a .com domain if possible or .net, but for a digital product or service using a .co or .io is quite the norm today. Plus all the .com and .net domains are squatted anyway.
Avoid any use of a name that could infringe on an existing trademark.
Optional: Make the name intuitive. One of your potential customers should be able to guess exactly what you do by looking at your domain name. That's hard to do, I agree — that's why it's optional.
I want to add one more thing here: As your idea may evolve and change over time, you don't want to use an overly specific name for your domain. This way you can keep it even if you change your first idea to something similar.
Anyway, you know what you need to do now, right? Brainstorming!
Brainstorming time
Let's think about a good domain name based on the first idea we picked: a blockbuster movies newsletter. Once a week you receive in your inbox the list of all the new released blockbusters.
If you want to make a good domain name for this, you need some keywords to work on. To get some inspiration you can read the full Blockbuster Wikipedia page. You can also use the Google Keyword Planner to get some suggestions.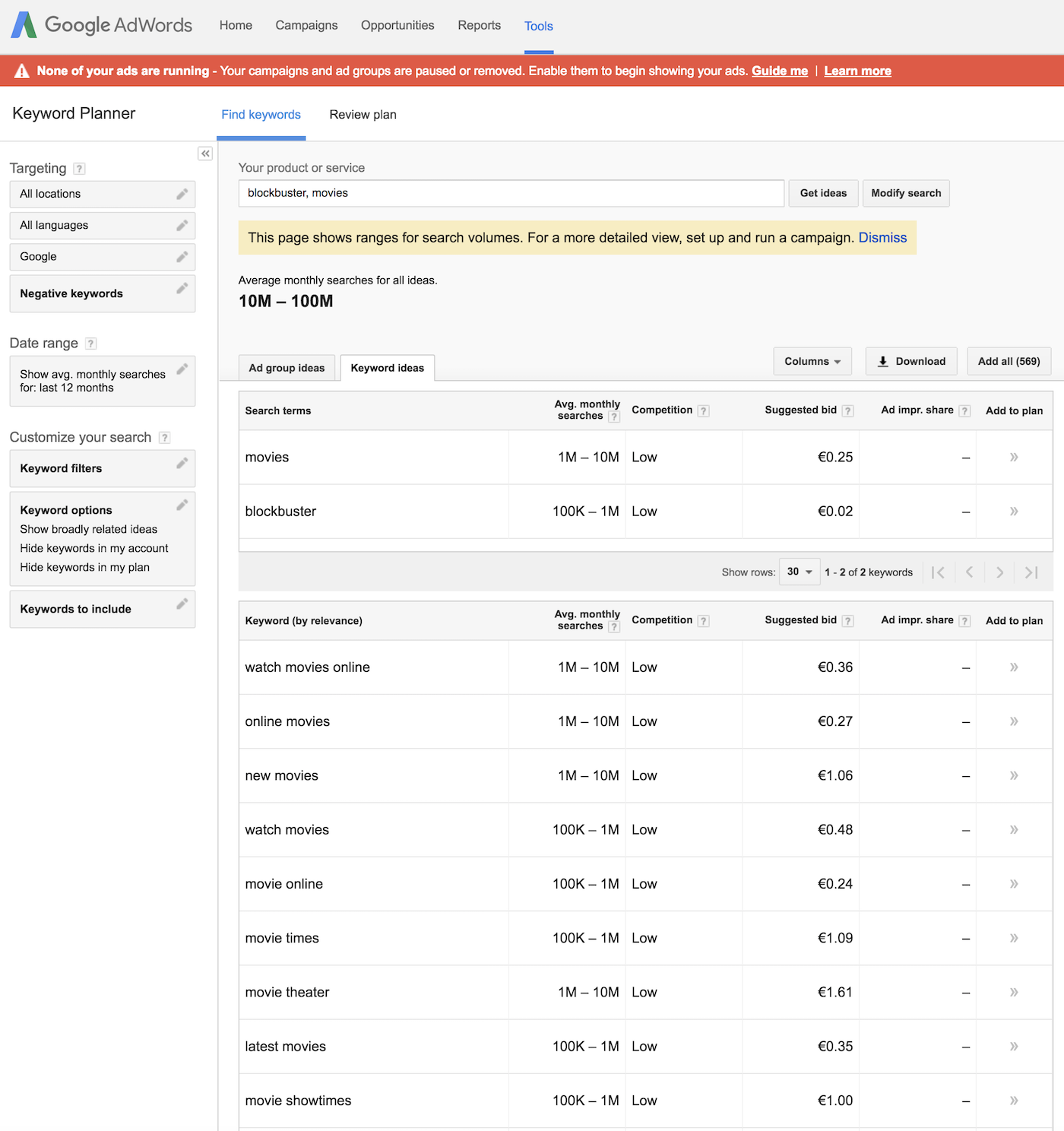 You can see here that blockbuster search term is highly searched (100K - 1M / mo) and the competition is low, plus suggested bid is 0.02 €, maybe a beautiful niche to work on?
You can also take a look at the bottom of the Google Search Results, there are some associated search queries that may be useful. Test a lot of different queries to get some useful insights.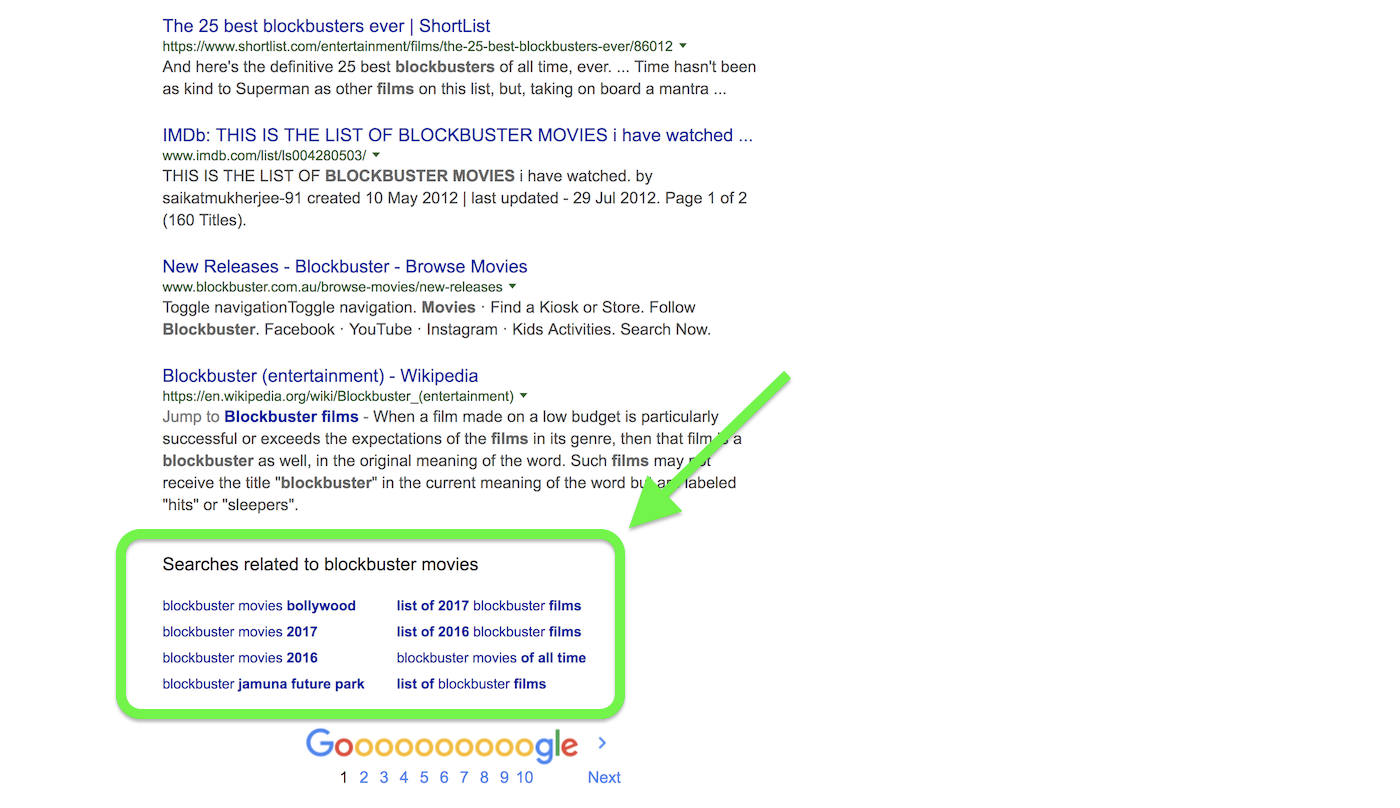 And finally you can also take a look at auto-complete suggestions made by Google when you type your query. Use incognito mode of your browser so your search is not polluted by queries you made in the past: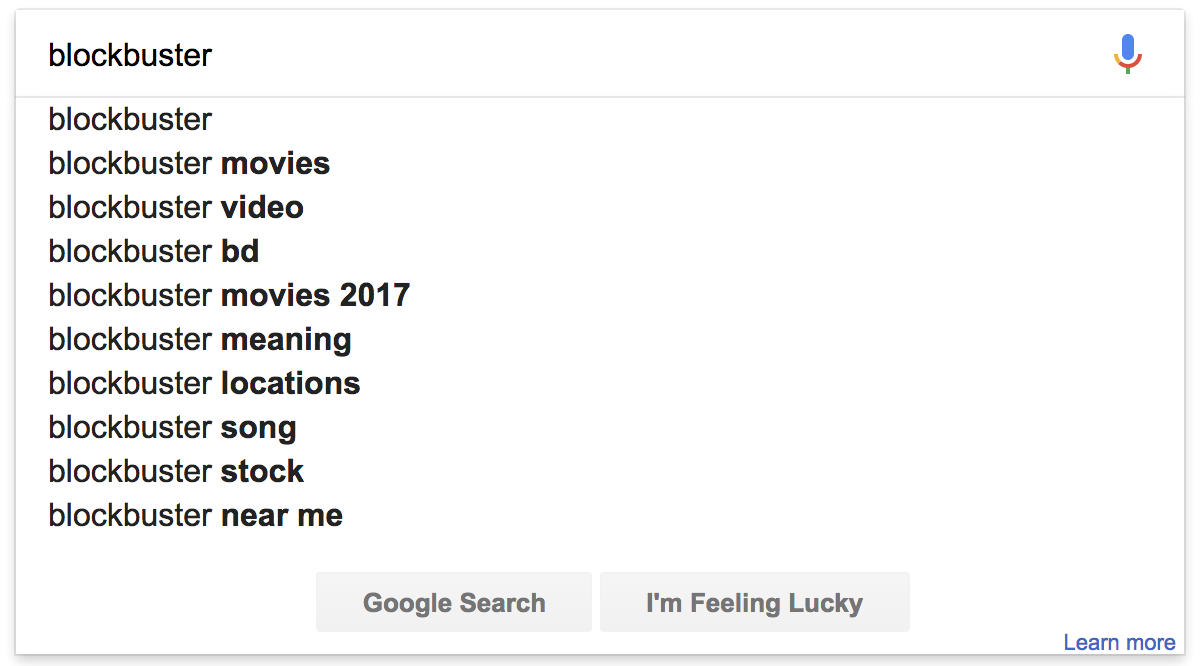 Here are some words I picked to try to come up with a domain name: movies, cinema, pop corn, film, email, newsletter, weekly, inbox, release, box office, big movies, big production, high-budget, entertainment, hit movies, hits.
I removed some words on purpose: blockbuster (because there is a company with that name, I don't want trademark infringement trouble) and bomb (from blockbuster bomb — see the Wikipedia page) because of the negative connotation.
You may think you'll lose some traffic by not using the blockbuster term in your domain but you will use it: in your content! Content marketing? Does that sound familiar to you?
YOU find a GOOD name, I register it!
Write in the comments a good name for this project and if the .com, .co or .io is available I'll purchase it and mention your name in my next article.
Here are some of my propositions for the domain name:
weeklyhits
weeklymovies
weeklypopcorn
popcornhits
popcorntime
bigpopcorn
mycinema
mymovies
inboxhits
emailmovies
Which one do you like the most? What are your suggestions? Let me know in the comments!
ABOUT ME: I'm a 32 yo software engineer and entrepreneur. I use my free time to start new online businesses. Actually I'm learning front-end development while building an audience on twitter, follow me ;-).




NEXT ARTICLE: Ep #2: How to Validate Your Idea By Talking to Customers

FULL ARTICLES LIST

Ep #0: How to Select Your Next Business Idea

Ep #1: How to Select Your Domain Name for SEO

Ep #2: How to Validate Your Idea by Talking to Customers

Ep #3: How to Create Your Landing Page

Ep #4: How to Set Up Google Analytics For Your Landing Page

Ep #5: How to Drive Quality Traffic to Your Landing Page