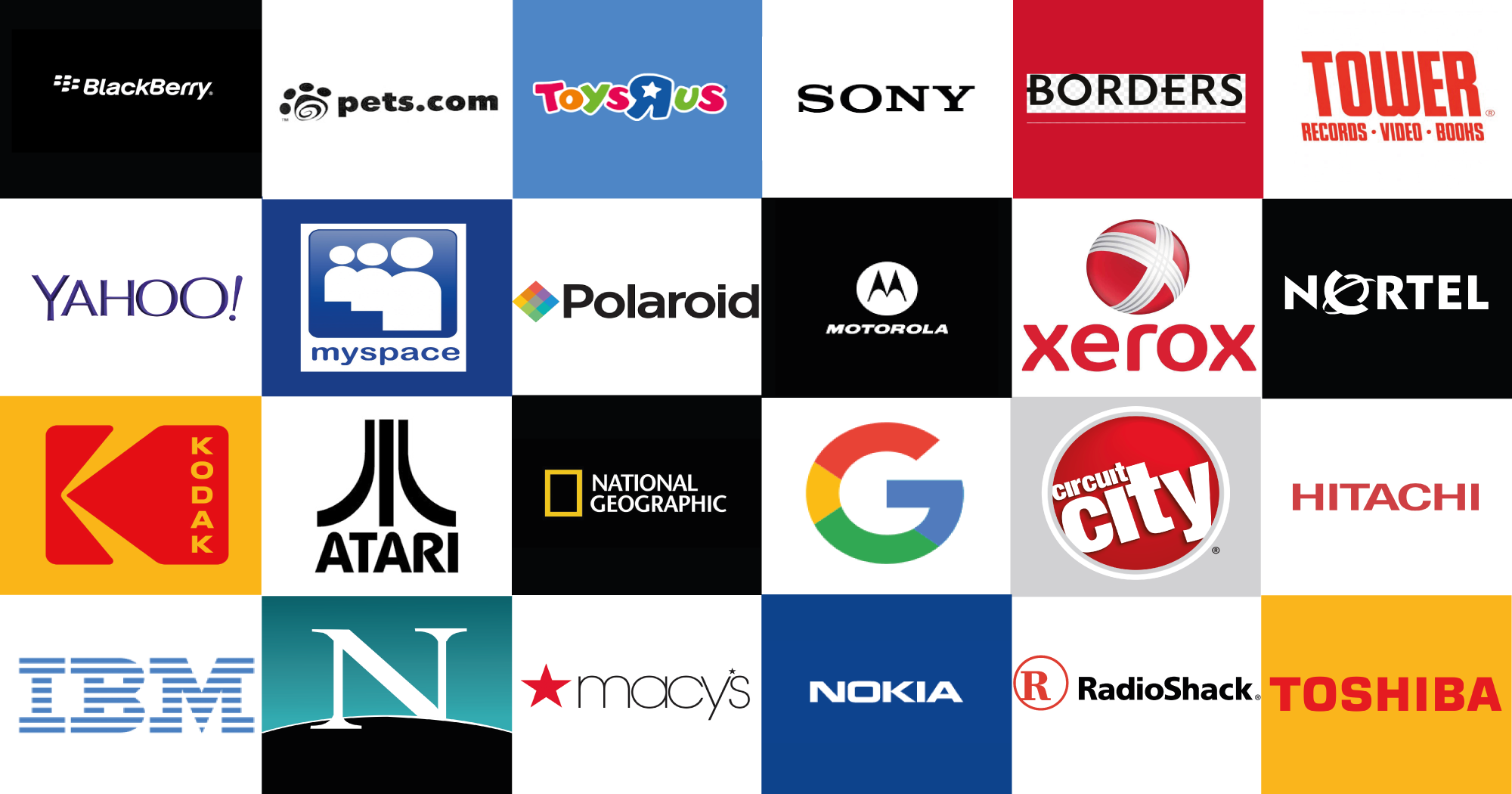 Companies experiencing the rapid success that comes with innovation believe that it is the secret to their continuous prosperity. They assume that benefiting from one great innovation will continue without any extra effort.
However, many big companies fail because of this mindset and attitude. It is inevitable to look for new ideas and opportunities. The majority of businesses listed below went out of business. They didn't accept that to stay on top you need to take risks, adapt and open up to the changing business climate.
Read the full article: 50 Examples Of Corporations That Failed To Innovate
Back in their hay-day, Kodak was the leading technology company of the 20th century, completely overshadowing others in the photographic film market.
In 1975 a Kodak engineer, Steve Sasson, invented the first filmless digital camera. At the time, this was a whole new concept that could have been a promising innovation of the future. Instead of shaping their product to the market, they stayed in their comfort zone continuing down the path that gave them success before.
The management did not see the potential of digital photography. Rather than discovering the possibilities presented by the digital revolution, they focused on the filmless camera. No wonder, it was their main selling point at the time.
The failure to experiment and adapt to the changing and turbulent market eventually caught up with them in 2012 when they filed for bankruptcy.
Nokia was the biggest and leading mobile phone company in the late 90's and early '00s. They were the first to create a cellular network!
During the internet boom, instead of Nokia trying to understand how data will be the ultimate new way of communication, they were still aiming their attention at perfecting their hardware. Their main mistake was that they did not have enough courage to bring in and lead a completely new user experience. They failed to adapt to changes which made their business fail.
In 2007 Steve Jobs introduced the iPhone which was a new concept at the time. A phone without a keyboard. In 2008 Nokia determined itself to compete with Android however their products didn't succeed and were not able to rise above Android.
Xerox is a classic textbook example of a business that failed to innovate.
They were the first to invent the PC, and they were revolutionary at the time! But at some point management made a judgment call that would later seal their fate. They decided that going digital would be way too expensive and were not willing to take the risk. The then Xerox's CEO, David Kearns, was convinced that their successful future was is in copy machines which resulted that this company is among those that failed to change and take risks which made them go out of business.
There was once a time when Blockbuster adorned every street corner. And they experienced the peak of their success in 2004.
The main issue that caused their failure was believing that only a physical store would be enough to make an income and stay in the industry, whilst others such as Netflix offered to ship DVD's to the consumers' home. The management saw that their revenue was booming, and for many years they were the brand you'd choose for movie rentals. But they were in denial and didn't change their strategy.
Founder of Netflix, Reed Hastings, proposed a partnership with Blockbusters, saying Blockbuster could advertise Netflix in their store and in exchange Netflix would run Blockbuster online. This promising proposal did not get approved by the CEO Blockbusters saying instead laughing it off. Eventually, they filed for bankruptcy in 2010.
Yahoo was huge in online advertising back in 2005. Their main issue arose when they underestimated the importance of search engines. They failed to prioritize and overlooked consumer trends.
They had two big deals but they were too scared to take on the risk. Yahoo had the chance to buy Google, however, Yahoo's CEO was not willing to go through the process back in 2002.
Who knows, if they had taken the deal, maybe we'd all be using Yahoo instead of Google. They also missed their chance of buying Facebook but lowered their offer which resulted in Mark Zuckerberg backing out of the deal in 2006.
Segway, the personal motorized scooter with the aim of being an innovative transportation machine. It was perfectly fuel friendly and also suitable for short journeys, but the price was a big deterrent hitting the same as a new motorcycle. Not many were able to afford the scooter, and those that could didn't see much potential in it as a long-term alternative.
It has been banned from many cities arguing whether it is safe for use. So why make an investment as big as $5,000 and not be able to make the most out it?
An American multinational company (International Business Machines) became popular in the 1960s. IBM is a technology company that failed to adapt to the personal computer revolution. Instead of devoting more time focusing on software solutions they stuck with the focus on hardware. However, they made a come back with new management. Today they are one of the biggest names in enterprise software.
JCPenney is an American clothing store for church, children, and work. When the time of market change occurred they began having identity problems and could not adapt. In 2012, Ron Johnson became CEO of the business and its downfall started. Their revenue was falling, causing a huge loss of employees and resulted in the closure of 138 stores.
By the time they changed the management and Mike Ullman took his place it was too late to come back and fix these huge losses. The only reason JCPenney can survive today is because of their online and catalog business. JCPenney is an example of businesses that failed due to poor management.
The company was founded in 1981, and a lack in prior research led to their failure. In the store, you could buy scarves and ties, but they missed one important in-store garment, shirts. If they have not yet bought a shirt, not many will go in just to buy a tie that may not fit the shirt.
Frandi SpA Group bought the chain store in 1999.
BlackBerry was a huge success in 1998. They offered a device with an arched keyboard thinking this is their key to their future success. Whilst other companies were trying to innovate and keep up with the touchscreen trend, BlackBerry was still stuck and protective over their concept.
In 2017 John Chen, the CEO of BlackBerry announced that they are out of the smartphone business and from now on they will focus on software development.
BlackBerry shows an example of businesses that failed to adapt to changes.
Conclusion
To sum up, it is a big risk but also hard to innovate in big corporations. The brief descriptions of business failures below show that only those stay successful which are willing to continue corporate innovation.
In order to stay in business, tasks must be prioritized and you have to keep up to date about all the trends and be aware of your own customers' needs.
Having powerful management, leadership and strategies are among the most essential for success. Continuous work on developing and innovation must all be in its place.
Read the full article: