Affiliate programs are amazing. All you have to do is point people to someone else's amazing product and bam, you get a share of the cut. Many sites have affiliate programs, more than you would probably think. One of the behemoths in this space? Amazon. Amazon has such a wide variety of items to recommend as well as a solid and trustworthy reputation that it's rather easy to get people to buy off Amazon.
However, Amazon has become increasingly more difficult to become accepted into their affiliate program. They now have a 14,867 word document detailing the Affiliate program policies. I built a site that garnered about 30,000 views, $400 in revenue, and then had it disappear overnight when Amazon rejected the application. Had this happen another time, until finally I was accepted into the program. Here's how it went.
How it works
First a quick overview on how Amazon Affiliate program works. It's easy to sign up for the Amazon Affiliate program; you just need to create an account here: https://affiliate-program.amazon.com. This does not mean you can start reaping the benefits of the program. All money made is tracked, and if you are accepted you will get that money, if not, it is erased, no ifs, ands or buts. Upon creation of the account you will be given an affiliate tag to append to your Amazon products so they can be credited to you.
For example, if your tag is thingonsreddi-20, you can simply add it as a URL param to tag it as yours: https://www.amazon.com/dp/B008M5U1C2/?tag=thingsonreddi-20. There are other ways to tag a URL, but that is the easiest if you are generating your own URLs. The Amazon Affiliate website has its own generation feature that add a bunch of junk to the URL.
The application is straightforward. When you sign up for an affiliate account it will ask you some simple questions:
What sites are all the websites/mobile apps you plan to use your affiliate tag on?
What are your websites about?
What topics best describe your website?
What type of items do you plan to sell?
What type of are your websites or mobile apps? (think: Blog, Comparison Shopping, etc)
The only free response question is how you describe your website. This is important, but don't lie because the folks who check will go to your website and find out for themselves.
Once you've completed your application, you have to wait for it to be processed. It will not be processed immediately. You must make 3 qualified sales in order to get your application reviewed.
The first iteration
Not knowing what I wanted to build, I signed up for an Amazon Affiliate account after reading about a successful affiliate site called HNBooks on IndieHackers. They were making $300 of passive income. It seemed easy, and my first idea was to create a site called LensRadar that would allow people to easily compare camera lenses in an easy and fun fashion. That is what I put in my Amazon Affiliate account application and didn't think too much about it.
I quickly lost steam on the idea and had a new one: what if I aggregated every amazon.com link on Reddit and organized them by subreddit. The ones mentioned more often would be ranked higher. And so, ThingsOnReddit was born. It took me about a week to build an MVP and posted it on HackerNews.
I was amped when I reached the front page:

Nothing beats the feeling of making it to the top of HN and watching the visitors pour into your site.

I was ready to make that sweet, sweet cash. I had been on my own for a couple months at this point and hadn't made a single dollar. I quickly realized, based on the analytics, that I was likely to get quite a few referrals.
The Amazon Affiliate website only updates their analytics once every 24 hours, but that didn't stop me from refreshing the page every 5 minutes.
Finally the results came in and I had made ~$300 in one day with a great conversion rate. The next day I realized I had to update my application to my new site and describe what it did.
I waited anxiously for my application to be reviewed. You can probably guess what happened next or else I wouldn't be writing this article.

WHAT!
Yes, they had reviewed my old application and had checked out lensradar.com, which never existed.
And as quick as I had signed up for an account, it was gone. I couldn't sign into it; I couldn't see my previous analytics.
I immediately created a new account and complained to support. They understood the issue and said they'd re-submit it with a note attached. The next day I received an email saying that it was impossible to review closed applications and that I'd have to start over.
This was one of the most de-motivating experiences while working on ThingsOnReddit.
Take Two
There had been a few comments on HN and IndieHackers questioning whether or not I'd be accepted into the program.


In response, I added a blog to my site and posted a few interesting tidbits that I had learned from doing this exercise. For example, did you know that one of the most popular books mentioned on /r/Christianity is "God and the Gay Christian: The Biblical Case in Support of Same-Sex Relationships"
It took me longer to get my application reviewed as the traffic to my site was starting to plummet. When I did finally make the cutoff, this is what I got:

Not enough unique content. Hard not to get a little disenchanted at this point.
Third time's the charm
So the third time around, I did finally get my approval. Over a month and half later. Applying to Amazon Associates program is very much a black box, and I cannot say what did or didn't get me accepted, however I'll go over the changes I made to my site, and the wording I used in my application. Hopefully you can use that as a data point for building your own Affiliate website.
Featured Products
I first buckled down and created some original content. I didn't create a lot, but I did write reviews for some popular items that I either had bought myself or had read the Reddit comments to gather some insight on it. My landing page then featured those things with their custom reviews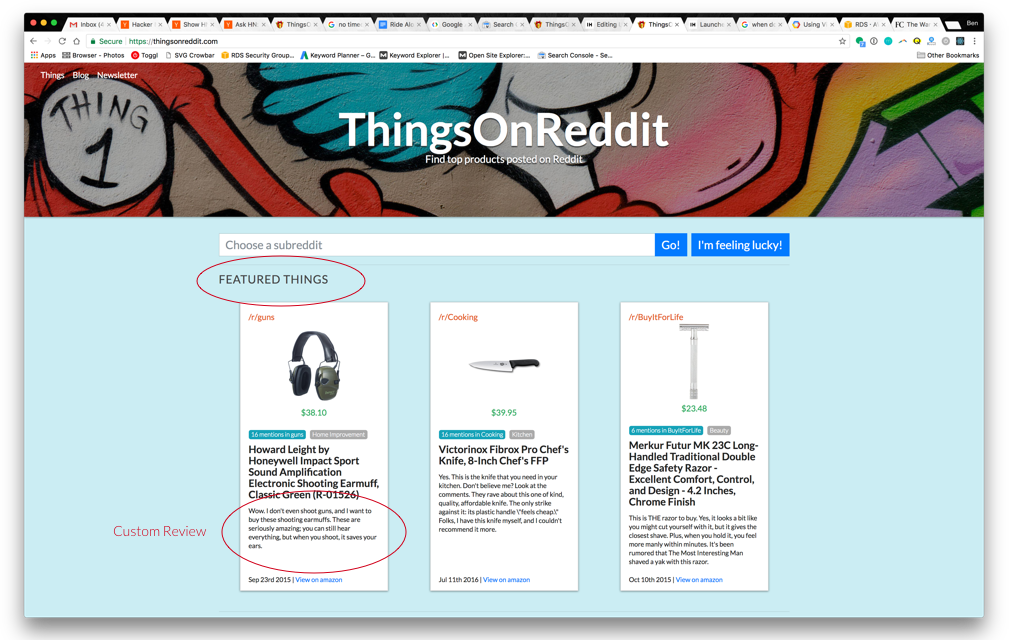 Less Aggressive Amazon Linking
The initial version of the site aggressively linked users to Amazon.com. I significantly changed the way the flow worked so that users would stay on the site longer and only be directed to Amazon if they explicitly wanted to. The thought process was: users (and the Amazon reviewer) would be more likely to see the comments from other Redditors about the product, adding value and original content to the site.
Before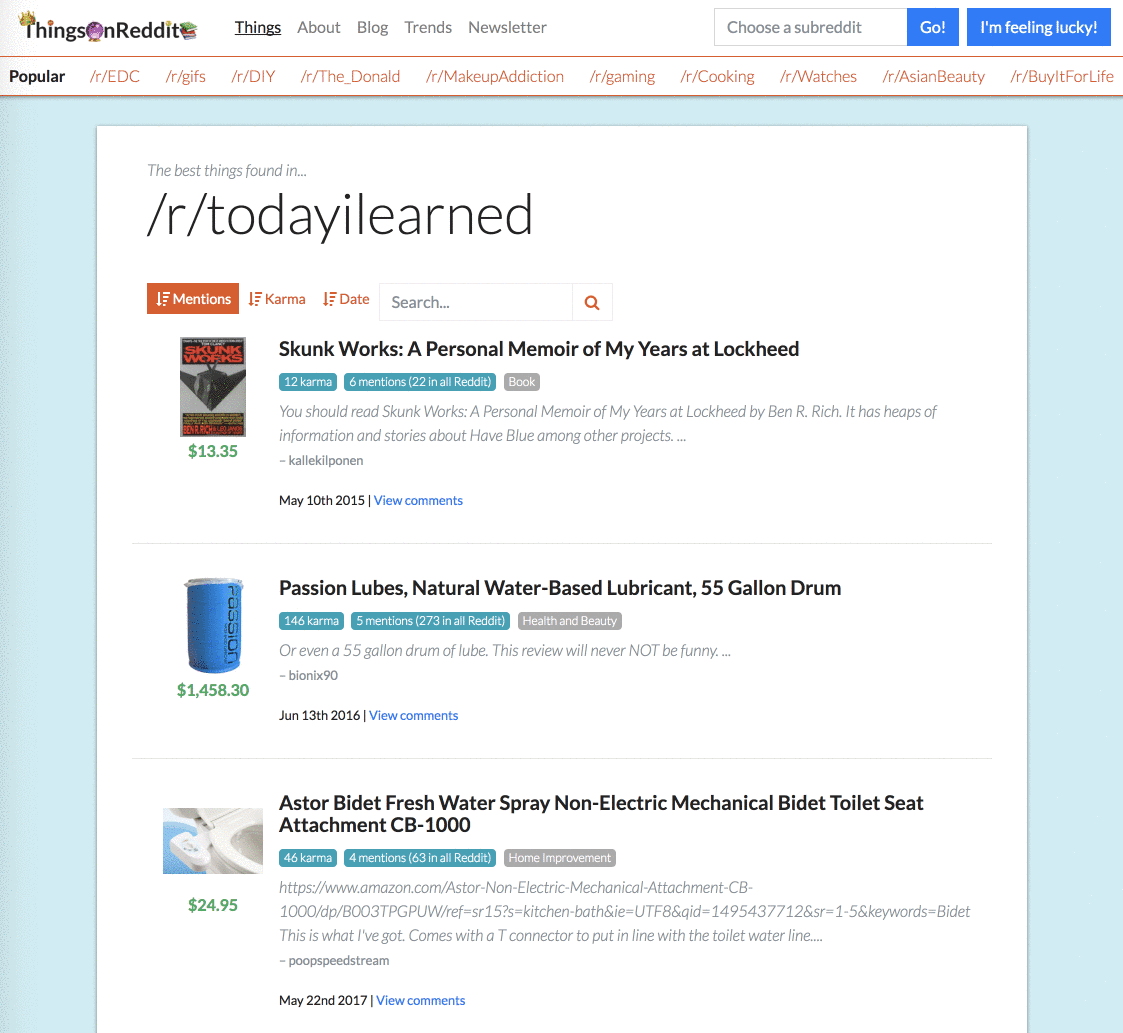 After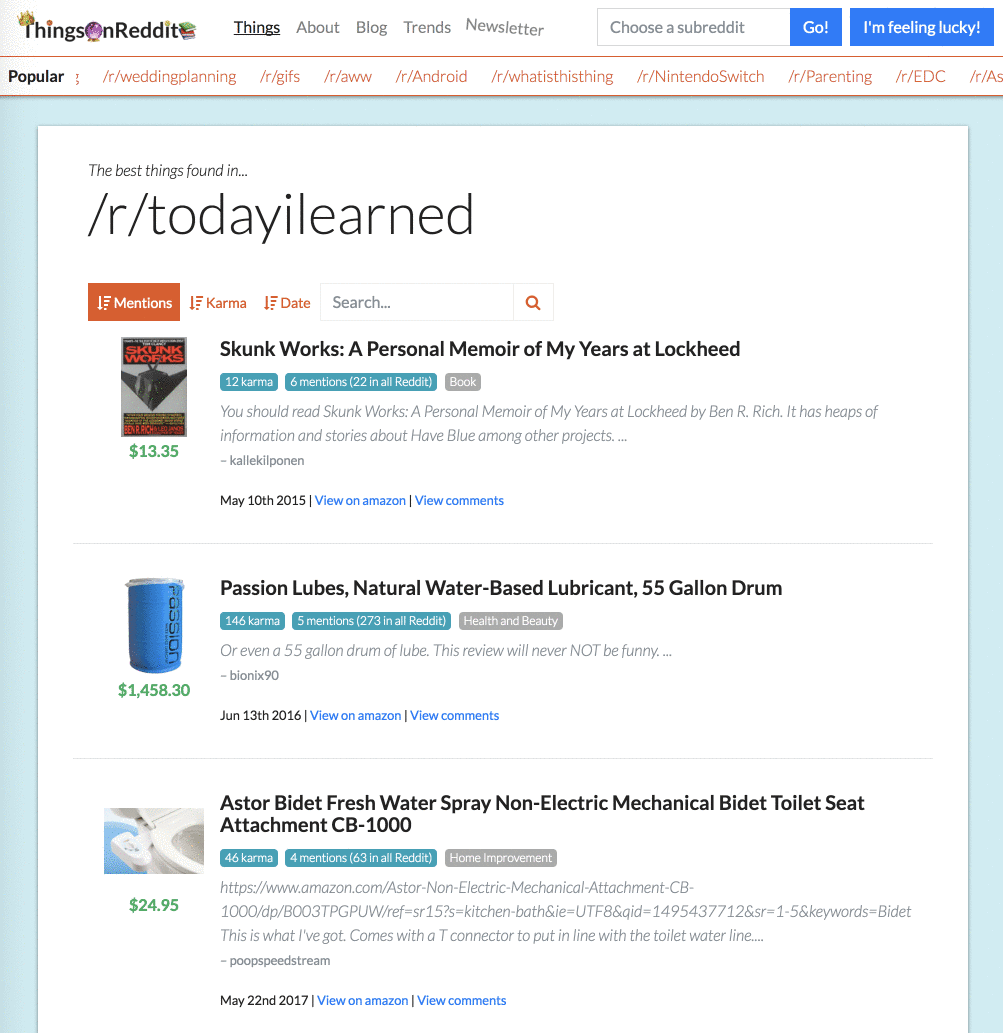 The "View on Amazon" is now much more subtle.
Blog
I added more posts this time; I had only 1 post when my second application was submitted. I'd recommend to anyone trying to get approved to include a blog. The Amazon Affiliate program resource center has articles titled "Five reasons to start a blog," which indicates to me that this can only help your application.
The Application
Throughout this entire process, I had seen multiple sites that seemingly did the same thing as me and had gotten approved. I wished I knew what they wrote in their application. To those trying to get approved, here's what I wrote:
ThingsOnReddit discovers unique products on Reddit. The homepage features a hand curated list of featured items as well as the best subreddits to find the products you are looking for. For example, if you're looking for things in Home & Kitchen, you may want to checkout /r/Coffee. The actual listings are sortable and searchable and gives you information on what other users are saying about the items in Reddit comments. In addition to just showing the comments, many of the products have custom written reviews summarizing what other redditors have said. Reviews are being added everyday. ThingsOnReddit also offers a Trends page which allows users to see what kind of things are being posted to subreddit in a display of different graphs. Lastly, ThingsOnReddit offers a blog where I search through the best items, find the most insightful comments, or otherwise post interesting content about items found on Reddit.
Lessons Learned
To recap, I'll list out some of the lessons I learned going through this whole process.
Luck and randomness - I have a lot of reason to believe that Amazon outsources the application review process. My applications received an email response at 11:16 PM, 1:05 AM, and 3:57 AM PST. Based on this, I'd guess these are being processed by someone on the other side of the planet. Based on who you get, you might get a different decision.
No is no - There's no appealing the decision made. What they say is final and support cannot help you. You just have to try again.
Original content - This idea of original content is somewhat infuriating because it is so vague. Is not the concept of aggregating products in a novel way not original? The best advice I can give is to keep adding reviews (or similar) and featuring them prominently. This seems to be what they're looking for.
Karma - In general, people don't like the fact that you are using affiliate links on your site. Be upfront about this. If you're going to get accepted, you're going to need to make enough sales to ensure the application is reviewed.
Where am I now?
Now that I'm approved to start making money via Amazon Affiliates, I've made my first $11. I'm focused on getting users to the site. I'm receiving about 10 - 15 visitors a day, and slowly increasing traffic.
I'm working on improving my Google search ranking so that when someone Googles "best reddit X" my site will come up on the first page. Here's my search console graph for my page ranking on Google:

I'm also using trackreddit.com to notify me when someone mentions "best X" on Reddit, so that I can comment and leave a note about the site.
Good luck, and hope you get approved!