Last week I went to LTV Conf. Organised by Thomas Smale and his team at FE International, LTV Conf brings together (mainly indie) SaaS founders for networking and some great talks by people like Brennan Dunn and Laura Roeder.
Normally I see conferences as more of a distraction than something worth spending a few days away from the 'real work' for. However I came away from LTV Conf buzzing with energy, inspiration and a whole host of new insights I can't wait to start implementing on my latest project, PostPerk.
For those of you who couldn't be there, here are the five key points I want to implement/follow over the coming weeks. If you're an indie hacker (especially if you're working on a SaaS or B2B product) then I bet they can be of use to you too. Apologies for the lack of editing/proofreading in advance!
Takeaway 1: If you're selling B2B SaaS, you should be using video ads.
Something I'd heard a few times before but never followed up on is that video adverts on social media are significantly more performant than image/text adverts. Wilco of UpViral.com really hammered that home for me again in his talk. I've included the slide (below) where he shares some of his tips and tricks for creating a social video ad that converts.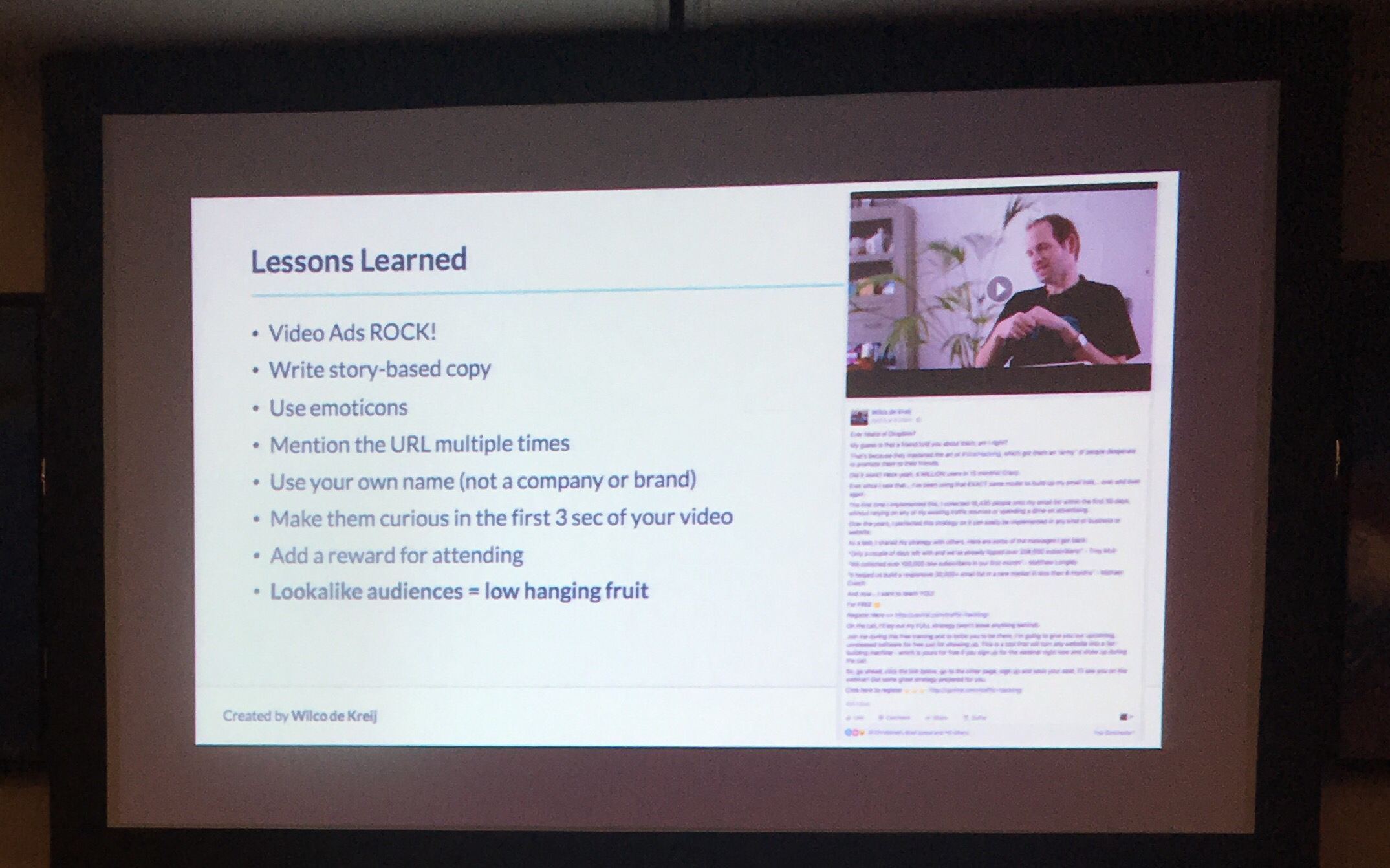 Takeaway 2: Lead magnets should remove obstacles first and dispel objections second.
My second key takeaway comes courtesy of Wilco and another guest speaker called Aaron Krall, who both talked about how important this step is in getting leads to convert from 'interested' to 'paying'.
Basically we need to remember that after you make a lead (potential customer) aware of your product (and the problem it solves for them), there will likely still be a whole list of obstacles which the lead would have to overcome to be able to use your product, never mind any objections they may have. So any lead magnet (for example a blog post, ebook, webinar, etc) you give them should focus on helping the lead remove potential obstacles first, before you try to sell them on the value of the product!
Takeaway 3: We need to get a better handle on what customers really think of our features.
Patrick of PriceIntelligently.com gave a great talk on how customer research can have a massive impact on your growth and agility as a SaaS company. The most important takeaway for me was Patrick's research into the difference between how SaaS companies value their products' features and how their customers value them. Almost consistently across the board, SaaS companies overestimate the value to customers (and their willingness to pay) of core and differentiating features in their products.
By spending more time talking to and getting feedback from customers, we can better focus on what they really want and thereby grow a stronger business.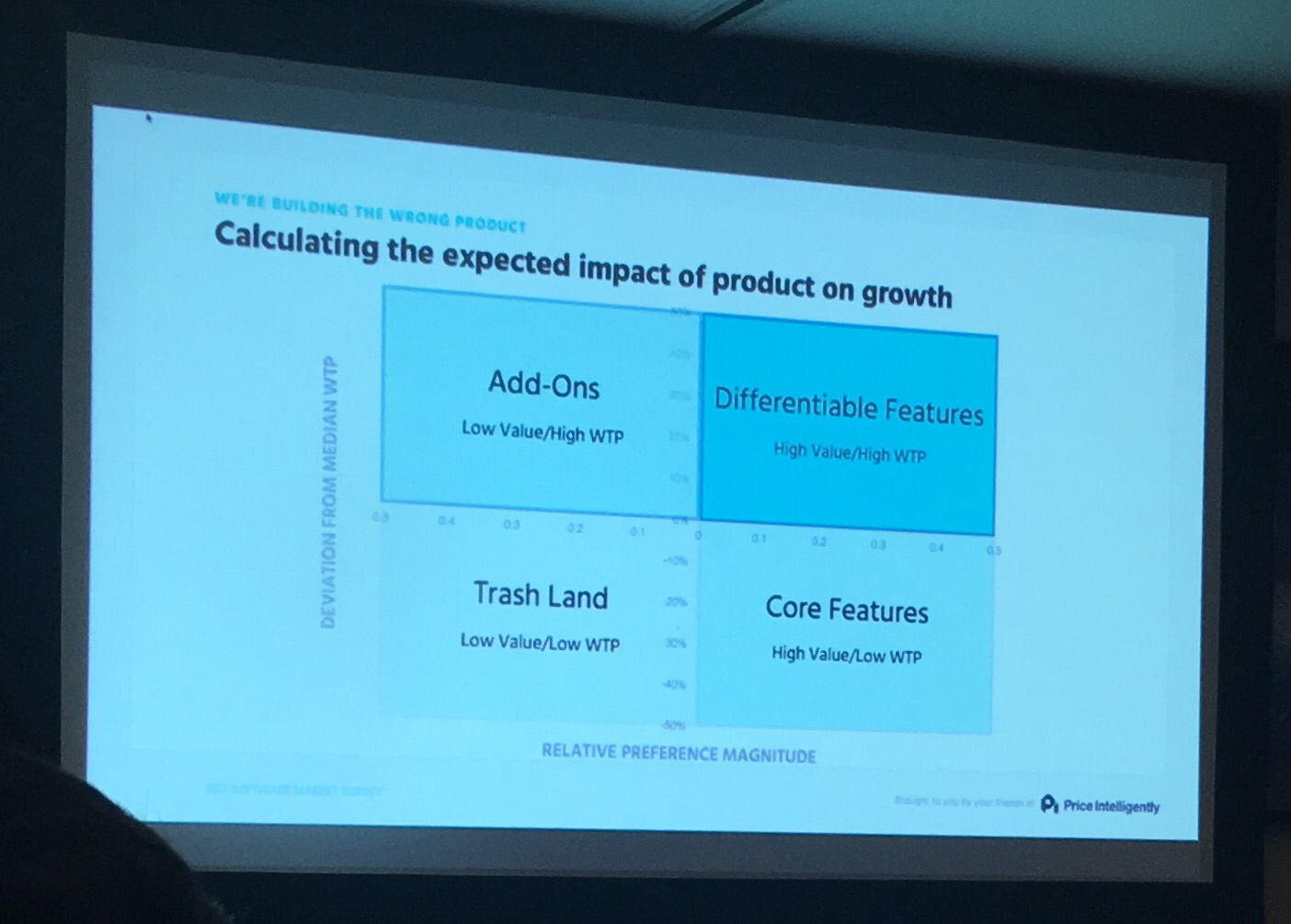 Takeaway 4: Do. More. Webinars.
I'd thought about webinars as a marketing tool before, but never really understood the value they can bring to a solo founder or small team (as most of us on IH are).
Several speakers (including Brennan Dunn, Wilco de Kreij and others) talked about how automated webinars (ie prerecorded videos shown at set times) were an essential step in their sales funnels.
Apparently several webinars each day converts better than a daily or weekly webinar.
As an indie hacker with limited resources and even more limited time, automated webinars are a really powerful way to free up your schedule as a founder and excite, educate, and build trust with prospective customers. I'll definitely be implementing them over the next week or two.
Takeaway 5: More personalisation == more sales.
Brennan Dunn of RightMessage.com (and previous IH podcast guest) talked about how personalising the sales funnel and marketing material/landing pages based on who your customer is can have a really astounding effect on conversions.
This is obviously something we've all heard before, but Brennan really hit home how easy it is to make significant quick wins by adding a bit of personalisation to your email and landing page content.
A really easy first step is to tailor the message in the hero section/main CTA of your landing page depending on which source your potential customer arrives from.
**Bonus** Takeaway 6: Focus on revenue churn not customer churn.
Thomas Smale (founder of FE International) had a lot of really interesting stuff to say about how to get your company ready to be sold. For those of us IHers who aren't quite ready to sell our projects yet, Thomas had a great piece of advice which is worth bearing in mind from the beginning...
When optimising your pricing, product and business to reduce churn, focus on revenue churn not customer churn. All too often, says Thomas, founders focus on reducing the overall number of customers who churn, instead of taking into account that bigger customers are more important than free/cheap customers (within limits). By focussing on reducing the amount of revenue churned instead of the number of customers churned, you'll be optimising your business to grow from day one.
-------------
I hope this round-up of lessons learned was useful to some of you IHers out there. Feel free to ask questions or follow up with your own advice/feedback in the comments!