A little bit about me, I'm a self-taught developer currently working in Japan, I'm not special in any way, don't have any internet celebrity friend neither, however, I do love coding and have a positive can-do attitude. End of last year, I decided to launch an experimental project, to try to create one service per month in 2018 in my spare time, see if I, an indie-hacker-wanna-be, could work something out. And here's my story so far.
I'll break my story into these bullet points:
- How the idea came about?
- What's the service?
- Tech stack.
- How much $ I spent.
- Lesson learned.
January, scratch my own itch.
- How the idea came about?
First thing came to my mind was to build something that I'll be a heavy user of, worst case scenario, if my service attracts no one, it will still help myself. I started to look into my day to day flow, I spent quite a lot of time every day going to a variety of websites, wouldn't be nice to have a web service to keep eyes on those sites for me, and send me updates via email, helping me to focus on the important things.
- What's the service?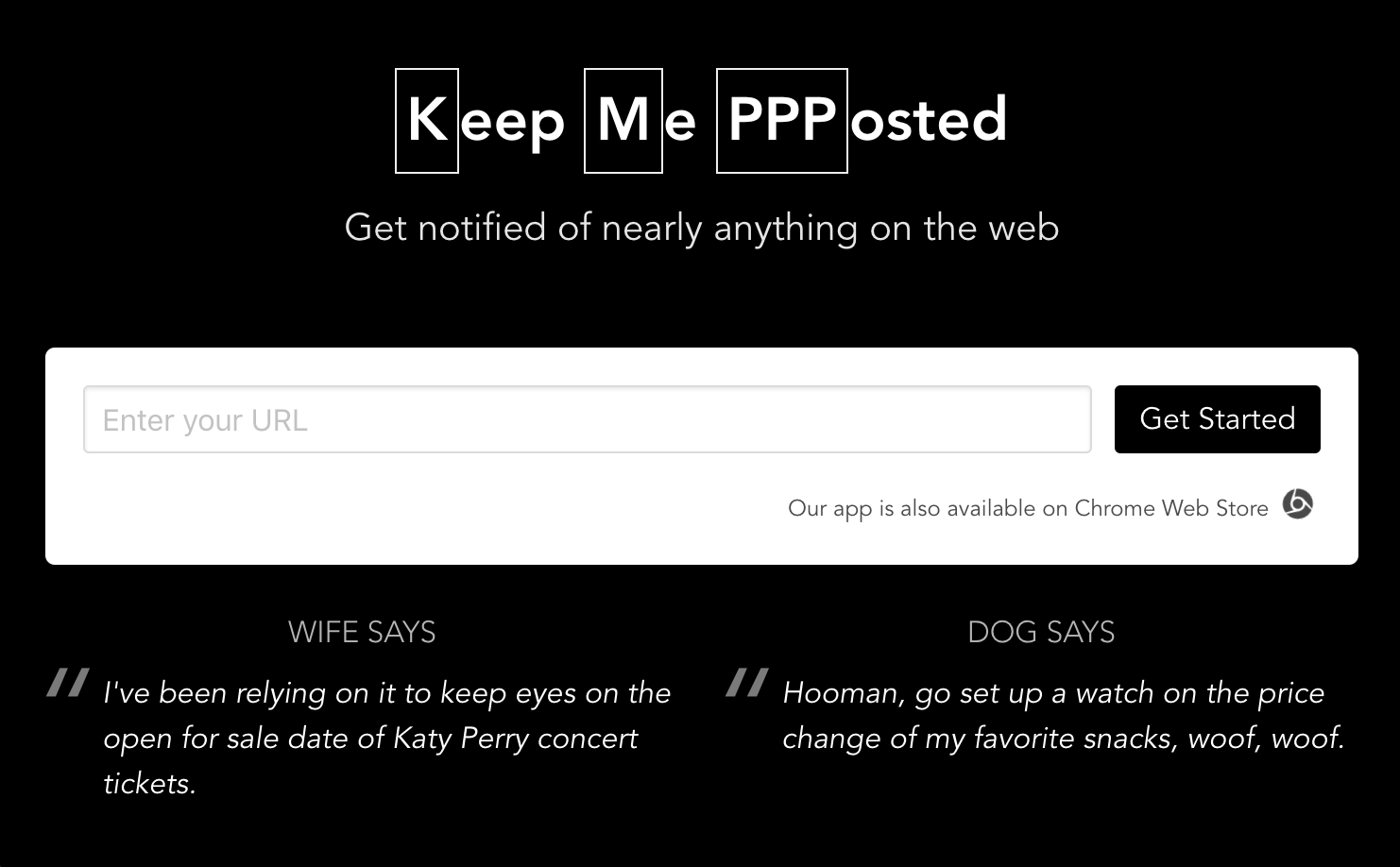 https://kmppp.com is what I ended up building, and to make the service even more user-friendly, I built a Chrome extension as well, to allow the user to subscribe updates of any website right on the spot. You can check out the detail user stories and design decisions on the About page.

- Tech stack.
I went with what I'm most comfortable with, front-end Vue.js and back-end AWS Lambda Serverless combo, which I have been working with, in my current company on daily basis for the last 1 year and a half. Serverless fits my design very well considering most parts of my service follow the event-sourcing pattern.
- How much I spent.
$22 in total, $7 for the domain, $10 for Sendgrid subscription (100,000 emails per month, I could use it for my other services as well), and $5 one-time fee for publishing extension on Chrome web store, everything else was covered by AWS free tier plan.
- Lesson learned.
It's definitely a valuable learning experience since that's my very first full-scale web service, I posted it on indie hackers and got a couple of users, and more importantly, I got the chance to talk directly with my users, working as a developer in the company, I never get to do that, be able to talk with users, to get instant feedback, and have full control over the product that you build, that alone worth the time and effort I put into it.
February, leverage my resources.
- How the idea came about?
January was pretty tense, I decided to take it easy, I thought about what else I can offer, besides my half box of chicken wings in my fridge. Something that others might need. I'm in Japan, working here might be something developers would be interested, on the top of that, I often get recruiters sending me job opportunities. Connecting developers and recruiters, that might be something I could work on.
- What's the service?
Instead of jump right into coding, I created a mailing list using MailChimp and started to share my experience in developer communities whenever I get the chance, and it worked, my mailing list grow into 500+ subscribers within that month, meanwhile, when recruiter reached out to me, I would casually mention my mailing list, and ask if I can share that with my subscribers.
- How much I spent.
$0, the outgoing mails are covered by the same Sendgrid account, and the backend cron job which was built with AWS Lambda was again covered by AWS free tier plan.
- Lesson learned.
Seems that the less time I spent on coding, and more time on promoting my service, the more potential users I'll get. 2 weeks after I started, I got a mail from one of my subscriber, thanking me for what I did, he's not getting the job yet, still, he'd like to thank me for sharing that information. That email just warmed my heart, knowing I am doing actually helps others, that's just the best feeling ever!
March, get ideas from others.
- How the idea came about?
Kinda ran out of ideas, that's when I started to talk with my non-developer friends, try to understand what's their day to day is like, and if there are pain points they may have that I can help them with. One of my friend, part of his job in the company, is to receive CSV files from clients, and then import those files into an internal system, often times, the files he received does not match the requirement, missing columns, or incompatible data types etc, he has to go back and ask his client to redo and re-send the files, he tried using Excel automate the process, but failed cause most of the files are really big (300+Mb with 1M+ rows). That sure sounds like something that I can help with.
- What's the service?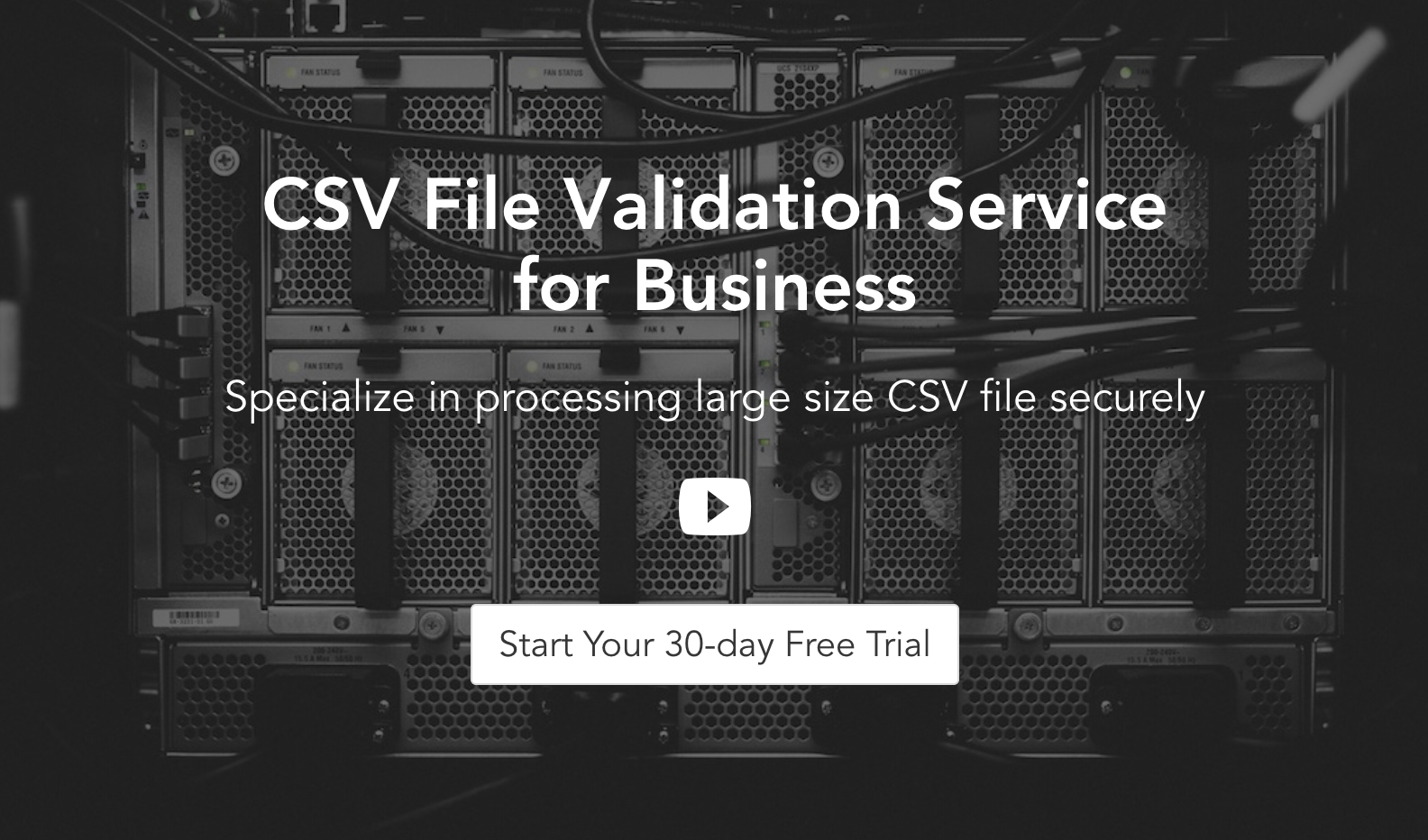 https://csvlint.com, a CSV file validation service for business, it allow user to create schema easily for validating CSV files, once the schema created, it could be shared with others to use without an account, which means once my friend created the schema, he could ask his clients to use it to validate their files before sending to him.
- Tech stack.
Instead of AWS, I went with Google Cloud Platform, Firebase for hosting and database, plus Google Cloud Functions to handle backend logic, once again, free tier there covers everything.
- How much I spent.
$17 in total. $7 for the domain, pretty awesome domain I have to say, patting myself on the back. And another $10 on Udemy for a how to make demo video using Keynote course, money well spent, another new skill learned. :)
- Lesson learned.
Ideas that I can come up with lead to nothing 9 out of 10 times, talking with others, especially people outside of my normal circle could help to get new ideas. However, the sad part is I don't really have a lot of friends that I can talk to, looks like I'll need to work on that as well. 😂
So, that's my journey so far, none of my projects succeeded in big time, and I'm currently making $0 out of them, yet, each one of those services is helping people one way or another, that puts a big smile on my face every day I go to sleep, and also, they cost me close to nothing, there's still some chicken wings left in my fridge, all good, all good.
What's next, I have couple more ideas, I'd like to try something different every time, hence one of the ideas, is to create a hands-on online course on building production quality web services / apps using Serverless stack (both AWS Lambda and Google Cloud Functions), to show people the whole process, from idea to launch, cover all aspects of creating web services with minimal cost. If that sounds like something you might be interested, sign up to this mailing list to get posted. http://eepurl.com/dwIZCz