Bits is an app for watching and creating short comedy videos based on prompts we provided. We had to find content creators before driving traffic of content consumers, but it's hard to convince people to create content on a platform with no fans. In this article, we'll show you what we did to solve it (and give you a neat trick to try with Spotify).
We decided to reach out to comedians, improv players, and comedy actors/actresses in LA. Our initial goal was to get more than fifty content creators and then start driving traffic. We did some cold emailing, trying to get people on-board, but it wasn't fast enough (we didn't have too much cash and we had to show results to ourselves and our investors).
We thought events/meetups will enable us to get a bunch of people in one room (which will give a sense of success to all attendees), onboard them faster, and form relationships which will enable us to get constant feedback.
We started by efficiently collecting leads, which we then emailed an offer to join. We targeted actors with comedy and/or improv background. We used Mixmax to create an email sequence of three steps. We started with one event, but ended up adding four more events due to high demand. To capitalize on this, we updated the text of our auto emails and did some A/B testing. This is what we sen, showing all three steps:
Step 1: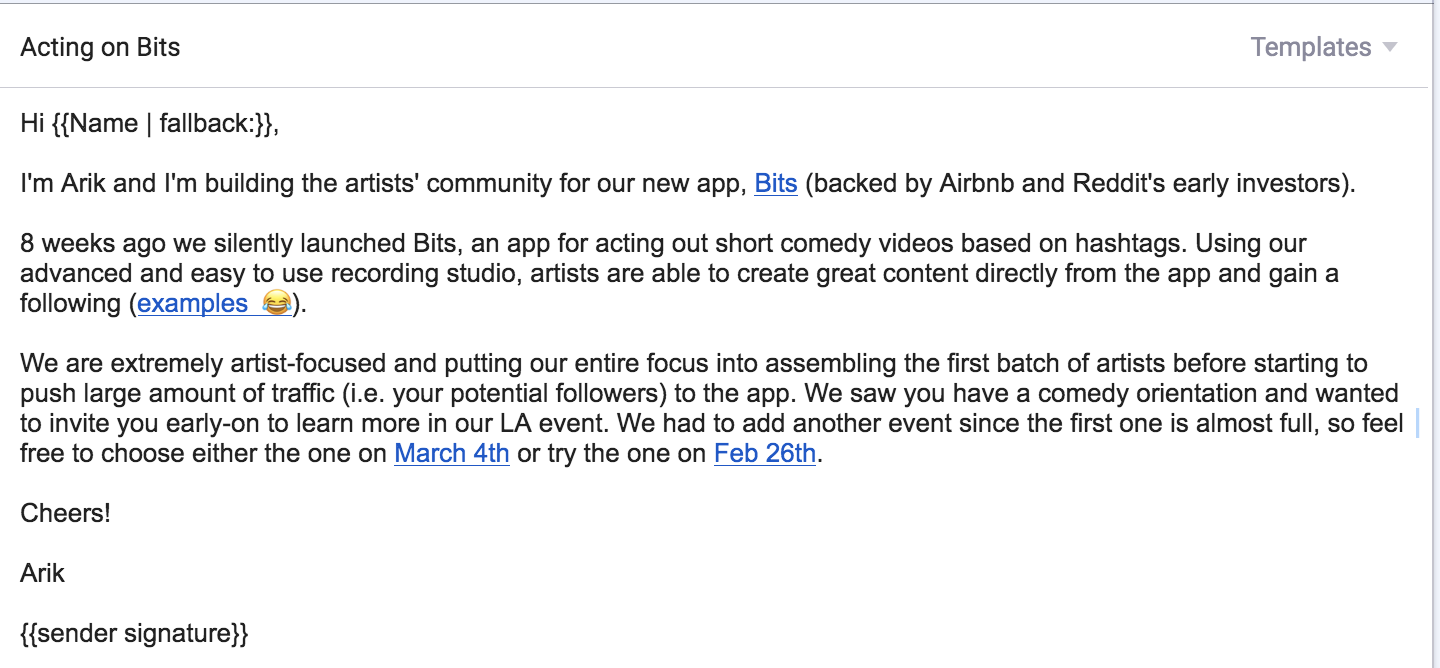 Step 2:

Step 3:

This was the event registration page:

The results:
We sent 4K emails, got 700 people to register, and 250 to attend. We had an overall email stats of 82% open rate, 32% click rate, and 25% reply rate. The events were free and we knew this will cause a drop-off in attendees. We are based in Israel so many preparations were conducted remotely, but we were in touch with a few LA-based actors/comedians who told us LA actors had a higher "flaking/no-show tendency" than usual, especially if it's raining (which of course, it did for the entire week, the only week it rains in LA 😭). Many of them need to react fast to auditions, change shifts on their jobs (which in many cases are temporarily and project-based), and in addition, they need to drive and avoid traffic. These were all things to consider when we reached out to content creators.
We also took these factors into account when we chose our location. We picked a central place in Hollywood and tried to start as late as possible so they can avoid the traffic. We also made sure there was enough parking available.
Before each event, we sent two-step reminder emails, which had a 90% open rate, 25% click rate, and 30% reply rate. The replies were mostly "looking forward to it", "can't show up", and "can I bring friends?", so mostly positive. Here's how they looked:
Step 1: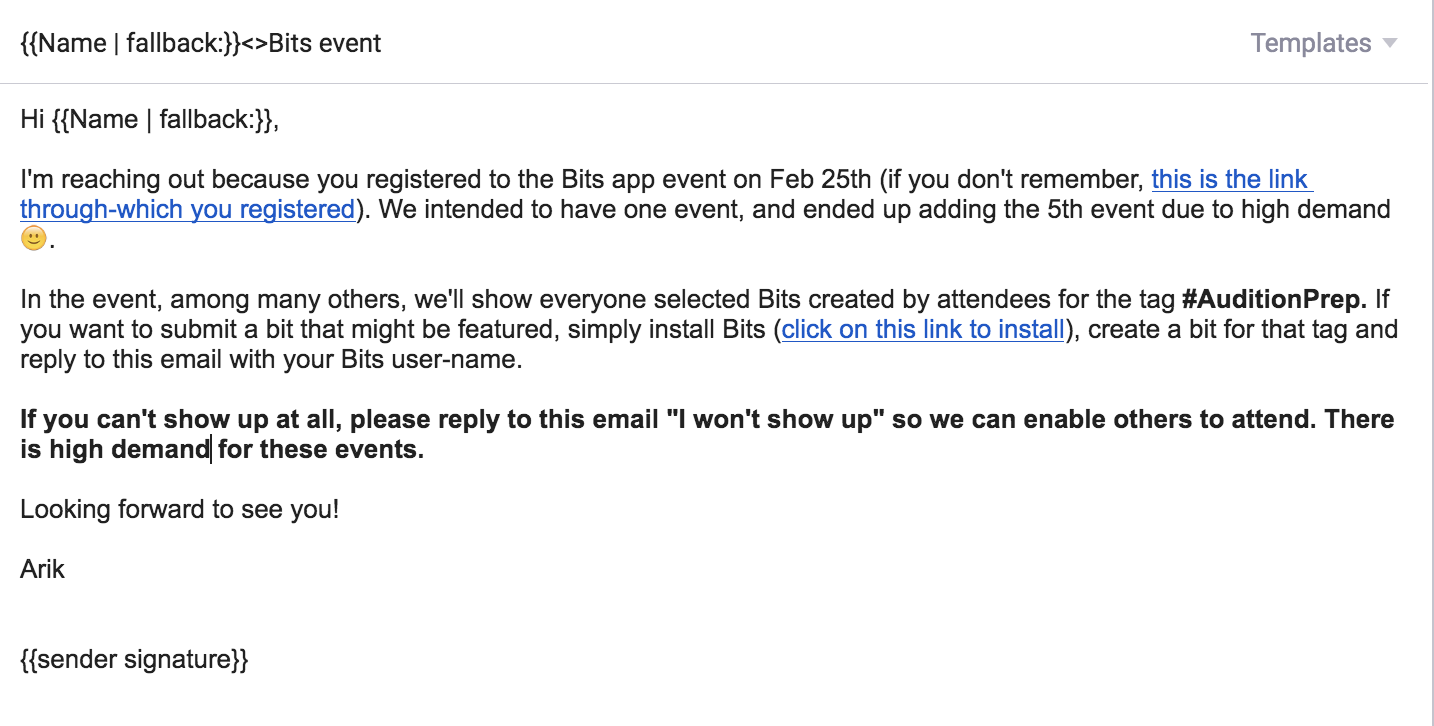 Step 2:

The first event went very well! For those who didn't show up, we sent another email offering them to join another event, but it wasn't that effective (80% open rate, 8% click rate):
The Spotify hack following the second event's failure:
The second event, however, went poorly (attendees-wise), and we had to solve it before the third one. We came up with a very efficient hack. We sent this prior to each event: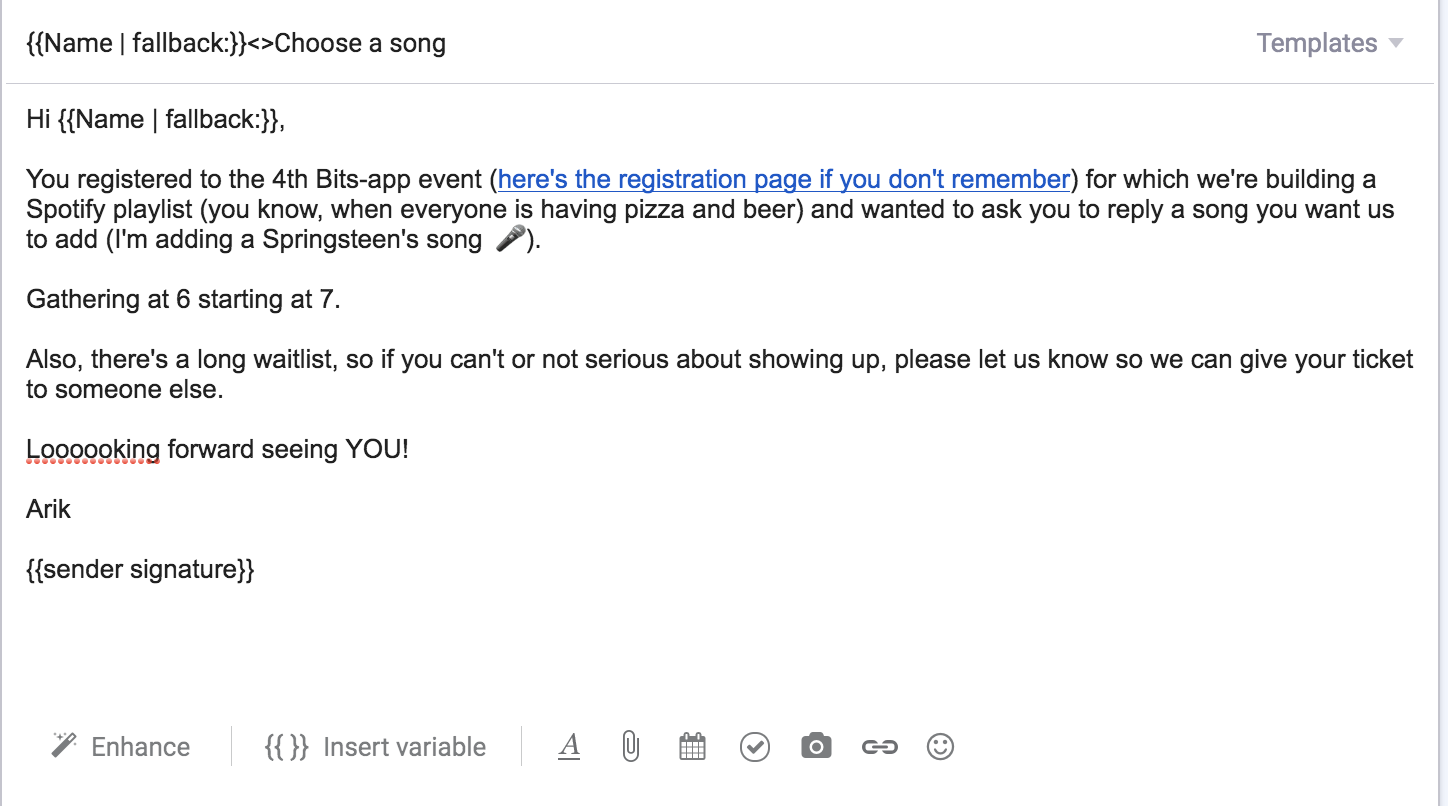 32% on average replied with a song and almost 100% of those who chose a song actually showed up (we asked them to raise hands before the meetup started). Turns out, asking your audience to add their own flavor to the event works really well!
We also filmed one of the events and sent it after all the events. Check it out here.
Wrapping Up
Following these five events, we got extremely talented users with which we formed relationships that enabled us to get constant feedback. We were also able to start driving traffic of consumers to Bits as well as get some positive PR.
Overall, using the unconventional strategy of using events to drive content creation seemed to be a positive experience for Bits. By creating and curating interest for a content creation meetup, Bits slingshotted itself into new users, new influencers, and new business. Hopefully, you can use this strategy yourself to help get your bootstrapped idea off the ground.
Have any of your own tips? Want to use Spotify at your own events to drive lead/customer interaction? Just like the article? Leave a comment below, and get the conversation started with your fellow IndieHackers.
And check out my website for more from me!