In an era of rapidly developing technology, and in particular the automation of many business processes, the importance of creative solutions is growing. Original ideas are are climbing in value within the startup community. But how can we generate these ideas and keep them flowing, as Indie Hackers?
Why startups aren't utilizing creative advertising techniques
Most online marketers prefer more classic, well-documented strategies that concentrate on campaign metrics, precise targeting of particular audiences, and meticulous segmentation. Meanwhile, the emotional engagement of the user, and likewise the effectiveness of the campaign itself, can be increased several times over through varying creative methods. The importance of these creative methods often go ignored because the effectiveness cannot be directly measured or shown through "attractive" diagrams in reports.
Furthermore, it's a common belief that only large businesses, by virtue of their budgets, can have exceptionally creative advertising campaigns. As an art director at Leo Burnett, I really only worked with industry giants, but I was always drawn by opportunities to create ideas for startups and indiehackers. That is why I founded Moderne; to help startups bring creativity to their digital marketing campaigns.
A large budget is optional; all you need is a creative idea!
There's a lot of talk about the importance of creativity, but when it comes to creative thinking and the processes of creating ideas, there are no manuals or step-by-step articles.
First and foremost, to develop a creative advertising campaign for a startup, it is necessary to conduct some minimal research to determine the target audience, the main advantages and features of the business, how it differs from its competitors, and outline insights for the development of ideas. Also, any unusual facts or features of the company can be great starting points when beginning to get creative.
Take, for example, FairMeadow a startup that provides subscription laundry services. They have several basic features that are clearly outlined on the main page of their website. One of their killer features is labeled "Large Loads":
"We charge by the bin, not by the pound, and the bins we use are large enough for all of your laundry. Even bedding!"
This idea can be developed through a process of creative thinking. Furthermore, creativity is not limited to content; that is, in the concept itself, but also its form—specifically in the platform on which the advertising campaign will be launched. Let's start with a classic format: advertising on social networks, which easily targets its desired audience. Particularly, local targeting is what is required for the FairMeadow services. Let's continue and narrow down the demographic audience as we explore an idea for an advertisement for FairMeadow.
Ok, creative ideas are neat. Now let's move on to creating them in practice!
For example, consider the following concept that focuses on women as potential customers of an online laundry service. Any woman who wants to feel like a princess, even the most progressive business woman, will be hard-pressed to refuse the likeness of being an heiress to a fabulous kingdom. 😉
Story: The Beloved Prince rescues his princess from imprisonment in a tall tower. The beautiful princess is not Rapunzel; she does not have an exceptionally long head of hair. Instead, she has fresh linen that's just been delivered by FairMeadow. There is enough linen in the huge bucket for the princess to use to make a rope and toss to the prince. And voila! Love is saved! Happy ending, FairMeadow online logo, and the headline: We charge by the bin, not by the pound, and the bins we use are large enough for all of your laundry.
We made a quick sketch to get the creative juices flowing:
The format of this advertising idea is suitable for a large audience of a B2C organization, but there are a ton of different directions to go when developing your creative idea. For example, utilizing the specifics of social platforms (ie. GIFs, short videos on Tiktok, evolving scroll images on Facebook, etc).
Each method of advertising on social networks has its own characteristics. For example, Instagram Stories are one of the most immersive formats—studies say that Instagram stories get 40% more views, and lead the user to direct-messaging the organization every fifth story. If you approach the previous insight about the basket in the Instagram story method, then you can make a simple and understandable advertisement in the form of a quick joke, setup and punchline:
The user sees a continuous rope of linen on several (three or four) screens in a row (setup), and suddenly on the last one a huge bucket linen basket appears (punchline), from which the aforementioned rope of linen is coming out of, which FairMeadow promises to remove at once: We charge by the bin, not by the pound, and the bins we use are large enough for all your laundry.
Creative ideas can be applied using varying methods
For example, take the good old-fashioned banner ad. They became familiar to all of us long before the Internet era in the form of posters, signs, etc. Even now, banner advertising is one of the most popular and easily understandable methods—users are able to grasp creative ideas very quickly through banner ads. Therefore, it is precisely this format, along with video, that is most often recognized with important international advertising awards.
Continuing with FairMeadow's theme in their ad example about a large bucket of linen (but for banners): you should keep the idea simple and bright. You can experiment with visual associations and make funny comparisons of the laundry container with huge objects or animals. For example, you can turn a container into a huge elephant, whale, hippo, or dinosaur. But it's more effective to see something done once than to hear how it's done a hundred times, so let's draw a quick sketch!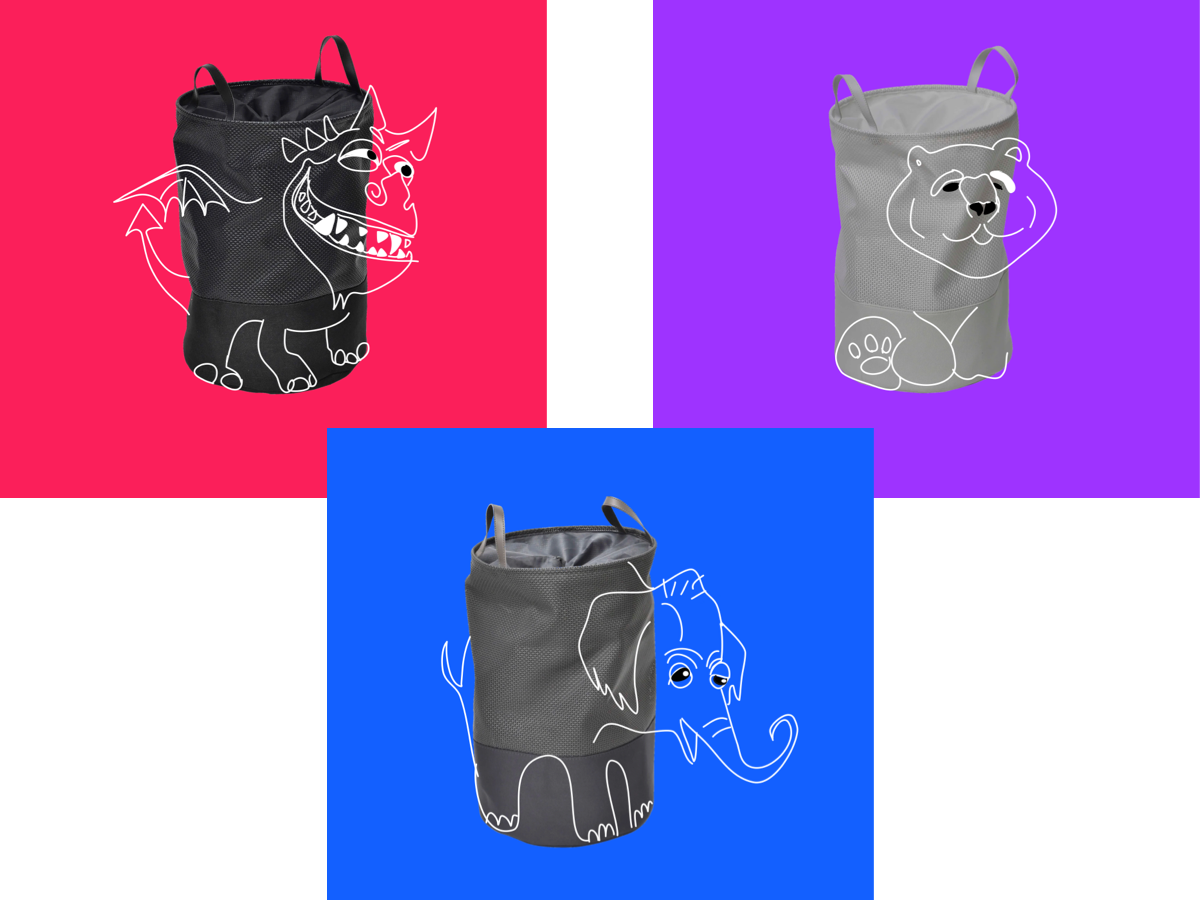 Let's use other details of an organization to develop creative ideas.
The campaign of any business should maintain a certain level of variability because different people are drawn to different features. For example: in eCommerce, one customer may place the most importance on the price of the product, while for others it will be the speed of their deliveries, and for some, it will be the reputation of the store. For the next few creative ideas, we will focus on another advantage of FairMeadow: next day delivery. This is an effective point to consider for creativity, and in order to maximize its potential, ou should consider utilizing video. The stats speak for themselves:
Video content is 50 times more likely to drive organic search results than plain text. ( Omnicore, 2018 )
Video drives a 157% increase in organic traffic from SERPs. (Wordstream, 2018)
20% of people will read the text on a page, but 80% of people will watch a video (My SMN, 2017)
The essence of "next day delivery" is time, so I will play into this when developing pre-roll advertisements; short (but not necessarily) commercials that play before the primary video. Often, the pre-roll is in no way associated with the video, but we do have one direct relationship with some: very long YouTube videos exist that are up to 24 hours in length. We could play a pre-roll before them with a simple and understandable insight: "We will wash and bring your laundry home faster than it takes to finish this video. FairMeadow."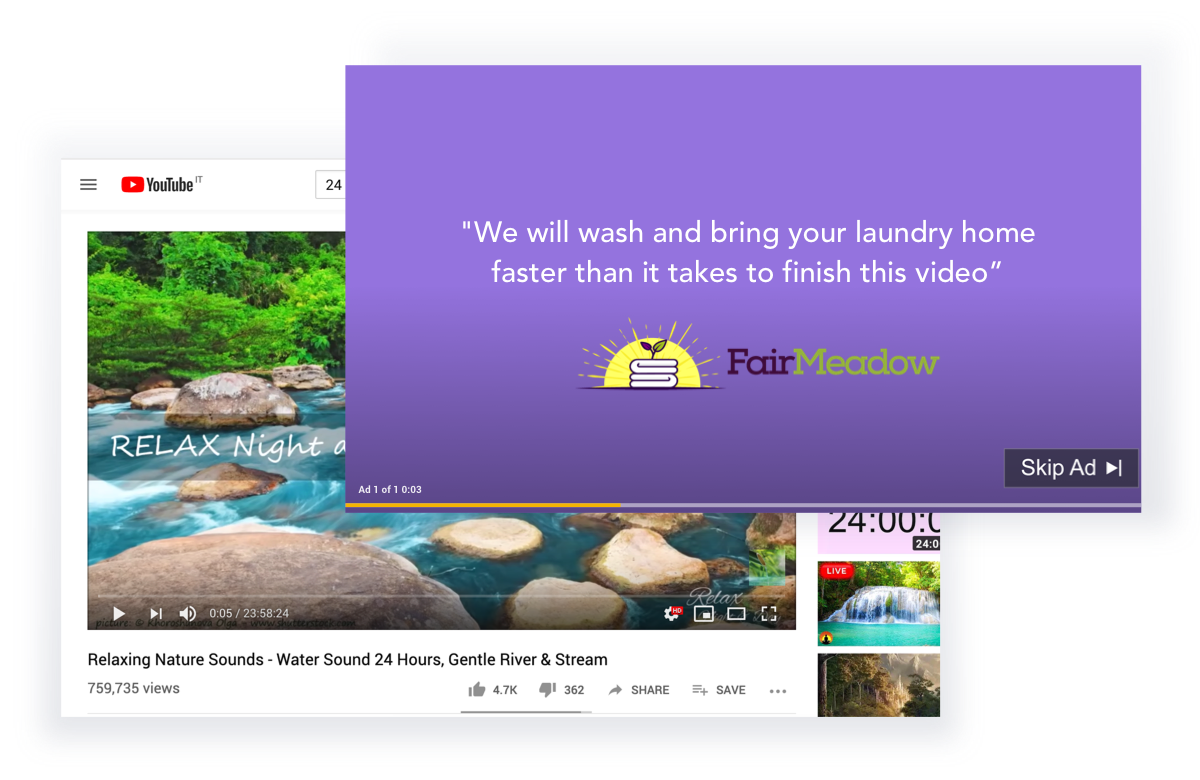 Continuing with the development of the same idea, I highlight "next day delivery" because this is a 24-hour video. It's well within the realm of possibility for the viewer will benefit from this feature over the course of watching that video. This is an idea that is suitable not only for pre-rolls but also for separate commercials on any platform like this idea:
The video opens with a scene in which we see a flower, it opens and closes. This is a reference to a daily cycle—the length of time in which FairMeadow promises to deliver laundry. Another approach to the same idea is that we see the sunrise and set. "FairMeadow next day delivery: your laundry is ready and waiting for you downstairs."
Creative ideas can come from boring facts
For our next creative idea, I'll turn to statistics, which state that 70% of YouTube users watch how-to videos to learn something new. Let's develop this further in a creative way:
Most users click "skip" in the ad roll to quickly jump to their content. What if you use these five to ten seconds productively? For example, consider the following pre-roll: the user sees a quick lesson on how to tie a tie in three simple steps, followed by: "Now you know how to tie a tie, and we know how to keep it clean. FairMeadow."
There are very short pre-rolls that you must know how to utilize as well. This format is called a Bumper. I came up with yet another idea that can be played in just a few seconds using this method:
We see a man at a table in a snow-white shirt. He accidentally spills red wine on himself, but he doesn't flinch so much as a muscle and remains absolutely calm. A wine stain creeps along with his shirt, but he continues to eat calmly. The man isn't worried, because he knows about FairMeadow's Next day delivery service.
Video is a highly flexible advertising format, and suitable for almost any platform; the ad can be long or short, vertical, or horizontal. Bright, but at the same time simple and understandable. Plots work well and should remain focused on the business's target audience.
The "next day delivery" feature can be adapted into the following insight: "We don't know what will happen tomorrow, but your laundry will be ready." We can utilize this in practice in the following manner:
The plot starts with, the delivery service collecting the client's linen, but on the way back, the courier is besieged by meteors, or at that moment a zombie apocalypse begins, or an invasion of dinosaurs appears. But the courier overcomes all the obstacles in his path because nothing will prevent FairMeadow from delivering your laundry the next day.

Examine the benefits of the business from a different angle
While working on creative ideas for FairMeadow, I came up with some insights that do not directly address the benefits of their service, but are just as effective nonetheless.
When you utilize a laundry service, you free up time that you can spend on other activities such as being with family and friends or a favorite hobby. This is fertile ground for wholesome family ideas.
The scene opens with a father and his two children. They play, go into the bedroom, the father pulls off a bedsheet and dresses himself up as a ghost. The children remove the pillowcases from the pillows, wear them as though they are mimicking their father, and they all play together. In the next scene, everything is dirty and lying on the floor. The final scene plays: the FairMeadow logo displays with the tagline Be creative. We will do the laundry.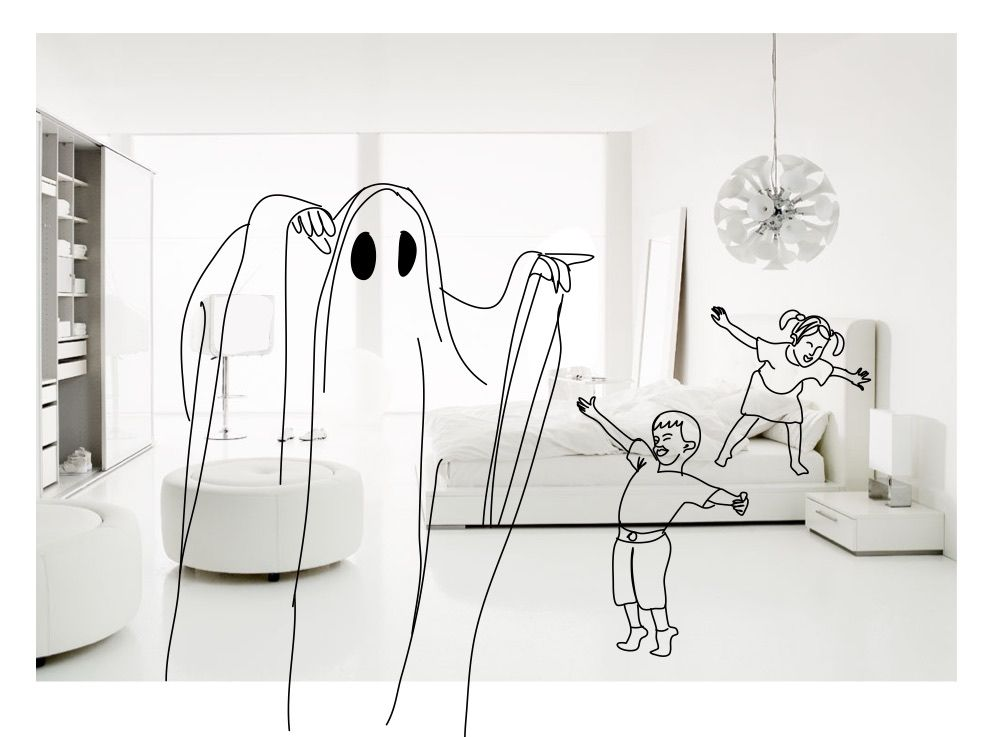 This video could be part of a series in which the plots vary: a dog whose owners are not afraid to get dirty while playing with her; children drawing on sheets or constructing teepees from clothes; and an unusual children's home fashion show.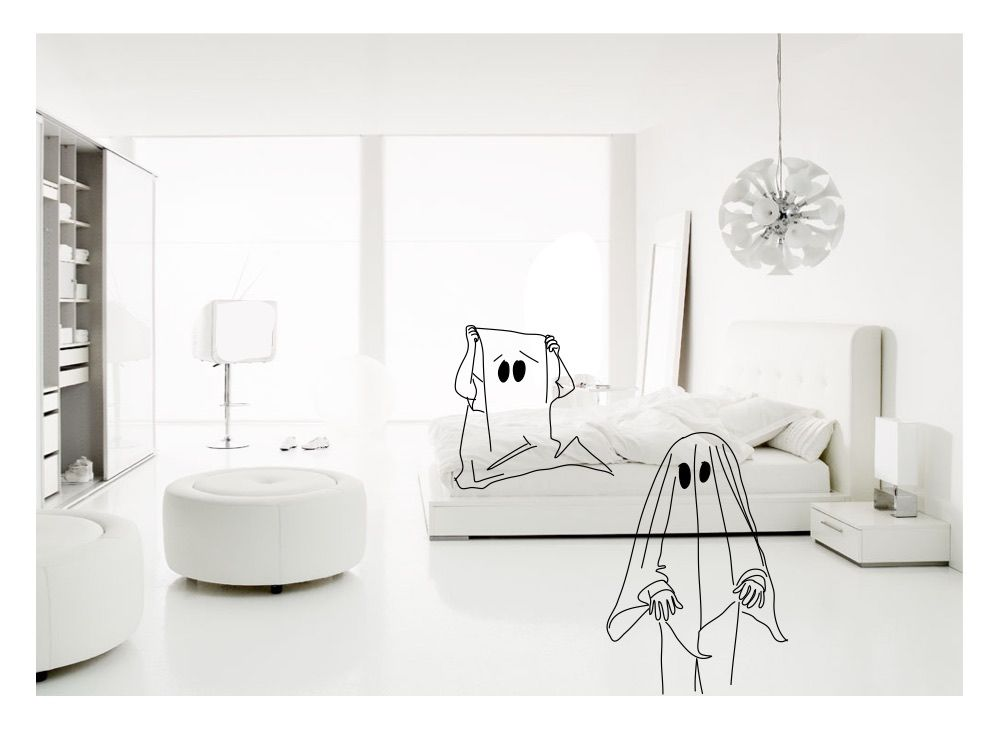 Online businesses don't have to stick to advertising online
In this article, we came up with several creative ideas using only the digital advertising formats, but who says that online businesses should be limited to online formats? You can go beyond the Internet, even while focusing on the online audience. Constricting yourself to online mediums severely limits your options, and also creates the very box you aim to get out of. As always when thinking about crafting creative campaigns, the most important piece of any campaign is the IDEA.
FairMeadow continues to be an excellent example:
You could organize a class or event for children and parents, where they can reveal their creative potential—reserve a space, lay out a series of white sheets, and invite families to color them. "Be creative. We'll focus on the laundry. FairMeadow."
Successful marketing is a combination of Art and Science
Nowadays, digital marketing relies heavily on data: a plethora of metrics that tell a business about campaign performance, lead cost, LTV, user conversions, etc. Of course, these are some of the essential parameters of a marketing strategy. However, measuring creative is much more difficult. How loyal are current customers? What emotions do a business's advertisements evoke? How much brand recognition has the company gained?
Truly successful online advertising campaigns always combine in-depth business analytics and metrics, and fresh, unexpected, creative ideas. The Art and Science approach to marketing is becoming more productive, and young startups are increasingly implementing creative ideas.
Using FairMeadow as a case study, I touched on practical examples that mentioned principles of creative thinking, how creativity can be manifested not only in content, but also in the form of online advertising, and how creative campaigns are available not only to market giants with large budgets, but small startups as well.
At Moderne, we believe that creativity is one of the most effective drivers of business growth. With the help of fresh ideas, you can achieve viral status on social networks—intrigue, provoke, humor and upset users. The important thing is that no one should remain indifferent.
All you need is an IDEA!