How We're Growing Our Business by Solving Our Own Problems in Public
Hello! What's your background, and what are you working on?
Hello! I am Danielle, a digital nomad and indie maker. I am originally from the UK, but for the past three years I have been traveling full time with my partner, best friend, and fellow developer, James. We founded our web development agency Squarecat together while on the road, and we occasionally freelance, but our main focus is on our flagship product Leave Me Alone: a service to easily unsubscribe from unwanted emails.
Leave Me Alone is for anybody who wants to clear out the unwanted noise from their inbox. You could have thousands of unread emails, be striving for inbox zero, or just feel like recurring emails are a real drain on your time. There's no easy way to view only the subscriptions and newsletters in your inbox and be able to decide which ones are worth keeping. But using Leave Me Alone makes this a breeze!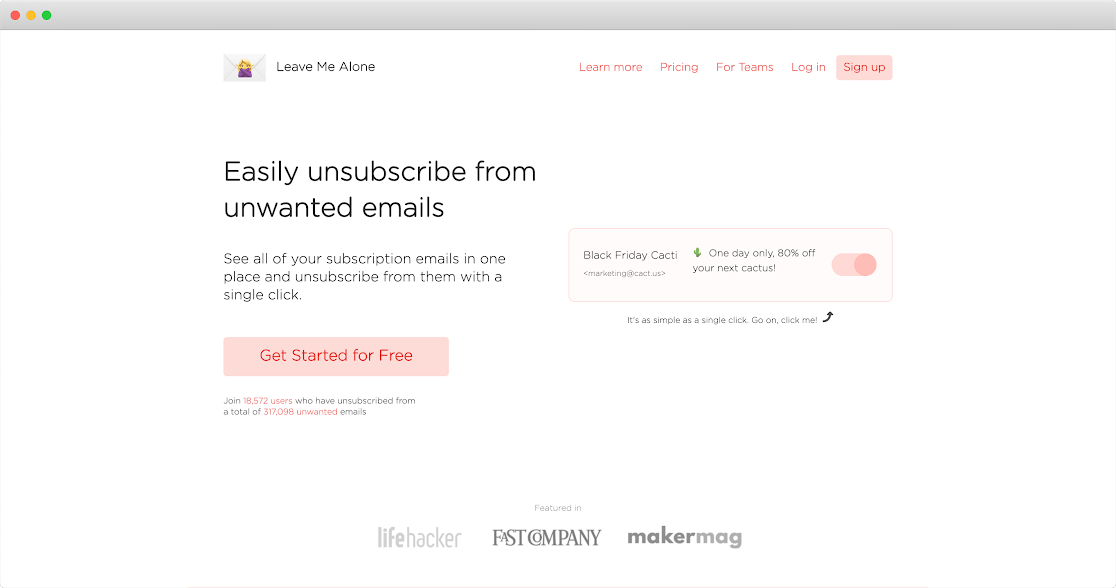 We are proud to be an Open Startup. This means that all of our metrics, including our revenue, expenses, users, and much more are completely public on our open page. We also build in the open by sharing all of our decisions, progress, milestones, and failures publicly. We believe that being transparent is beneficial for both us and our customers. We are able to better understand their needs and get more useful feedback, and our customers have an insight into the people behind the product which results in a better relationship.
We launched our first version in January 2019. We made $1,186 in revenue, finished number one product of the day and week on Product Hunt, and received an overwhelming amount of positive feedback!
It's been a year since we launched the first version of Leave Me Alone, and since then we've listened to our users and improved the service to make unsubscribing even better and easier than before. At the beginning of October 2019, we launched the official Leave Me Alone version 2.0 with improved performance, multiple account support, fairer pricing, and a much smoother experience.
We now have almost 20k users and have made nearly $15k in revenue. Additionally, we have seen over one million emails and unsubscribed people from over 300k of them!
What motivated you to get started with Leave Me Alone?
Leave Me Alone isn't our first product, but it's the first one that is on the right path to success. Getting there has been an interesting journey!
We founded Squarecat while on the road and took on freelance projects to fund our travels, but part of the reason we left the UK was because we didn't want to work for other people anymore.
Our first products weren't very successful. For our first startup, ReleasePage, we focused too much on building and perfecting the product instead of determining if people actually wanted it. As a result we never got any customers and it was a complete failure. Our second product UptimeBar was our first MacOS app. It wasn't super successful but we made a few hundred bucks and we felt like we were finally on the right path. We also learned a bunch of important lessons; build products that solve your own problems, get early product validation, and be open.
Leave Me Alone was born because we took our own advice and stuck to solving our own problems. We were both spending a lot of time sorting through our emails, so we went searching for a service that would help us find and unsubscribe from ones we didn't want. We found a few which would help us for free, but a closer look revealed that they didn't charge because they were selling all of their users' data for marketing. Faced with the dilemma of a messy inbox or all of our data being exploited, we decided to build our own solution.
What went into building the initial product?
We started building Leave Me Alone while we were on a bus traveling from Argentina to Bolivia. Not the most traditional work environment, but the busses in South America are very comfortable, and doing some work is a great way to pass the 18 or so hours!
We built the first prototype of Leave Me Alone in seven days. Motivated by our small success being open with our previous project, and mindful of our failures, we took a different approach to build this startup. We wanted to share everything, get early validation, and iterate. So we picked a name, put together a quick landing page, and started sharing it around on social media.
The response was incredibly positive! Within a few hours we had 50 potential beta users, and a load of ideas and feature requests. All this before we'd written a single line of code! The coolest part was that people were invested in the journey itself, not just the product; they wanted to follow what we were doing. We knew that our decision to be open from the start was going to be a huge benefit for us.
Writing the code is the part of building a product that we're most familiar with, and as we're beginning to understand, it's also arguably the least important part. We built a basic prototype that focused on the core functionality, showing users their subscription emails and letting them unsubscribe easily. The first version only supported Gmail and only showed emails received within the past week. With something ready to use we asked people if they'd like to join the closed beta. We initially reached out on Twitter and in the maker community. The app was basic but the feedback for the concept was overwhelmingly positive.
Beta testing is a scary prospect. Letting users into your app before it's quite ready? What if things break? Well, it turns out that things do break, and sometimes they break hard. But beta users aren't expecting a finished product, and they're surprisingly forgiving! In our case, we swapped free use of our beta product in return for listening intently to absolutely everything they had to say about the app.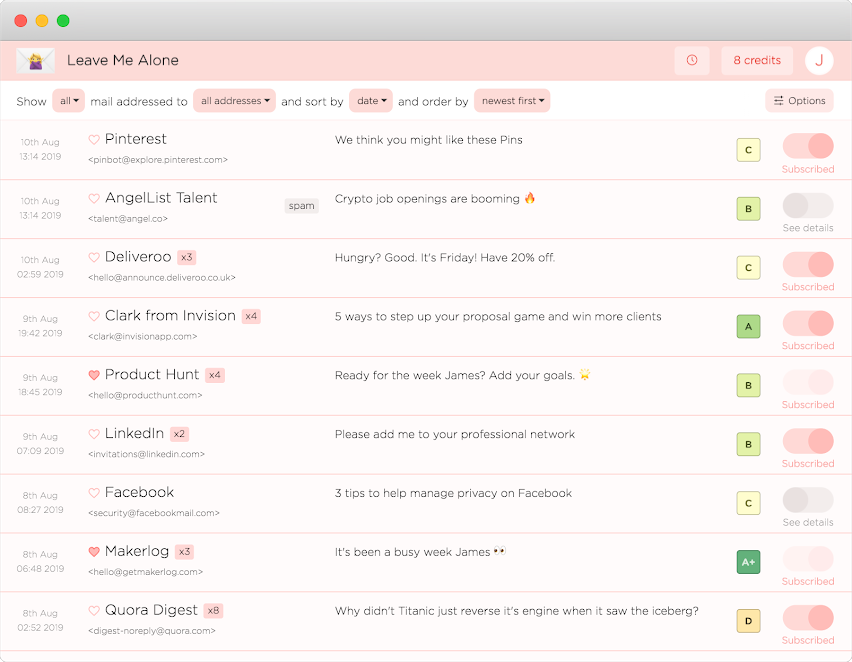 As a result, we found and fixed a lot of bugs, tweaked the UI, and came up with some new features that we hadn't thought of that are now essential to the app. We're quite sure that without letting users loose as soon as possible, Leave Me Alone wouldn't be half as effective as it is now.
Our first users had validated our idea, so we continued building the product, but we were careful not to include any unnecessary features. The list of great ideas we wanted to add kept growing, but we focused on making sure that Leave Me Alone performed it's core functionality, unsubscribing users from unwanted emails, really well. Everything else ended up on the "next version" task list. The first version was going to be lean.
How have you attracted users and grown Leave Me Alone?
The best thing that has worked for us for growing our audience is building in the open and being transparent about everything we're doing. We have a community following of people invested in us and our journey to build this product who want to see us succeed.
This has helped us to stay on track, remain accountable, and provided an invaluable support network when things have been tough. We honestly attribute a large proportion of our success to the wonderful communities we're a part of, who help to share our updates, promote our launches, and give us the motivation to keep going. The biggest ones are Makerlog and Women Make, but we also receive lots of support on Twitter, Indie Hackers, and recently in person from nomad co-working and meet-up groups in Bali and Chiang Mai!
All of our traffic is organic; from social media, our blog, and word of mouth since we haven't yet run any advertising campaigns. We blog about a variety of topics including changes to the product, privacy, remote work, and coding. These are shared on our Twitter, Facebook, and LinkedIn profiles using Buffer to post twice a week. Twitter is our biggest driver of traffic, and it's also where we're most active. We've experimented with reaching out to other blogs to write guest posts for each other to bring our readers different knowledge and expertise. We've had success writing for Metomic's Privacy Bible and we hope to find more blogs to swap guest posts with.
We've experimented with sponsoring niche newsletters, but since our marketing budget is practically zero, we haven't seen much success from this. However, at the end of September 2019 we saw a gigantic spike in traffic and sales for a couple of days because we were recommended in this Recomendo newsletter with 28,000 subscribers. This goes to show that if we can target get the right newsletter audience, then we will almost definitely see growth in this area!
The irony of newsletters driving traffic and sales is not lost on us, but we're not anti-newsletter, we're only against unwanted newsletters. Not all subscriptions are bad, and we want our customers to hold on to the emails that they do read. This is one of the reasons we don't have an "unsubscribe from everything" button because almost all of our users don't want this, they just want to clear out the spam and keep the content they enjoy reading.
The Recomendo newsletter that shared Leave Me Alone actually used a referral link which directly resulted in 624 visitors, 271 signups (43%), and 24 sales (8% of signups or 3% visit to sale) in 24 hours! This is great since the new customers get additional free credits, and the referrer does too, so that person has probably got a few thousand credits now!
Unwanted subscription emails take up a lot of time in the workplace, so we also have a Teams plan with unlimited unsubscribes for a fixed price per seat per month. If someone refers a teams customer with more than ten users then we pay them a $50 finders fee. We're hoping that this will encourage people to share our monthly plan with small businesses and teams who could benefit.
What's your business model, and how have you grown your revenue?
We have two sources of income for Leave Me Alone; individual customers can buy packages of credits to unsubscribe where one unsubscribe costs one credit, and teams can pay a monthly fixed price per seat for unlimited unsubscribes. The majority of our revenue comes from individual customers buying credits, but we are trying to reach out to more teams and increase our stable monthly recurring revenue.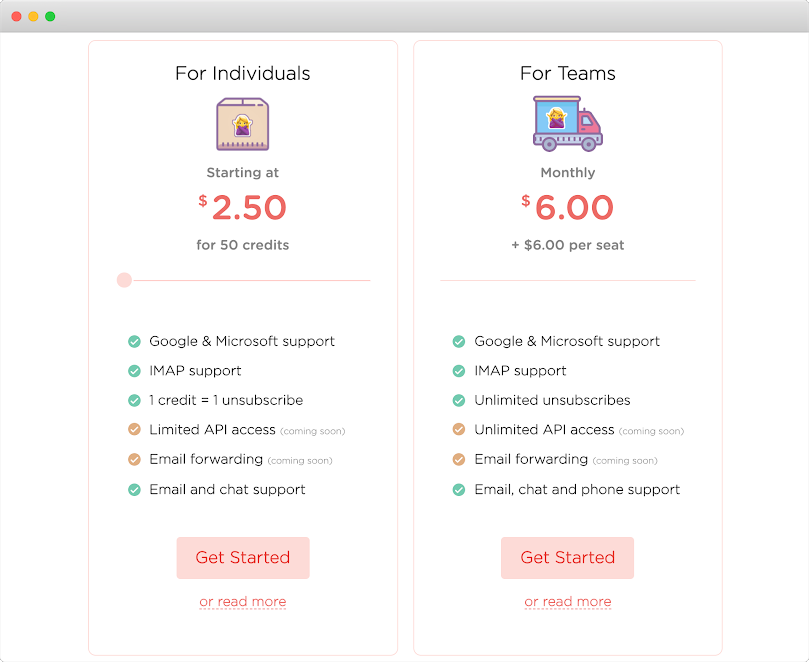 When we launched, charged customers based on how far back in time they wanted to scan for subscription emails: $3 for the past week, $5 for the past month, etc. This had many limitations, so in July 2019 we changed our pricing model from time-based to credit-based. We wrote an entire blog post about this here, but the main reasons were to make the pricing fairer, increase signup to paid customer conversions, and increase the number of returning customers.
New customers now get to use the full version of Leave Me Alone with a few free credits. This means they can see the value immediately, and once they have seen how simple it is to unsubscribe from their first few emails, are more likely to purchase a package. It's fairer pricing since the packages are tiered depending on the customer's inbox size, so they only need to buy the number of credits they need. Plus, failed unsubscribes don't cost any credits!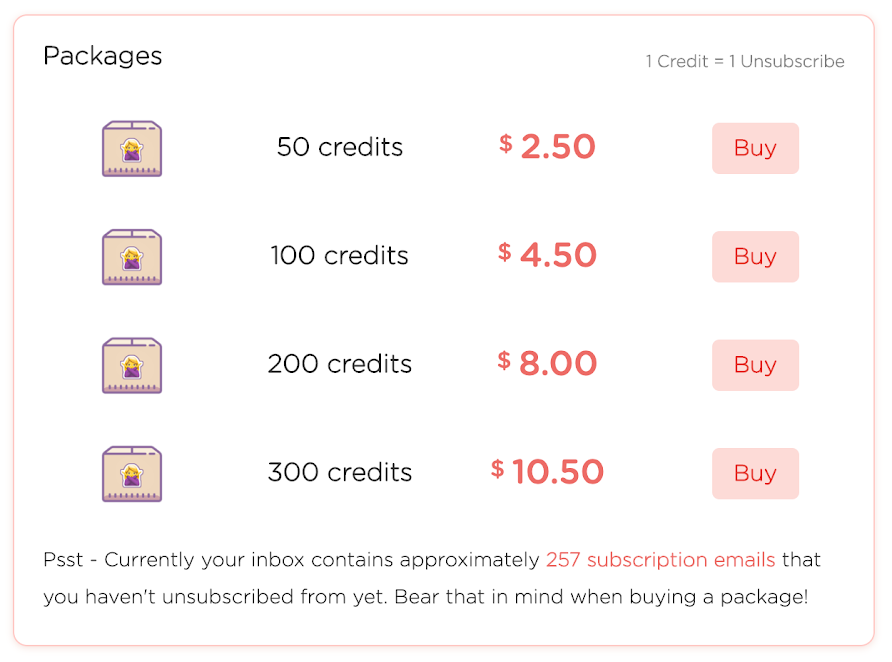 To further increase the number of returning customers we have a rewards system with a referral program. Customers can earn more credits for free for doing things in the app such as sharing on social media and setting a reminder to scan again. This is beneficial to us as well since it encourages people to tweet about Leave Me Alone and we get additional high-quality traffic from referrals.
Our revenue is growing slowly, but steadily. Since our pricing model is one-off payments, we've had some ups and downs and it's difficult to predict our income. The last few months we've made over $1,000 in revenue, with October being our biggest month because of our v2.0 launch. The number of signups to sales increase at the same rate, so we just need to get more traffic to get more customers!
Our monthly revenue, profit, and expenses for the last year are all available on our Open Page.
What are your goals for the future?
We always described our main product, Leave Me Alone as a way to "take back control of your inbox," and our long term plans for Leave Me Alone stem from our mission statement. For a whole year now we've allowed users to take action against unwanted mailing lists. However, we started to realize that this isn't enough and we began to think about how we could allow you to "keep control of your inbox" instead.
If you've used Leave Me Alone before, then you'll have seen that we also rank your subscription emails from A-F so you can quickly tell if you should unsubscribe from it. We're now working on a new product which will allow you to see those ranks and more information about mailing lists before you subscribe -- we call it Subscription Score.
Subscription Score is a browser plugin that allows you to see how many emails a mailing list will send you, and how many people unsubscribe from it, before you give them your email address! Our goal with Subscription Score is to give the power back to you. Instead of just unsubscribing, you can now make an informed choice about what you want to subscribe to in the first place.
What are the biggest challenges you've faced and obstacles you've overcome?
Our biggest challenges as developers are marketing and sales. We're very much learning on the job, tweaking emails and asking for feedback on our pitch, experimenting with blog post topics and sharing to various social platforms, but we're getting better! We've learned not to agonize over the content too much, and to focus on reaching more people instead. The same goes for blog posts, after reading this article on building better writing habits, I try not to overthink the content and proofread only a couple of times before posting, even though I'm very much a perfectionist!
The hardest part is not being able to work on Leave Me Alone full time since it doesn't yet bring in enough revenue for us to live on.
Our single best decision was to share our journey of ups and downs, and give people an insight into our lives as we build Leave Me Alone from various locations around the world. Our audience has proved invaluable when we needed feedback, advice, encouragement, and even beta testers!
However, there have been several events like this Fast Company article and being mentioned in the Recomendo newsletter which has given us a much-needed boost, and these were all luck! In fact, as I was writing this story one of our dreams came true, we were featured in Lifehacker! This is a huge win for us, as Lifehacker is one giant tech publication that we've always aspired to be featured in. Hopefully, this is the start of more press coverage and increased growth.
We've definitely learned to keep it simple. Leave Me Alone v2.0 has a bunch more features than our first launch, but our main product remains the same: unsubscribing from unwanted emails. Even the unsubscribe toggle is the same as our first prototype. We get requests for features every single day and building them would be simple, it's what we do after all. What's more difficult is to remain focused on growing and marketing, when we would much rather bury our heads in some code and keep rolling out new functionality. To keep ourselves on track we're super strict with our roadmap, and only work towards features which are improving our core offering or costing us a lot of time in support requests.
Working online and promoting your products on social media can also be a source of distraction. At the beginning I found myself spending hours looking at analytics and Twitter. They used to be pinned tabs in my browser that were open all the time so I could check them quickly. This was terrible for my focus so I have a rule where I'm only allowed to look at analytics once a day (in the morning when we wake up), and I'm working on condensing my time on Twitter into shorter, more meaningful sessions.
I honestly don't think I would do anything differently if we had to start over. We've failed at enough products now to know that we are on to a good thing, we just need to spread the word!
What's your advice for indie hackers who are just starting out?
The most important thing is to realize that the first few things you try are probably going to fail, or you might have to pivot drastically based on unexpected feedback. This is perfectly normal, and will help you be a better entrepreneur if you learn from your mistakes. It takes time to find an idea that sticks. Don't hold onto a bad idea or product just because it's the easy option. It's difficult to admit that something you built or are building isn't working, isn't getting users, and isn't growing. If you can recognize when this is happening and be objective about it, then you will waste less time in bouncing back and working on your next idea.
Imposter syndrome is incredibly real. Document your journey, publicly or in private, and when you're struggling look at your early prototypes and blog posts to see how far you've come. Join communities, meet people, and ask for help. Being a founder can be lonely; even James and I have experienced this despite traveling and founding Leave Me Alone together. I never thought I would be featured in Starter Story, and receiving advice requests from other makers that I feel confident answering, and feeling oddly calm at the prospect of live streaming our upcoming launch - one day I will be doing even bigger things and looking back on this.
Just get out there, out of your comfort zone, and start doing. It's scary, it's hard work, and it's stressful, but it's incredibly rewarding when you succeed and you have customers telling you how much you have helped them. I can't wait to see what the future holds for Leave Me Alone. I hope you'll follow along with our journey. :)
Where can we go to learn more?
Thank you so much for reading, if you have any questions or feedback for us please leave a comment below!
—
Danielle Johnson , Co-founder of Leave Me Alone
Want to build your own business like Leave Me Alone?
You should join the Indie Hackers community! 🤗
We're a few thousand founders helping each other build profitable businesses and side projects. Come share what you're working on and get feedback from your peers.
Not ready to get started on your product yet? No problem. The community is a great place to meet people, learn, and get your feet wet. Feel free to just browse!
—
Courtland Allen , Indie Hackers founder