A Behind-the-Scenes Look at How We're Growing to $10,000/mo
Tell us about yourself and what you're working on.
Hi Courtland, thanks for having me here! My name is Jason Slater. I'm a Business Studies student and Digital Marketer based in Liverpool, UK. I currently run CustomFilterz with my partner Linas Vildziunas.
We met while I was working at a tech startup in London as part of my course. We had a few business ideas and were working on another project when, in March of this year, Snapchat released on-demand geofilters. Immediately we saw the potential this was going to have for small businesses, and after some research we found much more uses for them, too. So we started working on CustomFilterz straight away.
CustomFilterz was the first agency to provide geofilters. (At the time we operated under the name "Geo Snapchat Filters", but Snapchat's lawyers didn't like that, so we changed the name.) We're a full service Snapchat geofilter design and Snapchat marketing agency. The majority of our sales come from one-off geofilters for private events and business events, but we also work on marketing campaigns for small businesses who are targeting the Snapchat user base.
Sales have been growing steadily each month, and last month (December 2016) was the best so far in terms of revenue, as we reached just over $6,500. (Update: As of April 2017, we've surpassed our goal of $10,000 per month.)
How'd you get started with CustomFilterz?
After realizing the potential that well-targeted geofilters could have for businesses, we set up a basic site to see if anyone would make a purchase. It took a couple of weeks to make the first sale, which was a geofilter used by a real estate company on their launch day. Over the next couple of weeks a few more sales rolled in, and we were convinced that there was potential.
For a long time, both Linas and I have had the dream of working for ourselves full-time. We set a goal of reaching $10k/month in revenue, because that would allow us to focus on CustomFilterz full-time. This amount would cover our living costs and business costs, and also leave some money to be reinvested into the business. The goal is to start working full-time on CustomFilterz at some point during the next 6 months.
How'd you find the time and funding to do all this?
When we started working on CustomFilterz, we were both working full-time in London. Linas still does, but I am finishing my final year of study in Liverpool. This means that we can only work on the business part-time for now. It's been tough to balance university life with running a business, as there is a lot of coursework and revision as well as social distractions. It often means saying no to a lot of activities, but the long-term rewards are of course worth the sacrifice.
As for the initial site, we took a couple of weeks to plan it out during evenings and weekends. Since then, we have continued to put in as many hours as possible. We have been supporting ourselves with the salary from working full-time, and we don't pay ourselves a wage yet. At first, we both invested a small amount of money to reach our initial customers. We also applied to a funding scheme at my university which awarded us £250. We invested this into Google Ads which helped build our customer base and design portfolio.
How have you attracted users and grown CustomFilterz?
After finishing the site in April, the first customers all came from manually posting in Facebook groups, emailing companies who may be interested, and posting in forums and other communities. I found some buy/sell Facebook groups focusing on weddings that worked well for a short time.
To target businesses, I paid a virtual assistant to get the email addresses of companies who were attending exhibitions and set up a mail merge to contact them. I would briefly explain how we could help them and set up a phone call to talk about the details. This worked well for bigger sales and helped a lot in the earlier days.
After receiving the small £250 award from my university, we began to test Google and Facebook ads. For a long time we were breaking even and sometimes losing money on the campaigns as we had no experience. Over time we have refined the ads and they are now working well.
One of our main focuses has always been SEO. We believe that if someone is actively searching for your product they are more likely to buy than when they see an intrusive ad. It's more of a long-term strategy, as it's only generated a small percentage of our sales so far. We pay a blogger to write weekly articles, we host a Snapchat Influencer Q&A, and I write some articles myself, too.
What's the story behind your revenue?
For a typical geofilter design, we charge $49. This includes 24 hours on Snapchat, so we pay the fees. This works well for private events such as weddings and parties. For businesses and marketing campaigns we create a custom package based on their needs.
Marketing campaigns are much more profitable for us and fun to work on, so it's what we are focusing on at the moment. We have only recently begun to attract marketing clients which is reflected in the revenue increase below: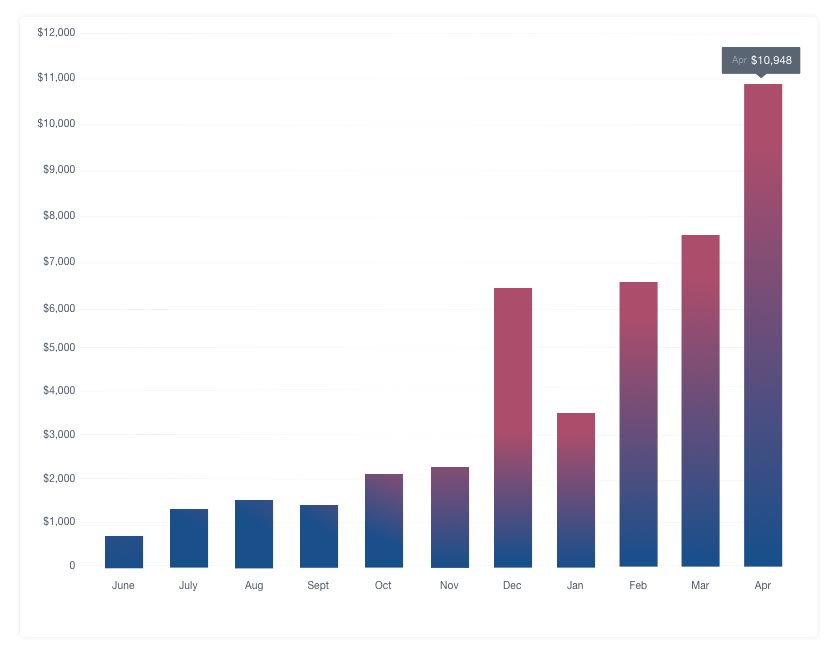 Typically, our profit margin is around 60-70%. The main costs are the Snapchat fees, PPC ads and our blogger.
What are your goals for the future?
The main goal has always been to earn $10,000 per month so we can work on the business full-time and have a cushion to fall back on if anything went wrong. (Update: After reaching $10k, our new goal is $25k per month.) It is risky in some ways running a business that relies so much on another business. If for any reason Snapchat lost it's popularity or geofilters were no longer interesting to people, we would have to start over. That's why we are playing it safe until we have a steady stream of income.
Another issue is the fact that since we started in April, countless other geofilter companies have started up as well sellers on Etsy and Fiverr. The competition is always increasing but so is the demand. The challenge is differentiating ourselves so that we stand out above the others. We plan to transition fully into Snapchat marketing, possibly under a different name once we have worked on some more campaigns and got the experience and data to back it up.
We've tested partially "productizing" geofilters to see how customers would respond. Leading up to Halloween, we offered a set of Halloween-themed templates that customers could choose from and customize the text to suit their event. The test was successful and we'll be repeating it over the holiday period as a less time-consuming method of generating revenue. This will allow us to dedicate more time to work on marketing campaigns.
If you had to start over, what would you do differently?
If I had to start over, I would probably focus more on the Snapchat marketing side of the business from the beginning. The platform still has a lot of potential and growth opportunities so it's not too late but I would have liked to worked on more campaigns rather than focusing on one-off designs for parties and weddings.
Also as we originally named the company "Geo Snapchat Filters' and had to change names, it set us a back with the SEO progress we had made with the original domain.
What do you think your biggest advantages have been?
One of the biggest advantages that we've had were our skills. Linas is a web developer and designer, and I am a digital marketer, so we had all of the necessary skills to get started and grow the business. I've also been lucky to connect with other entrepreneurs in Snapchat marketing communities who have given some great advice and helped a lot.
Where can we learn more?
I blog about our journey to $10k/month on the CustomFilterz blog. You can read about the journey in more depth there as well as successes we've had and mistakes we've made along the way.
You can follow me on twitter @jasonslaterio and Linas @linasv_. My email address is [email protected].
You can also leave a comment below, and I'll try to get back to you!
—
Jason Slater , Creator of CustomFilterz
Want to build your own business like CustomFilterz?
You should join the Indie Hackers community! 🤗
We're a few thousand founders helping each other build profitable businesses and side projects. Come share what you're working on and get feedback from your peers.
Not ready to get started on your product yet? No problem. The community is a great place to meet people, learn, and get your feet wet. Feel free to just browse!
—
Courtland Allen , Indie Hackers founder