Making $2.4/mo Helping Customers Sell on Amazon
Hello! What's your background, and what are you working on?
Hello! My name is Travis, and I'm a co-founder of AccelerList. I'm a non-technical founder and work closely with my technical co-founder Jeff. My background is in sales and marketing, but I'm a self-described geek who loves all things tech and software — most importantly, how software can improve processes or help businesses make smarter decisions. Jeff is a full-stack developer currently working for Uber, and he loves to code!
AccelerList is a pseudo name from the combination of Acceleration + Listing. We help consumers and SMBs (small and medium businesses) quickly and efficiently list their products for sale on Amazon. Our customers our listing products ranging anywhere from books to treadmills with our software.
Today, AccelerList averages $2,400/month in revenue.
What motivated you to get started with AccelerList?
I'm the typical "scratch-your-own-itch" founder in every way. I moved to Los Angeles from Chicago 6 years ago, and I started selling items on Amazon in an effort to side hustle a little more money each month to fund my family outings and hobbies.
People were making fantastic incomes just selling used books and CDs on Amazon, and I wanted a part of that, so I jumped right in. In doing so, I quickly learned about the "Amosphere" (a nickname sellers give to the Amazon universe we all live in) and how fragmented it was, and the limited or immature apps available to help one become a successful seller.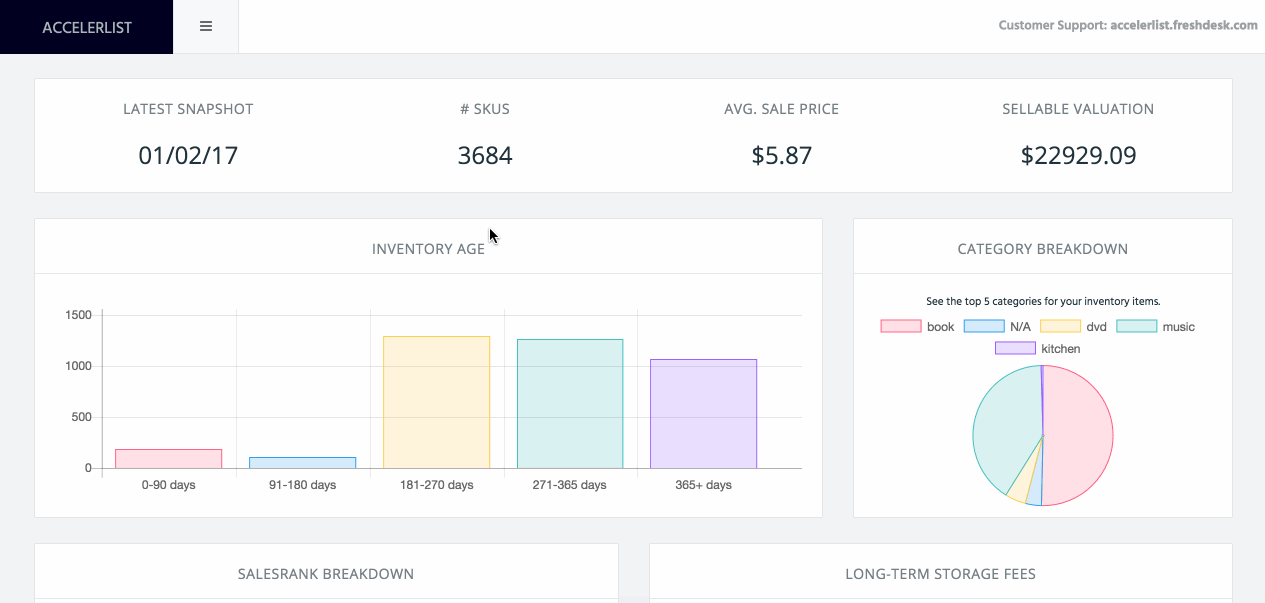 Using AccelerList to check the health of your inventory.
With respect to "listing apps," there was a only one dominant brand winner in the space. They were around 6 years old, and provided a decent amount of utility for sellers. Then there were some other more limiting apps that were a distant second to them.
I was frustrated with all the apps available, to be honest. I thought there had to be a better way, so I set out to build my own listing application. No coding experience. No start-up experience. Nada… zilch.
I knew I could market the hell out of it, and I knew there was room for us in the niche from a price and features perspective, so I jumped in with both feet and haven't looked back since.
What went into building the initial product?
Well I didn't have any coding experience other than HTML from the late 90's, so I needed a dev partner. I put out a Craigslist ad and simply asked someone to help me build a web-based alternative to one of our lower end competitors.
I was already keen on the idea of getting an MVP out quick to see if sellers would pay us for it. Now I just needed someone to help me build it and take the journey with me.
I got a gazillion offers from the Craigslist ad to help me build AccelerList, but after talking to a few, Jeff was the only one that both impressed me and was also willing to join me in the startup. Jeff was just finishing up his last year at UC Berkeley and already had worked on some important and impressive projects at Google. He was young, too, and I knew he could go the distance if we could build this thing out.
Jeff had a working MVP (written in Python) up in less than a month, and because I already had a lot of connections in Amazon Facebook groups, I was able to attract a large BETA group to test it out for us. Interestingly enough, it wasn't a free beta at all. We offered a "founders" price point of $20/mo with the promise of a better application in the future for BETA users who would enjoy a locked-in low price point forever.
We had a bare bones app to begin with, but with regard to its core functionality, it did the job. It got the seller's products listed and over to Amazon to be sold. We've added a ton of features since we started last May 2016, and we've raised the price point to $29/mo now, which is $10 cheaper than our biggest competitor.
How have you attracted users and grown AccelerList?
We didn't have the budget to market really like running Facebook or Google ads, but we also knew that approach wasn't going to work very well either. Our initial growth was made by hanging out where our customers were (Facebook groups) and writing content on our blog. My biggest piece of advice for new SaaS founders is to join every Facebook group you can in your niche and start banging out as much SEO-friendly content as possible.
Both Jeff and I still have day jobs, so every night and on the weekends we would either be coding or marketing like crazy. I had already built a popular food truck blog up to about 20k pageviews, enough so I had the marketing chops. And Jeff is a devNinja, so I just knew we had a winning combination... we just had to keep chugging along and react smartly to changes.
But again, hang out where your customers are, whether that's Facebook, Reddit, forums, etc., and get the chatter going about your app.
What's your business model, and how have you grown your revenue?
We're a SaaS application that works in any browser. The predictable revenue that comes from a subscription-based business model has allowed to weather early storms like high churn due to bugs, or anything else that's normal turbulence for a software startup.
At this point we only have one pricing tier, but we'll be introducing another higher price point once we add some more features to AccelerList. The trick is really figuring out which features will give us the best bang for our buck and add tremendous value for the users.
| | |
| --- | --- |
| Month | MRR |
| May | 260 |
| Jun | 560 |
| Jul | 940 |
| Aug | 1379 |
| Sep | 2742 |
| Oct | 2683 |
| Nov | 2405 |
| Dec | 2216 |
| Jan | 2277 |
| Feb | 2358 |
| Mar | 2733 |
We currently have over 115 paying users and $2,733 in gross monthly revenue. It doesn't seem like a lot, but we're only 8+ months old, and we've already built a competing application to our biggest competitor in the space. We have zero overhead except for some email and marketing apps and server costs.
That said, we haven't taken any money from the business really. We're "long gaming" this opportunity, and we know our competitor is doing over $200k a month in revenue, roughly, so it's really just a matter of staying true to our principles, providing value to our customers, and peeling off as much market share as possible.
In the future, we want to be #1 or #2 in the Amazon 3rd party space for listing applications. We have a long road ahead of us, but I think we have some great odds. More importantly, Jeff and I are tenacious about winning.
If you had to start over, what would you do differently?
I wouldn't do it any other way if I had to start over again. We're an almost completely bootstrapped company, and I think everyone should start that way. Quickly build out an MVP and see if folks will pay you for it. I think the rule of thumb is if you can get 10 people to pay you each month, then it's an idea worth trying to scale up 100x.
What were your biggest advantages? Was anything particularly helpful?
I think our biggest advantage early on was attracting an angel investor. Caleb Roth from the Book Flipper.com believed in us. He was already a respected thought leader in our niche, he's been instrumental in helping us decide what features to build out, and he's been the perfect "active" investor on our journey.
He also has previous experience with his own SaaS app in our space with his eFlip software, so that was a complete bonus to us. He's given us incredible authority in the Amazon niche, and he's just an overall smart and fun guy to partner with.
What's your advice for indie hackers who are just starting out?
Stop researching your niche or product, and immediately hire/partner with a developer or code your own MVP. If you don't start now, you'll waste precious time you'll never get back. If you can get 10 people to pay you for your app on a monthly basis then you have all the validation you need to scale up.
The only other advice I would give is to be and hang out where your customers are. That makes it incredibly easier to attract new users. Don't pay for Facebook or Google ads.
Where can we go to learn more?
The best place to learn about us is on our YouTube channel. Or, if you comment below, we'll respond. You can also email us at [email protected].
If you're looking to earn some extra money while developing and launching your startup, Accelerlist is a great tool to help you earn some extra money each month.
—
Travis R. , Founder of AccelerList
Want to build your own business like AccelerList?
You should join the Indie Hackers community! 🤗
We're a few thousand founders helping each other build profitable businesses and side projects. Come share what you're working on and get feedback from your peers.
Not ready to get started on your product yet? No problem. The community is a great place to meet people, learn, and get your feet wet. Feel free to just browse!
—
Courtland Allen , Indie Hackers founder