Bootstrapping My Daydream into a $20K/Month Business
Hello! What's your background, and what are you working on?
Hi, my name is Austin Ginder. I'm a web developer in Lancaster, Pennsylvania. I run Anchor Hosting, which provides hassle-free WordPress hosting for web professionals. I do this by using other managed hosting providers, like Kinsta, and bundling in what I like to call the essentials of WordPress maintenance, meaning the basic maintenance services that every WordPress site needs. No more, no less.
I've always been interested in technology. During high school, I worked part-time after school and, during the summer, I repaired and built computers, set up computer networks, programmed, etc. My first full-time job was working for my uncle's computer shop providing IT support services for small businesses in the local area. On the side, I started building WordPress websites for small businesses, which quickly took up most nights and weekends. I decided to quit my job and pursue working for myself in July 2010 and have been working for myself full-time ever since.
I launched Anchor Hosting five years ago, but it's been a very slow process getting here and figuring out what to focus on. Having just turned 34 years old, it feels like a great time to do this interview. I've been in continual self-reflect mode these past few weeks and being open and transparent is a core value I hold. In line with this ethos, all of the code that runs Anchor Hosting is completely open source.
As a solo developer, I currently provide WordPress hosting services for over 900 WordPress sites with an average revenue of $19,750/mo.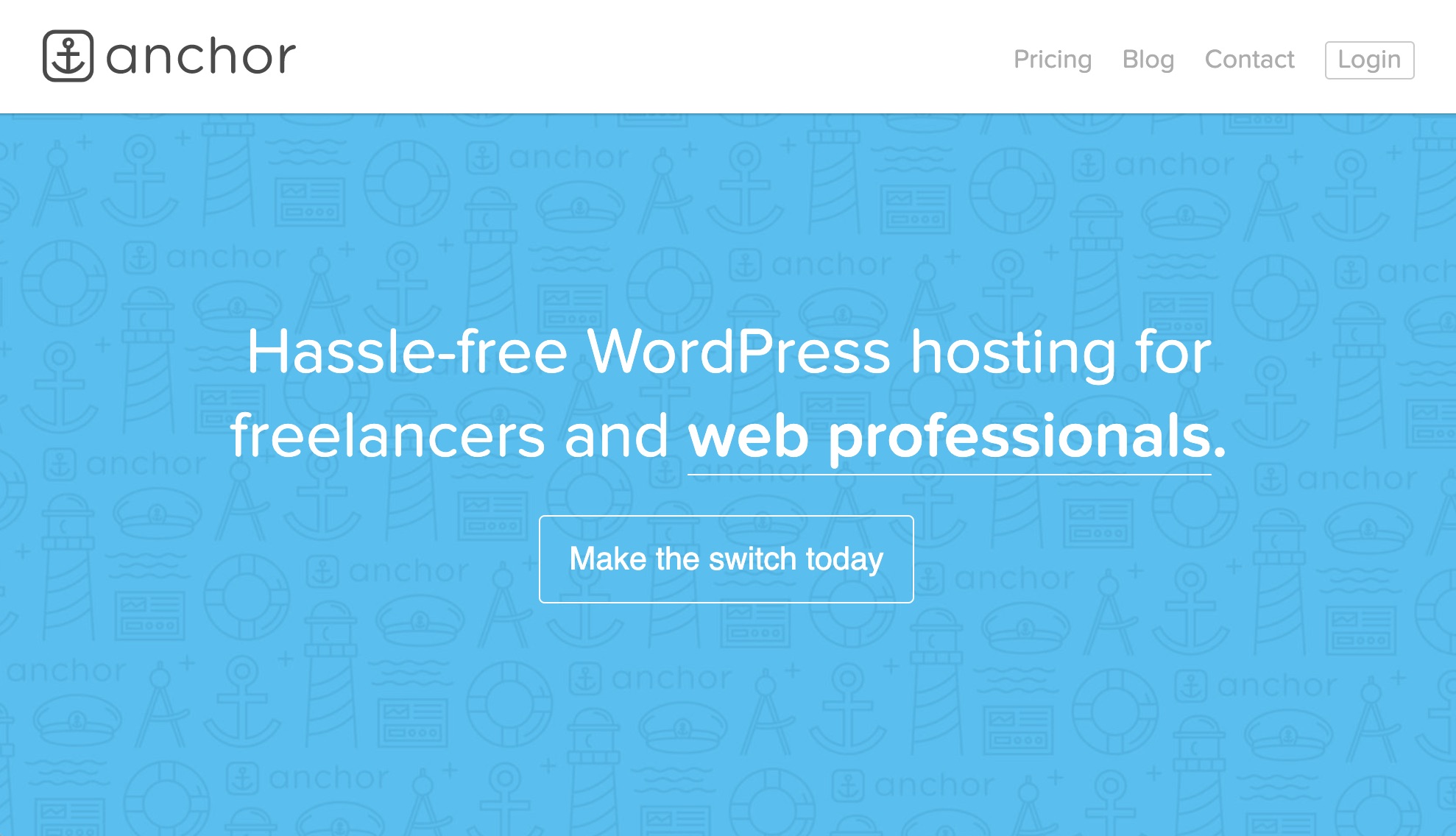 What motivated you to get started with Anchor Hosting?
The idea for web hosting came to me when I was still working a full-time job in early 2007. Though it was otherwise unremarkable, the moment still stands out to me. One evening I was driving to a customer, musing as one tends to do while behind the wheel, and thought to myself, "Do I really want to be doing IT support work? Or do I want to do something new? Why not web hosting?" At the time, I was working full-time doing IT support for small business customers during the day and, during the evenings and weekends, I'd do the same work for my own residential customers. Don't get me wrong, I loved my job. I just thought it wouldn't hurt to pursue something different on the side to spice things up.
The shift into a new, relative unknown was helpful in a lot of ways. It was challenging and fun to learn something new, but, importantly, when it came time to quit my job, it meant that I could do it on good terms. In fact, my employer sent out an email blast to all of their contacts explaining that I was striking out on my own and promoting my new web development pursuit.
While I always had the general idea of doing web hosting, it took me a few years to actually figure out exactly what that looked like and how to get there. At first, it simply meant any WordPress site I built I'd required the customer to host with me — I was stubborn about that and it was built into my website proposals. If a customer didn't want me to host, I wouldn't take on the project. After a few years of developing WordPress sites, I came to the conclusion that developing sites is a really bad way to make a web hosting business. On a good year, I could only crank through about 20 new websites.
In 2014, I created Anchor Hosting. I took down my current website, which listed my web development services, replaced it with a hosting website, and rebranded from Anchor Development to Anchor Hosting. At that time, 25% of my revenue was coming from web hosting and 75% from web development. I introduced Anchor Hosting by sending out an email to all my contacts informing them of the new business name and letting them know that I planned to take on fewer web developer jobs over the next few years.
I've always felt that there was a large gap between the web hosting that providers offered and what small business needed. I felt that the easiest way to close that gap was to just stick a web developer like myself in between to fill in those gaps. Instead of becoming a sysadmin, I leveraged other managed hosting platforms, which allowed me to focus on solving problems that directly impact small business customers.
What went into building the initial product?
At the start, it was literally me just reselling WordPress hosting. There was no product — I was the product. I often thought of my early hosting offer as the "panel-less" hosting alternative. No hosting panel required, it was just me handling all of the technical pieces, like site migrations, site monitoring, DNS/domain management, WordPress security updates, and fixes. My strong technical support background was extremely helpful. I'm really proactive with WordPress maintenance updates, which helps resolves many issues before they become a problem.
Over the years, I've transitioned my customers from MediaTemple to WP Engine, and now to Kinsta. As a host reseller, I can remain objective and simply pick whichever web host I feel best serves my customers. I'm not locked into any specific company. In fact, I'm typically utilizing a few providers at a time, capitalizing on the advantages of each.
It wasn't until the beginning of 2018 that I officially began developing my own WordPress management toolkit, which is a core part of how I run my business today. None of that fancy automation or scripting was necessary in order to get started.
How have you attracted users and grown Anchor Hosting?
Joining the Candy Factory, a co-working space in Lancaster, was huge. I was introduced to the co-working space through the first WordPress Lancaster Meetup, and both the meetup and co-working space greatly expanded my network. At the Candy Factory, there was a large need for web developers. I found myself surrounded by other awesome folks who were making WordPress sites for their customers and ended up working with them on various technical parts of their projects. When I shifted focus from web development to web hosting, most of these relationships ended up bringing their customer's websites to Anchor Hosting.
Anchor Hosting has grown through word of mouth. Nearly all new hosting customers come through existing relationships with web designers, web developers, and agencies. I've found that most people host their WordPress website with whichever web host was recommended by the one who built them their website. Because of this, I haven't spent any time or energy on marketing or advertising to customers, but have instead focused on attracting the web designers, web developers, and agencies who will organically refer customers my way.
I post weekly on Anchor Hosting's blog. By writing consistently, I'm forced to constantly learn, grow, and pursue new skills and interests. If I have nothing to write about, then I probably haven't been working on anything too exciting. While a handful of developers have found me through the blog, the majority know me through word of mouth. As a result, a large percentage of my customers are from my local area.
It's a good thing that organic growth has been working out, because I hate sales. I don't run advertisements, nor do have any plans to do so. I've found that the customers I get through personal referrals are much higher quality than those that come through links or otherwise stumble onto my site, so instead of focusing on advertising, I put my efforts toward helping people, building relationships, and providing the best hosting services possible.
Luckily, there are many ways to give back in the WordPress community. Over the years, I've helped organize and speak at WordCamp Lancaster, led many WordPress Lancaster Meetups, and attended WP-CLI. Whenever at a conference or meetup I'm always looking for ways to help others and give back, and I don't see this growth strategy changing any time soon.
What's your business model, and how have you grown your revenue?
I make money by selling hosting plans on a monthly or yearly subscription. That's it. I don't have reselling or white-labeling options. I don't have affiliate programs or partnerships. I don't have any contracts or profit-sharing. And I don't ever run sales or discounts. If an agency wants to work with me, they simply need to have me spin up each website under one of my plans and go from there, plain and simple. There is no sign-up process, just send me an email.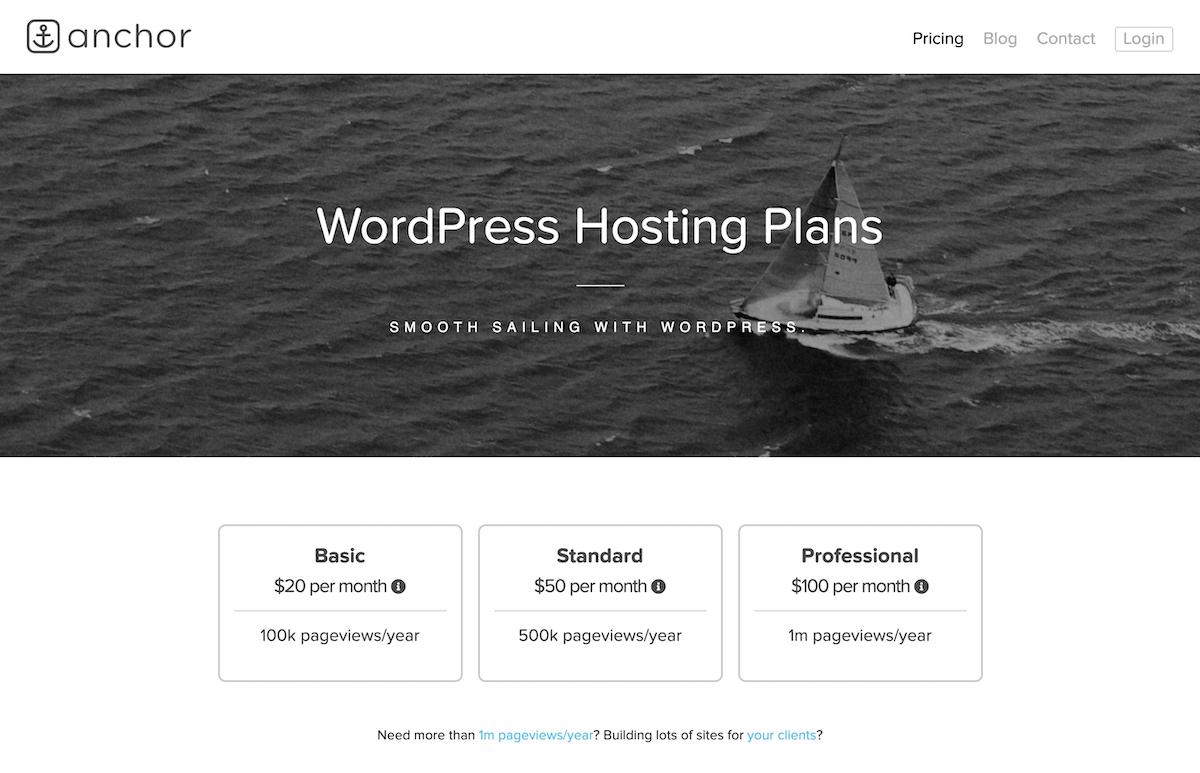 I've found most agencies end up offering web hosting out of necessity, not because they want to or enjoy handling the technical issues relating to hosting. I help agencies save time by handling hosting and technical issues for their customers, which allows them to stay focused on actually building websites. Because of the nature of how agencies work, Anchor Hosting growth happens in bursts. Each agency I take on may have 20, 50 or over 100 existing websites to migrate over.
I've been making a profit since taking on my second customer. I put my first few web hosting customers on a MediaTemple Grid account and, despite paying $20/month and only having two customers, I had a profit. The first customer was paying me $20/month, which was enough to cover the hosting bill, so the second hosting customer was pure profit. The trick is to ease into things slowly while getting paid through either a day job or other consulting services. It was three years from the time I announced Anchor Hosting until I was fully sustained by web hosting.
While web hosting costs have varied greatly over the years, I've found that the same basic breakdown exists in my business regardless of how many websites I'm hosting. For each $20/month basic plan I sell, roughly half covers my raw hosting expense, while the other half covers my time and energy. Beyond that, there many things, like domain names and other plugin add-ons, which I charge very close to their cost and bundled with hosting plans for ease of use. That means, overall, I have very low margins. Currently, I estimate that around 1,000 websites comfortably sustains one employee, however, I see no reason why this ratio couldn't be improved by better tools to reduce the need for technical support.
| | |
| --- | --- |
| Year | Revenue |
| 2013 | 6100 |
| 2014 | 38500 |
| 2015 | 78500 |
| 2016 | 127500 |
| 2017 | 189000 |
| 2018 | 222000 |
What are your goals for the future?
CaptainCore is an open source WordPress management toolkit that I'm developing. It's what my customers see when they sign into the backend of Anchor Hosting. It's still early in development and not quite ready for an official release, but I am posting monthly updates on its progress and have everything up on Github.
Technical support is a band-aid that will never go away unless someone puts the time and energy into solving why the technical support is needed in the first place. CaptainCore is that pursuit, and is the future of Anchor Hosting. It's an attempt at building better tools for myself and also enabling my customers to do more themselves. 💪
I don't consider revenue or number of customers a mark of success. For me, what really matters is building things that actually solve problems. If, through software development, I'm able to support the same number of customers with half of my support time, then I'll consider what I'm doing a huge success.
I'm a big supporter of the open web. For every line of proprietary code, an open source replica will be made. Code is meant to be freely shared and adapted for our unique purposes, and I have no desire to run a business selling proprietary software. Instead, I want a business that is sustained by selling technical support built on software that is freely available for others to use and customize as they wish. I believe that many of the rough edges of WordPress maintenance will only be solved through open-source solutions.
Those who provide useful support will always have the opportunity to make money. If any code that I've written helps others, then everything I do is totally worth it.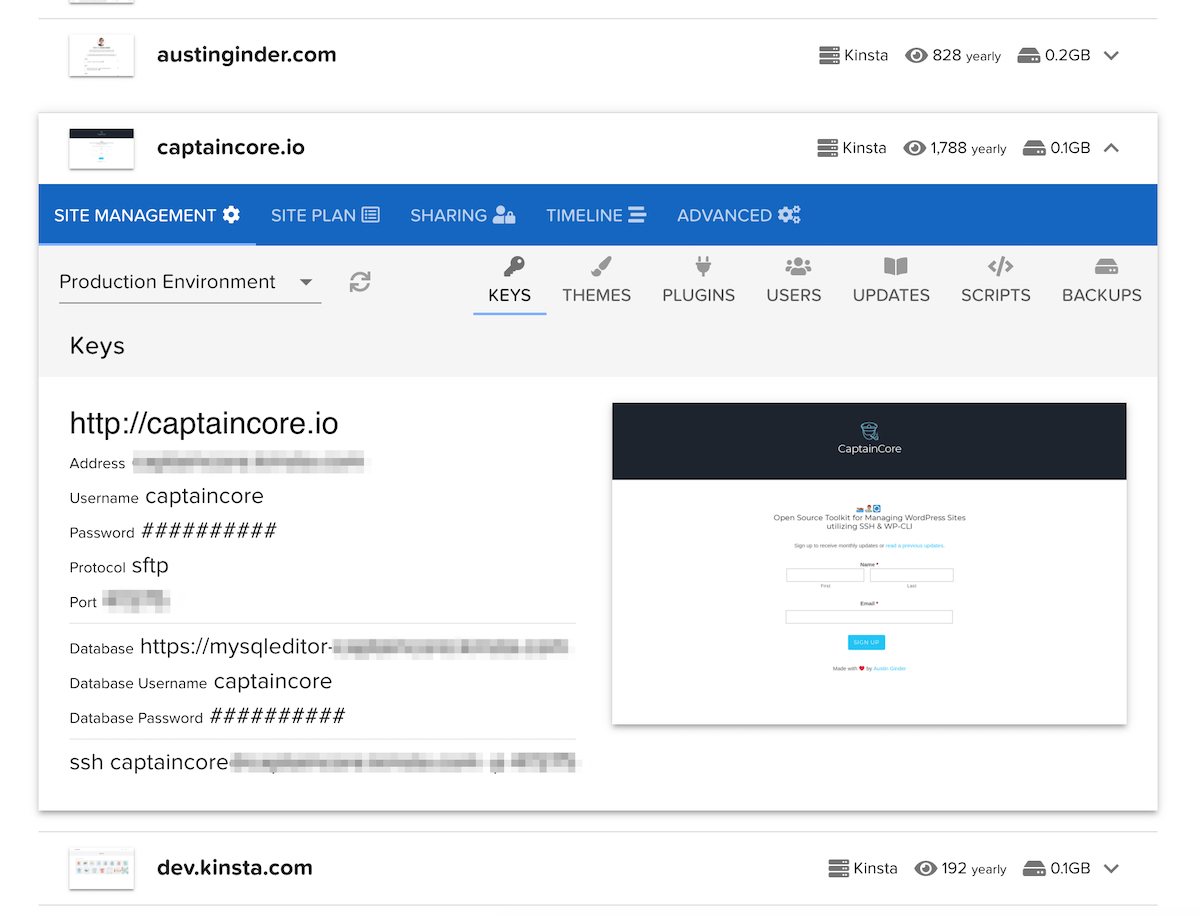 What are the biggest challenges you've faced and obstacles you've overcome? If you had to start over, what would you do differently?
If I'm being truthful, my personal life has been way more challenging than anything I've faced in building my business. I took this challenge on intentionally, as my wife and I jumped into hosting children in the foster care system while growing our family. Within a three-year timeframe, we went from having no children to having six children, three by birth and three through foster care. It was a long process but, eventually, we ended up adopting each of the kids that came to our home through foster care.
Work was simply what I did between all of the chaos of introducing foster care into my family life. The funny thing is, even though our home life increasingly demanded more and more of my time, I still managed to get the same amount of work done. In a way, pushing myself and stretching my limits in my personal life forced me to be productive and focused in my business endeavors with the little time I did have.
Starting over, I think I would have written more. Writing as a habit is something I've only adopted within the last few years. It would be interesting to go back and read what I was thinking when I initially got started, but I don't have very much from before I started Anchor Hosting. I was mostly in grunt work mode cranking out WordPress websites.
Have you found anything particularly helpful or advantageous?
First off, everyone should read The E-Myth Revisited by Michael Gerber. The insights offered in this book helped me change my thinking from someone who is just working in a business to someone who is working on a business. For a while, I felt like my side projects weren't very helpful and didn't see them as a smaller component of the larger machine that is building a business. But as it turns out, many of my side projects, including ones I thought were frivolous, resulted in tangible benefits like more efficient website backups, better site monitoring, and faster site migrations, to name a few.
My wife has been super supportive. The timing was also perfect. We had just gotten married when I started thinking about striking out on my own and, because we had no children to support at the time, had very little risk. She encouraged me to go for it. Thank you Cathy for giving me the freedom to pursue my dreams. You are amazing! 🏅
You have to remember that life is not just about you. There is a balance. Sometimes I'm the one pursuing my dreams whereas other times I'm supporting my wife in her pursuits. Practically speaking, that means we each need to be flexible in our family roles and in how we see our future unfolding in the short term. My wife and I will often spend time just dreaming together about our future. These little moments of whimsical thought are crucial, as it gives each of us space to brainstorm without any hindrances and build a future together that we can both be proud of.
What's your advice for indie hackers who are just starting out?
I'd say it's completely fine if you don't know what you're doing. For me, I just had a general direction and a huge desire to do something on my own. I had no clue what I was doing. When I first quit my job, I went in all sorts of directions — custom coding WordPress sites from scratch, hosting WordPress sites, and doing custom Ruby on Rails apps. That's not to mention the entire notebooks of app ideas I sketched out and never got around to.
This is totally fine and normal. I figured it out eventually, but slowly and with a lot of trial and error. I love what I do and am super excited to do it every day. Everyone has something to contribute, a pain point they can solve, even if it's their own pain point.
Just say no to funding. I'm 100% bootstrapped and have no intentions of ever taking on other people's money. There are worlds of efficiency created when you're forced to make things using the resources you currently have. If I want to accelerate growth, I can always invest in marketing and advertising, but only when I'm ready and can sustain that type of growth. Growing at a measured pace allows you to grow with your business.
Where can we go to learn more?
You can find me on Twitter. I write weekly on Anchor's blog ⚓ and post monthly updates for CaptainCore. Feel free to ask me anything below or to reach out if you just want to say hi.
—
Austin Ginder , Founder of Anchor Hosting
Want to build your own business like Anchor Hosting?
You should join the Indie Hackers community! 🤗
We're a few thousand founders helping each other build profitable businesses and side projects. Come share what you're working on and get feedback from your peers.
Not ready to get started on your product yet? No problem. The community is a great place to meet people, learn, and get your feet wet. Feel free to just browse!
—
Courtland Allen , Indie Hackers founder