How I Turned My Side Hustle into a Product Worthy of Acquisition
Hello! What's your background, and what are you working on?
Hello! My name is Gilles Bernhard and I'm from France. I co-founded SCPlanner.net a little over two years ago with an old friend of mine, and it's now my full-time job!
Prior to founding SCPlanner, I studied sound engineering in Paris. I worked at radio stations, produced music, and ran SoundCloud promotion for artists and labels to make a little extra money on the side.
That side hustle is what lead me to develop SCPlanner. It helped me plan out all of the reposts (reposts, similar to retweets, allow you share a track from an artist on your feed with your own followers) across my SoundCloud channels, get better results with my campaigns, and work with more clients.
I worked full-time at a radio station in Strasbourg, France as the advertisement planner while developing SCPlanner. Nine months after launch, I quit my job to focus on promoting SCPlanner and making music. Today, SCPlanner has grown from a side hustle to something use by various artists, labels, and blogs that curate music over SoundCloud or Spotify. Some of the biggest artists and labels, such as Disciple, are using this tool every day.
Two years after launch, SCPlanner is making $3,500 per month and has been acquired by Repost Network in an effort to give its artists more tools to promote their music and generate revenue.
What motivated you to get started with SCPlanner?
I used to run SoundCloud promotion for myself, other artists, and the labels I managed. The extra money was great, but the process was incredibly time consuming and hard to manage on top of a full-time job. I realized that I needed to automate some of the workflow, because having to log in and out of all my channels on SoundCloud and enter captchas for each and every one of them was not viable or sustainable.
Another problem was something called repost blasts. Promotion on SoundCloud is a "repost for repost" system where influencers and smaller channels exchange reposts between one another. Usually, the reposts are up for 24 hours and then manually removed. If everyone is sitting down at the same time to do their promotion and reposts (after work, for example), then their are discrete chunks of time where reposts get blasted out all over SoundCloud and flood everyone's feed. If you're caught up in that repost tidal wave, it's easy for your reposts to get lost in the sea of repost blasts, and for users to experience repost fatigue. Your SoundCloud reach suffers because it is drowned out on user feeds, not as many users engage with the content you're reposting because they are already overwhelmed by repost, and your tracks ultimately don't get the views you expected from your efforts. If you're not able to log in and out at different intervals throughout the day, you're kind of screwed.
I did some quick research, and found that there was no tool was available to fit my needs. Because I like to come up with new systems that free up time and make life easier — even if it means working a lot more at first — I started to think about building my own tool. I wanted it to be easy to use, and have key features focused on repost scheduling, improving repost reach, and freeing up time.
This was not the first time we had worked with the SoundCloud API, so we knew very quickly that this idea would work from a technical standpoint. With that in mind, we decided to build it.
What went into building the initial product?
As I am not a developer myself, all the coding was done by the co-founder Jean. I sent him the basic guidelines needed to make sure the tool would fit my needs:
Log in with one SoundCloud account
Add multiple SoundCloud channels to your SCPlanner
Paste one or more SoundCloud track URLs
Chose the repost(s) date
Chose when to un-repost, like, and comment the track(s)
Show a list of all the upcoming and past schedules
Spreading the reposts out instead of doing blasts, planning the reposts, and being able to see what is scheduled on your channels were the most basic features needed to effectively solve the log in/log out captchas problem, as well as properly schedule promotion.
We had done most of the SoundCloud API coding was already on a previous project, ArtistEngine.net. That helped us finish this tool in a really short amount time. We completed the first product in less than a couple of nights while working full-time at other jobs.
Even though the design was a simple Bootstrap CSS admin-panel template and the features were the bare minimum, I was using it for my own SoundCloud promotion just a few weeks later. I credit this to putting so much effort into making the system as easy to use as possible.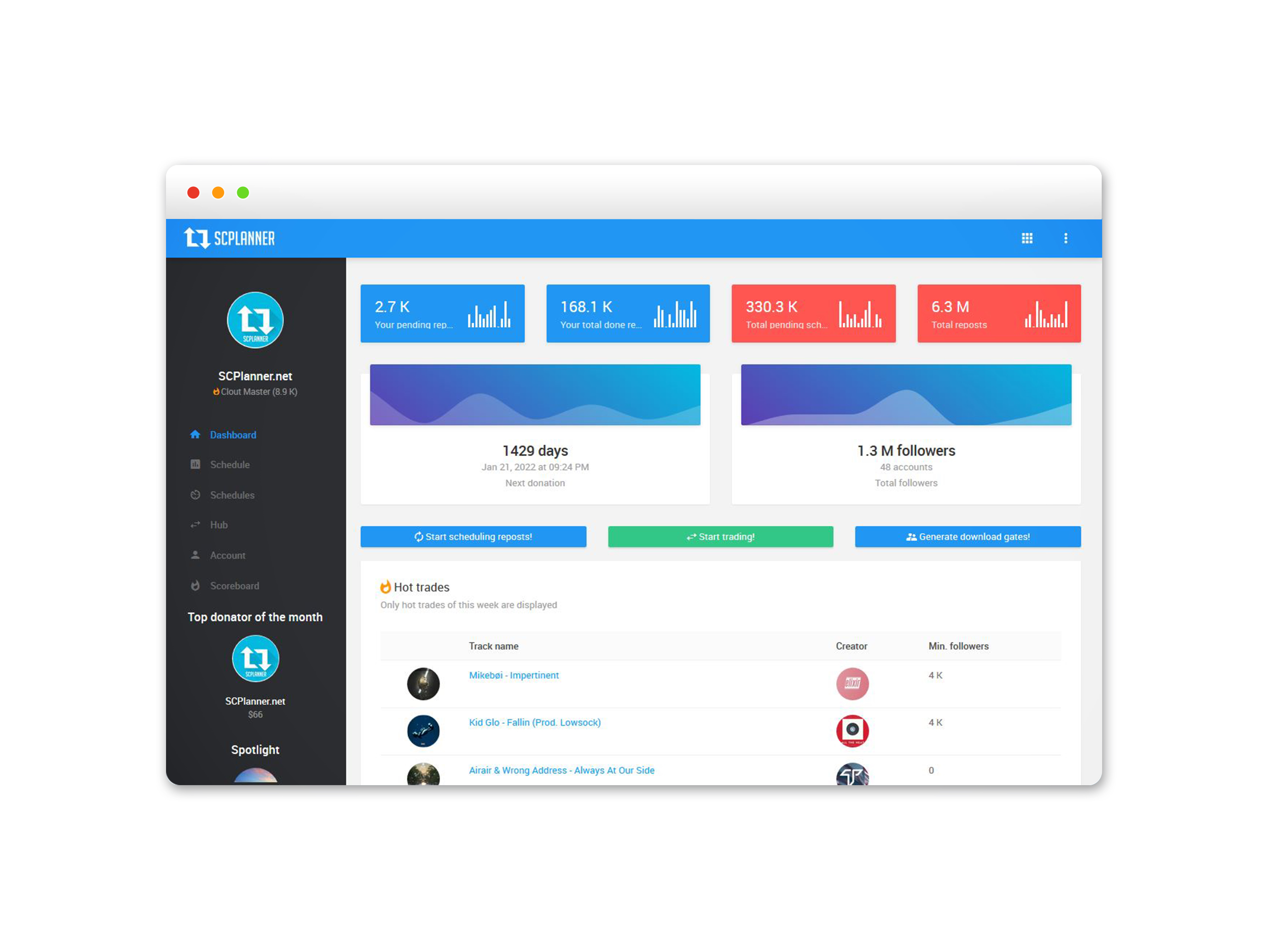 I vividly remember the rush of testing it out the first time and finding that everything working (almost) perfectly! It was immediately clear that this was going to free up a lot of time and subsequently allow me to get more clients! It was such a powerful tool.
Because Jean and I designed and created SCPlanner ourselves, our only fee at the time was $10/month for the server and the domain name. We didn't need any funding or employees/contractors, so we were profitable as soon as we secured our first users, just days after launch. We hired our firsts part-time contractors around 10 months later to help us with new features and updates. Some didn't end up working out, so we've managed with a smaller team.
As SCPlanner grew, we switched to a better server. Once we were acquired, we moved to Amazon Web Services.
How have you attracted users and grown SCPlanner?
This is the most interesting part of SCPlanner, at least for me. It basically grew organically!
At the time I was developing SCPlanner, everyone was using Facebook Messenger to do reposts for reposts and SoundCloud promotion. There were large Facebook groups set up exclusively for SoundCloud promotion, making it easy to find new partners to work with. Because the system and targeted users were in a very niche industry, I knew and spoke to (almost) everyone doing this type of SoundCloud promotion on a daily basis. Since I was part of the community, there was no need to do paid advertising!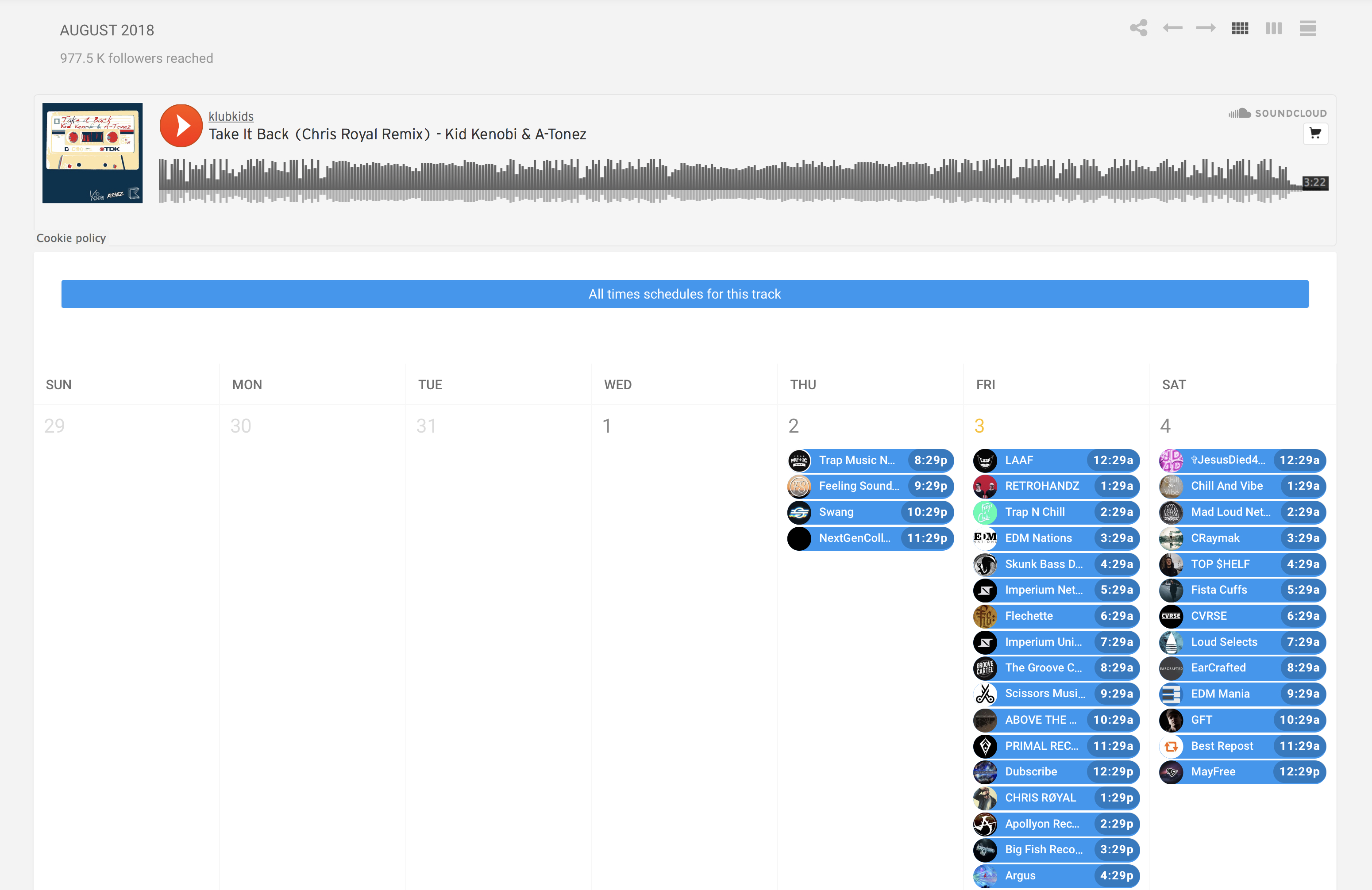 Before the actual launch, I essentially demoed the product for prospective users. Every time I planned repost promotions for somebody else, I used SCPlanner and sent him a screenshot of my settings and schedule. That way, he know that I had done the work and could easily track when the reposts were being made. People quickly began asking me what tool I was using and how they could get it. That's when we decided to launch.
It grew rapidly! We had 20 paying users in a matter of 10 days. From there, it was mostly word of mouth that got us new users. We managed to attract 500 new SoundCloud channels in a month without any ads.
We then setup a referral program: invite three friends to get one month free. That worked OK, but not as well as I had hoped. We may come back to the referral program at some point, but we'll have to tweak something to make it more appealing. We also focused heavily on support. We made sure to answer to every question, listen to feedback, and keep iterating and improving to stay relevant.
SCPlanner quickly became the most known tool for scheduling reposts.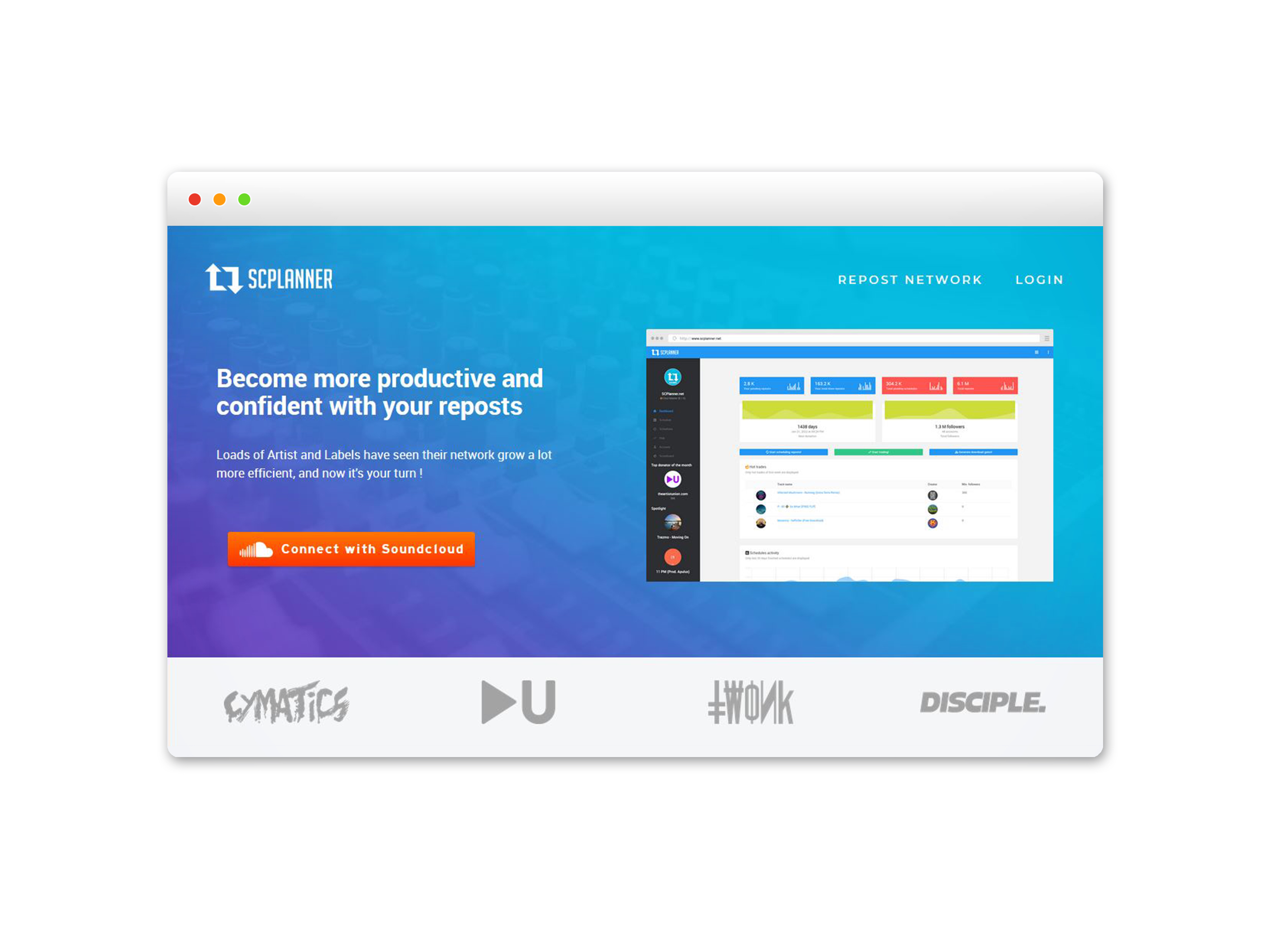 Much later, we introduced sharable tracking link.
Every time someone schedules reposts, it now gives a custom URL listing all the reposts, likes, comments, and un-reposts planned for a specific track. That URL can be shared anywhere to anyone, which is the most efficient way we currently have to get new users! Someone not familiar with the tool can discover it via one of those shareable links.
Every new user gets a 7-day free trial. We've found this to be invaluable. People always like to try out all the features before committing to a new system.
SCPlanner is not cheap, but I think that actually helped legitimize the brand. Free services are often not of the best quality or have limited features. So we decided early on that SCPlanner would not be cheap, since we felt that it offered a real value and wanted to project that to our potential customers. That, and we were the only scheduling tool around at the time.
Reading Contagious by Jonah Berger helped me come up with the idea of creating a Ranking System. A lot of people like to show off that they use SCPlanner or otherwise have huge networks, so let's give them the ability to show that to everybody! We created a formula based on activity, and added some funny rank names according to the amount of activity. We then showed it in a nice pop-up at login when a new rank is acquired.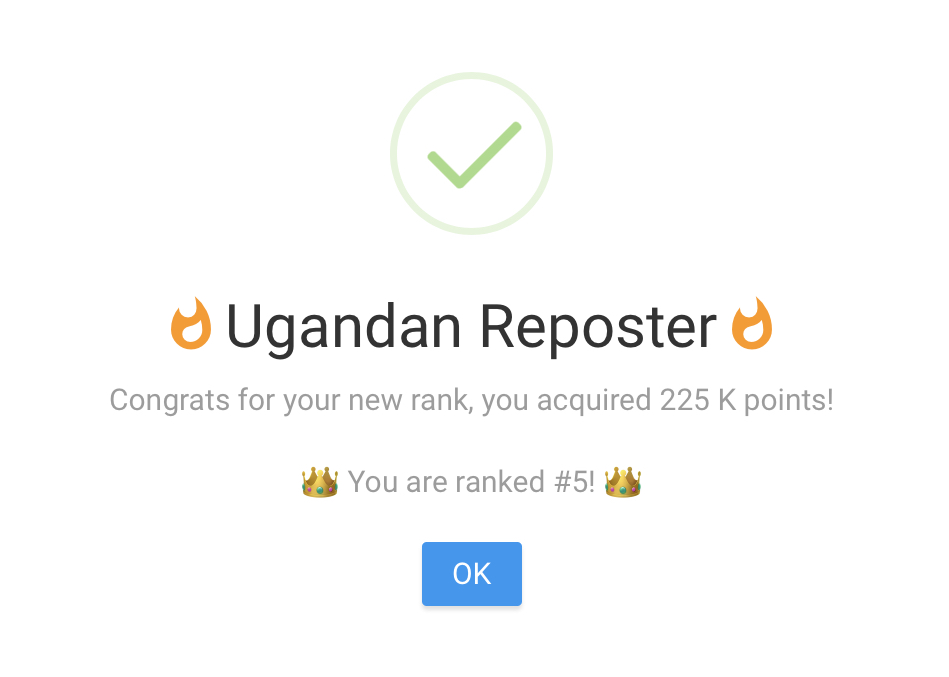 The ranking system worked very, very well the first week! Then it slowly faded away, as expected.
Regardless, I am still very happy with the result it provided. Everybody on Facebook shared screenshots of their newly acquired rank. They didn't know how the points were granted, what perks they would get, they just liked to show it to everybody. Even if it didn't bring loads of new users, it made the brand stick in everyone's mind, made them comment on each other's posts, and made them want to climb up to the top 100 users!
What's your business model, and how have you grown your revenue?
At first SCPlanner wasn't intended for every SoundCloud artists. I wanted to use it for my needs. But as the interest grew I needed to find a way to generate revenue.
Because I ran SoundCloud campaigns, I knew what kind of money a certain amount of followers could bring in. That's where I had the idea to charge monthly, and according to a user's total amount of followers. If you add multiple SoundCloud channels to your SCPlanner, you would have to pay more as your audience grow. We also set the minimum fee to $2 a month for up to 20,000 followers across your network. That way, smaller artists and labels could use SCPlanner at an affordable price.
We never changed this formula, and to this day we've managed to maintain growth in our monthly revenue even though we are giving away free plans to every Repost Network artists.
| | |
| --- | --- |
| Month | Revenue |
| Feb '16 | 163 |
| March '16 | 223 |
| Apr '16 | 329 |
| May '16 | 567 |
| Jun '16 | 827 |
| Jul '16 | 825 |
| Aug '16 | 1102 |
| Sep '16 | 1422 |
| Oct '16 | 1472 |
| Nov '16 | 1667 |
| Dec '16 | 1876 |
| Jan '17 | 1991 |
| Feb '17 | 1981 |
| Mar '17 | 2635 |
| Apr '17 | 2509 |
| May '17 | 2944 |
| Jun '17 | 3237 |
Every payment is made with PayPal. We added a slider so people can pay more than what they are set to pay if they want. Why would they do that? We've added a featured profile for "Top Donator of the Month" on every page. Some users pay more than the top donator, on purpose, to be featured there. We also give a free month for top donators if they can keep their spot for more than 30 days straight! We didn't expect much from this but in the end, it yielded some interesting results.
After the acquisition, the revenue has remained consistent but has stopped growing. The reason for this is because we are now giving away discounts to every Repost Network channel. If you own one or two channels registered at Repost Network, you won't have to pay for them on SCPlanner, but you'll still need to pay for every other SoundCloud channel you own that is not part of Repost Network.
As of today, SCPlanner is no longer cash-flow positive, but it is part of the acquisition strategy/bigger picture: artists & labels are invited to register to Repost Network to generate revenue on this platform instead of SCPlanner, via royalties (you can learn more about that at Repost Network's interview).
You ended up selling SCPlanner. What was that process like and what are you goals for the future?
When we hit $3k in revenue per month I decided it was time to look for a bigger company to help us scale. It was very important to have a lot of data (user stats, revenue stats, average session time, monthly visitors, etc) to be able to build a strong case for the acquisition.
After several months, SCPlanner got acquired by Repost Network, a well known distribution company. Their quick growth and fresh view of the music industry make me believe we made the right move. Overall it was a lot of back and forth between lawyers, but their advice was of great value to close this deal successfully and satisfactorily.
The goal is to continue grow the revenue and keep adding features. Since the industry is shifting towards Spotify, all our focus is now shifting towards Spotify as well. The team has expanded per the acquisition, so the the next big step is to get every new developer onboard, increase productivity, and be quicker on updates and support.
What are the biggest challenges you've faced and obstacles you've overcome? If you had to start over, what would you do differently?
We very quickly realized that the SoundCloud API was not the easiest to work with. Because they often didn't respond to requests, we ultimately decided to build our own library and use an unofficial SoundCloud API v2.
At some point we had so many schedules to process, we ended up changing our MySQL database to Postgresql to improve performance.
The server we had was also not the best choice. We had a couple of 5+ hour downtimes due to server issues. If I had to start over I'd chose another service.
Timezones were a huge struggle at first, since all we do is based on planning events. It took a while to properly master this aspect of SCPlanner. We now have all the dates in UTC and the browser sets the timezone for the users.
At some point we had to hire contractors to help us grow SCPlanner because we had so much demand — new tools, new features, updates, etc — but after a few months we found out the code was getting way too messy. Everyone was working how they liked and not communicating with one another or with us, and in the end we are still working on repairing some small problems brought on by all the chaos. It would have been better to hire a few less people who were better able to follow guidelines and work productively as part of a group.
One other very important aspect of the business is that SCPlanner is totally dependent on SoundCloud and Spotify. As long as they still have customers SCPlanner should be OK, but if they somehow fail or disappear, we'll have to quickly shift to new platforms.
A major issue we are now facing is Facebook blocking all of our shareable links. We tried everything to get that problem fixed but, unfortunately, nothing helped. Our users have been finding creative ways around it, but ideally we'd like to have the shareable links back on Facebook Messenger!
Have you found anything particularly helpful or advantageous?
One of the main advantages was that there were no competitors at the time. We came up with an idea that was a necessary solution to the promotion market's problem. From this, we focused on feedback. Listening to the power-users was key to make the product evolve in the right direction. We also got a lot of negative feedback on new features when we first released them. It is important to stay firm and believe in your vision for the product in times like these, because in the end it shifted most of our users' vision as well and created a better community. You can't please everybody!
Contagious by Jonah Berger was of great help with the marketing and virality aspects of SCPlanner. Even though we've only used one or two ideas from it thus far, there's is a lot more to this book that we can and should apply.
I also read Zero to One by Peter Thiel, which gave me some basic notions on what to do and to expect when selling a small company. It is not a very long book so I wasn't expecting an in-depth "how to", but I still enjoyed it.
Another good book that helped me get confident with my ability to create systems is Quiet by Susan Cain. Not related at all to tech nor startups, it is nonetheless a great book about harnessing the power of introverts.
Finally, I read The Creator's Code by Amy Wilkinson a few years ago. I keep in mind some of the "essential skills" whenever I am about to make a decision, forge a new idea, or just asking myself "is everything alright on SCP?"
What's your advice for indie hackers who are just starting out?
Identify a single problem and come up with a solution. Don't come up with a solution for a problem that doesn't exist! It might not sound revolutionary, but it is very important to keep that in mind.
If you are starting up a business, I think reading a lot of books is very important. But more importantly, not all directly related to creating a business! You should read from diverse fields and merge that knowledge to create your own vision.
Where can we go to learn more?
You can keep in touch with me via email or on our official Discord channel!
If you'd like to know more about SCPlanner's acquisition, you can check this blog post.
—

Gilles Bernhard , Founder of SCPlanner
Want to build your own business like SCPlanner?
You should join the Indie Hackers community! 🤗
We're a few thousand founders helping each other build profitable businesses and side projects. Come share what you're working on and get feedback from your peers.
Not ready to get started on your product yet? No problem. The community is a great place to meet people, learn, and get your feet wet. Feel free to just browse!
—

Courtland Allen , Indie Hackers founder