From Frustration to Saas, How I Turned a Tough Task into a Business
Hello! What's your background, and what are you working on?
Hello! I'm Michael Caslowitz and I am a co-founder of Reftab, which provides asset management software to help companies track the equipment they own. We mostly cater to the IT industry. Our customers keep track of the equipment that staff or students have assigned or loaned to them, such as laptops, tablets, keyboards, software, etc.
My career has been in IT as a systems administrator and my co-founder Robert's background is in software development. We've been playing around with technology since we met in middle school, so we decided to start a SaaS company together. We spent a lot of time really focusing on our product and gained traction in the market in early 2017.
We are now growing quite fast, with about $3,000 per month in revenue and growing month over month.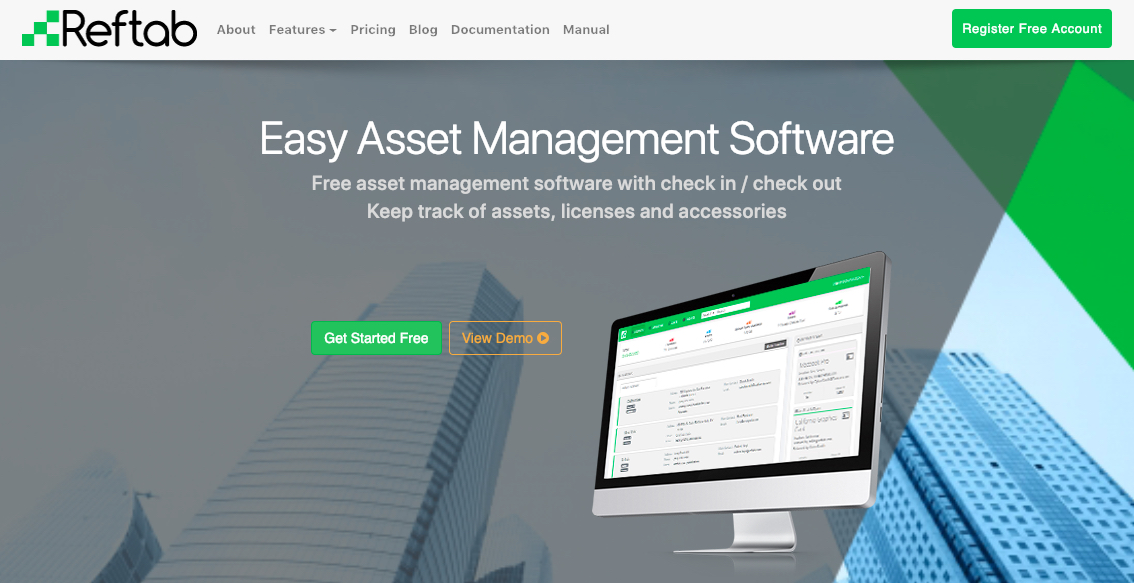 What motivated you to get started with Reftab?
Early in my career, I was working at an IT managed service provider (MSP). I was stationed at customer sites full-time and part of my responsibilities was to keep track of the IT equipment.
Equipment kept coming and going and being loaned out and ordered. It was tough to just keep things in order and make sure I had an accurate count of who had what and what model it was, when the warranty expired, the price of the item, when it was due for return, and so on.
Right around this point, Robert and I had already been in talks about building a software platform. Reftab was actually not our first idea, we had started building an app that was very similar to reddit but for local news stories. We scrapped that idea after I told Robert about the frustrations I was having in tracking equipment, and did our due diligence to figure out what solutions existed in the current market landscape. Everything we saw was either way too expensive or so over-bloated with features and complicated that it just didn't fit.
Next, we took some time to build an MVP. I knew other IT admins in New York City, so once our first version was done I asked them to try it out and give us some feedback and critiques. We received really positive feedback, which we felt validated our idea, so we took some time to build out a desktop site and mobile apps for iOS and Android. We went live in late 2015. Neither of us needed to put any money into building the product because we both had the technical skills required. This also allowed us to keep our day jobs.
What went into building the initial product?
Both Robert and I worked on the initial product on nights and weekends. It took us a while to get to a place where we felt the product was solid enough to meet the needs of IT organizations, mainly because so many people came to us with different use cases that we weren't expecting and hadn't originally planned for.
As we kept releasing features, we gained some great paying customers that provided input and feedback on features and helped keep us on track. We also focused on automating anything that we could, such as billing and allowing users to bulk import and export their data.
I think what really set us back with features was the fact that we started building the platform in Backbone.JS and had to refactor the entire site using Vue JS. It was a pain but was ultimately for the better because Vue JS is so much easier. There was a tradeoff, though—we didn't release any new features for about six months. Plus, up to and during all this time, we did no advertising whatsoever.
How have you attracted users and grown Reftab?
When Reftab launched, the only people using the product were folks that I knew directly in the IT industry. We also didn't have any money for advertising. In light of this, we decided to focus as best we could on making the platform secure and super simple to use. We looked at competitor software and spent a solid chunk of time thinking about how we could offer the same feature but make it dead simple to use without limiting scope. We have done amazingly in this regard. We've had a lot of customers who've used other software come to us and say how much they love the simplicity that Reftab has been able to capture. This is definitely one of our proudest achievements.
In addition, all the great reviews that the product generated due to the thoughtful user experience has helped us attract more customers, which has also increased our SEO as people started spending more time on our site.
We definitely had an "if you build it, they will come" mentality. Looking back, I probably should have spent more time on outreach. I posted a meager few responses to forum posts on reddit and other places, which got us some paying customers. Since Reftab is an SPA, we found out that Google wasn't crawling our site correctly, which was a major blow, but we fixed that. With more features added and some fixes to our landing page (adding sub-pages, fixing our URLs, adding more content and making sure keywords were accurate), we noticed that our organic SEO was starting to take off.
At that point, we started seeing more daily signups than we ever had, but Robert and I were still working full-time. We were able to handle the growth, feature requests, product questions, and bugs that come along with that, but I still didn't set aside much time for outreach, which means we weren't growing as fast as I was hoping.
About a year into building the product, we finally got to a place where our monthly revenue was large enough to start spending money on Google AdWords. This was huge. Since we had our SEO performing better and were more able to get in front of people searching for our product, we experienced a big jump in paying customers.
I think what Robert and I do best is build great products and we are exceptional at customer support. But our growth has been slow because we didn't do the outreach that was needed. I remain optimistic going forward because 2018 was amazing and our growth hasn't slowed at all. We have thousands of new users visiting our site each month and our organic traffic keeps rising and consistently beats out our paid traffic.
If you're building a SaaS product in the B2B space, spend as much time on the product as on marketing and advertising. I realize now that there were events I probably should have attended and forums and posts I should have responded to but didn't because I didn't think our customers would be there. That was a mistake. After doing this for a few years, we have paying customers from so many different business sectors with so many different use cases that I never saw coming—it's critical to get the word out there in any way that you can because you never know who might be a customer.
What's your business model, and how have you grown your revenue?
Our customers usually go through the crawl-walk-run business model. They find our product from Google searching. We offer a few different pricing plans. Each customer starts off on the free plan which restricts them from using paid features. If they land on a paid feature, they can choose to upgrade automatically to a two-week free trial of our enterprise plan. Once they get a feel for the platform they choose a plan that works for them and start paying.
We make $3,000 per month now and we're growing month over month. We get 2.5K new unique users each month which is also growing month over month. It took us a long time to get to this point. What I've found out in the B2B space is that the customer knows what they want. They are looking for specific features that make their job easier. That realization has driven our product development, and adding the right features has enabled us to grow and charge more for our services. We use Stripe for our payments and, along with hosting fees and Google Keyword Planner, it's our only overhead.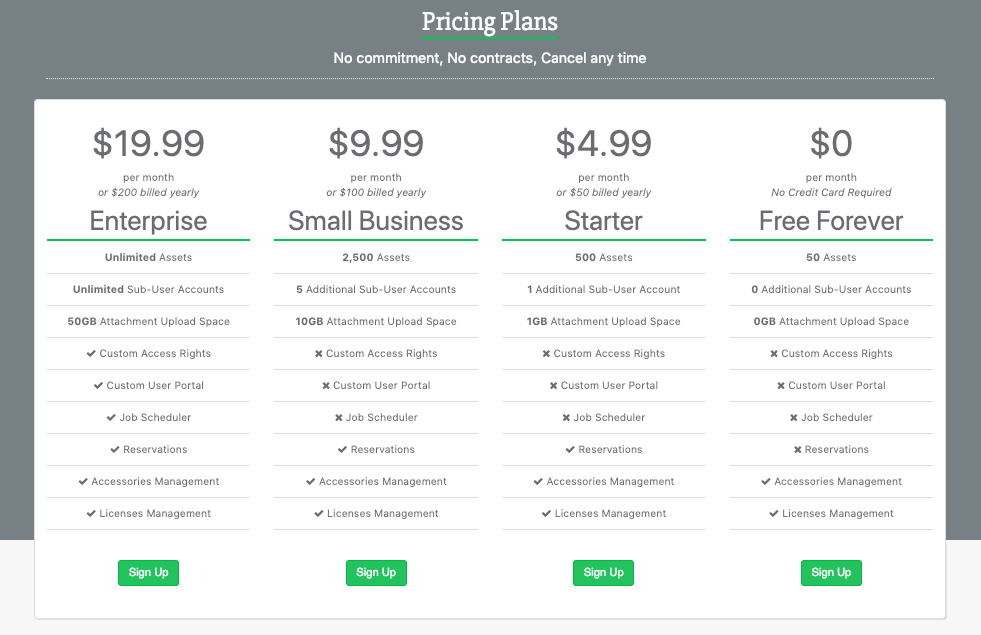 What are your goals for the future?
Our goals for the future are to advertise more, continue to build a product with more features, and keep ourselves in the position of being the easiest-to-use asset management software available. There is no technical feature or scope that we can't handle, which allows us to save an extraordinary amount of money. I foresee that as we increase our marketing efforts, figuring out the right way to advertise will be a challenge.
What are the biggest challenges you've faced and obstacles you've overcome? If you had to start over, what would you do differently?
We had two hurdles that slowed us down. One being that we had to rebuild our entire front-end during a time when we should have been growing our features. It had to be done, but it hurt. And, again, we didn't spend enough time putting ourselves out there. We should have advertised more either via interviews like this, or reaching out to publishers, finding forum posts, etc.
I used to shy away from following up because I didn't want to annoy people, which was a huge mistake. We had so many new people signing up with us day after day who wanted to use our product. I always sent a welcome email, but I never followed up! I have a long list of leads and I haven't been putting it to work for me. This is no longer the case. Now, we've built out an automated system to send emails to sign-ups that haven't been active after a certain amount of time, which I will be tracking to gauge performance.
We definitely should have spent more time on marketing earlier on. While it's great to focus on building the best product out there, if you don't get it in front of customers, it's worthless. There are a lot of people that don't know they have a problem until a solution is offered to them.
What's your advice for indie hackers who are just starting out?
If you're lucky enough to have the technical background that enables you to build something, do it.
Don't shy away from leads and following up. If you've got something of value to offer, be persistent and get it out there. People want to know about things that will save them time and/or money.
Where can we go to learn more?
You can check out our product at reftab.com.
If anyone has any questions please ask them below and I'll respond. Thank you!
—

Michael Caslowitz , Founder of Reftab
Want to build your own business like Reftab?
You should join the Indie Hackers community! 🤗
We're a few thousand founders helping each other build profitable businesses and side projects. Come share what you're working on and get feedback from your peers.
Not ready to get started on your product yet? No problem. The community is a great place to meet people, learn, and get your feet wet. Feel free to just browse!
—

Courtland Allen , Indie Hackers founder