Growing Our Side Project Into a Business One Small Step at a Time
Hello! What's your background, and what are you working on?
Hi, I'm Nick Sawinyh, co-founder of Domains Index in Los Angeles, CA. My friend Eugene and I have been hanging out and working together for about 12 years. We've launched a few different products over that time, including Domains Index, which was originally created as a side project. We were exploring possibilities for building a backlinks analytics tool for one of our products, Seomator, and found that there is no easy way to get a list of all registered domain names around the world to feed crawlers.
We collect domain names from various sources, clearing and enriching data, and sell datasets to customers such as archive.org.
Only a handful of registry operators offers access to full zone files with an entire list of registered domains. We use a mix of reverse engineering algorithms, internet crawling, and third-party sources such as Commoncrawl.org to fetch all possible registered ccTLD and gTLD domain names. Nevertheless, there is no way to get 100% of registered domains. Regarding the datasets actuality, we check all domains for NS records, and if there are no NS servers on file, we mark those domains as dead and delete them from our database. We do our best to ensure that the domains represented in our datasets are fresh and accurate but, of course, it's impossible to make it 100% accurate.
At the moment we make about $3,000 monthly across all our payment gateways (Stripe, Paypal, and Coinpayments).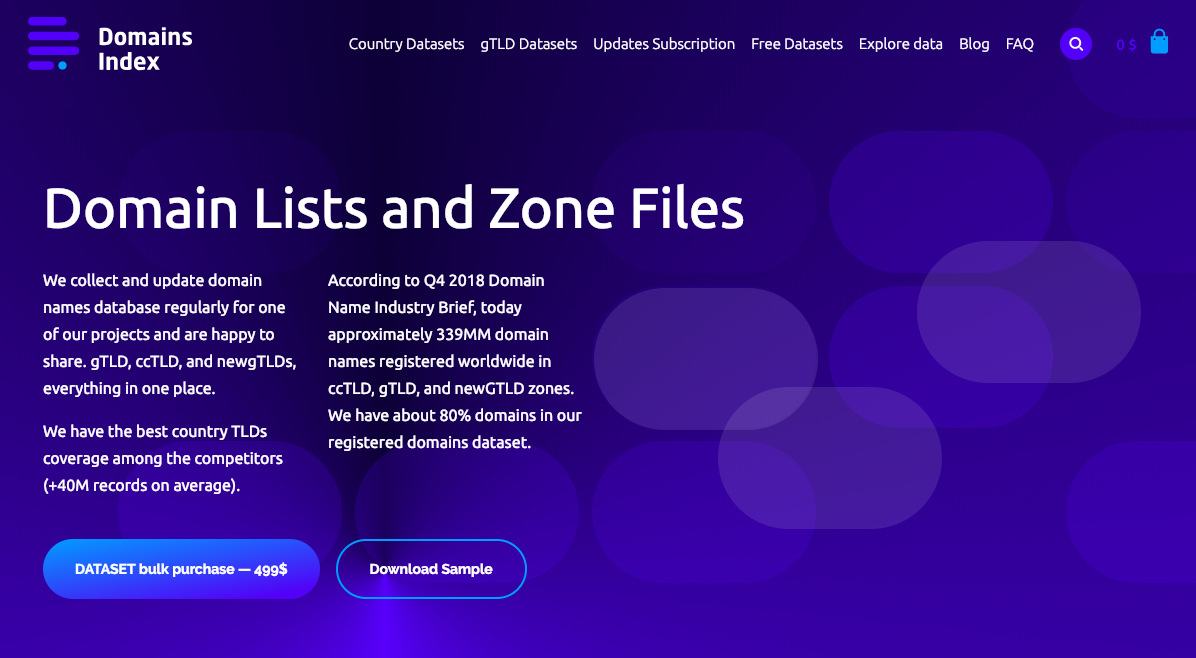 What motivated you to get started with Domains-Index.com?
Domains-Index was born as a side project since we weren't 100% sure that there was a market for such datasets. The first MVP version of the product was launched in 2015 when we'd just finished collecting a domain names dataset for our own needs. It was yet another WordPress site with a very basic design: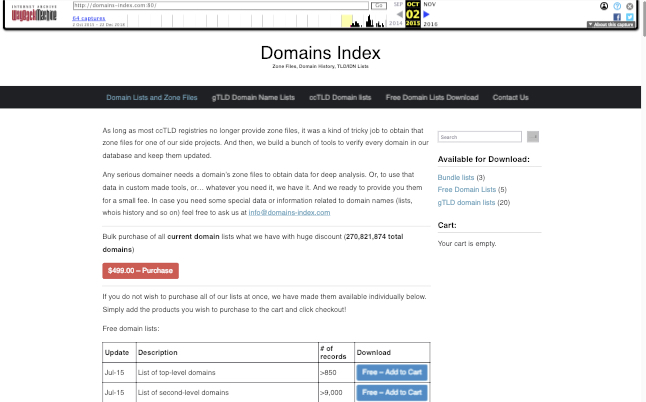 At that point, we posted our product on HackerNews and ran a few AdWords campaigns to validate the idea. We started to think about how to improve the idea of the service or how to make it more in-demand, and we found that monthly updates or special datasets might be useful and sought-after. We also asked for customer feedback to help us divine what we could add to best meet our customers' needs.
What went into building the initial product?
We always try to use the technical and human resources we already have at our disposal. We also study the task on our own as much as we can, which saves money for more complicated issues that will inevitably arise down the line. Taking the time to get familiar with our own product also informs us as to the next step or iteration we should be aiming for. Our whole team takes this same approach of familiarizing themselves with all of the services and projects we're working on, which is an outstanding learning opportunity for young IT professionals.
In terms of our tech stack, we have a pretty common WordPress front-end with the Easy Digital Downloads plugin to sell digital goods and subscriptions, and a backend written with Go and heavily relying on AWS services (S3, Lambda, EC2).
It took a few weeks to build our first MVP, and we're still improving our product regularly.
How have you attracted users and grown Domains-Index.com?
As soon as we realized we didn't have many competitors and that we knew who our customers were, we tried to make cold calls and sent tons of emails introducing ourselves. We both have SEO and marketing knowledge and know that cold call/email strategies can be fairly limited in terms of effectiveness, so we changed strategies the moment we could and now work with clients who come our way via the website. We added a sample list and offered free domain lists. Additionally, we published some useful blog posts and scripts we'd written to help make it a more comprehensive tool.
We've also built a nice stand-alone project, domainsdb.info, in addition to our datasets as a side project marketing effort. With this site, we've tried to validate the idea of wrapping our datasets with API and also offer something for free to reach a broader audience. This project gained good traction at HackerNews and Producthunt and was acclaimed by security researchers.
We are planning to focus our marketing efforts this year on broader integration with various security and OSINT tools.
What's your business model, and how have you grown your revenue?
We make money on one-time sales of domain datasets in a convenient format and monthly subscriptions to the aforementioned datasets with daily updates. We provided monthly updates, and for now, we do updates daily. Datasets are divided into ccTLDs and gTLDs and offered as worldwide sets.
We have three different payment systems: Stripe for subscriptions (obviously), Paypal, and Coinpayments for accepting payments in cryptocurrencies. Personally, I was a bit skeptical about accepting payments in cryptos since we are sort of a B2B service focused mostly on companies, but surprisingly, every month we get a few customers who pay with BTC/ETH or other coins.
Since we're selling digital goods, we have a high dispute rate. Stripe's Radar, which was introduced mid-2018, has helped a lot with credit card fraud, but we still get disputes from time to time.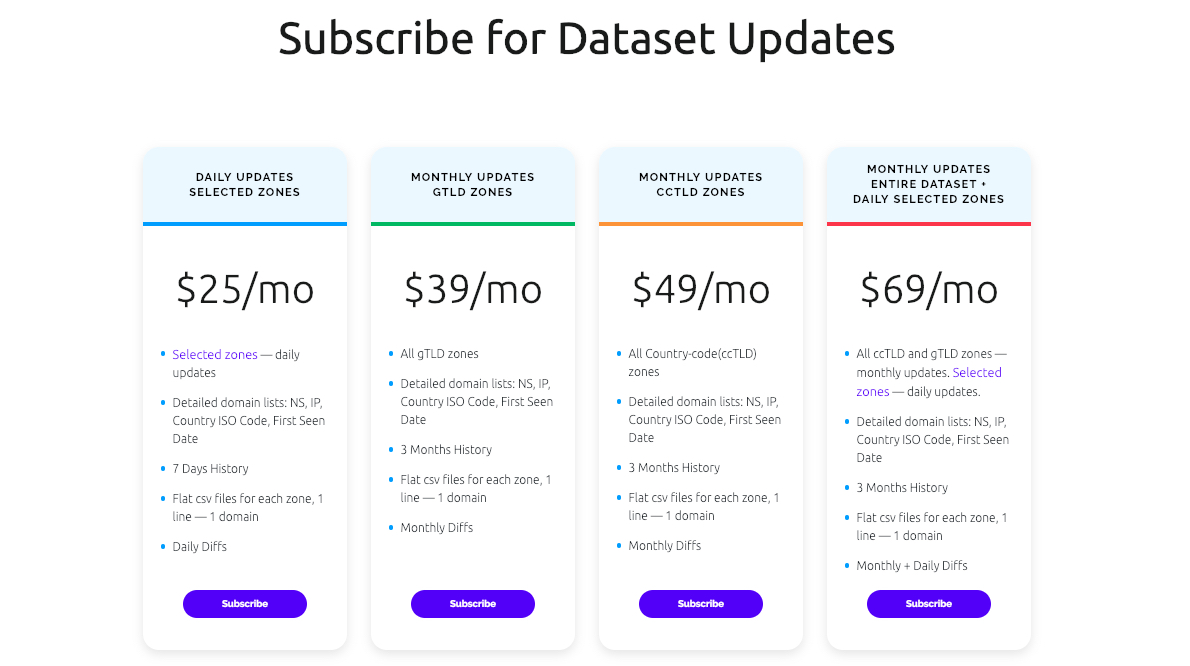 What are your goals for the future?
We want to migrate more into the service provider area, instead of selling plain CSV files with domain names. We are currently working on API and integrations with OSINT and security tools. We had a bad experience sharing our plans with someone else who just used us as a free brainstorming source so, for now, we're keeping business plans and product updates under wraps :).
What are the biggest challenges you've faced and obstacles you've overcome? If you had to start over, what would you do differently?
We've made a lot of mistakes and poor decisions. For example, there was a huge demand from our prospects on getting bulk whois data for domain names. We spent nearly a year on the development of this feature but realized later that it would be too hard to keep 260,000, 000+ domain records up-to-date. Also, it was questionable how the prospects asking about bulk whois records were going to use such data. Since it was looking like there would be both ethical and technical problems, we shut down that feature and focused on domain names, but obviously lost a lot of time and energy in that venture.
Another great failure was back in 2016 when one of our remote developers left our Mongo database port reachable for the whole world. A few days later the database was hacked, and the hacker tried to force us to pay ransom in Bitcoin. The same day we found that we had messed up with backups, and we lost about eight months of collected data.
What's your advice for indie hackers who are just starting out?
I would say you have to read Rework by Jason Fried. It's a great book covering many potential mistakes that can occur when launching new products. Another important point that I just can't stress enough is that you have to do something. Learning from your mistakes and solving problems as they come is always better than spending all your time listening to podcasts, reading motivational blog posts, or visiting yet another startup meetup. Stop procrastinating and start working on your product.
As you begin to work, try not to think about scaling. If you believe that a small project takes a long time, or that testing is boring, or that it's not interesting to poke around in trifles, and you instead fill your head with ideas from books about great entrepreneurs and their launches, you'll cut off your wings before you even take the first leap. Over the course of my business experience, I've realized that to achieve a big goal is to make small steps toward the end result. To succeed is to grow your business gradually. According to statistics, there are two to five successful projects per 100 beginnings. At the same time, those who are looking for an opportunity to simply do well at what they can do, and do it better than others, tend to have good results and hold on for a long time. Start something today, but start wisely!
Where can we go to learn more?
Visit our website: Domains-Index.com. Follow me on Twitter: @sawinyh. Connect on LinkedIn.
Feel free to ask me anything in the comments below.
—
Nick Sawinyh , Founder of Domains-Index.com
Want to build your own business like Domains-Index.com?
You should join the Indie Hackers community! 🤗
We're a few thousand founders helping each other build profitable businesses and side projects. Come share what you're working on and get feedback from your peers.
Not ready to get started on your product yet? No problem. The community is a great place to meet people, learn, and get your feet wet. Feel free to just browse!
—
Courtland Allen , Indie Hackers founder