Growing to $1,000/mo by Avoiding Distraction and Staying Lean
Hello! What's your background, and what are you working on?
I'm Eelco. I create things and have built web products since 2008. Some were mildly successful, others were not so much. My very first product was a platform to find local real estate agencies for which you could leave ratings and reviews. I had it technically "all figured out," all the way down to the SEO sorcery. Back in 2008, it was easier to rank for certain keywords than it is today; but even so, I only ranked on the first page for one or two cities. As a result, it was quite impossible to convince the agencies to buy a promoted and paid spot for their location.
Other things I did wrong: misunderstanding the market (most people get their agent through word-of-mouth), being too smart with the design, trying to get results for too many cities at once instead of focusing on one city at a time, losing motivation because it didn't become an overnight success (haha!) and so on. It did plant the seed for many more products to come.
For the last few years, I've run a profitable SaaS business. I also work on many different things/side projects, one of which is Sjabloon, a Ruby on Rails SaaS starter kit. It helps developers, makers, and agencies get started with their new Rails applications by providing a customizable set of options for setup, configuration, design, and a library of UI components for their new Rails applications.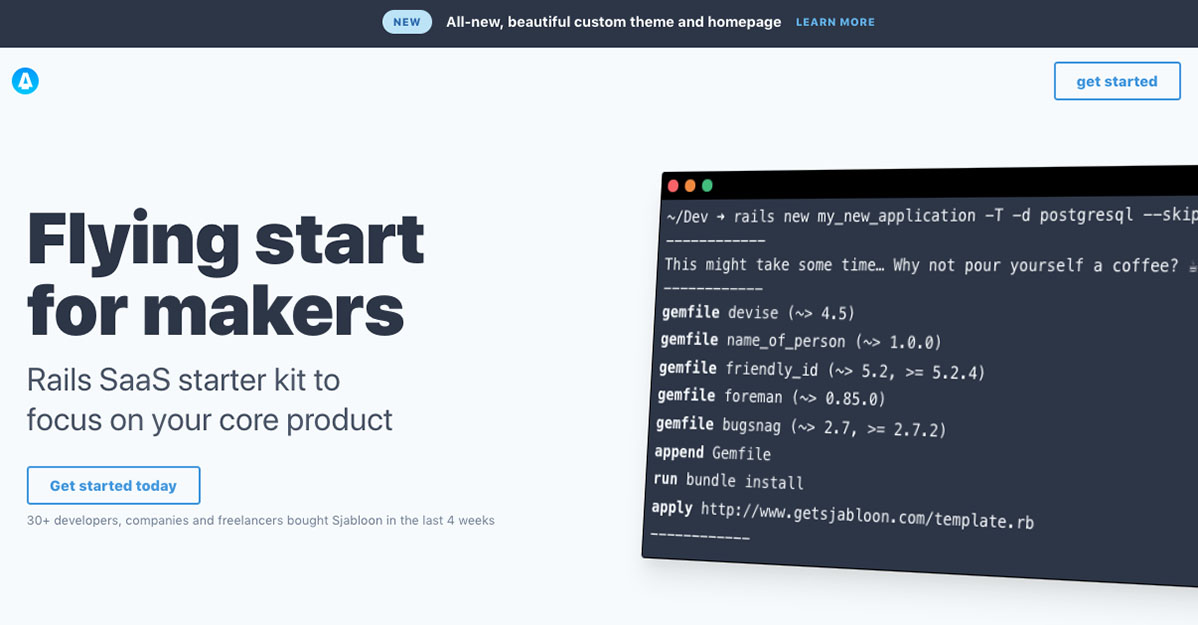 Since we launched in early December 2018, we've been generating about $1,000 a month with minimal effort on sales or marketing.
What motivated you to get started with Sjabloon?
Over the past few years, I've met many people in a similar situation as my own. After hearing about the projects I've built and their quick turnaround, they ask, "How do you do it?"
I created a Ruby on Rails application template that lets you add configuration, setup, and pieces of code that can be used as a base to build a new app.
Even though I knew similar products existed in different programming languages, I thought I could productize this template. My hypothesis was that a specific set of tools and configuration, combined with solid design, UI components, and a touch of marketing, would speak to many developers.
I've only had experience running SaaS applications in the past and I wanted to build something that involved one-time payments. I wondered, What's that market like? How do sales compare to recurring payments? How do customers react to it? And what do I need to do to make my marketing stand out? I did this all as a way to broaden my experience.
What went into building the initial product?
I spent an afternoon dissecting the template I already had and built a simple web-based dashboard. I knew from past projects that I didn't need every component or piece of code, and I wanted it to be customizable. I added the most basic Stripe integration possible (copied from their documentation), created a simple homepage explaining the problem it solves, and launched the website that night.
I like to keep a tight deadline and I stick to it by skipping anything excessive. For example, I limited the configuration for transactional emails to two providers, and the error monitoring providers only included Bugsnag. Most of the included features didn't need to be built from scratch as I had previously designed and developed them. Thus, it was mostly a copy and paste exercise.
I had more features in mind but I decided to sell it for an early-bird price to start generating sales. I was then able to add those other features to start to increase its value.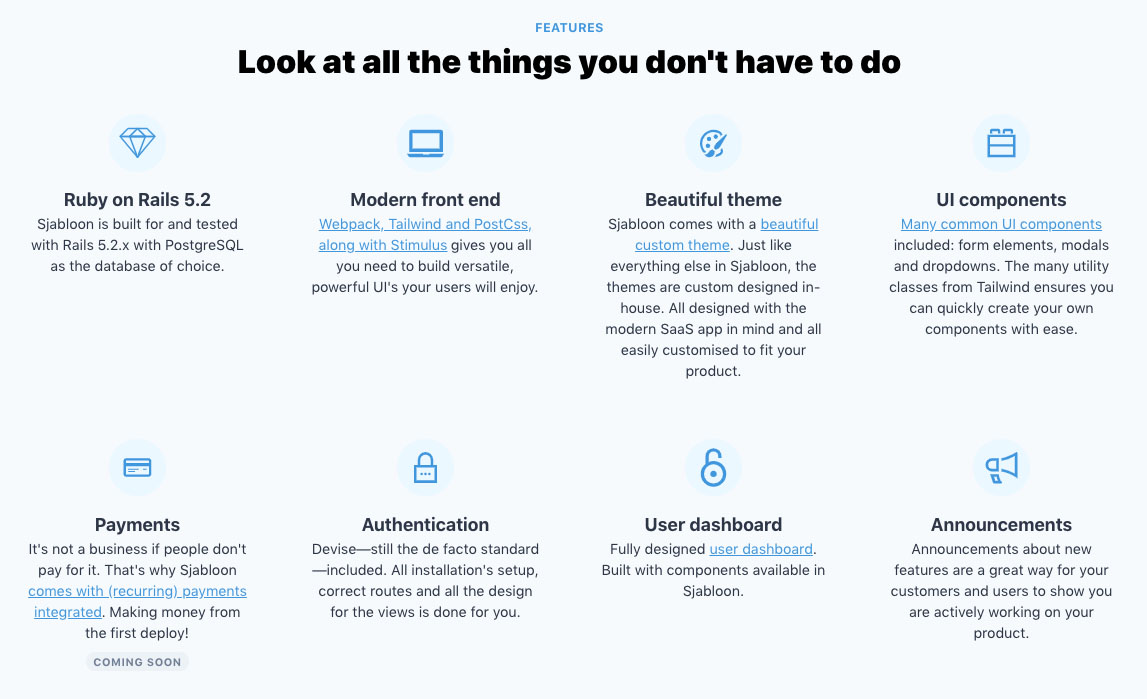 How have you attracted users and grown Sjabloon?
I had built up a small audience with another side project, Startup Costs, and I sent them a newsletter announcing the product. I also added the monthly running costs for Sjabloon at the top of the Startup Costs homepage.
I was surprised to see a sale the next morning. A few days later, after more sales had come in, I quickly raised the price. The next week or so I added it to ProductHunt. It didn't do too much in terms of traffic (a few hundred visits), but it has brought in some sales since then, mostly through searches and related products.
Two weeks later I released a very slimmed-down version on Github. It sets up and configures the frontend tools used in Sjabloon (TailwindCSS, Stimulus, etc.). A helpful free resource like this makes marketing quite a bit easier, as it should be.
From the very first day, I included a simple checkbox on the sign-up form asking users to opt-in to receive updates and news via email. Fast-shipping pro tip: in the first few weeks this checkbox didn't actually do anything, except add a "datetime" value to the user's record (so I knew when they gave consent). I manually sent every email that first month.
I don't monitor traffic very closely, but based on the answers from the short survey I send to new customers, I've discovered both the promoted spot on top of the Startup Costs's homepage and Reddit (where I link to one of the free resources) bring in the most customers.
| | |
| --- | --- |
| Month | Website Traffic |
| Dec. '18 | 1082 |
| Jan. '19 | 608 |
| Feb. '19 | 526 |
| Mar. '19 | 502 |
It's clear in which month I added Sjabloon to ProductHunt and the like. Funnily enough, in looking at the traffic numbers, December was the lowest month for revenue. This is also due to the low price point.
What's your business model, and how have you grown your revenue?
From the very first moment, I shipped Sjabloon for a one-time, early-bird price. This means customers get a product that is already great but still in extensive development. I also do not yet limit the number of apps you can build with it. This helped me to find bugs and weak spots within the product and, also importantly, ship it fast.
I truly believe that asking for money for something valuable makes all the difference. People react differently toward products that are free; they care less but often demand more. Just because it was easy or trivial to build doesn't mean that it's not valuable to others.
In order to accept payments, I simply copied and pasted the code found in Stripe's documentation. Including the smoke-testing, this took less than 30 minutes.
After a successful payment comes through, a field on the user's record is set so they have access for up to 12 months. But I did not create a feature that would limit their access once the 12-month period was over.
The recurring theme here is to not overcomplicate these things. Don't build stuff you don't need right away. Focus on your customer first––this is why it is so important to ship sooner rather than later.
| | |
| --- | --- |
| Month | Revenue |
| Dec. '18 | 980 |
| Jan. '19 | 1065 |
| Feb. '19 | 1115 |
| Mar. '19 | 1025 |
What are your goals for the future?
I try to start a conversation with every new customer by sending them a quick survey, and I've noticed a few recurring themes: marketing and design are difficult. So these are points I will be focusing on going forward. I already have a great theme designed and I'll be expanding upon that.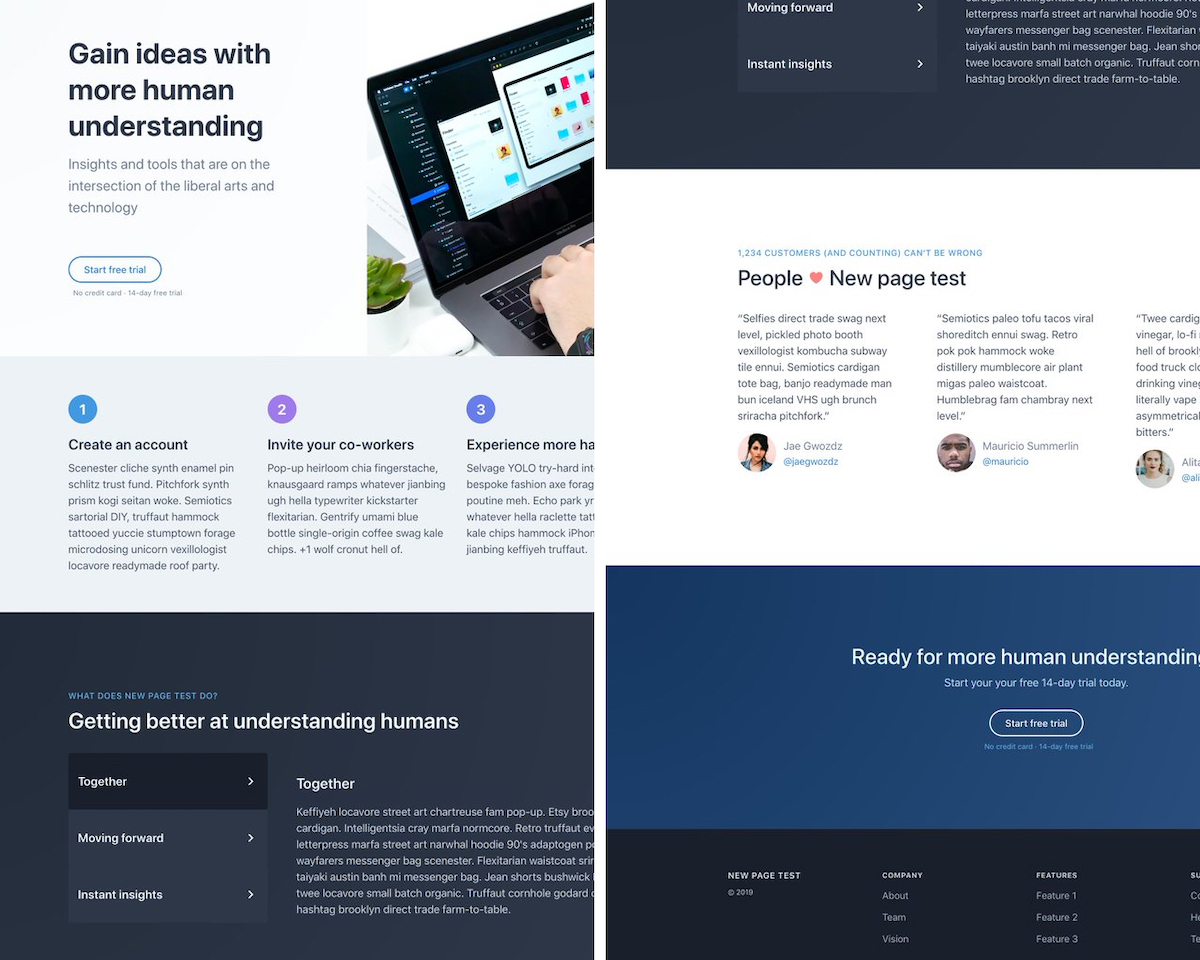 There's also the ever-growing UI components library; customers are able to use it to copy and paste UI components into their new app. As I work on my other products, I can easily reuse what I built, make some tweaks, and add it to Sjabloon, too. I have also built some custom UI components on request.
Marketing is a less complete solution as it involves many moving parts, but I try to add features and components that will help kickstart marketing efforts from the get-go. For example, there is the ability to opt in new app users to a MailChimp list.
Overall, I'm working on the "official" v1 release involving new features like a basic email drip campaign (marketing!), GDPR configuration (confusing!), all new themes (design!), and a different licensing structure (economics!).
Traffic has slowed down a little bit, but that's to be expected. But the visitor-to-customer conversion rate has gone up. I want to spend a bit more time focusing on how to rank higher when it comes to SERPs (Search Engine Result Pages). After all, when one is searching around for something specific like a Rails SaaS template, they're more likely to become a customer.
Lastly, I want to create an all-around amazing and useful product that can grow through word-of-mouth, too, with only a bit of pushing on my side.
If I can continue the current revenue numbers, that would be amazing.
What are the biggest challenges you've faced and obstacles you've overcome? If you had to start over, what would you do differently?
So far almost everything has been quite smooth. The one thing I could have done better was to hold off on announcing some features too soon.
Early on I felt somewhat insecure about the product, and thus felt the need to list that more was "coming soon." These promises made it a little bit stressful at times; when asked about certain features, I needed to explain how there was no set timeframe just yet. On the other hand, these "pre-announcements" gave me a better idea for the roadmap of Sjabloon, as some specific features were asked about more often than others.
Have you found anything particularly helpful or advantageous?
Be a minimalist maker. Learn to focus. Remove all distractions. Use the tools you have and know really well. Learn something new only when you need it. Introduce a new tool only if it can replace something and do the job better. Don't work too much––you are not your job. Go out, exercise, and get enough sleep.
What's your advice for indie hackers who are just starting out?
A few things:
This has been said before, but stop reading Twitter, Reddit, and books, and don't just dream about running a product. Put in the real work if you really want to run your own product.

Don't make your first product a big SaaS product. Make something small but valuable with your current skills. Sell that for a fair price. You will learn so much by talking to your customers and thus can iterate faster. I've written about that on IndieHackers before, too.

Next, skip all the fluff. Leave all of your perfectly crafted skills and best practices at the door. Test-driven development? No. Pixel-perfect design? Nah. Advanced email drip campaign? Nope. Your paying customers don't care about your beautiful abstracted written code or your admin area where you can refund customers or whatever fancy thing you could build. Focus on the customer's pain points first and foremost.

Don't just scratch your own itch if you want to build a business. Look around you. Period.

Lastly, about productivity: it's not just about "skipping everything else but the core" to ship fast, but also skipping any distractions while working. That means having only one task at hand and no other distractions in the form of notifications from social media or email, your phone or other people. Immersing yourself in one task is the only productivity tip ("hack") you need. When was the last time you were 100% focused on just one thing, for a solid two hours?
Where can we go to learn more?
Sjabloon can be found at www.getsjabloon.com. I share ideas, updates, and related material on the @startupcosts Twitter account, including updates about Sjabloon.
—

eelco , Founder of Sjabloon
Want to build your own business like Sjabloon?
You should join the Indie Hackers community! 🤗
We're a few thousand founders helping each other build profitable businesses and side projects. Come share what you're working on and get feedback from your peers.
Not ready to get started on your product yet? No problem. The community is a great place to meet people, learn, and get your feet wet. Feel free to just browse!
—

Courtland Allen , Indie Hackers founder