Growing to $40K MRR by Doing Influencer Marketing the Right Way
Hello! What's your background, and what are you working on?
I'm Stefan Johnson, a 32 year old born and raised in London. I studied documentary photography at university but quite quickly became stunted by freelance opportunities. So I formed my own design agency and worked with non-profit organizations and social enterprises in developing UX and digital strategies. But when the opportunity arose to partner up with a client as a Creative Director, I took it.
In collaboration with Bookblock, I co-founded Stone: a trade and lifestyle brand that creates innovative new products for the food and drink industry. We make our products as practical and beautiful as possible to meet the demands for one the most relentless industries.
We now average around $40,000 USD per month with over 45,000 products sold.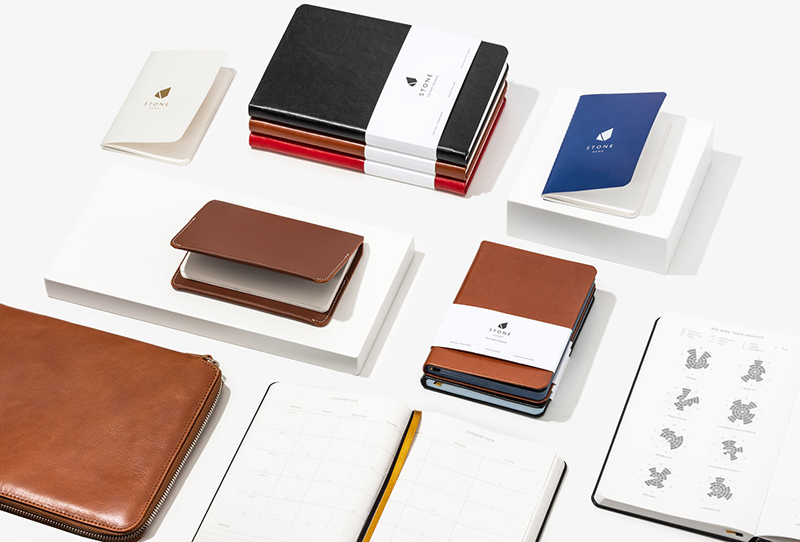 What motivated you to get started with Stone?
Stone was born while on a job with my client Eliot. We were working in the kitchen of Michelin-star chef Michael Caines who cooks with a prosthetic arm. We noticed that when jotting down recipes and ideas his notebook would slide across the metal surface. I had the idea of putting a magnet in the cover and we quickly realized this wouldn't just help Michael but chefs everywhere.
On the train home, Eliot and I brainstormed a chef's perfect notebook: what would it look like? I'd worked as a food photographer for years and between the two of us we'd visited countless kitchens around the world. Using our first-hand knowledge of a chef's working conditions, we came up with a dozen unique features that would change their note-taking process: a lay flat design, integrated conversion charts, and waterproof pages made from stone paper.
Stone paper is a relatively new material and made in just a few mills. After hunting down some samples we took our sketches and materials to a fourth-generation book binding shop near London. Between our two teams we were able to quickly create batches of various prototypes. We then sent them out to around 80 revered chefs from around the world in order to A/B test the features. The feedback was very helpful and allowed us to narrow down to seven features; this also laid the groundwork for our marketing strategy.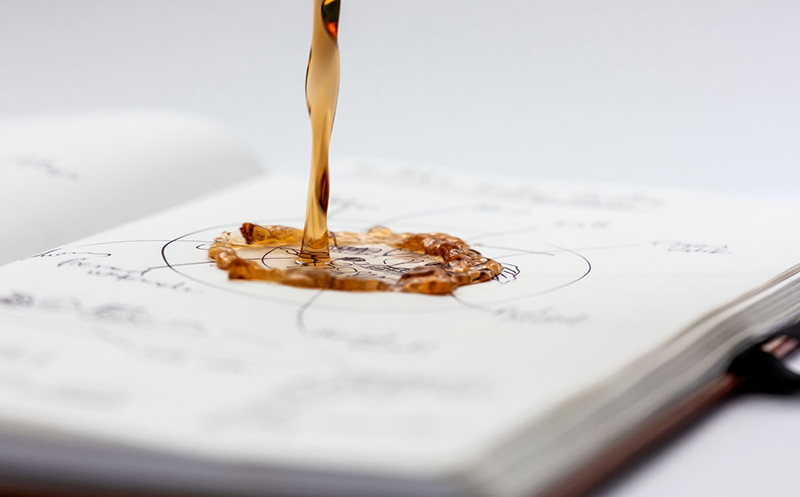 What went into building the initial product?
The design itself was ambitious. Seven features is a lot to incorporate into one notebook, but we were convinced that each was necessary. We could have settled for one or two but we'd seen how battered chefs' notebooks can get, and we wanted our product to be fully capable of handling the pressures of a working kitchen.
What makes Bookblock unique is that they are able to create bespoke consumer standard products for very low minimum order quantities. If Bookblock didn't exist, our only economically viable option would have been to take production to China; but even then the order quantity would've had to be significantly higher, the quality would not have been guaranteed, and shipping times would have made the project lag.
Once the prototypes were tweaked we had an initial run of 1,000 units created.
As my other company Bookblock is/was very much in a growing stage, there were next to no financial resources available for this project. I was still working as Bookblock's Creative Director so time was also an issue. If I'd've more time and money my focus would have been on developing the brand and marketing. But because the project had to be self-sufficient from day one, I needed to put our sales strategy into effect immediately.
It's very tricky when you don't have the capital for back stock, especially when we as consumers have this next-day-Amazon mentality. So we had to be smart with the offer and fulfillment. Rather than going straight to the consumer we began offering it as a customizable product with its own MOQ of 25. We mostly targeted restaurants as well as food and drink brands, pushing it as a giftable item that could be branded. With one-month turnarounds we were able to batch orders of 200 at a time to remain effective, with sales coming in before production.
How have you attracted users and grown Stone?
We had a lot of success early on and a great deal of that success came from chef endorsements. Chefs are great influencers; they're highly trained, they're honest, and when they like something they tend to talk about it without chasing a payoff. And because we were coming from a position within their industry, the chefs we reached out to were happy to get on board.
The first 80 chefs we gifted to were very generous with their "influence." What really helped was that they felt like they were part of it — which they were. And when they shared images of the product on social media their praises were sincere. We got an incredible amount of traction this way, and I think we went from zero followers to 3,000 followers within our first two weeks.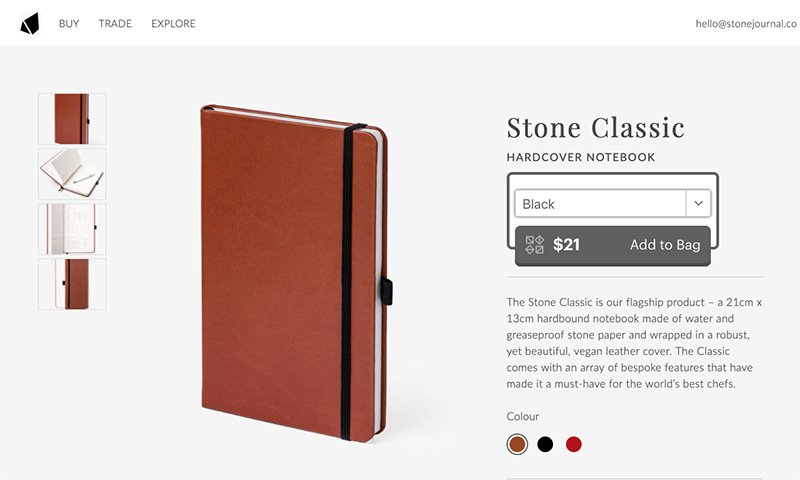 These social campaigns were getting us a small bulk of custom orders, but we were also getting a huge amount of interest from individuals. They were predominantly young chefs, other folks in the food and drink industry, and "prosumers." Prosumers is a term I was recently introduced to and I find it to be very accurate. It refers to the large and growing number of consumers that aspire to a certain trade; in this case, cooking. Their knowledge sits somewhere between a consumer and professional. The prosumers who aspire to be Michelin-level chefs are influenced by the chefs they follow, so when those chefs start endorsing a new industry tool (that doesn't cost $300, like a carbon knife) they inevitably come knocking.
Something that originally worried us ended up becoming our greatest strength in terms of marketing. When we sent out the prototypes we had not expected the product to get the amount of exposure it did. We had no website, a brand new social presence, and very few marketing assets. But this brand "absence" made the product enigmatic and infinitely more desirable. We started hearing that chefs were asking other chefs how to get their hands on our product.
We set up a simple, one-page website with an email sign-up form only. We then sent free Stone notebooks to another 200 chefs. The whispers became louder and within six weeks we'd gathered 2,500 email addresses and a strong customer database.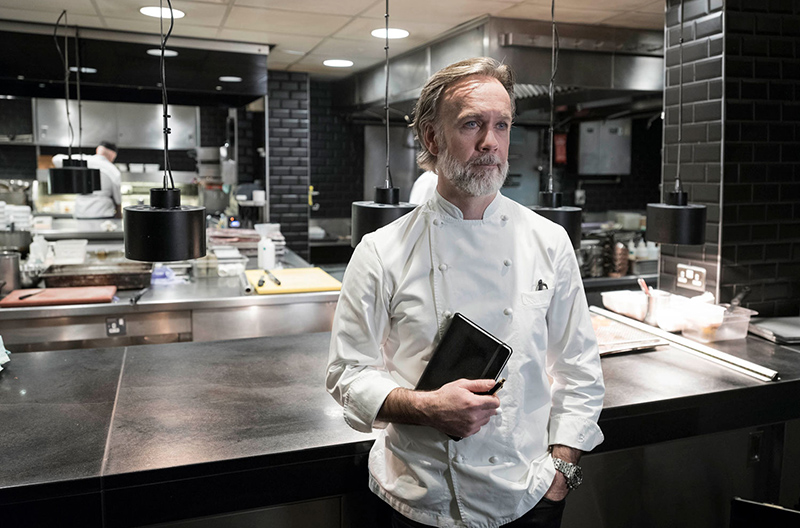 What's your business model, and how have you grown your revenue?
Stone has grown its revenue by carefully expanding its product range. So far we have launched six new products with 12 more in development. We're also launching an editorial side of the business. Slowly but surely we are expanding into other corners of the food and drink space, targeting all the way from bartenders to baristas.
Our model relies on three key markets — food and drink professionals, food and consumer brands, and aspirational consumers. Early on we created a flow chart for how and when we planned to target these three groups. Our early success demonstrated that it should all begin with the professionals since they are, after all, the influencers.
Our outreach to professionals was the most traditional tactic. We contacted them directly by phone or email, sent them the product, and interacted with them on a personal level. We utilized all of our networks to reach as many top-level professionals as possible.
We then began creating photo and video campaigns focused on a number of these chefs, asking them to speak freely about the product and its use in a kitchen. These were shared organically and through social spend. That is how we reached both brands and the consumer.
The nice thing about B2B sales is that a lot of our customers were gifting the product to professionals. Valrhona, the world's biggest chocolatier, purchased 4,000 co-branded Stones which they then gifted to pastry chefs. The beauty of this was that it was effectively free marketing and started the cycle again.
Thanks to strong relationships with corporate clients and a positive retail trial, we're looking to hit a $500K turnover in 2019. And with plans to introduce our product range into more stores across the UK, US, and Europe, triple our number of SKUs, and build on our corporate offering, we hope to double that turnover by 2020.
But our focus has always been on quality. By creating practical, beautiful tools, accessories and apparel, we can pitch our price point higher than some competitors. We've built Stone to be the industry standard; so for the everyday consumer our products represent an affordable piece of high-end equipment. My advice would be to focus on quality first. Don't expect to flog something that's half-baked.
What are your goals for the future?
Moving forward we want to improve our distribution and fulfillment network. At the moment, consumers in some countries are having to pay more for shipping so we're looking for the most efficient way to get our products into the hands of customers around the world. It will be a big task but it's up to us to meet the growing demand for our range.
The project I'm really excited about is the Stone Magazine. Our hope is to create an annual worldwide magazine with the help of expert food writers, editors, and photographers. But it won't just be a run-of-the-mill food publication. It'll have thought-provoking stories told by the most intelligent and charismatic people in the industry. It's just one of the ways we want to cement Stone as a real voice of authority, plus it's an excuse for me to get behind the lens again.
Bookblock is also at a very interesting stage as we launch our leather range and consumer gifting website.
What are the biggest challenges you've faced and obstacles you've overcome? If you had to start over, what would you do differently?
We work with quite a specific set of materials so we have faced setbacks with sourcing and production costs. As I mentioned, stone paper is only made in a few mills around the world. When we had to create over 10,000 units following our Kickstarter campaign, we found ourselves drying up the stock of all the distributors. There was very little we could do about that except to manage the expectations of our customers.
I faced the equally stressful challenge of being one of the most successful food crowdfunders in history and becoming a dad within just a few months. Shipping over 4,000 bespoke orders across the world was a massive challenge for our small team and it wasn't helped by sleepless nights and dirty nappies.
I think perhaps we could've set clearer goals from the beginning. I love the fact that Stone is always growing and changing but sometimes having one or two short-term targets can stop you from getting too lost in the big picture.
What's your advice for indie hackers who are just starting out?
I really think the most important thing is to be sincere in what you do. If you don't believe in your product, no one else will. But if you throw your weight behind it, that will shine through and make the entire process so much easier.
Also make sure it's a product that people want. I think it's quite easy to run away with your ideas and get lost in the future. You can't ignore that most fundamental question. You can have the best branding, the best marketing, and all your operations in place, but if you can't get beyond that hard sell, eventually you'll burn out.
Where can we go to learn more?
Website: https://www.stonejournal.co
Blog: https://www.stonejournal.co/explore/
Facebook: https://www.facebook.com/StoneNotebook/
Instagram: https://www.instagram.com/stonenotebook/
Bookblock: https://business.bookblock.com/
For more about what we do, leave us a question in the comments below.
—
Stefan Johnson , Founder of Stone
Want to build your own business like Stone?
You should join the Indie Hackers community! 🤗
We're a few thousand founders helping each other build profitable businesses and side projects. Come share what you're working on and get feedback from your peers.
Not ready to get started on your product yet? No problem. The community is a great place to meet people, learn, and get your feet wet. Feel free to just browse!
—
Courtland Allen , Indie Hackers founder