How an IT Consultant Became a SaaS Co-founder by Helping His Kids
Hello! What's your background, and what are you working on?
Hi, my name is Ger Apeldoorn and I am a recovering IT infrastructure consultant. Six months ago, I went full time on my side project, RoutineFactory. My co-founder is Wouter Houweling, who is responsible for all of the coding.
RoutineFactory is a tool that helps people with learning disabilities be more self-reliant. It's mostly used in living facilities for people with a learning disabilities, autism, or traumatic brain injuries. We have an app and online environment for individual guidance on daily structure and life skills, and a touchscreen "infoboard" for groups where they can get all kinds of information they'd usually need to ask a caregiver for. This helps these people to be a lot more self-reliant, which has a great impact on their self-esteem.
We have about 350 professional subscriptions in 21 countries, but most of our revenue comes from the Netherlands, which is where we're based.
What motivated you to get started with RoutineFactory?
I have three children, all diagnosed with some sort of autism spectrum disorder. My wife and I were looking for a tool to help our kids get the structure and predictability they needed, but it didn't exist. I figured that there might be a lot of other parents that are struggling with the same issues, so I asked my friend, Wouter, to help create the tool we needed.
This all started a decade ago, and at the time it was a hobby project. I had recently started to build my freelance business and wanted to provide something simple to use so to make it easier for parents to make a clear, visual schedule for their kids.
We didn't validate this idea at all, just started building it during nights and weekends. As this was a personal project, there was no real need to validate it. We did do one thing right from the start though: we continuously asked users for feedback and iterated the product using their feedback.
About four years ago, things got more serious. Based on the number of users we were able to attract without any sales or marketing, we thought that we could build our product into a business and reach even more people. We started the company and built RoutineFactory as a full rewrite of that initial product.
What went into building the initial product?
When we made it a serious mission, both of us invested a lot of time into the project, but we made sure that we had enough income to pay the bills from our dayjobs. In my case it was my freelancing business, while my co-founder had a job as a software engineer. We took a much slower pace in order to have an unlimited runway and less risk. It's a good thing we did, because it took a lot of time and a few pivots before we got any significant traction.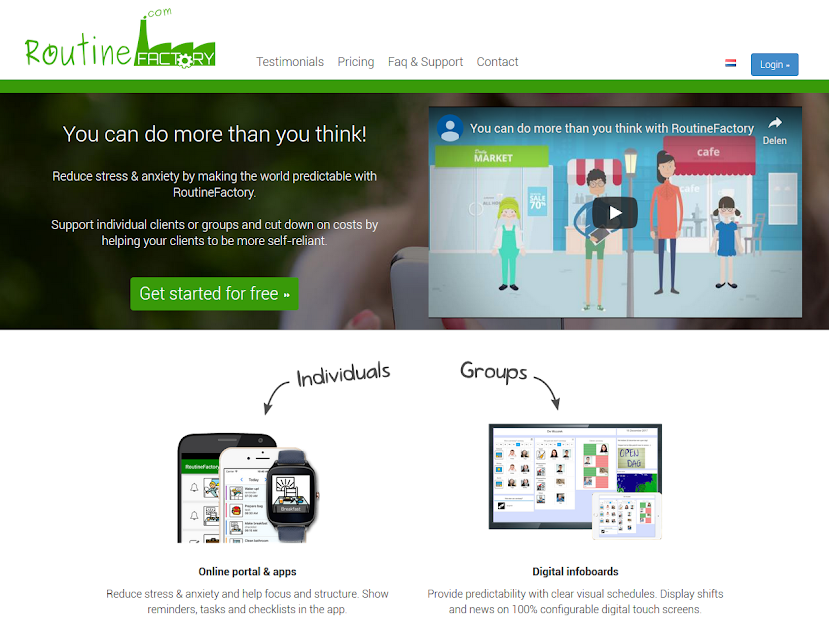 We made a very basic initial version and told the users that we needed their help to make it better and more custom. Of course, we didn't want to build every suggestion into the product, but we did build the feature requests that we heard more than a few times. We've been iterating like this for the past 3 1/2 years and we will continue to do so.
You mentioned that there were several pivots, can you elaborate a bit on those?
Sure! Our previous product (AutiPlan) was mainly B2C, and it was mostly used by parents for their children with an Autism Spectrum Disorder. This was perfectly fine when it was a hobby project, but we found out that it wasn't possible to build a sustainable business in B2C. It's very hard to let people pay a small subscription fee for a health app, no matter how effective it is. Thats how we came to...
Pivot 1: Direction
We decided to put our effort into professional care institutions (B2B) instead. However, we didn't want to scare off private users, so our website was still written for B2C. In retrospect, that was a silly mistake, because the professional caregivers that were interested went to our website and thought that this tool was not for them.
That was a problem. So we did a full 100% B2B rewrite of our website, e-mails, flyers, etc. We also started to build a lot of features for organizations to make the app useful for more clients, like emotion thermometers and goal setting. When professionals were struggling to onboard themselves we created an e-learning course and classroom training.
We noticed that, even if an organization already had a subscription, it was still very hard to get them to scale up. Unfortunately, these scaling issues prevented us from building a sustainable business. Although we were making a difference for quite a few people, we still weren't profitable, and were limited to working on RoutineFactory to about two days a week.
Luckily, my consulting business did very well and I was able to get an excellent rate for my services. This enabled me to do consulting part-time and free up more time for RoutineFactory. Still, due to my family situation I wasn't able to work more than 40-45 hours a week.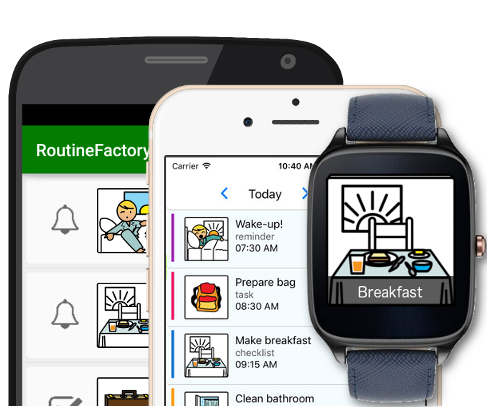 Pivot 2: Infoboards
At this point we were wondering if we were doing the right thing. Although we both felt very motivated by the fact that we were helping people, we'd been working on this project for years without any paycheck and costs were going up. We either had to call it quits or do something drastic.
One of the new features we'd recently started to work on were the infoboards. This was requested by a few clients so that they could use RoutineFactory not just for individual guidance, but for larger groups. We had built a very simplistic version and some of our customers were testing it. We had a few competitors in this space, so the concept of an infoboard wasn't completely new to our customers.
Our first customer had worked with a competitor's product and wasn't pleased with it. Although we were extremely early-phase, they had some experience with us and knew that we would use their feedback to improve our software. Their trust started a period of close collaboration with that customer, so we could iterate very quickly.
As the infoboard got better, we started to add more customers to it. Looking back, it's a miracle that the first customers were able to onboard themselves. Most care professionals are not very tech savvy, and creating a new infoboard was basically starting with a blank screen and adding all the components individually.
Then we noticed that the infoboard was spreading on its own inside some of the organizations! It was still small and only happening at organizations that were willing to spend some money on innovation, and where there also happened to be a tech savvy user that was very enthusiastic and persistent. But it was happening!
Pivot 2b: Adding Hardware
Of course, the infoboards need some hardware to run on. At this time we referred customers to a supplier where they could order that hardware. However, we noticed that customers are very scared to make a mistake and buy expensive hardware that doesn't work well with our infoboard. Several people told us that it would be very helpful if they could order the hardware from us as well. This seemed like a barrier to entry, so we went looking for a hardware partner that was able to do installations on site.
The customers are now able to get everything they need from us directly. This has been very helpful as well and made it easier for a lot of people to start working with the infoboard.
Pivot 2c: Adding Services
Our infoboard is 100% customizable. This is a unique selling point, but it requires more effort from the customer. People still found it too difficult to set up and customize the infoboard on their own. Those that persisted often ended up with an infoboard that was not very practical, which was detrimental to the product experience. We realized that we had to be more helpful at the start so that our customers would have a better experience. Thus, the startup service was born.
From the beginning, almost every customer that has bought an infoboard also purchased the startup service. This service consists of two parts. The first involves us going on-site to setup a custom infoboard tailored to the requirements of that location. The second part involves us leading a workshop for the care professionals so that they know how they can get started using it.
Where are you now on product?
We recently added a template system that makes it easier than ever to self-onboard. Nevertheless, almost all customers prefer to use our startup service to create a customized version tailored to their specific needs.
The app for individual guidance is nicely integrated with the information board, which makes it much easier to grow the app usage within organizations that are using the infoboard.
How have you attracted users and grown RoutineFactory?
It's almost 100% word-of-mouth. We've tried a lot of different things online but haven't found anything that works just yet.
We do go to fairs and exhibitions, where we can meet a lot of people face-to-face and provide them with a quick demo. We also go to organizations for demos upon request.
Earlier this year we hired someone to help us with marketing and we are working on several projects to get the word out.
What's your business model, and how have you grown your revenue?
Our main income is the B2B subscriptions, but we have some additional revenues as well:
B2B subscriptions: €12k/mo
B2C subscriptions: €1.5k/mo
Training: €2.5k/mo (varies a lot)
Hardware: €6.5k/mo (varies a lot)
The B2B subscriptions rise steadily by about 4-5% month-over-month. It does take some high-touch effort to get and onboard a customer, but the churn is almost nonexistent.
| | |
| --- | --- |
| Month | Revenue |
| Nov. '18 | 6493 |
| Dec. '18 | 6607 |
| Jan. '19 | 8072 |
| Feb. '19 | 8457 |
| Mar. '19 | 8457 |
| Apr. '19 | 9467 |
| May. '19 | 9563 |
| Jun. '19 | 9808 |
| Jul. '19 | 10150 |
| Aug. '19 | 10701 |
| Sep. '19 | 11051 |
| Oct. '19 | 11755 |
| Nov. '19 | 11998 |
What are your goals for the future?
My biggest frustration is that we can only properly serve the Netherlands at this time, due to the high-touch nature of this space. There are so many people with a disability out there, where we could make a huge difference for their quality of life, but we can't reach them right now.
I would love to explore expansion possibilities in other countries. We have a highly valued product and only a small part of the world knows about it. This seems to me like a great opportunity for a non-technical founder to get started with a fully functioning and validated product.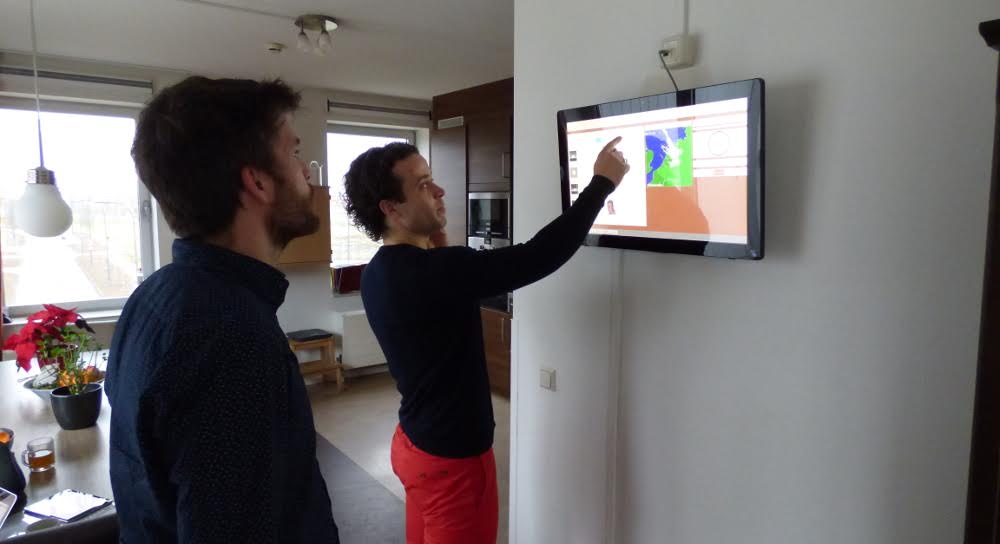 However, for now we are fully focused on our home turf, where there is still a lot of room to grow.
What are the biggest challenges you've faced and obstacles you've overcome?
I think one of the best parts of running a business is that you are continuously forced to learn new skills. Being self-funded means that you're able to grow your skills at a reasonable pace, without external pressure.
This business has been a great accelerator of personal growth. Although each challenge that I face can bring me stress or discomfort, once I overcome them I can look back on it with newly acquired skills.
Have you found anything particularly helpful or advantageous?
The most important thing we did right is giving our customers a central role in the development process. It builds trust and will results product that is perfectly suited for their environment.
Just make sure that the features that you implement are helpful to all the other customers as well, not just a few. If you build too many features your product will be too complicated to use.
I found The Lean Startup by Eric Ries a very helpful resource, too.
What's your advice for indie hackers who are just starting out?
Innovation is hard, but building an innovative product is actually the easy part. Once you start selling it you have to educate your customers before they will even consider buying it.
It's a lot easier to get a small part of an existing market. There's also less risk involved, because you already know that there is a market need for your product.
Seriously, the first idea usually sucks. So don't build it just yet. But that first idea can be a great excuse to get a meeting with your potential customers and talk about it. Ask them if they have ideas for improvements that would help them tremendously, and how much they are willing to pay for it. Pitch all the ideas that you have gathered from customers to your next appointments (>10) and one will float to the top.
Only then create an MVP for the best idea, then iterate on it.
Where can we go to learn more?
You can find us at our website.
I don't do a lot of social media, except for LinkedIn.
If you have any questions (or have any advice on how we can get RoutineFactory into the hands of people outside of the Netherlands) please comment below!
—

Ger Apeldoorn , Co-Founder of RoutineFactory
Want to build your own business like RoutineFactory?
You should join the Indie Hackers community! 🤗
We're a few thousand founders helping each other build profitable businesses and side projects. Come share what you're working on and get feedback from your peers.
Not ready to get started on your product yet? No problem. The community is a great place to meet people, learn, and get your feet wet. Feel free to just browse!
—

Courtland Allen , Indie Hackers founder