How I Aligned My Side Project with a New Full-Time Career
Hello! What's your background, and what are you working on?
My name is Al, and I worked at Google for over 5 years, first as a financial analyst and then as a sales analyst. After Google, I started freelancing by helping my clients with data and Excel-related projects. During this time of my career, I also started a website called KeyCuts, which acted as the main brand for my freelancing, teaching, and, eventually, product business. I also co-founded a platform called Cooperatize, which was focused on influencer marketing for the travel and tourism industry. Today, I spend most of my time as a solutions architect at Coda helping our community build docs as powerful as apps.
The goal of KeyCuts is to help people be more productive with Microsoft Excel. The physical product is a silicone rubber keyboard cover that goes over your MacBook. On the keyboard cover, the 15 most common keyboard shortcuts are printed on the keys to help people learn and commit to using Excel keyboard shortcuts. Interestingly, the person that uses a KeyCuts keyboard cover is not a financial analyst or consultant. Most people who work in finance already know all the keyboard shortcuts. The target customer for KeyCuts is actually non-finance professionals who work in marketing, sales, and HR who have to use Excel every day but want to be more productive in the tool. As old as Microsoft Excel is, it's still one of the most widely used business applications in the workplace, and knowing how to be efficient in the tool helps you do your job better.
When KeyCuts first launched in 2013, we were making around $1,000 per month purely from keyboard cover sales. Today, we make around $200-$300 in sales per month but have other revenue streams like sponsorships and affiliate marketing. What I'm most proud of is the viewership to the KeyCuts blog since it was non-existent when we first launched. We get close to 500 unique visitors per day to our blog and other content on the website.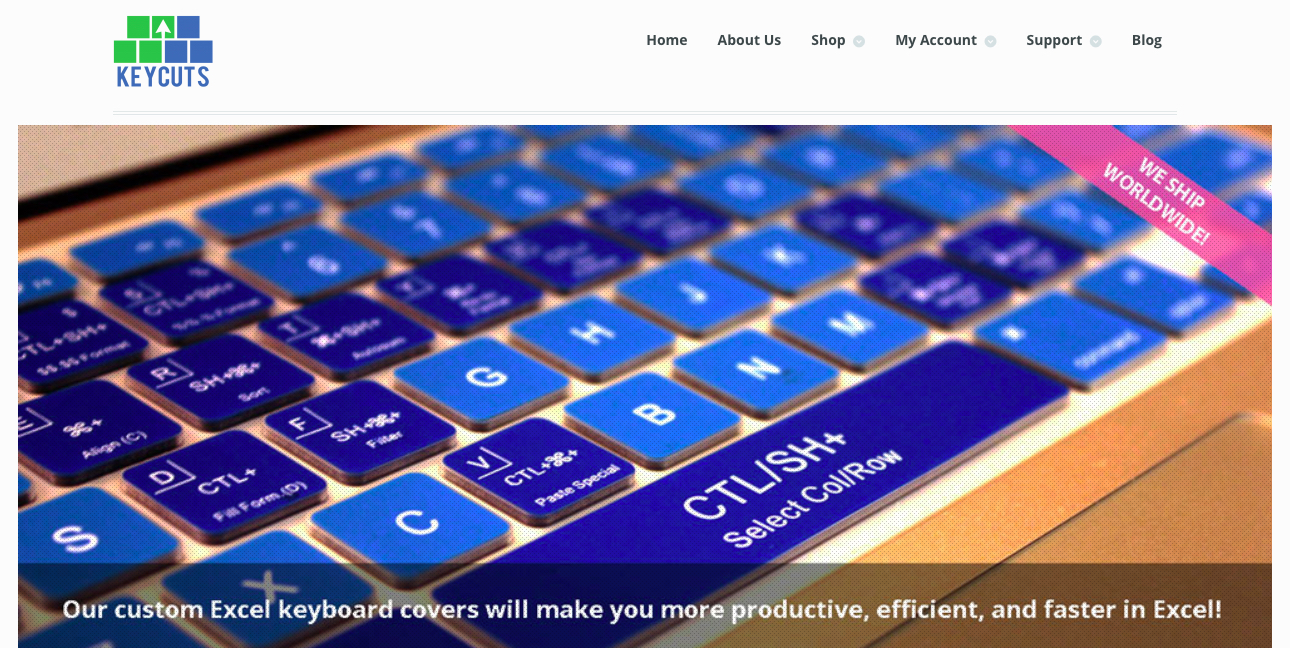 What motivated you to get started with KeyCuts?
The story behind the KeyCuts product started when I was still working at Google. I was always the person on my team that people turned for help on how to do X or Y in Excel. From writing formulas to formatting, I was helping all my colleagues with making sure their Excel spreadsheets didn't "break." Not only was I helping my colleagues, but I would also get e-mails and calls from random friends asking me for help with their Excel files. One day, I decided to organize an Excel workshop at my office and booked a conference room for an hour. I created a simple presentation of all the Excel keyboard shortcuts I thought were important for people to know, and received glowing reviews from my colleagues.
After the workshop, one of my colleagues came up to me and thought we could build a physical product together that would help people learn Excel keyboard shortcuts. Google had these Gmail stickers at the time you could physically stick onto your keyboard showing you commonly used Gmail keyboard shortcuts. I didn't like how permanent the stickers were since if you decided you didn't want them on your keyboard, you had to peel each one off one at a time. After doing some research, I found that silicone rubber keyboard covers could be customized with different colors and text and they had the added benefit of protecting your keyboard from dust and oil from your fingers.
Given my extensive knowledge of Excel keyboard shortcuts, I went and created a PowerPoint of all the keyboard shortcuts I would want to be printed on each key. Each slide of this PowerPoint was literally a single key on the keyboard. After talking to a few colleagues about our idea, we found that it would solve a lot of problems because everyone wants to be better at Excel, especially people who are in spreadsheets and docs all day. The reason why people thought this was a good idea was because:
it did not require you to look at a cheat sheet of keyboard shortcuts
the shortcuts are literally at your fingertips
you could take the cover off at any time if you didn't like the look and feel of the product
With the positive feedback we received, we decided to go ahead and start building a prototype.
What went into building the initial product?
From my initial design in PowerPoint to receiving our first sample shipments of the product, I would say the total time was two months. It's not an overly complicated product, and more importantly, it's not a physically big product; and I'll explain more about that below.
In terms of scope, there are hundreds of keyboard shortcuts we could have printed on the keyboard cover. We actually have a few competitors who were trying to print everything on the keyboard, but we wanted to keep it simple and not overwhelm the user with too many things to memorize. I drew on my experience teaching Excel keyboard shortcuts and took the 15 that I knew would resonate the most with Excel users, and create mockups in PowerPoint of just those keys.
When it was all said and done, the only "technology" I used was PowerPoint. In terms of finding a manufacturer, I searched on Alibaba and found that the city of Guangzhou, China, was the capital of silicone products at the time. Many of the manufacturers I found were based there, so I messaged all of them explaining what I wanted. It was a very simple product for them to create after I sent them my low-fi PowerPoint designs. I also know Mandarin, so I was able to negotiate with the final manufacturer we chose to get good unit rates.
Our first sample shipment of 20 covers only cost around $50, and it arrived in just two weeks from the day I wired the money to the manufacturer (don't get me started on international wire transfer fees). The reason why shipping was so cheap and fast was because the product is not a very big product. You can buy chairs, traffic lights, and 1,000 pounds of mangos on Alibaba but they are big and cost a lot to ship. Those type of products typically require sea shipment, which involves the use of a freight forwarder. Since the KeyCuts product is relatively small and lightweight, the manufacturer could ship via air, which saved us a lot of money and time.
After we did a few iterations of the design, we finally placed our first order of 5,000 keyboard covers (1,000 of each color). Here are some high-level stats on the time and resources it took:
$2,500 total cost split between my business partner and I
4-5 hours of designing in PowerPoint
10 hours of sourcing a manufacturer on Alibaba and communicating and negotiating with them
2-3 weeks per iteration of design sent to manufacturer and samples being sent back to us in the US
15 hours of designing the packaging
10 hours designing website
As you can see, this wasn't a huge investment in time or resources, so my business partner and I were able to do most of this work on the weekends or after work. The initial investment was also low, and since we had full-time jobs at the time, we could support ourselves while working on this project.
How have you attracted users and grown KeyCuts?
Growing the customer base of KeyCuts initially involved a lot of manual work. I created a basic website in Wordpress so that people had a destination to go to in order to actually buy the product and got the word out by manually reaching out to a few different audiences:
Current colleagues (since I knew they were learning about Excel from me)
Students from classes where I taught Excel (after I left Google)
Former classmates who I knew worked in finance or I knew were Excel geeks like me
Obviously this didn't scale, so I turned to digital marketing. For a period of two to three months, I did research online about social media marketing, SEO, blogging, and other organic ways to draw traffic to a website. Coming from Google, I knew I could invest in Google AdWords but I didn't want to break the bank with advertising and knew there are much more organic ways of building visibility for your brand.
I hacked together a press release using PRLog, basically self-promoting the KeyCuts website. I shared this press release on my personal Facebook timeline, and this was the first time I experienced something going "viral" in a matter of a few hours. It was pretty awesome to see, and I think this is akin to how people launch on Product Hunt these days.
While the sharing numbers aren't huge, I would say the audience that saw the press release was super targeted and we saw around 5,000 unique visitors to our site that day. Again, nothing huge, but we started seeing the orders trickling in. I also started posting more from the KeyCuts Facebook page over the next few weeks with contests, YouTube videos, and blog posts to get more people that were following our Facebook page interested in the product.
Step-by-step, this is what I did to build and optimize this website to get organic visibility:
Build a basic website
Get product pages and checkout forms working (I used WooCommerce in Wordpress)
"Launch" with a press release and social media
Build out the blog and other content for social media marketing
Continue writing on the blog
I can't stress how important the blogging part is for content marketing and SEO. I don't actively promote the product much anymore, but evergreen blog posts I've posted in 2013 and 2014 continue to receive a lot of traffic today.
What's your business model, and how have you grown your revenue?
The main product initially was the keyboard cover, which I continue to sell today. Today, it's priced at $24.95, which is the same price it was the day we launched. I looked at competing keyboard covers and just priced it in-line with the "competition" even though there aren't many keyboard cover companies focused just on Excel. We had built samples for Adobe Photoshop and Illustrator but decided to stay focused on Excel since that's where my expertise is.
In order to generate more revenue and sustained business, we started exploring the following options:
Partnerships — We were contacted by many of those "deal-of-the-day" websites like Fab (remember them?) which drove us more sales and web visitors when those sites launched our products
Sponsorships — Every week to this day, I still get pitched by random companies who want to run affiliate links and ads on the site. I don't agree to the ads but have accepted some affiliate links which generate $50-100 per month in revenue
Amazon — Today, 75% of our sales come through our product pages on Amazon
Teaching — This is not necessarily part of core KeyCuts business model, but I've started teaching Excel through MOOC websites like Skillshare (my Excel Skillshare class has over 10,000 students)
Consulting — Also not a part of the core KeyCuts business, but the visibility of the keyboard covers has led to consulting/freelance gigs where I can utilize my Excel skills to help businesses
In terms of setting up payment on the KeyCuts website, I literally Googled "how to collect payment on Wordpress sites." At the time, the most common framework was WooCommerce, so I've been using that method ever since. Later on, I learned about Stripe and incorporated Stripe into my checkout process since, before that, I was using some third-party service that was taking a percentage of my sales for essentially doing what Stripe does. After Stripe, I figured why stop there? I added Amazon, PayPal, and even Bitcoin as potential payment methods. I figured we should not discriminate against the way a customer wants to pay for the product.
Interestingly, a few people paid with Bitcoin back in 2015 and I had forgotten about those payments that went into my Bitcoin wallet. This was when Bitcoin was worth a lot less, and I checked the Bitcoin wallet last year when the price had skyrocketed to $20,000 and was pleasantly surprised to find that the Bitcoin I had received as payment amounted to $1,000 in last year's rates. Today, not so much. :)
Today, we don't generate as much revenue as before from the core product, but all the other stuff like teaching, sponsorships, etc., still brings in a few hundred dollars a month. Aspiring entrepreneurs should think about how to diversify or even pivot their original business to something else that could be a new revenue stream. I see the keyboard cover today as just a beachhead to get into new potential revenue streams down the line. In terms of monthly revenue, these were the numbers for the first five months after launch:
| | |
| --- | --- |
| Month | Revenue |
| Month 1 | 1500 |
| Month 2 | 1000 |
| Month 3 | 900 |
| Month 4 | 800 |
| Month 5 | 600 |
As you can see, the initial "pop" from launch definitely dies down, but as I thought about what KeyCuts could be versus what it is, I'm not too discouraged by the drop in revenue from the core product.
What are your goals for the future?
My main goals for KeyCuts are not actually related to selling the product anymore. Especially now that the keyboard layout has somewhat changed with newer MacBooks being released by Apple, I think the product may be obsolete in a year or so. This is not discouraging to me as I knew the product would come to a natural end at some point since it's dependent on hardware updates.
The goal now is to grow the traffic for the website through blogging and content marketing. Like I mentioned in my previous answer, the new revenue streams I see from teaching online, consulting, and sponsorships are much more scalable and, more importantly, don't involve physical products. As much as I love Etsy and makers who are building cool products, holding and shipping inventory is not that interesting to me, and that's why I think FBA (Fulfillment by Amazon) is the right way to go for shipping your products even though they take a cut of your profits.
I plan on writing more and doing more teaching to raise KeyCuts the brand versus KeyCuts the product. I recently started a podcast called Dear Analyst which talks about Excel and data analysis to further build out the content and brand for KeyCuts.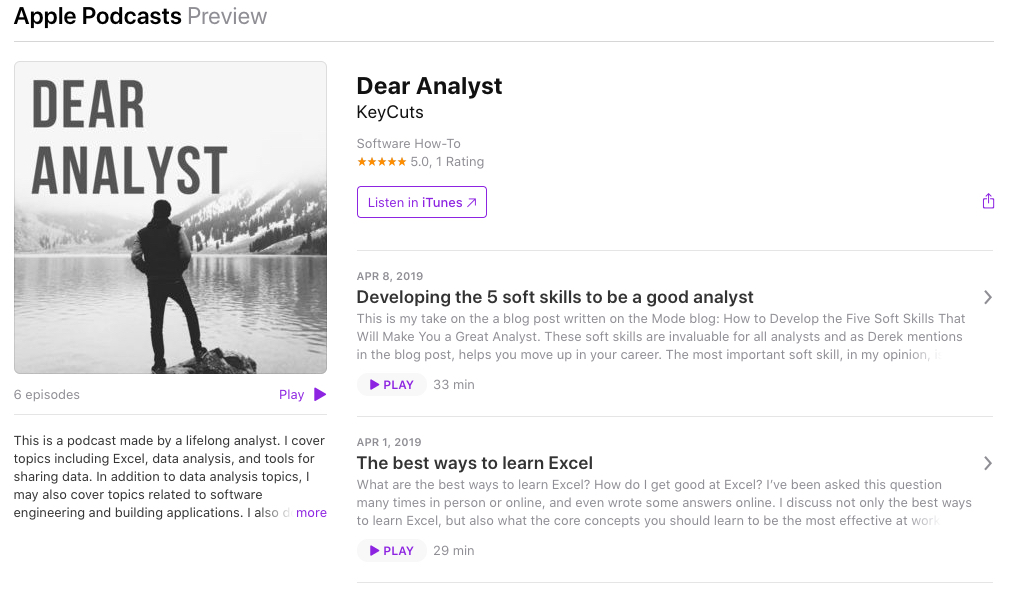 My biggest roadblock would be having the time to balance a full-time job with my endeavors at KeyCuts, but the great thing is that my full-time job is very closely related to what I envision for the KeyCuts brand. With my work at Coda, I get to work with our users to build on a platform that is 100x better than Excel for sharing and working with data. I think that, for entrepreneurs who are balancing a full-time job with a side project, both pursuits should be closely related so that there can be synergy that's mutually beneficial for both companies.
What are the biggest challenges you've faced and obstacles you've overcome? If you had to start over, what would you do differently?
Some of the biggest obstacles I faced early on were all partnership-related. There were some major partnerships I was negotiating that fell through at the last minute, which means a lot of business lost but, more importantly, the time and energy that I put into the potential partnership were for nothing. You could argue that this is just sales, to a certain extent. You win some, you lose some. At the end of the day, however, you need the partner more than they need you, and sometimes it just doesn't work out.
One partnership that comes to mind: we were in the final stages of talking about a distribution deal with the company that owns all the computer product stores at major airports. Someone from their merchandising team had reached out to me and was super enthusiastic about distributing our product, but then after a few weeks of back and forth, they just ghosted our e-mails and phone calls. I was considering flying to their headquarters to pitch the product one last time but decided against it.
Another missed opportunity was getting on Shark Tank. Personally, I didn't think the product was interesting enough to pitch on the actual show, but we got the audition, so why not? Then, as you get into the audition and hear the positive signals from the producer, you build up this image in your head about how you will pitch on Shark Tank, what equity you'll ask for, what you'll say to Mark Cuban, etc. It was a huge disappointment we didn't get selected to pitch on the show, but ultimately it was a great learning experience.
I honestly wouldn't have done anything differently. I like that we totally bootstrapped this product and that it has flourished into a bigger brand that has taught people how to be better at Excel through in-person classes, online classes, and a physical product. If I am able to make the workforce 10% more productive because people are well-versed in Excel, then I've fulfilled the promise of the KeyCuts vision.
Have you found anything particularly helpful or advantageous?
Aside from all the blogs, guides, and online tutorials, one book that has helped me a lot is Tim Ferriss' 4-Hour Workweek. It taught me about prototyping, testing, learning how to learn, and so much more. In the realm of product management, the lessons taught in the book might be better known as agile, running sprints, testing, iteration, etc. but there is a level of "just do it" that I learned from Tim's book.
One meta-skill that has helped me over the years is simply learning to be curious.
You hear this a lot from motivational speakers and graduation speakers, but learning how to learn is such an important skill in business because that's how you innovate and make discoveries. I wrote a lengthy blog post about why taking things apart is the most important skill for makers on the Maker Mag blog if you want to learn more about my thoughts on this subject.
What's your advice for indie hackers who are just starting out?
Top tips:
Be curious — As mentioned above
Test on digital — So much time and money can be saved if you just try to get feedback about your product through digital mediums first. For instance, just posting your idea on Indie Hackers to see how the community responds is a good way to validate your idea and hypothesis before you go and build stuff.
Go and build stuff — To argue against my last bullet point, sometimes you should just go and build stuff because that's how you will discover the next big idea. Right now, I'm testing some new React web development frameworks that are completely new to me, but I just want to build it to see what new ideas may come from it.
As you're doing research and learning about what you want to hack on, I would spend 80% of your time learning how to build, like how to build a Wordpress site or how to get custom balsa wood on Alibaba, and 20% of your time reading about other people's stories on what worked for them. Sounds counterintuitive, I know, but you should strive to be a builder and learner first.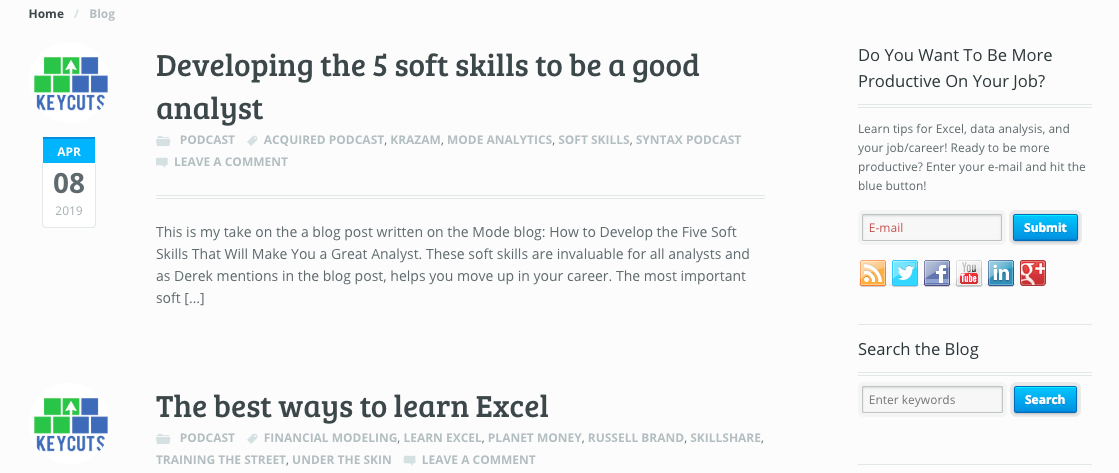 Where can we go to learn more?
If you have any questions, feel free to leave a comment below!
—
Al Chen , Founder of KeyCuts
Want to build your own business like KeyCuts?
You should join the Indie Hackers community! 🤗
We're a few thousand founders helping each other build profitable businesses and side projects. Come share what you're working on and get feedback from your peers.
Not ready to get started on your product yet? No problem. The community is a great place to meet people, learn, and get your feet wet. Feel free to just browse!
—
Courtland Allen , Indie Hackers founder