How I Automated My Salary Job, Quit, and Launched My Own Startup
Hello! What's your background, and what are you working on?
I'm Luca Carducci, CEO at Skaffolder.
I'm a web developer. My team and I created a tool for developers like us who endure a lot of work and pain on our wrists (due to too much keyboard typing).
Skaffolder is a SaaS platform that allows developers to quickly build a custom web application in many programming languages. Starting from a visual modelling, it allows you to generate the source code you need.
Our ideal customers are software houses and system integrators that, thanks to Skaffolder, can save time, resources, and costs.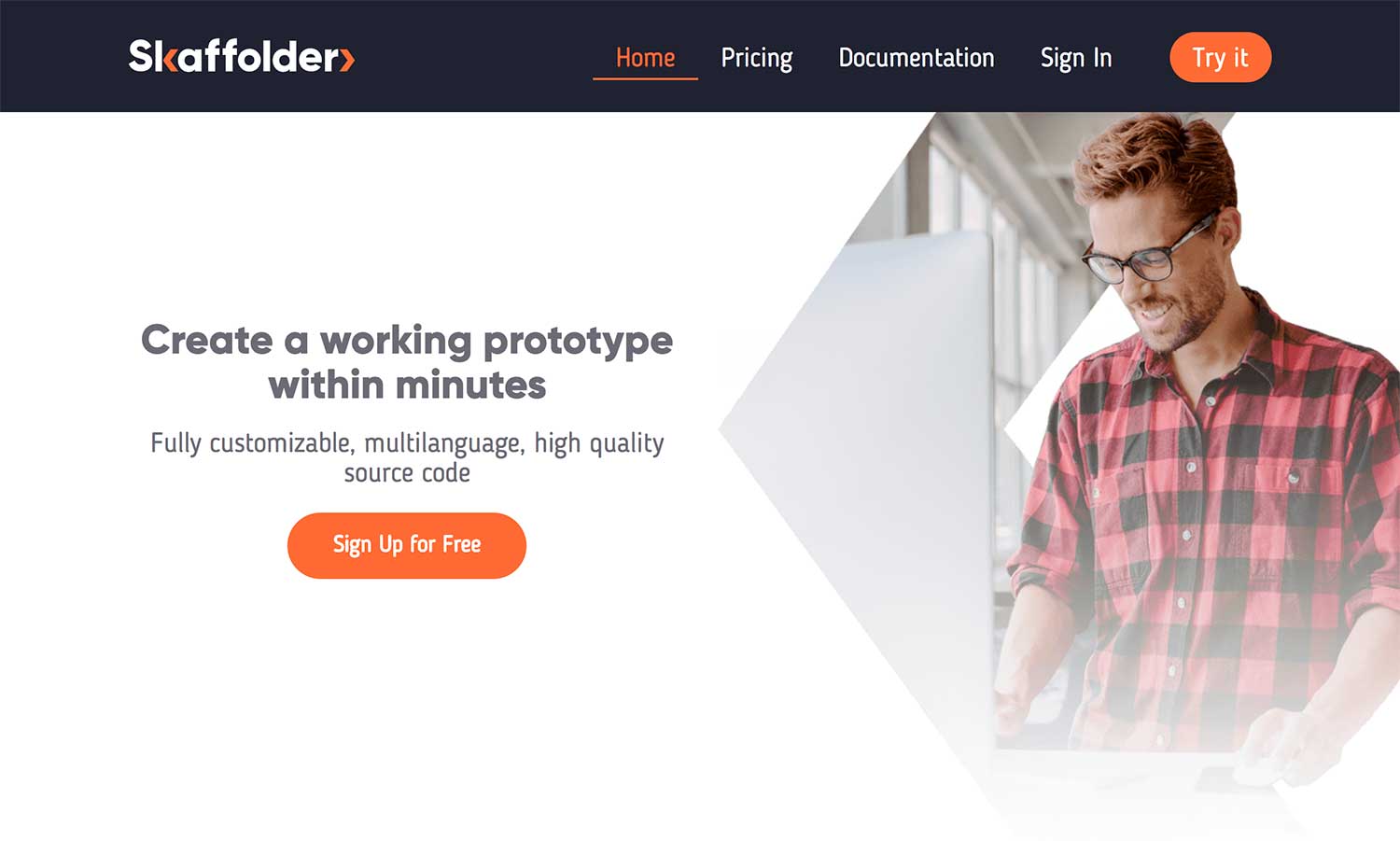 What motivated you to get started with Skaffolder?
I worked for seven years for a big Italian system integrator. Each time I had to start a new project I had to rewrite the same code I wrote in previous projects. So I had to copy and paste pieces of code and adapt them to the new project, wasting a lot of time writing refactored code.
To overcome this issue I started to create the Skaffolder algorithm in order to generate repetitive code, avoiding repetition but still getting high-quality code instantly.
I validated this approach with some personal and enterprise projects and later I created the first Skaffolder interface, obviously using the Skaffolder generator algorithm. That means Skaffolder was built with Skaffolder!
I also wrote some template generators for the programming languages I am skilled in, such as NodeJS, Angular, PHP, and Java.
Now every Skaffolder user can write their own template generator thanks to the skaffolder-cli.
At the time I had a stable job and economic situation, so I decided to resign my job, build a team, and launch my own startup.
What went into building the initial product?
At the beginning it was very difficult to find money, time, and people to build the product and the company.
Working for 8 hours per day, I barely had any free time. I spent a lot of nights in front of my PC building the MVP.
I was a developer, not a businessman, which means that I had to acquire a lot of new skills. It's not difficult to create a SaaS, especially for a full-stack developer, but to create a company is a different thing.
So I started to attend networking events, build relationships, and look for key people to create the founding team.
With a lot of effort, I found four other people that wanted to start this new adventure with me. We targeted the top Italian accelerator, LuissEnLabs, and after failing to get selected the first time around, we got the funding on round two.
With this initial money, a good network, and space to work, we were ready to get started!
How have you attracted users and grown Skaffolder?
We started validation by contacting developers directly, asking for feedback, and hosting focus groups and meetings.
We launched the first Alpha version of the platform and with 150€ in AdWords. This got us the first 300 users, but they were not very profiled, so we refined our campaigns and got users through new channels, such as tech events and developers' communities.
Later we defined a better selling proposition and we started to get in touch with IT companies like software houses and system integrators. We reached them by cold calling, presentations, scheduling demos, and starting pilot projects with the customers.
With cold contacts, you only have seconds to address the problem that the customer has and explain to him or her how you are going to solve it, otherwise you lose the deal!
It is a lot easier to get started with a good network of relationships. That's why I'd suggest investing a lot of time building it.
What's your business model, and how have you grown your revenue?
We make money by selling our platform to IT companies, keeping it free for developers.
We realized that the problem we were going to solve is a problem concerning time and budget. Single developers don't feel this pain — bigger companies do. So we are just onboarding on AWS Marketplace and Google Cloud Launcher, where we can sell our on-premise solution to companies with just one click.
Also, the billing is managed by these marketplaces so it's less effort to sell our solution.
We also host our software on our own servers and sell it to smaller companies that want a cheaper solution.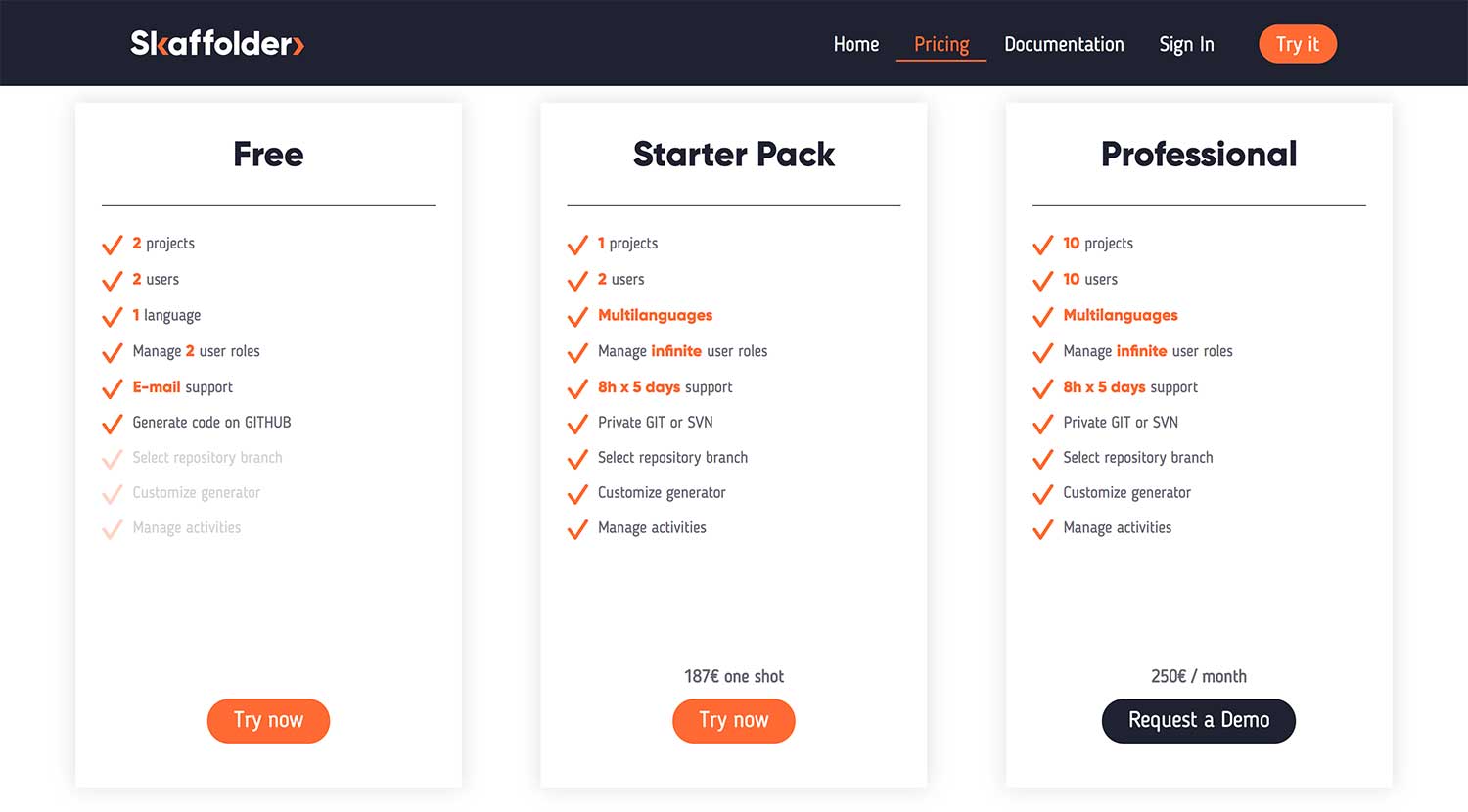 What are your goals for the future?
We have a lot of goals to reach on our roadmap.
We're adding a template generator to generate mobile applications and a serverless back end layer on AWS Lambda.
Another important feature we are working on is the ability to live code in the browser while having the web application up and running. To accomplish this we'll integrate Eclipse Che in our platform.
Our next big step is to move our business to Silicon Valley and places where developers' communities are very active. We just opened a fundraising round to reach this goal.
If you had to start over, what would you do differently?
The biggest mistake I made was to build the product before the business.
As a developer, I like to code. And I started to build a big product without validating the market. After we realized that the product was too big and some features added only confusion to our selling solution, we had to get rid of them.
We created a more vertical product based on real user feedback. With fewer features, we got more value!
Have you found anything particularly helpful or advantageous?
When I was adjusting my skills from tech to business I read a lot of books about communication, relationship, business models, and strategy. These books allowed me, an engineer, to acquire skills that I'd previously dismissed as not being scientifically backed — which had been a huge mistake!
Another fundamental skill I've acquired is leadership. When you are the only one coding, making decisions is easy. But managing a team of 10 people is very different. You need to define roles and responsibilities, and of course you have to rely on the right people.
What's your advice for indie hackers who are just starting out?
I would suggest to any of you to believe: believe in yourself, in your team, in the people who want to help you. This is the first step that will allow you to successfully accomplish the second step: execution.
Be fast, be proactive, and listen to your users — they are the only ones who know what they want to pay for. After understanding this you'll be able to offer them what they want, and then you'll only have to be better than your competitors!
Where can we go to learn more?
To better understand how Skaffolder works you only have to try it. It is for free for developers.
You can register on our website with this link and get a professional plan for free, thanks to the Indie Hackers referral.
We're eager to hear your feedback to all I've shared with you. You can reach us at our social accounts or on our Slack Community and share your thoughts with us.
You can also try Skaffolder now for free.
—

Luca Carducci , Founder of Skaffolder
Want to build your own business like Skaffolder?
You should join the Indie Hackers community! 🤗
We're a few thousand founders helping each other build profitable businesses and side projects. Come share what you're working on and get feedback from your peers.
Not ready to get started on your product yet? No problem. The community is a great place to meet people, learn, and get your feet wet. Feel free to just browse!
—

Courtland Allen , Indie Hackers founder