How I Built a Health and Happiness Community with Bots and Humans
Hello! What's your background, and what are you working on?
Hi there! My name is Joshua Voydik, and I created Mindful Makers — a community for makers, creators, and founders to track mental and physical health using a bot, to connect with awesome people, and learn from each other to become happier and healthier.
We have a main chat group, a book club, language clubs, and a small mastermind group. I started Mindful Makers while at my full-time job, and have gone part time since then. Since 2014, I've been working remotely, doing business development for tech startups.
We're now at $500/month, and are steadily growing.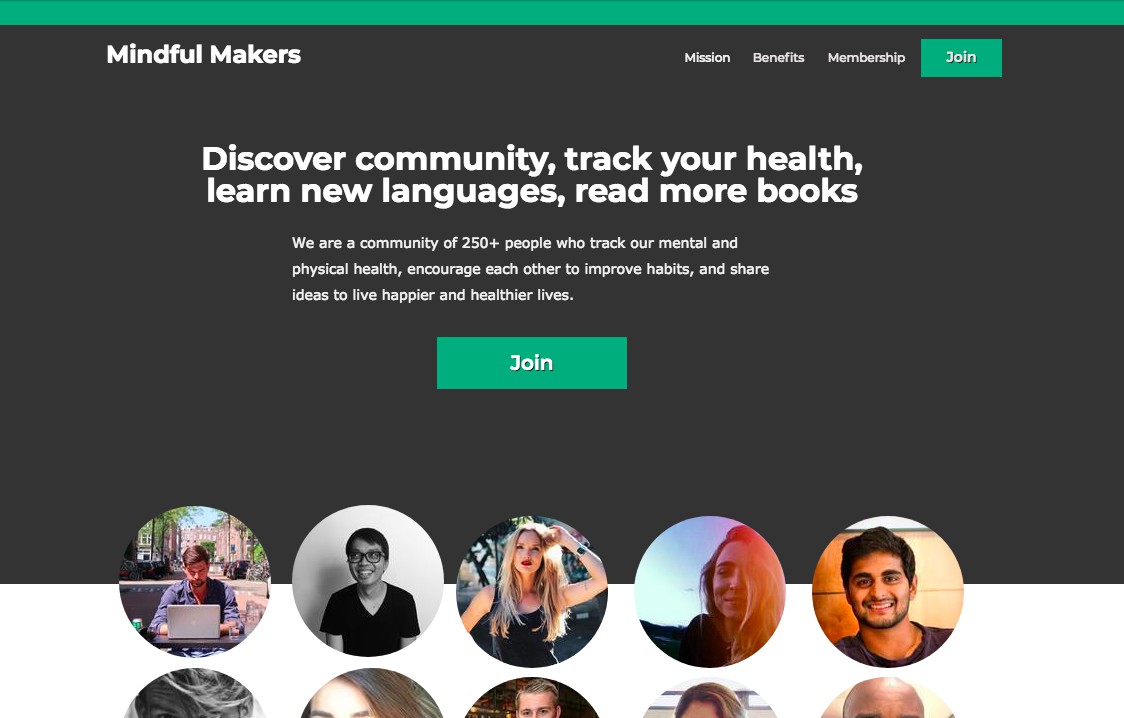 What motivated you to get started with Mindful Makers?
My friend Pieter Levels introduced me to the platform Telegram in December 2017. I started using it, and loved that it was a programmable platform — creating bots to do whatever you want. I first joined Work In Progress, a Telegram community by Marc Köhlbrugge focusing on shipping new features and products, and a handful of other groups.
In January 2018, I started Mindful Makers. I have always craved deep conversations, and I found that Twitter was a bad place for nuanced conversations because they weren't exactly in real-time — you only got a sliver of what someone was actually trying to convey. There weren't many places people could connect on philosophical ideas, the bigger picture, and life. I sought to create a community that wasn't necessarily focused on work, but rather all aspects of life, with undertones of mindfulness and self-growth.
There was little product validation. As I casually invited new members, people told me that it was a great idea, and I noticed that the quality of the conversations kept improving. People were asking for more features from the bot, and we started to gain traction. So I just kept on going with it. Eventually we developed the bot to allow members to track:
Sleep per night
Happiness levels
Anxiety levels
Journal entries
Meditation sessions
Exercises
Hours spent in a fasted state
Since the beginning, members have been talking about deep, complex, emotional, and philosophical ideas, and I realized maintaining quality conversations was important. After seeing suicides from people like Robin Williams and Anthony Bourdain, I understood that mental health was a vital issue. If anyone in Mindful Makers is ever dealing with anxiety or depression, we encourage them to express themselves, either in the main group chat, or with someone individually. If we see someone logging high anxiety or low happiness levels, many members will reach out to provide support.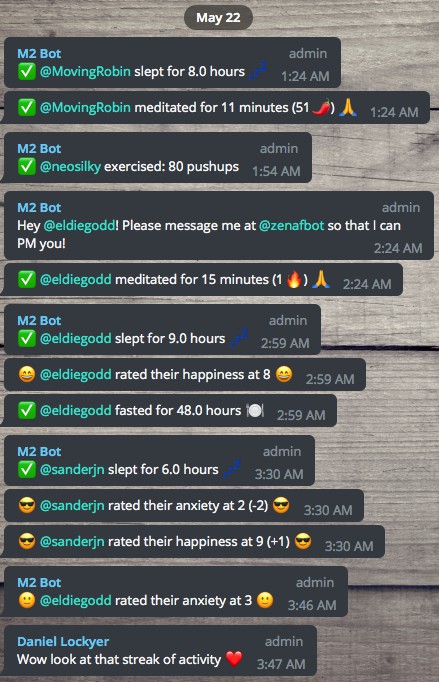 What went into building the initial product?
When creating your own community, there are some great platforms to use like Slack, Discord, and Telegram. I went with Telegram because it seemed so future.
It took a couple minutes to set it up. I experimented a ton with branding and marketing strategy/tactics. I was trying everything to see what would stick. Renaming the group, which was initially called "Zen AF", but I thought that name was too crass, and not scalable. I even bought a microphone and started a podcast but that didn't stick either.
Early on, I was thinking about creating a bot to log meditation sessions. One of my early members reached out wanting to help create a bot, so he wrote the base code. Since then, I developed a great relationship with Daniel Lockyer, the bot developer and manager for Nomad List, and promoted him to be an admin for the community. With his help, and a little help from his roommate Jet Holt, we were able to create a robust bot for tracking mental and physical health, graphs that display weekly/monthly logged data, and a summary feature that sends your stats to your email.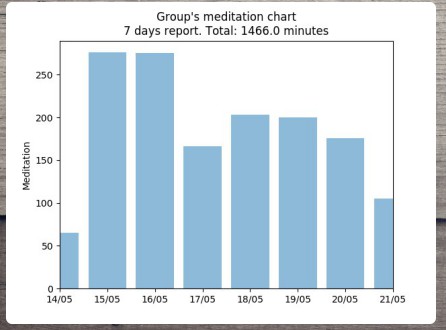 Initially, I didn't think the group would become anything. But as more users started to join, and the conversations started to heat up, and people logged things, I was being encouraged from other makers to monetize. And so I did.
I started at $9/month. I realized that that price was too low. It's now at $14/month. For monetizing the group, Stripe is my preferred method. I'm currently using Zapier to automate an email with a private invite link after someone pays.
I typically engage with and work on the community each day and on the weekends. The cool thing about a community like this is that we're encouraging people to mindfully participate, so it isn't my goal to keep people glued to their screens. In fact, I want the complete opposite. When they're engaging with the community, I'd like for people to find balance and report their findings.
I am continually asking people what they would find valuable and what they want. A lot of the time, member responses dictate the nature of the features and community. Other times, I use my best judgement to introduce a new idea and see if it sticks. For every good idea we introduce in Mindful Makers, there are 10 bad ideas.
I leveraged my connections on Twitter and personally invited people to my platform. Pieter Levels tweeted about my group several times which was a tremendous help. It took essentially zero money to start. I purchased mindfulmakers.club for $0.99 on Gandi.
I think I'm pretty good at connecting people together — getting them to see things from different perspectives, helping introduce new ideas. And when you have your own community, there are no rules. I like the creativity of turning it into what I wanted.
I am immensely grateful for all of the help from community members. I've been pretty lucky.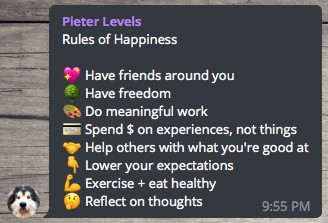 How have you attracted users and grown Mindful Makers?
I knew that in order to get fresh faces, we'd need to get the messaging and mission right. I spent a lot of time curating the group to reflect our values of openness, accountability, and nuanced discussions. The group definitely isn't for everyone, and I wanted people to understand that. I started talking to people on Twitter, and invited many of them to join our community.
Shortly after starting the group, I asked some members in Work In Progress if they'd be interested in joining for free. After a handful of invitations in WIP, and posting a handful of times on Twitter, I had a healthy community of people who were chatting about literally everything — nothing was taboo. It was awesome. It felt like high school or college. And then even more people were wanting to join the community.
The community was free for several months, but after I had over 200 members, I realized that it would be a good time to monetize. Since then, I am incredibly grateful that Pieter Levels was able to tweet about the community a few times. Most of our growth has been coming from Twitter and word of mouth.
My friend Kevin Espiritu, who runs a super successful site Epic Gardening, told me that I should do things that don't scale. If I was too focused on scaling rather than the community, it might have degraded and lost its value.
Here's a summary of what I did:
Figured out our core mission of helping people becoming happier and healthier
Asked the current community what they liked about it, and how it could be improved
Encouraged questions for discussion, as well as tracking health with the bot
Shared people's praise, breakthroughs, and experiences on Twitter
Occasionally asked for some help from people like Pieter Levels and other community members
For each new person that joined the community, I tried to connect with them personally, welcoming and thanking them
I worked to cultivate a community of people who really wanted to be there, while ensuring high-quality conversations. Many of these types of online communities are dominated by men, so having a strong female presence in the community was important. Currently there's a healthy mix of men and women who share the conversation.
In June, Mindful Makers was mentioned in a Wall Street Journal article that discussed mindfulness and meditation. Our name was mentioned with apps like Headspace and Calm, which was pretty cool.

What's your business model, and how have you grown your revenue?
Mindful Makers is a standard subscription model with monthly, annual, and lifetime memberships. At first I didn't think I offered enough value, and I didn't. But once we offered a more robust bot for tracking, I decided to give monetization a shot. I didn't think it was worth $20/month at first, so I started with $9/month. Since then, I've slowly raised the price to $14/month as we've found ways to deliver more value.
The cool thing about the community is that we encourage people to only use it when it makes sense. Mindful consumption rather than being addicted to the product/community. I wanted people to participate and log things when it makes sense (we have a backlog feature to track things even if you've missed a day). I try to maintain a pricing structure that reflects both thoughtful passivity and participation.
Shortly after monetizing, I hit $100 in revenue, then $200 in the first month, $300 in the second month, $400 in the third month, and now $500. The only expenses are essentially for new bot development, such as an advanced bot feature. Sometimes I will write some basic bot functionality, but typically leverage Daniel's expertise when we need anything else.
What are your goals for the future?
We want to continue to bring in new people with different perspectives. There's some possibility of creating unique dashboards for our users, though I am not sold that they would be useful. Additionally, I want people looking less at screens and dashboards, and living more in the real world. We're also looking for ways to expand the community to encompass more topics, such as our new book club, language groups, and a small mastermind group.
We are launching on Product Hunt in the coming weeks, which should help bring Mindful Makers to the next level. Some of my time will be spent targeting and working with some influential people who could help drive new traffic and members to the community.
We certainly face challenges such as Telegram going down, and related communities taking some of our users. I am not too worried, though. Realistically, people don't want to be constantly switching groups. We've been able to cultivate solid foundation of individuals who see the value, and want to see community expand.
I would like to do a better job of humanizing the community by leveraging video and audio. We're already doing this, but there's a lot of opportunity for growth.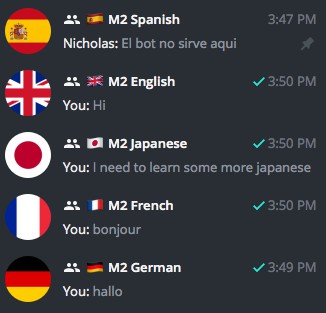 What are the biggest challenges you've faced and obstacles you've overcome? If you had to start over, what would you do differently?
Finding the right fit and reaching the right audience is huge. Some people haven't found value in the community and others have mentioned that it has changed their lives. So it's about creating features, messaging, and recruiting the right people so that it continues to provide value.
Growth hasn't been easy. At this time, we're only really listed on Twitter. Figuring out how to spread the word about our community across different platforms will be a challenge, while keeping the mission and messaging consistent.
The group is evolving, so making sure we evolve in a way that continues to provide value while still maintaining our core principles will be important.
Have you found anything particularly helpful or advantageous?
Actually giving a shit. Care about other humans. Engage with your user base. I've found that if I put myself out there and genuinely ask for people's opinions, feedback, and help, they're happy to provide, ultimately steering the product.
The community encourages each other to create and pursue habits for health and happiness, so talking through my feelings has helped. In a way it's like group therapy, which is pretty powerful.
Luck is out of your hands, so do your best to create your own luck. Show up every day, and try not to get discouraged. When you are discouraged about anything in life, talking with other people helps tremendously.
Other than that, put yourself out there, be nice, and try to get creative with how you can provide value to everyone you encounter.
What's your advice for indie hackers who are just starting out?
Be authentic. Build the thing you really want and don't let other people (or yourself) stop you. Constantly ask your user base for feedback. Learn from others, but realize that no one has the all answers — they're there for you to discover and explore.
Where can we go to learn more?
If our community sounds interesting, we would love to have you. You can join us here.
You can also find me on twitter: @joshvoydik.
— Joshua Voydik, Creator of Mindful Makers
—

Joshua Voydik , Founder of Mindful Makers
Want to build your own business like Mindful Makers?
You should join the Indie Hackers community! 🤗
We're a few thousand founders helping each other build profitable businesses and side projects. Come share what you're working on and get feedback from your peers.
Not ready to get started on your product yet? No problem. The community is a great place to meet people, learn, and get your feet wet. Feel free to just browse!
—

Courtland Allen , Indie Hackers founder