How I Launched My WordPress Side Project and Make $350/mo
Tell us about yourself and what you're working on.
My name is Corey Maass. I've been a web developer since 1997, going from designer to front-end developer to back-end developer. I've always enjoyed client work, but I wanted a way to fortify my day jobs with passive income, so I started my first online business in 2003. Like most developers, I built a CMS for my clients. It was extremely challenging, made little money, and it ultimately failed, but it gave me a taste for web apps as side projects.
I've launched dozens since — time trackers, event planners, membership sites, and online communities. Only one — thebirdy.com — a personal finance tracker, was moderately successful, and I sold it in 2013. Around 2011, I saw just how quickly WordPress was growing in popularity, and I changed my focus from general web development to building WordPress sites for clients. I'm glad I did. WordPress now powers more than 25% of the internet, offering great opportunity for entrepreneurship.
In 2015, I met a few wonderful, open people who have built successful businesses on WordPress themes and plugins. They inspired me to start looking for ways to combine my entrepreneurial side with business opportunities in WordPress, aside from building sites for clients.
In the fall of 2015, I found my chance. While working with a local startup, I was tasked with selecting a kanban board for our project management. I found plenty of SaaS apps, but no WordPress plugin. I saw my opportunity to create something new and in-demand.
By the beginning of 2016, I'd launched Kanban for WordPress, a complete kanban suite for WordPress. It can be used for project management, as a CRM, to track sales, to manage new hires, and more, and the most common users are freelancer developers and small development teams. The plugin now has around 10,000 installs, 600 regular users, and a few dozen paying customers.
How'd you get started with your business?
Around 2014, I started getting the sense that there were business opportunities in WordPress, but my exposure to successful businesses was limited. I didn't see how selling $5 plugins on Code Canyon could account for a business.
In 2015, two things changed my perception. The first was I built a large Woocommerce site for a client, which started with purchasing over $1000 in add-ons. The second was I attended a WordCamp conference in Atlanta and met the Ninja Forms guys, Andy Wilkerson, and a few other folks who had real businesses based on WordPress products.
I continued to build SaaS apps, but began looking for an opening in WordPress plugins. In the fall of 2015, I found there was no kanban plugin in the WordPress repo, and jumped on the chance to be the first. To start, I began building a simple MVP-style version of the plugin to reserve the /kanban url in the WordPress plugin repo.
I bought the kanbanwp.com domain which was available, and I also contacted the guy who owned wpkanban.com but didn't seem to be doing anything with it. He was nice enough to let me have it for a little more than it cost.
I posted on the Advanced WordPress Facebook group, and asked people if they'd be interested in beta testing. Within a couple hours I received 80 requests before my post was taken down. (I didn't read the rules for the forum. You have to link to real code, not just an email signup form.)
I designed a simple logo myself, and setup the website. Then I uploaded the first version of the plugin in October 2015 and was up and running. After a couple months of supporting the free version, I updated the website to include a shopping cart and launched the first add-on in January. I got my first order within days and was thrilled! I've been slowly adding more add-ons since.
How'd you find the time and funding to build everything?
I've started online businesses a few times in the past, but none of them gained paying customers, so I always used my own money to fund them. This time my wife and I made a deal that I was only allowed to use money the business actually made. I've loved the challenge, and it forces me to be extremely strategic about how I spend the revenue. So far every dime has gone right back into the business.
Time has been another challenge, as I'm running Kanban for WordPress during nights and weekends, around my day job. I usually put in a couple hours in the morning, and I love working on Saturday mornings when my favorite radio show is on. Sometimes I'll work in the evenings and sneak in a bit on Sundays.
One of the first big challenges came when I listened to the Apply Filters podcast, and Pippin Williamson talked about regretting not using custom tables. Around this time I was getting a lot of requests for support for multiple boards, and I realized my plugin code would not support that. I spent the next few months completely rewriting the core plugin to use custom tables and accommodate multiple plugins. That was tough and time-consuming.
There are definitely times when I could see the business progress faster, but I started this knowing it would be a part-time gig and expecting it to take three to five years before I might consider it as a full-time job. With such low and slow expectations, I'm never disappointed and rarely stressed, which is the most important thing to me. I've learned that I don't make good business decisions when I feel a lot of pressure around the business.
How have you attracted users and grown KanbanWP?
Part of what attracted me to the WordPress ecosystem is the WordPress plugin repo. Unlike the Apple App Store, there's a much lower barrier to entry and no new programming languages to learn.
The other "secret" I discovered came from years of client work. I've built all types of WordPress sites for clients, from blogs to e-commerce stores, to web apps. Most every business owner, instead of working on the their business (blogging, marketing, etc) would spend hours browsing the plugin repo, looking for plugins to add features to the website. It felt productive, but was a common form of procrastination. That's when I realized how powerful the plugin repo is for marketing plugins to potential customers.
All but a few of my customers came from finding the free plugin in the WordPress plugin repo. I've also attracted customers by speaking and networking at WordCamp events, writing articles about the product on WordPress blogs, and demoing the product in podcasts and seminars.
The website averages 20-40 visitors/day. More than half are new visitors who are mainly looking at our products, which makes sense as people are still finding out about Kanban for WordPress.
The more interesting stat is from the WordPress plugin repo. The plugin has been installed over 10,000 times. Active usership has gone from 400 to over 600 in the last three months. Unfortunately WordPress.org doesn't provide more specific stats, but it's fun and valuable to watch generally.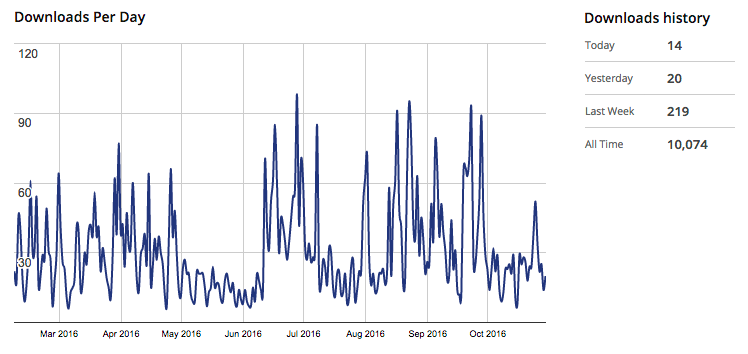 At the time of this writing, in round numbers, I've had 10,000 downloads, 600 persistent installs (6% conversion), and 70 customers (0.7% conversion rate).
For a month I've tried retargeting ads through Adroll. This resulted in a $2.84 CPC and no conversions. I've only just started trying retargeting ads on Facebook which initially show a lot more engagement, but it's too soon to really tell.

What's the story behind your revenue?
The most common revenue model in WordPress is offering a free core plugin with paid add-ons via an annual subscription. This goes against a lot of newer SaaS thinking, but I decided not to try to be different. There's a lot of discussion about this in the WordPress world at the moment, and some products are starting to offer monthly recurring plans.
I offered the free core plugin for a few months to collect feedback on features that would make good paid add-ons. I started with user management, then added comments, attachments, notifications, and finally support for multiple boards over six months. Each add-on is $30 to $50 per year, and a bundle of all add-ons is $150 per year.
Pricing is tough anywhere, but especially in the WordPress ecosystem where you have a lot of citizens who believe everything should be free, because WordPress itself is open-sourced and free. My prices were set by comparing other products, customer feedback, and my gut feelings. I've also received a lot of feedback that I should charge per user like other kanban apps, but I'm hesitant to price that way, as it's very not "WordPress-y".
I've used the free version of profitwell.com to track my goal of 15% growth month-over-month. So far we've made that every month since February. We're currently at around $350 MRR.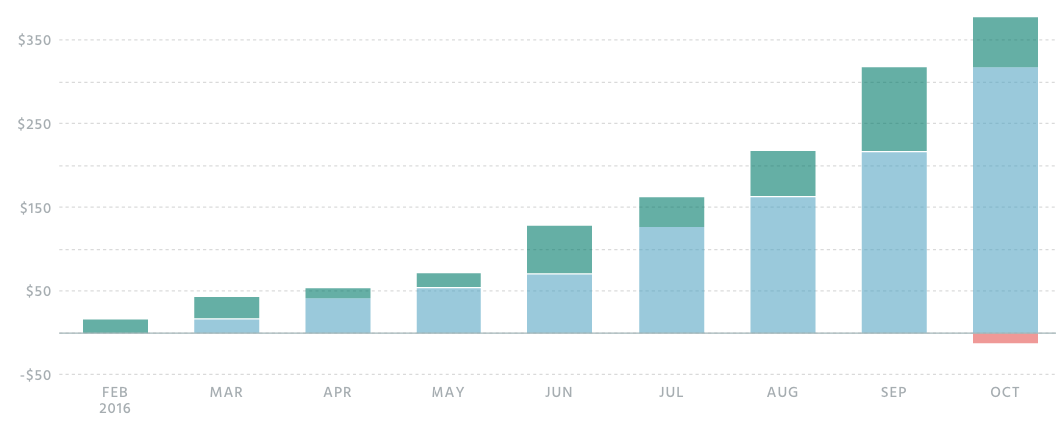 I use Stripe with a homemade shopping cart, and custom code to manage software licenses and updates. Many — maybe most — of the WordPress paid plugins use Easy Digital Downloads for managing everything, and I wish now that I'd just forked over the cash instead of rolling my own, but that went against my rule of only spending what I've earned.
What are your goals for the future?
My initial and primary goal for Kanban for WordPress was to have something to talk about. The WordPress community might be the biggest benefit of the WordPress ecosystem, as well as the best way to find business and/or customers. So this may be a truism, but having a product to talk about in the community leads to more opportunities to stand out through writing and teaching, which leads to more sales. It also helps build my personal brand, setting up any future ventures I might get into.
My second goal is for the software to always be stable. This has stressed me out in the past, keeping me from being able to let the software run on autopilot for a couple weeks at a time while I switched gears to work on the business itself.
Eventually I would like this to become a lifestyle business, ideally with a small team helping with support, development, and sales, but I see that as a couple years off.
If you had to start over, what would you do differently?
I would listen to all the WordPress podcasts I could get my hands on before starting my business or writing a line of code — especially Apply Filters, Officehours.fm, mastermind.fm, and the Matt Report. I have learned so much about plugin development and WordPress businesses from their experiences and mistakes.
I would find someone to partner with from day one to share the development load and talk through ideas. Being a solo founder can be stressful, overwhelming, and lonely.
I would not write my own shopping cart, and instead buy Easy Digital Downloads. I would always use 3rd party apps to solve common business problems so I could concentrate on the product itself.
I would make writing a priority, and develop the habit, which I've never been able to do. Blogging great content remains an extremely valuable marketing channel, but it's a hard habit to build.
What has been really helpful to you?
WordPress has a phenomenal number of podcasts and great blogs full of useful information, both technical and business-related. Most any problem you will encounter has been solved and talked about online.
A more recent addition is Facebook groups and Slack channels. If you want to get involved with WordPress business, join Supporting WordPress Products and Selling WordPress Products on Facebook, and Post Status for the newsletter and Slack community. Invaluable.
What advice would you share with aspiring indie hackers?
I think managing your expectations is critical. Every programmer with an idea for an app is convinced they will be a billionaire 90 days after launching their MVP. I know I bought into this. I can't tell you how many times I launched an app to the sound of crickets, and took it down after a couple of months, discouraged.
In 2014, I committed to leave any new project I started online for five years. Now I evaluate every idea more deeply, and work harder to get the word out. Two of the five projects I've launched since have slowly climbed to a small amount of success. They may not make me millions, but have proven to me that reasonable expectations and patience are key.
Where can we learn more about you?
I blog inconsistently about business here, and about WordPress business here, including a listicle about what I've spent money on.
Twitter: @gelform, @gelwp, @KabanWP
You can also leave a comment below, and I'll try to get back to you!
—
Corey Maass , Creator of Kanban for WordPress
Want to build your own business like Kanban for WordPress?
You should join the Indie Hackers community! 🤗
We're a few thousand founders helping each other build profitable businesses and side projects. Come share what you're working on and get feedback from your peers.
Not ready to get started on your product yet? No problem. The community is a great place to meet people, learn, and get your feet wet. Feel free to just browse!
—
Courtland Allen , Indie Hackers founder