How I Started a Business While Starting a New Family
Hello! What's your background, and what are you working on?
Ciao! I'm Ester Liquori, co-founder of Ghostwriter AI, an AI-marketing company based in Italy.
GhostwriterAI is an AI-based content marketing platform made to profile customers and show companies how and what to talk to them about to increase sales, profits, and engagement.
Influencers and brands have something in common: they struggle with reaching their target audience. People have too much information from too many places and are too distracted to notice most marketing.
Working with startups and small companies, we found that even larger digital agencies have a similar problem when managing content and campaigns for their clients. Everyone works trying to guess by gut what people like and where they are. That's where we come in.
It's been about five years now, and today we're making around $1,000/month.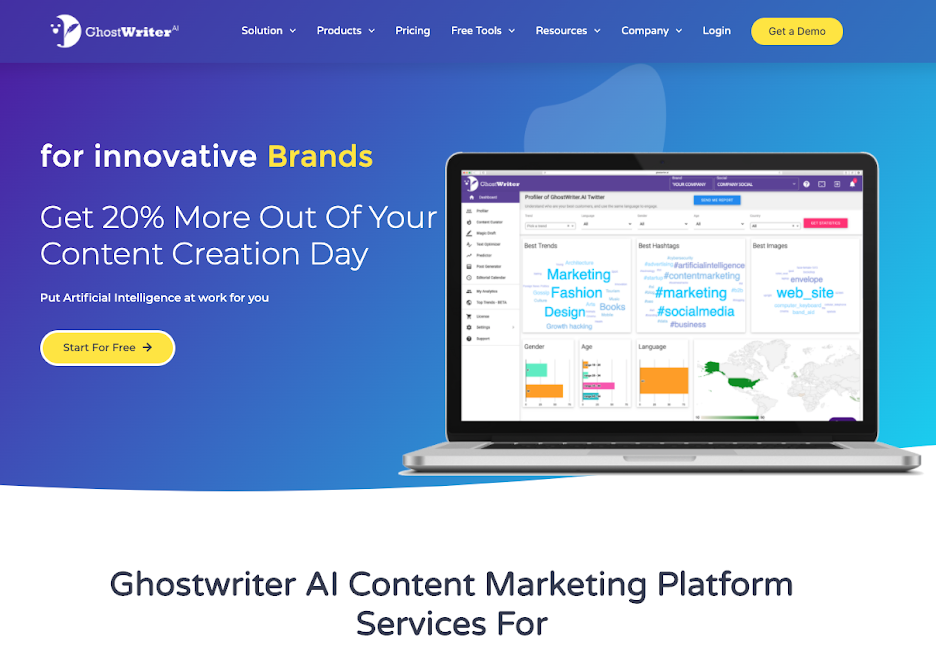 What motivated you to get started with Ghostwriter AI?
My co-founder Mauro Bennici and I are people with itchy feet (and we're married).
Mauro and I were working for different companies. I've traveled a lot from marketing and sales activity, and also developing some side projects on my own where Mauro was involved. Mauro was working as a Software Architect on UEFA and FIFA projects. But the wind of change was coming. In 2013, I got pregnant, and the company where I was employed got into financial troubles.
We started studying the travel business field. People love traveling and sharing info about what they like/dislike, events, food, and activities. That's why it was the best starting point for new artificial intelligence algorithms to study people's behaviors and conversations.
I love marketing and discovering new ways of discussing opinions and interests. Mauro is passionate and excited about algorithms and people's behaviors. Me on marketing, Mauro on deep tech, we decided to grow our baby and our startup together; our son, and our Artificial Intelligence system.
That was the kick-off of the new adventure of juggling business, and private life.
What went into building the initial product?
The first challenge was the lack of funds. Italy is not the right place to get funds. I know it is always tricky, but here there's scarcity on top of difficulty.
Long story short, in 2018, we pivoted from the travel vertical. The system has grown enough to come out with analysis and suggestions for all kinds of business, and the travel industry is very stuck in old marketing techniques, so we were limited in what we could offer there.
So Ghostwriter AI was born in 2018. With a new MVP, the assets created before our pivot, and our very first important client, the famous Moleskine, we went in on a crowdfunding campaign. We succeeded, and got funded for 142K; a breath of fresh air to develop and improve the system.
We were, and still are, part of the Intel AI. Builder Program, as well as the Nvidia Inception Program. Both helped us to get significant resources to grow our AI. Programs like these really helped us get a running start.
What's your tech stack?
The programming languages we use are C# (.Net Core), Python, and Golang. C# for APIs and the back end in general. Python for AI models. Golang where it's needed.
For the front end, we are working on an SPA with VueJs. AI studies take place on Intel OneApi Cloud and Nvidia GPU on AWS.
The bulk of the power is on Kubernetes on DigitalOcean and AWS. For relational data, we use Postgresql with TimeScaleDB. The non-relational databases are Redis, Datastax, and Elastic.
The significant change in the stack was the transition from a centric Windows architecture (Windows, SQL Server, and .Net Framework) to the current one, on containers. Recently we have several AI models that are moving from Tensorflow to PyTorch.
With the processing of a massive amount of data continuously, which involves querying in real time, there is continuous optimization and monitoring work. A single minute of downtime can result in delays of several minutes in customer alerts and reports.
Without getting too specific, our chain includes Jira, GitLab, Jenkins, MlFlow, AirFlow, SonarCloud, Rollbar, UptimeRobot, Slack, and ELK with ElastAlert. Being in a highly competitive field such as Natural Language Processing, on the one hand, we must be fast and precise, while on the other hand, we must continue to improve our technology.
Finding the correct balance between the two souls of the company is an essential point of our success. Every advancement in research must be able to translate into a real and current competitive advantage for our customers. Otherwise, they remain worthless numbers on paper.
How have you attracted users and grown Ghostwriter AI?
Our growth is starting this year in a full pandemic COVID-19 period.
I run some periodical webinars on marketing issues that allow us to grow our Italian base from 20 to 454 Italian marketing passionate people in our newsletter. At the same time, we smoothed our funnel and started using ActiveCampaign to manage marketing automation activities.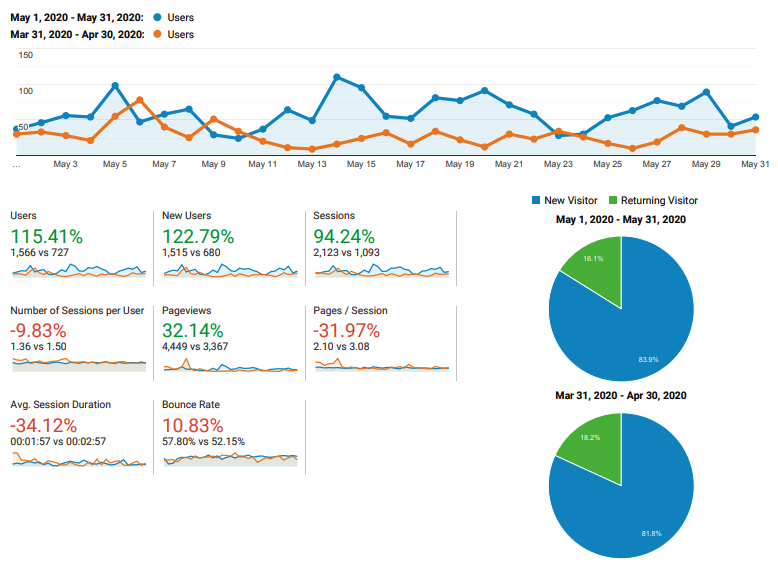 In May we ran a couple of testing campaigns on Zest, a vertical community passionate about marketing, we started to post on Hacker News our posts here, on Indie Hackers, and on some vertical groups on Facebook.
These actions have grown our trial subscribers of +254 in 45 days. Our growth in new contacts went from 320 in 2018 to +708 in six months of 2019. Also, our traffic is growing, doubling our numbers.
To improve our blog content on the technical side (especially long-form blogs), we moved from a custom CMS to WordPress. That allows us to take care of SEO, even making the website easier to change thanks to the Elementor site builder.
We're also running a bit of PPC advertising on Zest, which a really logical channel for marketing professionals.
As CEO and marketing operative, I'm moving to improve our Domain Authority (DA), and I'm looking for valuable communities where guest posts.
What's your business model, and how have you grown your revenue?
We're a SaaS with different plans according to our user needs. We started charging our clients this year, finding early adopters from our network. You can pick up what fits you know and grow later, paying online with Stripe after a free period of 14-days.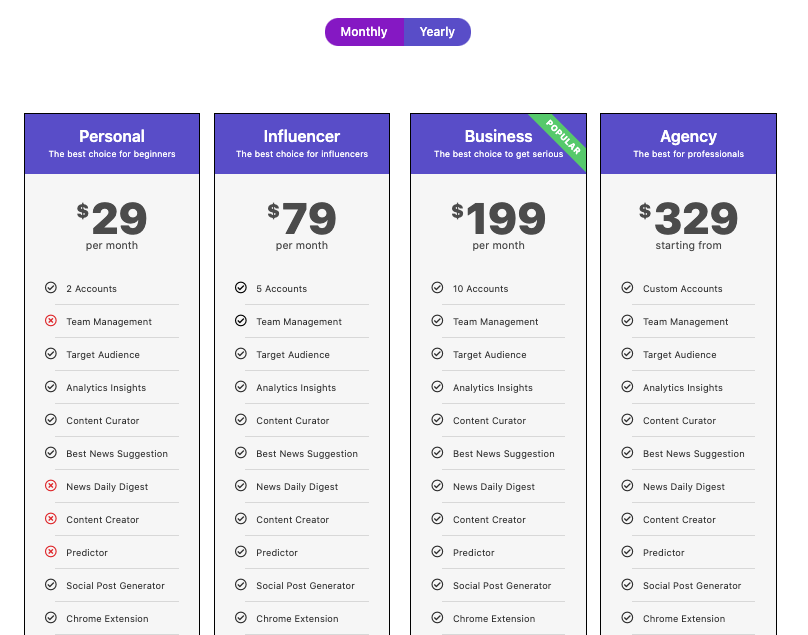 What I love about this process is our onboarding. You can always book a demo and chat with me about what you think or what you expect. It's been really helpful to do this because I've been able to learn from my customers' issues. We've improved a lot thanks to that.
We're making about $1,000 MRR, which is really low for a company more than five years old, but there are reasons for that.
The first reason is that AI-marketing is still new, and people look at it with suspicion, particularly in Italy, where a real risk culture is still missing. That's why we have decided to move our market to the US.
The other reason is purely technical. Artificial intelligence is compelling and fascinating... but stupid. When you create your AI from scratch you need to grow it, and that's a slow process. It's an empty box with a lot of potential, like a kid growing up. In addition to that, any type of pivot resets numbers. You reboot everything.
A suggestion I have for others in this spot is don't be stubborn. It's ok to love your idea, but you need to understand if it is suffering from growing for some reason and why. Then find a different way.
For example, we know that Italy wasn't a good first market to start with our high tech system. That's why we are looking to move our market from Italy to the US, where people are more ready for new tech and open-minded to give us a try. Now we're out with a new price list to help other small business growth with a fair monthly price. Our plans start from $29, $79, $199.
We love startups, and we know how difficult it is at the beginning. That's why we also have a unique startup program that anyone can apply to with a short form here. It enables exclusive help with your onboarding, an extended free trial period, and then, if you find that Ghostwriter AI suits your needs, you'll also get a discount for the first year. In addition to that, Ghostwriter AI remains free for only one account use and some fundamental analysis.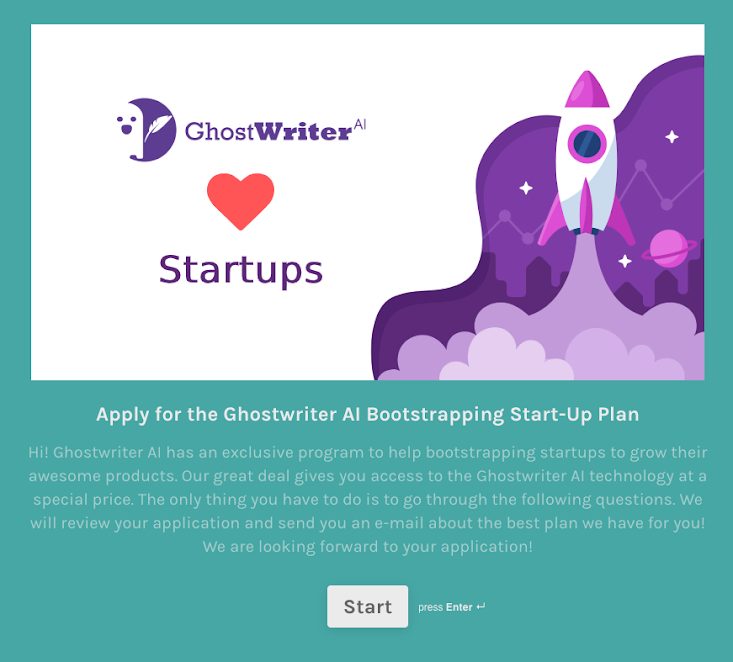 Our main costs are for employees and accounting services (tax management and laws in Italy are a real pain). Other costs are obviously related to our core business:
Digital Ocean: $400/mo
Activecampaign: $129/mo
Userguiding: $99/mo
What are your goals for the future?
We have many goals in the next few months!
On the business side, we'll look for a new investment round. We need more resources to grow and do marketing well. To do that, we need to face a new revenue and growth goal.
Our MRR is steady, and we need to increase it by at least 10% over months. The conversion rate with the traffic increment demonstrates interest from the market, and we have to catch this opportunity.
What are the biggest challenges you've faced and the obstacles you've overcome?
The biggest obstacles are really personal.
As a founder, I have to take care of my business, stakeholders, and employees. As a person, I have to take care of myself and my family. My husband, as said, is my co-founder, and it's too easy to lose the sense of time and spend too many hours focused on our business. We have to balance business and life.
My son is only six years old now. He followed me in meetings, startup events, expo. Raising him is a challenge. We have no other parents around to help us. I make meetings remotely while waiting for him outside the swimming pool.
Sometimes you feel really down. You ask yourself if your "why," the thing that moved you to be an entrepreneur, is still sharp and tough enough for all that.
Even more difficult, I'm a female founder in a technology space. Artificial Intelligence seems like it's not for women. Even entrepreneurship can seem like it's not for women. You may have a hard time raising funds as a woman.
To all girls that want to start or have started and are full of doubt: stay focused. It's not because you are a girl. You're an entrepreneur, and entrepreneurship is challenging for anybody.
Things are moving, women are now recognized as "good" CEOs, there is a chance.
Have you found anything particularly helpful or advantageous?
Brand yourself. You are your startup, you are your business. Investors pay for you. Your idea can be the same as others, but you have your own way of running it.
Never stop learning, never stop being curious, but also take the time to have a pause.
I try to take time and do yoga or running. When I'm getting nervous, I paint. Find something that can help you relax. That's extremely important for you.
Force yourself to use a schedule where your breaks are included, but also check if you are doing what you planned. It is too easy getting out of the things that you have to do.
What's your advice for indie hackers who are just starting out?
The people around you are critical. Never trust just a resume when hiring. Ask for proof.
Never postpone a decision, it may cost you a lot.
Be your first sales champion, you will learn a lot from your prospects.
Also be able to prioritize what you learn from customers. Learning is fundamental, but you can't make everyone happy. Deal with that.
A great tip that I recently received: Make something special to let people feel special. (That's valid both for your clients and for your beloved. <3) For my followers, I try to put something handy in my monthly newsletter. It's not a repurpose of the articles that we published, it's something new that I've discovered in the month, a test, experiments, a book, a course.
Where can we go to learn more?
You can give Ghostwriter AI a try at GhostWriter AI.
When we think we have exciting things to say about building content and curation, or we have some experiments to share, we post them on our Blog. You can also get in touch with us on Twitter and Linkedin.
Also, you can sign up for the human-centered newsletter here.
If anyone has any questions for us, please don't hesitate to ask in the comments. We'll try to answer anything/everything. Thanks for having us on Indie Hackers!
—
Ester Liquori , Founder of Ghostwriter AI
Want to build your own business like Ghostwriter AI?
You should join the Indie Hackers community! 🤗
We're a few thousand founders helping each other build profitable businesses and side projects. Come share what you're working on and get feedback from your peers.
Not ready to get started on your product yet? No problem. The community is a great place to meet people, learn, and get your feet wet. Feel free to just browse!
—
Courtland Allen , Indie Hackers founder