How I Stopped Underpricing and Reached a 90% Profit Margin
Hello! What's your background, and what are you working on?
Hey Indie Hackers! I'm Kyle, an independent maker and digital nomad from Northern Ireland, although I spent most of my time as a digital nomad traveling around Southeast Asia.
I've been building software for most of my life. In 2013 I co-founded Get Invited and raised some venture capital, but endless stress brought me the conclusion that the typical startup-to-venture-capital path was not for me, so I began building niche products while traveling the world and living life to the fullest.
One of those products is Gravity, a SaaS template that empowers startups and developers to build web applications faster than ever. I've been bootstrapping Gravity since August 2018, and currently have 128 wonderful customers (some of whom are Indie Hackers members). I'm making an average of $2,000 per month with a 90% profit margin.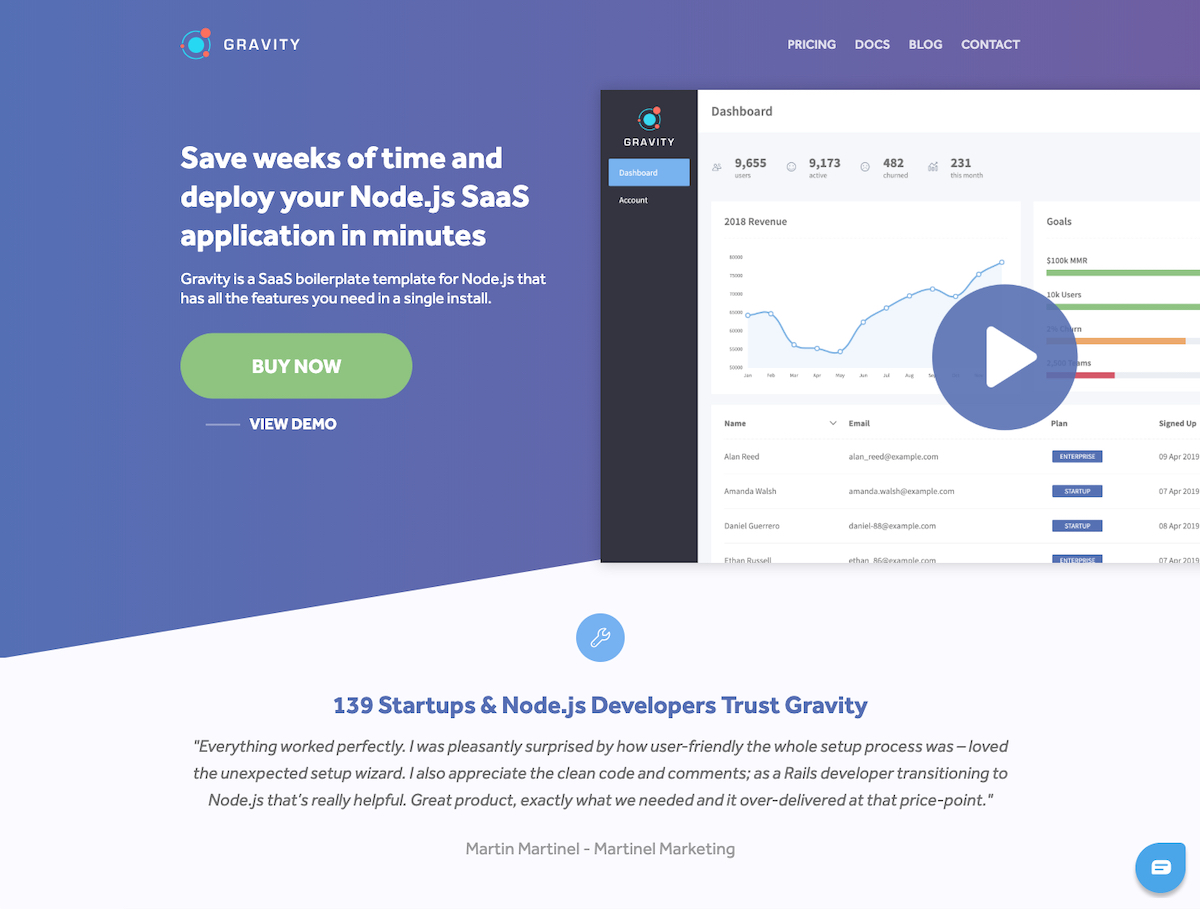 What motivated you to get started with Gravity?
Gravity came about as a byproduct of a problem I was facing while building new products and I honestly never even considered that it would have any commercial viability. I'd been going through a phase of testing and building software ideas and realized there was a lot of repetition involved in getting a new product set up. I was spending way too much time designing interfaces and building login forms and billing systems instead of building features people would pay for. I wanted to streamline this process, so I created a template that I could use to deploy new products at rapid speed.
I showed it to another Indie Hacker member I met in a co-working space in Chiang Mai, and he convinced me there was absolutely a market for what I was doing and I should package it up and sell it (hat tip to Mark Hoad).
My validation came mostly from speaking to developers on Indie Hackers and Reddit. I wasn't too concerned with getting validation because I needed the product to solve my own problem, so even if nobody bought it, I would derive enormous value from it myself.
What went into building the initial product?
It took me around eight weeks of evenings and weekends to put together a proper MVP — I coded and designed the product myself, so my costs were almost non-existent, apart from my time. It took a lot of hard work on top of my daytime business, but it's been fun and exciting from the get-go.
Once I had created something that I wasn't embarrassed to ask people to pay me for, I posted a link on Indie Hackers selling it for $99, and my first customers signed up in less than two weeks.
I've probably made this sound too easy, but I've been coding since I was a kid. I studied design, and I've been running Get Invited for seven years, so I had already learned a lot of lessons before working on Gravity. Looking back now, the version I launched with was far from perfect, and my customers have been heavily involved in providing feedback and helping to improve the product and shape the future roadmap. I can't stress how important it is to invest in building good customer relationships.
I recently launched v2.0, which was a vast improvement. Now I'm working on v3.0, which has an awesome new user interface built with React.js.
How have you attracted users and grown Gravity?
My initial customers all came from Indie Hackers — it has been an excellent place to test and launch, and those customers have been very involved and supportive. Just this week, one of my customers was helping me fix a security vulnerability (thanks Chris Tsongas). Building great relationships is so important when building a product or a business because those people will become your biggest evangelists.
I've experimented with a few paid marketing tactics and all have been great for lead generation, but have converted poorly. One tactic that has been very successful was writing a short eight-page guide on How to Generate Profitable Software Startup Ideas and then promoting that through Facebook lead ads. I was getting relevant leads for as little as $0.35.
I launched on Product Hunt recently and, despite getting a positive number of upvotes and great support from my customers, I didn't make the front page (however, I did get one sale, yay!).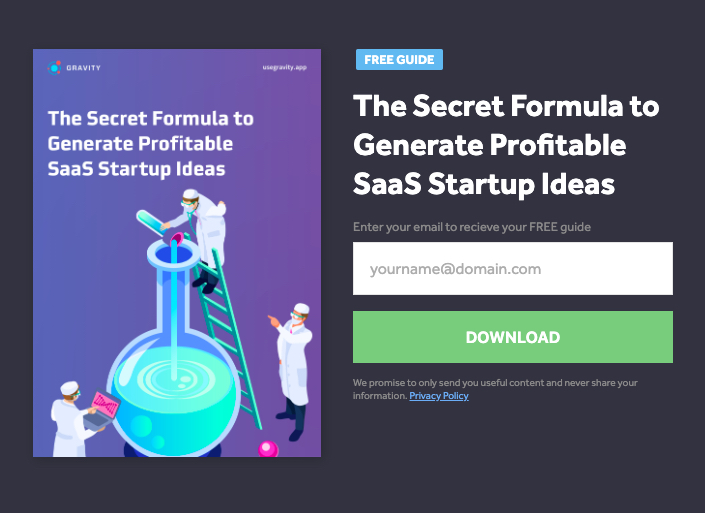 The things that have worked well for me are:
Search. It's still king for attracting customers who are ready to buy with a short lead time. Fortunately, I'm in a niche with little competition, so I've been able to rank at the top of page 1 for keywords like "node.js saas". I have a blog too, but I need to write some new content!
Onsite Lead Generation. Capturing emails from people visiting the site has been incredibly powerful. I have a demo application on the site that people can sign up to use. I then capture their email and put them into a funnel. The next day, I'll email them and ask what they thought of the Gravity demo. Though not everyone provides excellent feedback or any feedback at all, even figuring out how many people are willing to provide feedback is important feedback.
For a while, I was testing out a free version of Gravity, which had a 20% conversion-to-paid rate. I'm currently testing this as a paid Lite version at $47 but it's not selling, so I'll likely switch back to using it as a free lead magnet. Also, having an on-page chat window (I use Freshchat) has been an incredible way for me to generate new leads.
The best advice I could give on this subject is to be unbiased toward different marketing channels. It's easy to get caught up in the latest trends, but sometimes more traditional approaches work best. Experiment with as many channels as you can and see what works for your business, then double down on those channels.
| | |
| --- | --- |
| Month | Unique Visitors |
| Feb '19 | 571 |
| Mar '19 | 646 |
| Apr '19 | 1253 |
| May '19 | 1503 |
What's your business model, and how have you grown your revenue?
I charged from day one using Stripe and began on a $99 annual plan, but this caused a lot of confusion for potential customers, so I switched to a $99 one-off payment. I learned (not soon enough) that I was seriously underpricing Gravity and recently raised the price to $397. It was a nerve-wracking few days, but eventually the first few sales came in at a higher price point with some positive messages from happy customers (some who said they'd even pay more!).
I've always believed that indie businesses should charge from day one. I think a lot of makers are worried about this because they believe the product isn't ready yet, but giving a product away for free causes a few problems:
It delays validation that someone will pay until an arbitrary date in the future. You need to know if you can make money as quickly as possible.
It devalues the product. People don't appreciate something they got for free as much as something they've parted with their hard-earned cash to acquire. It's the difference between owning a piece of jewelry from a Christmas cracker and buying something from a store.
My revenue is a bit unstable because I'm still figuring out a lot of things, but it's going in the right direction. From August 2018 to February 2019, I was making less than $200 per month. Now I have a baseline north of $2,000 per month. I'm obviously working towards more, but $2,000 feels like a significant milestone, and with a 90% profit margin, it's enough to cover my rent and to eat out every day in Thailand!
| | |
| --- | --- |
| Month | Revenue |
| Feb '19 | 180 |
| Mar '19 | 1914 |
| Apr '19 | 1120 |
| May '19 | 2235 |
What are your goals for the future?
My next milestone for Gravity is to get to $5K per month. I'm not trying to take over the world and become the next unicorn — my personal goal is to own a suite of small, sustainable, and profitable software products that I enjoy working on.
Gravity has been a happy byproduct of this vision, and I'm also working on another SaaS product at the moment called Everview, which is a holistic dashboard for startups that connects the dots between analytics data from different sources. Gravity will, of course, form the foundation for this.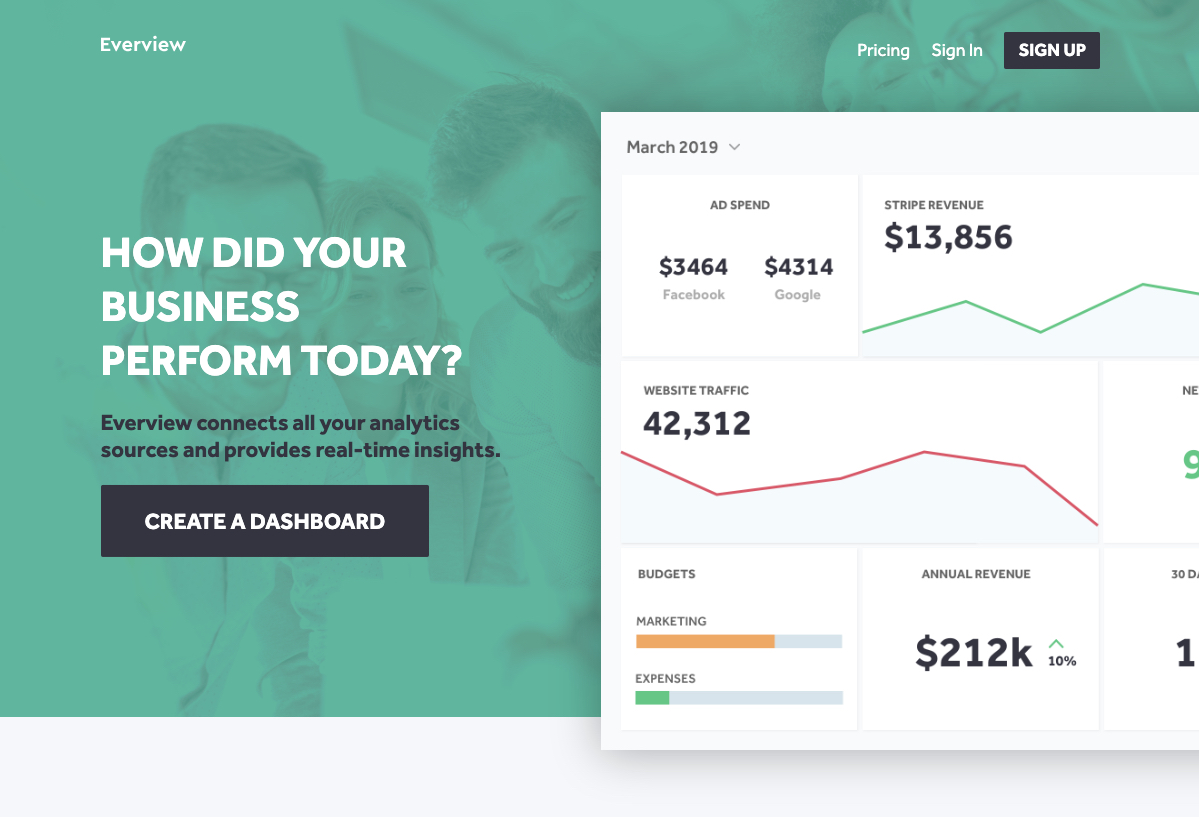 The big challenge for me is finding the time to do all the work. I'm still working on Get Invited for most of the day and bootstrapping Gravity and Everview on the side. I'm putting in a lot of hours but I'm enjoying it, and I'm fortunate that I can work on these businesses while living in some beautiful tropical locations.
What are the biggest challenges you've faced and the obstacles you've overcome? If you had to start over, what would you do differently?
The biggest challenge happened before Gravity and inspired the indie journey that I'm currently on. No business or startup book quite prepared me for what happened, and it's still a subject that I think is often swept under the carpet in the startup community.
A few years ago, I landed myself in hospital throwing up blood and thinking I was going to die. I'd lost four of my teeth prior to this because I was vomiting every day with severe stomach issues and my teeth disintegrated. I was very stressed in my startup at the time, and I wasn't enjoying it, so I think it was life giving me a big nudge to change my path.
Since then, I started focusing on more meaningful work (and my health!) rather than chasing money and investment. I now create products that make me happy and that provide me with the lifestyle I most enjoy, which involves a lot of traveling and experiencing new cultures.
I think most of us get so far down the rabbit hole of entrepreneurship, that we never stop to ask why? Why am I doing this? Is this making me happy and fulfilled? I believe the startup media have a lot to answer for in terms of brainwashing founders into believing that there is only one true path to success, which involves colossal venture capital rounds, endless stress, and big exits, and it's simply not true. I have the first-hand experience of that journey almost killing me, and that there's another way forward.
My advice to every founder is always to question everything from their own personal perspective and get an understanding of why they're doing what they're doing. There's nothing wrong with raising a ton of VC money and going big, provided that's what you want to do, for you and nobody else.
I was so happy when I discovered Indie Hackers last year. I'd felt like I was a failure in some respects because I didn't want to build a big unicorn startup, but I finally found my tribe of entrepreneurs who have the same worldview as me.
Have you found anything particularly helpful or advantageous?
Investing in myself has been just as important as investing in my business. I've always allocated time for personal development, and this has paid off over the years in my business, particularly in regards to my health. After my experience in the hospital, I seriously overhauled my entire lifestyle and diet, and it's incredible how it's impacted my work in terms of having an abundance of energy and mental clarity.
Entrepreneurship all comes down to having an overly optimistic mindset that is almost bordering on delusional. Entrepreneurs believe they can achieve what everyone else thinks is impossible. I believe that's the key differentiator between those who do and those who don't. Developing your mind, building emotional resilience, sharpening your focus, and learning how to manage self-doubt and negativity are probably more critical for success (in my opinion) than practical skills like being able to code.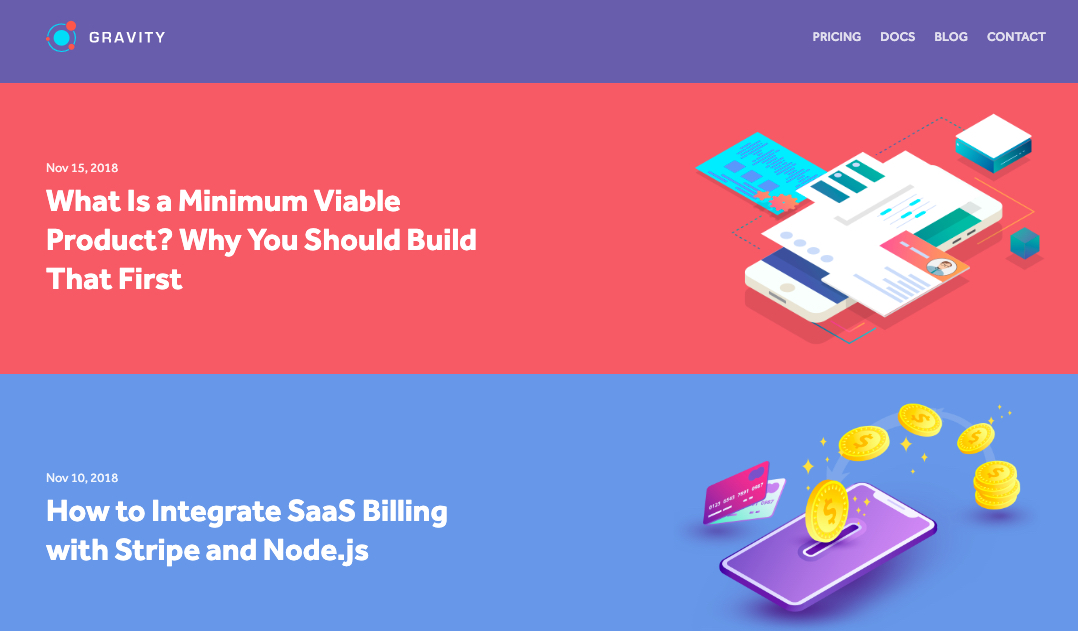 What's your advice for indie hackers who are just starting out?
The best advice I can give is to try out ideas and don't get too attached to them early on. I see so many people falling in love with their idea, spending years working on it, and being absolutely crushed (or worse, losing their life savings) if it fails. I think it's best to spend some time coming up with a list of ideas and then test them all out. You don't have to build them all, you can do it with as little as creating a landing page and driving some traffic to it to measure interest.
Just put stuff out there and see what people think; you can fall in love with ideas later on once they're validated. On the other side of the coin, don't be afraid to put yourself and your ideas out into the world. The beauty of having many ideas in play on is that, if one flops, you can move onto the next idea.
Statistically, nine out of 10 startups will fail — so if you can get 10 ideas out there, your chances of success are much higher.
Where can we go to learn more?
I occasionally (ok, rarely) blog about entrepreneurship on my personal blog and regularly tweet. I also wrote a book about bootstrapping software companies called The Lifestyle Startup.
I love connecting with other makers and entrepreneurs! If there's anything I can do to help you out, hit me up in the comments :-).
—
Kyle , Founder of Gravity
Want to build your own business like Gravity?
You should join the Indie Hackers community! 🤗
We're a few thousand founders helping each other build profitable businesses and side projects. Come share what you're working on and get feedback from your peers.
Not ready to get started on your product yet? No problem. The community is a great place to meet people, learn, and get your feet wet. Feel free to just browse!
—
Courtland Allen , Indie Hackers founder