How I Took a Risk to Achieve My Dream of Building a Product Business
Hello! What's your background, and what are you working on?
Hello, I am Adrian, the founder of FeedCheck. I've been interested in tech and entrepreneurship since I was little, and knew that it's where I wanted to end up. I built up my web development skills all throughout university and was fortunate to get an opportunity to work with a large eCommerce company, partnering with their marketing department to guide the technical implementation of their marketing strategies (e.g. A/B tests, campaigns, etc.). This was an incredible firsthand experience to gain expertise in web development and online marketing that propelled me to keep moving towards my goal of tech entrepreneurship.
Shortly after graduating in 2014, I started a company called TheWebMiner offering data acquisition for businesses to use for anything from content, to leads, to analytics. My dream was to build a product business so I was always on the hunt for a lead or an opening.
In 2016, I started FeedCheck, a review management solution for consumer brands that sell in multiple online stores. This product came after a collaboration with Vector Watch, a local startup that was later acquired by Fitbit.
FeedCheck currently makes about $5,000 in monthly revenue.

What did you motivate to get started with FeedCheck?
During the time we were collaborating with Vector Watch, they were having a problem with collecting and tracking reviews across the various online stores in which they were selling their watch. While it may seem simple on the surface, it was a major issue that was affecting their ability to push business forward. Fortunately for us, they asked if we might be able to help in finding a solution. It was a true "aha!" moment. At the time, we were actively looking for a reason or an opportunity to build a product, but hadn't quite landed on what the product should be.
One thing we did know is that we wanted whatever we built to be optimized for scalability. The business model for our previous company necessitated that we make a custom setup for every sale, and sales varied from month to month. Obviously not scalable. So we were looking to pivot to an app that could be delivered as a continuous service, and subsequently bring in predictable revenue.
We already had the the web mining expertise that was required for the product that Vector Watch seemed to be looking for, and we started to conduct customer interviews with various businesses to better understand customer wants and needs. Being a team comprised of individuals oriented more towards the tech side of things than the people side of things, this process was a struggle, but we got it done.
At the time, we were a team of three people making about $1,500 from TheWebMiner. There were a few other business ideas floating around—including doing event planning for weddings and private events—but with the opportune apparition of an initial customer, the pieces fell into place for FeedCheck and we decided to run with it.
What went into building the original product?
Making the leap to FeedCheck was risky, but it made sense. Our other main endeavor, TheWebMiner, had fairly low activity at the time, and we knew we had the technical expertise to put a good product together. Realistically, our other services weren't bringing in enough money and this seemed like our only viable option for success. Because of this, we have decided to refuse all service requests in favor of focusing full-time on FeedCheck.
How did you attract users and grow FeedCheck?
We started brainstorming in February 2016 and launched in May 2016. At that time, we only had one customer, and they weren't paying us because they were going through the acquisition process. In order to gain some traction, we published FeedCheck in various startup directories and started a blog in order to improve our SEO.
We leveraged our blog posts strategically by comparing reviews of popular products like iPhones, which increased overall traffic but ultimately didn't attract our target customers. We also developed some embedded widgets in the hope that publications would use them when compiling their own popular product reviews, but that didn't pan out either.
We started campaigns on LinkedIn, Facebook, and AdWords. LinkedIn and Facebook were a bust, though we continued to contact people on LinkedIn while developing the product. We had closed all of our other services in order to focus on FeedCheck and were at a standstill in revenue, so both finances and morale were at an absolute breaking point. Finally, six months after launch, we secured our first customer. More customers soon followed and we've steadily increased our revenue to $5,000.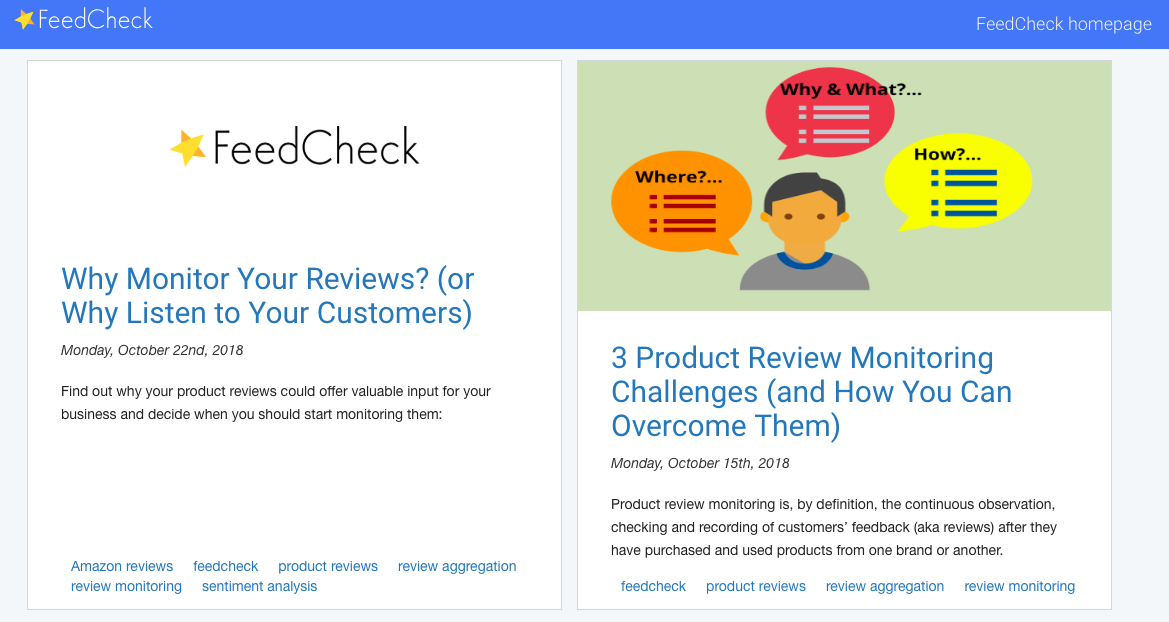 What's your business model, and how did you grow your revenue?
We have a subscription based business model and focus our sales on consumer brands. This grants us the predictable, stable revenue that we were after, as well as the resources to continuously develop the app. Though each subscription brings in more revenue, there is a sizable time sink associated with each sale, especially for bigger brands.
We also have a self-service pipeline that we're looking to develop further.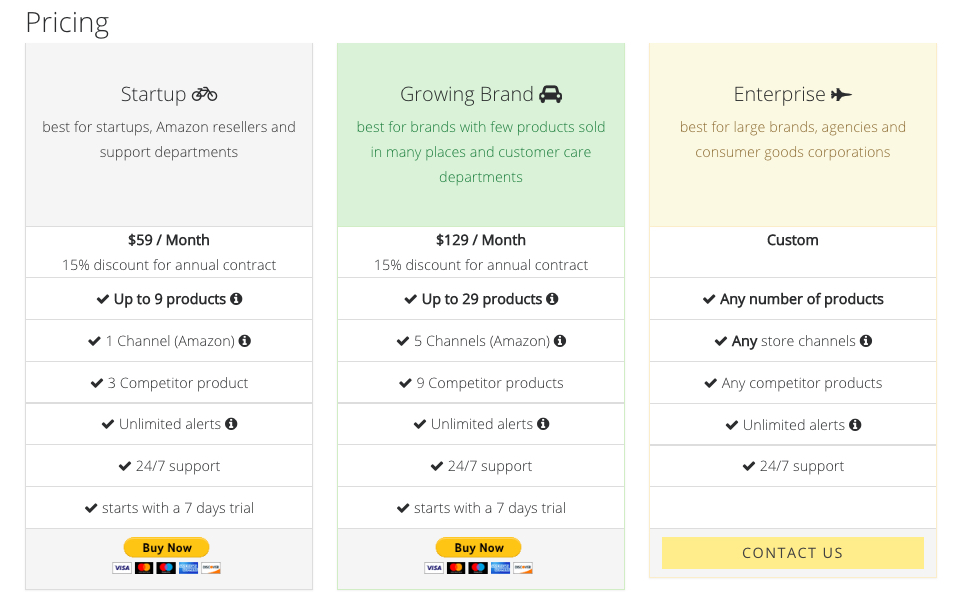 What are your goals for the future?
As far as the product goes, we'd like to add more reporting and analytic features. As with any business, we'd also like to continue to increase our customer base and the subsequent monthly revenue that will bring.
What are the biggest challenges you've faced and the obstacles you've overcome? If you had to start over, what would you do differently?
Shutting down our web mining activity in order to focus on FeedCheck was a huge challenge since it cut off our main source of revenue at the time. In the end, it was the right call, but it was nerve wracking to ride out the decision. We also had a team member leave while we were still in the development process, which almost forced us to give up. Luckily, we decided to push ahead and everything worked out.
If I were to start over, I wouldn't change a thing. I think starting a business is a deeply personal journey, and the path you follow is always in some way tied to who you are. So saying you would change something in hindsight may be a little disingenuous. I am the same person now that I was two years ago when I started this process, so I can't look back and say I would have or should have done anything differently.
Where can we go to learn more?
You can visit our website at feedcheck.co, and take a look the FeedCheck blog.
—

Adrian Balcan , Founder of FeedCheck
Want to build your own business like FeedCheck?
You should join the Indie Hackers community! 🤗
We're a few thousand founders helping each other build profitable businesses and side projects. Come share what you're working on and get feedback from your peers.
Not ready to get started on your product yet? No problem. The community is a great place to meet people, learn, and get your feet wet. Feel free to just browse!
—

Courtland Allen , Indie Hackers founder