How I Used My Small Successes to Bootstrap My Biggest Project Yet
I'm Raj Dosanjh, founder of Rent Round. After finishing a degree in computer science and business, I started a career in investment banking which I've been in for 12 years.
I've always had a keen interest in the business world and in creating my own startups. A cosmetic soap company and a student mentoring platform are a couple of my failures. On the positive side, I started a banking consultancy, a successful martial arts club where I also teach. My most recent success is Rent Round.
Rent Round is a letting agent comparison site that allows landlords to compare the rental market. This saves them £1,000's a year and is free for them to use.
Growth of the platform has been fantastic since its launch in 2019. I managed to recoup my initial investment within eight months.
The revenue for all my businesses combined is just over £150,000 per annum. Rent Round currently contributes around 20% of that figure. However, the business is seeing increases in revenue of between 20-30% per quarter, so the future is promising.
What motivated you to get started with Rent Round?
I started the business because of my own experiences with dealing agents for my own rental properties. After spending hours comparing prices, I was confused as to why I couldn't just type in my details and run a comparison of fees and ratings in my areas, just like I do when buying insurance. That was the seed I needed!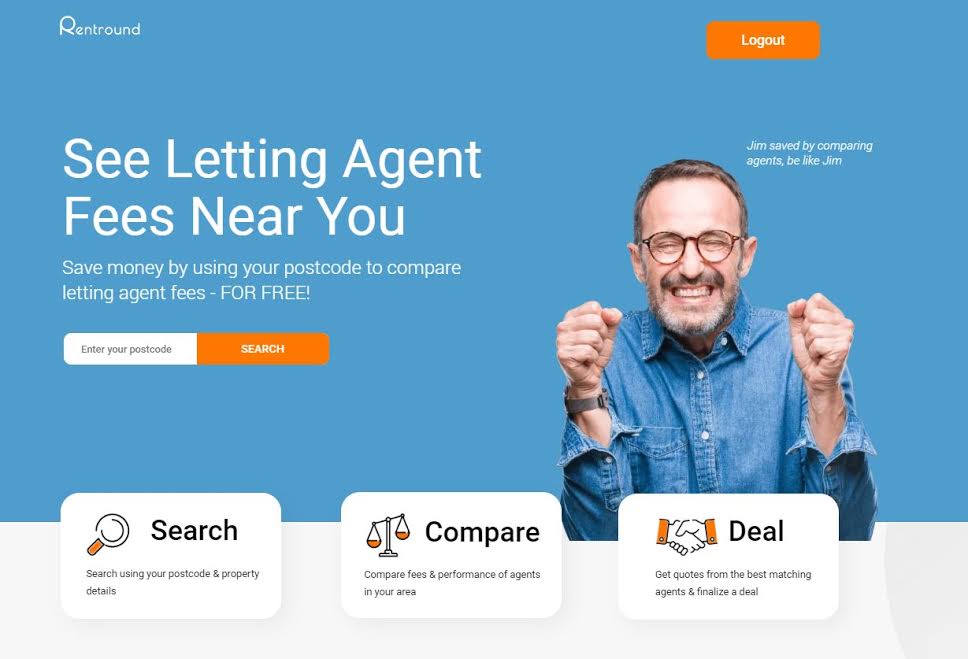 My experience in running my own properties and my comfort level in starting businesses and working with technology gave me the confidence I needed to create Rent Round.
Validating the idea was difficult, as there were no current major competitors to benchmark. However when I started analyzing Google keyword searches, I quickly saw a high volume of searches in phrases such as, "How much do letting agents charge?" and "Who is the best letting agent?" and "property manager fees." This showed me that there was a demand from landlords and property owners.
I did toy with the idea of expanding the model to the buy/sell market, as opposed to the rental market. However my analysis indicated that the buy/sell market was more competitive, and so had higher barriers to entry.
I was fortunate that I was able to start the business using my own funding, therefore was able to get going quickly.
What went into building the initial product?
I decided I wanted to create a quick and dirty prototype of the system to test the market. I didn't want to invest significantly until I confirmed the demand. I decided that I would keep development of the platform under £20,000 and invest more once the idea had been further validated.
After two months of long days and many iterations, the prototype was ready. It was designed based on other platforms I liked the look of. The model I went for is a subscription-based model, where agents pay a monthly fee to be included in comparisons run by landlords. This was because I wanted agents to have payment flexibility. Paying large upfront costs can be a deterrent, so I wanted to make sure I wasn't putting off agents from signing up.
As with most businesses I've started, the most time consuming part of the business was the initial setup. I pulled a ton of all-nighters to make sure I was staying on top of things.
I'm also fortunate to have a mentor, Sandip Sekhon, who has created other successful businesses, including Go Get Funding. His insights provided wonderful guidance on key decisions around pricing, tech, and marketing. Although his businesses aren't property related, the principles in starting a business can be used across industries.
What's your tech stack?
In terms of the technology decisions, I was at the mercy of my development team. I didn't have enough time to delve into code decisions, servers, security certificates, databases etc.
I gave the development team time-specific requirements around the functionality and how long that functionality should take to run. As long as the goals were met, I didn't care what methods they used. I'd rather stand back and let them be the experts they are.
There have been a few hiccups along the way. We've rushed system upgrades, mainly to stay on top of the rapid growth we were experiencing. This led to down time during key periods and the occasional slow page speed.
I now, begrudgingly, force myself and the team to spend longer on testing system enhancements. This of course slows down time to market, but is ultimately better for our users.
How have you attracted users and grown Rent Round?
When we started, we didn't have a search engine presence or domain authority. Landlords had to be attracted rather expensively, via paid Google Ads. We spent hours analysing costs per click, conversion, and click through metrics
Attracting agents was extremely cumbersome, initially. The strategy was predominantly based on three things:
A lot of cold calls, trying to get in touch with decision makers at the agencies
Using email lists to send out information on what we do and how we can help agents
Paying for features on major property reporting platforms
As you can imagine, businesses receive a ton of calls and emails about signing up for new services. I offered free trials to agents and promised to get X amount of leads until they needed to pay a subscription. This was a risk on my behalf, as I wasn't sure what the volume of leads might be.
Longer term, I'm working heavily on creating content and inbound links to my site, to help increase Rent Rounds Google presence. Content includes writing 2,000+ word property guides and news updates, as well as creating free tools for landlords, such as rent and mortgage calculators. This is already proving successful with Rent Round ranking on the first page of Google for many of our targeted key words. This helped reduce our spend on Google Ads, which has been reinvested in other marketing opportunities instead.
In addition, word of mouth and attention from property news outlets has help spread knowledge of the business across agents. This helped the number of subscriptions to increase month-to-month.
What's your business model, and how have you grown your revenue?
The business is based on a subscription model. Agents pay a monthly fee of £29.99 to be included in landlord searches. If they manage to convert a lead from us, we don't take any additional commission.
We have added a package where agents can pay all of their monthly payments upfront for a year, in exchange for a 50% discount. The discount of course appeals to some agents looking to be price savvy. Whereas some agents see paying upfront as a risk as they haven't seen our results yet.
On the monthly package, an agent will pay £360 a year. With just one successful conversion, an agent in London, on an average property, can make approximately £1,800. That's not even a one-off. If the landlord stays with that agent, that revenue will roll on year-over-year.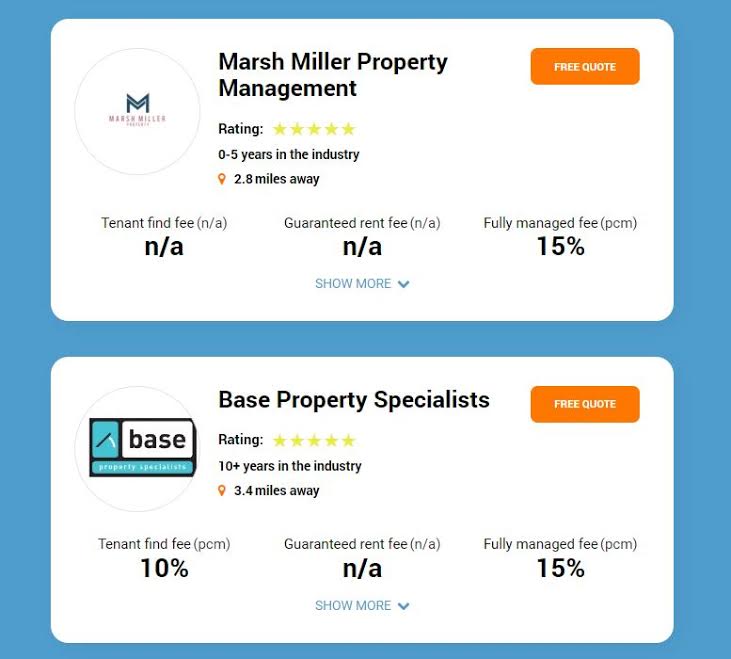 For Rent Round, upfront payments mean we have an inflow of cash we can utilize immediately. However, it does mean less revenue in the long term.
In terms of what has worked well and helped grow my revenue, producing well written, insightful content has been the most fruitful. This goes the distance in improving your search engine standing. As a result, the site gets more traffic and therefore conversions. It's far from easy, though! Content takes hours to create and reaching out to other websites to host your content can be tricky to manage.
As the brand got more familiar with agents and I invested in a redesign to improve the look of the system, the business has seen generous revenue spikes. We are seeing quarterly increases in revenue of about 20%-30%. While we're not hitting the millions of pounds quite yet, I recouped my initial investment within the first six months.
What are your goals for the future?
There are 16,000 letting agents in the UK, so the room for growth is substantial. Unfortunately Covid-19 has impacted the property market and our growth plans. We've paused functionality releases and marketing campaigns, as many agents are struggling to stay afloat.
I've set the benchmark that by the end of 2020, 50% of the incoming traffic to the site will be organically sourced. Achieving this will significantly reduce the financial burden of paid ads. Currently approximately 80% of the traffic is via paid ads, which as you can expect eats into our revenue substantially.
We can only achieve our goals by producing great content and encouraging more word of mouth among agents and landlords. Hopefully, this will have a knock-on effect of property outlets talking about us, which will further increase our traffic from unpaid sources.
The rental market is only one area where I see Rent Round doing well in conquering. The estate agent market is a larger but more competitive market. But I believe the Rent Round model is geared up to work in that domain as well.
Spreading out globally is another avenue for growth. We are UK focused for now, but there is a need for our service abroad as well.
If you had to start over, what would you do differently?
I got extremely excited in the early stages of our growth and tried to cram in a lot of change and initiatives within a small space of time. I planned a large advertising campaign and I also had a number of technical upgrades in the pipeline towards the end of 2019.
A wide scale upgrade was scheduled for a weekend, then a relatively expensive marketing campaign was to be distributed on the following Monday. Ultimately, there were issues with the upgrade and site wasn't working when the marketing was sent out to thousands of potential clients.
Looking back, I should have scheduled the marketing and upgrade a lot better!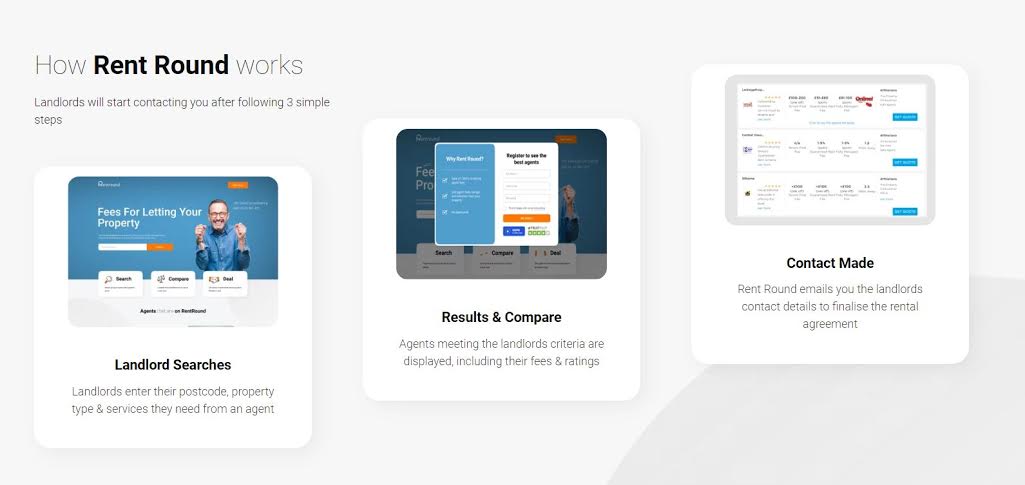 I've learnt to be more composed and take a step back from my excitement. Momentum is key in a business and when you see it increase, it's difficult to show restraint. However, slowing down and taking stock of a situation when required, is a key skill to learn.
Have you found anything particularly helpful or advantageous?
For SEO & digital marketing, NeilPatel's website is extremely useful. It helped me grasp basic digital marketing concepts and now as I'm more experienced, it also helps me understand the complex aspects as well.
For motivation and inspiration, Naval Ravikant talks are a must. I learned about him on the Joe Rogan podcast and whenever I need something to steer me in the right direction, his insights are golden.
In terms of what has been an advantage for me, I think the biggest is the ability to follow my gut to come to the right decision. For example, if I want to hire a freelancer that I immediately get a good feeling about, I'll hire them on the spot.
It's also something Steve Jobs talked about, in terms of how following his intuition helped him become successful! By the way, this by no means implies I am comparing my abilities to his... well, not yet :-)
What's your advice for indie hackers who are just starting out?
I've found that the most useful characteristic to work on is consistency. No business is successful overnight, nor is it common to see immediate results. I found that doing a little work often is far better than doing a lot over a short period of time. Most importantly this avoids burnout but, in addition, a consistent approach usually shows more results as you slowly chip away at your obstacles. I think in today's world, many look for quick wins and cutting corners. Short term methods only produce short term results.
In addition I would recommend not letting frustration get the better of you. Sometimes things don't work. Conversions may not be as high as you expect, bloggers may decline to write about your business, or your site may not be working the way you want.
If you can curb your frustration, it frees your mind to focus on the fix.
The internet has information on how to fix everything. Details on how to improve conversions, how to create backlinks, and how to fix technical issues are at your finger tips. Push the frustration to the side and focus on what needs to be done.
My advice to aspiring entrepreneurs, based on what I've learned, is to know digital marketing well. Paying for advertising and marketing campaigns are of course needed when starting a business. However, they will quickly eat up your budget and many businesses can't sustain that in the long term. There are plenty of instruction videos on YouTube and I would advise knowing the basics of:
Writing content that's SEO friendly
The best approaches to create backlinks
Ensuring your site is rid of any aspects that impact your SEO
Knowing how to use Adwords and make your spend efficient (in the absence of a Adwords manager)
Key word analysis, so you're not wasting your time on keywords that don't convert to sales
Where can we go to learn more?
I write a lot of content on the Rent Round Property Blog. If you're interested in me rolling around pretending to know Jiu-Jitsu, there's a few videos on my martial arts club page.
I'm more than happy to talk to anyone in the business world, whether you're starting off or are well established. I can be contacted at [email protected]
It goes without saying that any feedback on Rent Round is always welcome!
—
RentRound , Founder of Rent Round
Want to build your own business like Rent Round?
You should join the Indie Hackers community! 🤗
We're a few thousand founders helping each other build profitable businesses and side projects. Come share what you're working on and get feedback from your peers.
Not ready to get started on your product yet? No problem. The community is a great place to meet people, learn, and get your feet wet. Feel free to just browse!
—
Courtland Allen , Indie Hackers founder