How Life Abroad Helped Me Launch to $1,500 in Half a Year
Hey Jesse! What's your story, and what are you currently working on?
Hi there! My name is Jesse Neugarten. I'm the founder of Dollar Flight Club, an email subscription service that helps over 50,000 people save an outrageous amount of money on airfare.
My entrepreneurial journey started after I got stranded for two weeks below Everest basecamp in Nepal when a 7.8 earthquake rattled the region on April 25th, 2015. (More on that below!)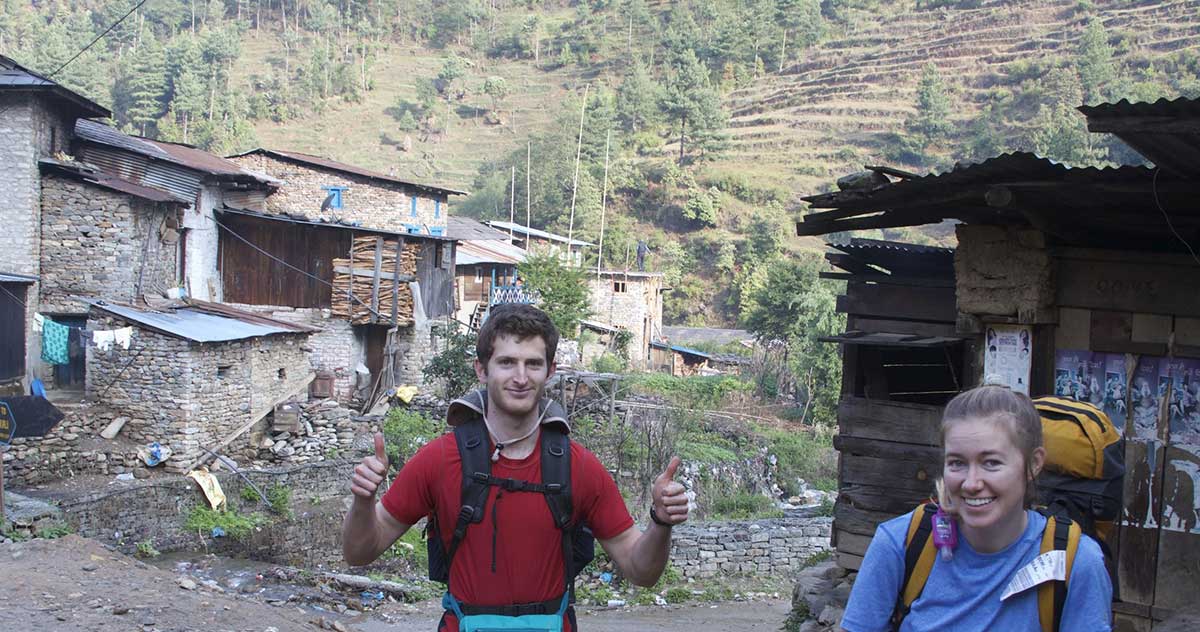 Before I went to Nepal, I'd been fortunate enough to have traveled all over the world, racking up hundreds of thousands of frequent flyer points. In the process, I learned the ways of the travel hacker. Slowly but surely, friends and family started asking me to help them enjoy inexpensive vacations of their own, and the Dollar Flight Club email list was born.
Dollar Flight Club specializes in notifying subscribers when flights to awesome international destinations are really, really cheap (like 392 dollars round trip to Bali or 350 round trip to Barcelona).
I also send out alerts to subscribers with creative techniques to help them get the most out of new credit cards and use points to travel the world for essentially free. When I find a sweet deal, I email subscribers with important details about it: which dates are available, a list of departure and destination airports, booking instructions, and more.
So far, Dollar Flight Club has helped subscribers save an average of $550 per ticket.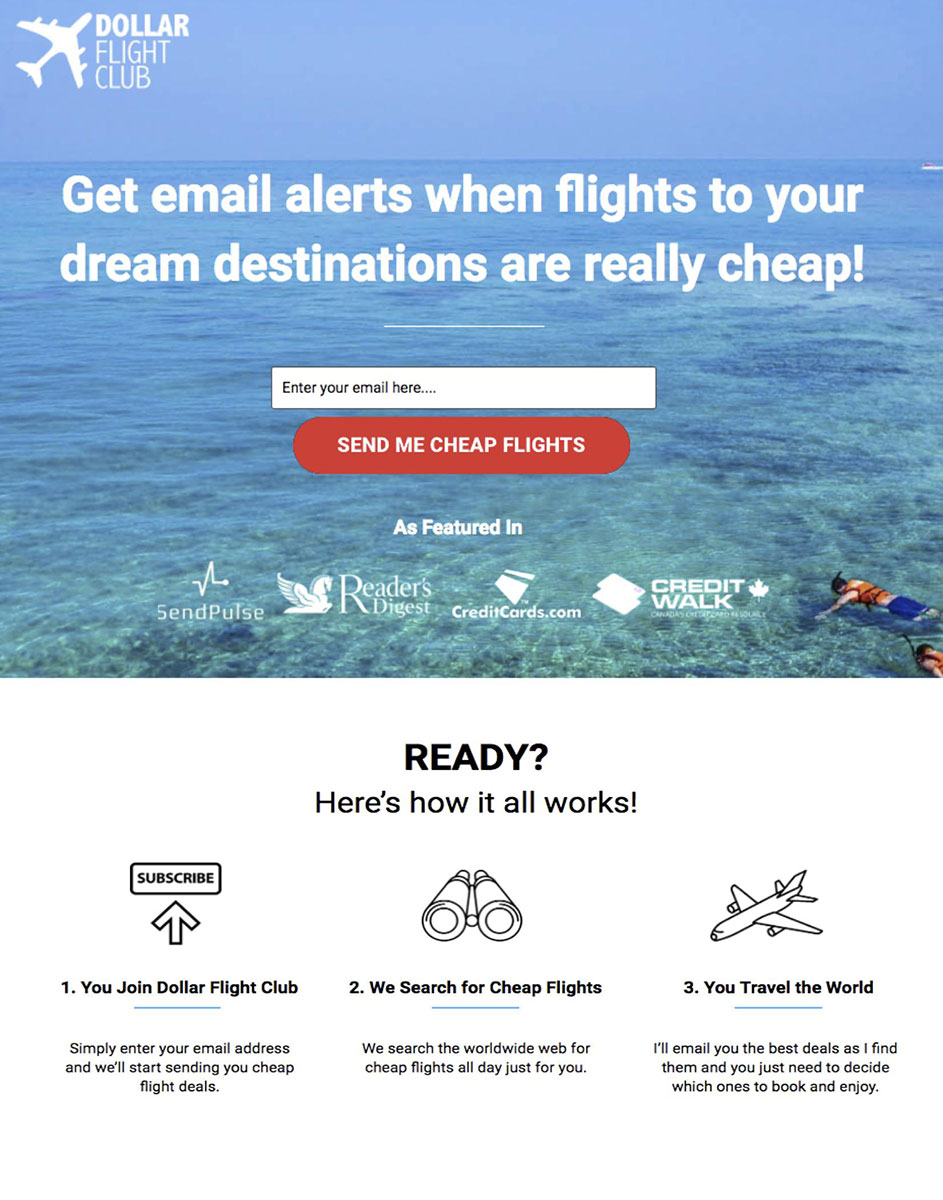 Members use Dollar Flight Club for several reasons:
They don't have to spend a bunch of time to save money. We search for flights for 8 or 10 hours a day and send out the deals to subscribers, so they don't have to spend all those hours doing it themselves. For just a few bucks a month, that's valuable to lots of folks.

They don't know where to find these deals. Most people aren't aware that you can find round trip flights from the U.S. to Europe in the $300s-400s range. People are just used to paying thousands of dollars for those flights, which I'm not okay with! I've spent hundreds of hours scouring the web for flights; knowing where to look is super important. Most people don't know where to even start! That's why they join the club.

They get cheap flight alerts and help using new credit cards for travel. Traveling around the world can be expensive and complex. But travel has never been more affordable for those who knows where to look. My goal is to help others see the world on any budget.

Email alerts are simple and easy to follow. There is an overwhelming amount of travel-related information on the web today. That's great in many ways. But when it comes to finding cheap flights quickly, it's just too much. People can get overwhelmed easily with so many sites to search for flights. The email alerts we send out are simple and straightforward, with no strings attached.
Today we have roughly 50,000 members and revenues of 1,500 USD/month!
Can you tell me more about Nepal and your motivation for getting started with Dollar Flight Club?
Growing up, I never thought I'd be a founder of anything. My experience in Nepal would go on to change that.
Arriving home, I decided to strive to do something that made a difference in people's lives. I started a nonprofit to help those affected by the Nepal earthquake rebuild their homes. We were successful in helping over 10 families completely rebuild. But it wasn't sustainable. From then on, I was always interested in ideas that made an impact on other people's lives.
On my sixth day of trekking through the foothills of the tallest mountain range in the world (Mount Everest), the 7.8 earthquake hit. I was in the middle of a two-week trek with my girlfriend, Ellie, and both of our dads. We were four hours into our day at 11,000 feet on a steep climb just a few miles from a tiny village called Bupsa. The ground shook for 30 seconds like nothing I've ever felt before. I don't remember any noises, only visuals of the ground beneath my feet swaying and powerful landslides falling across the valley.
We were all scared, but more so confused about what just happened.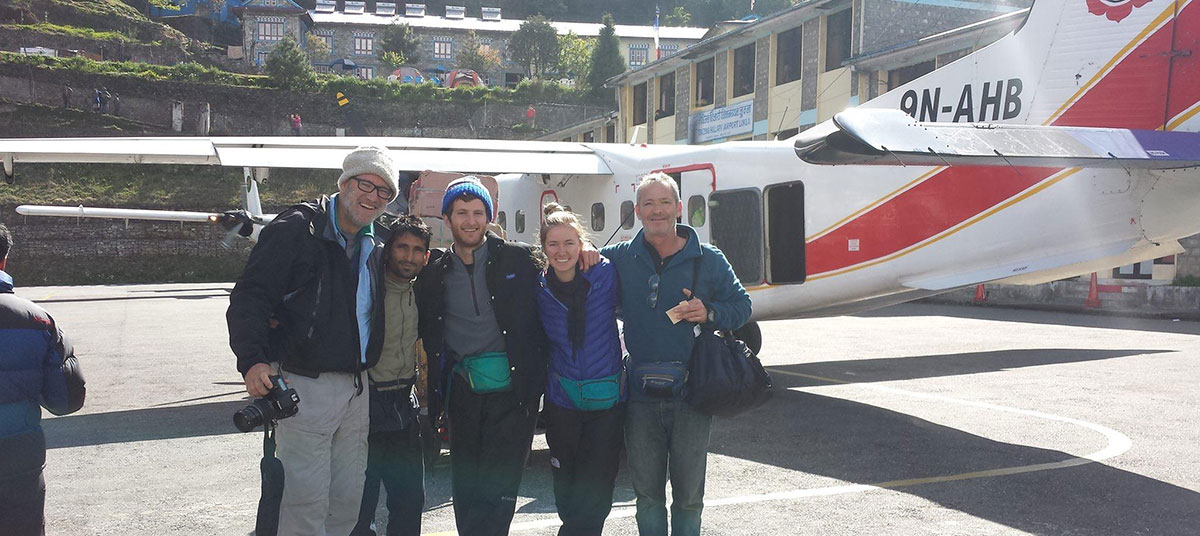 News travels slow way out in the Himalayas, so we had no idea what the extent of the damage was across the region. Our questions were answered about 45 minutes later when the next massive aftershock shook the ground. Our next move was to navigate to Lukla Airport — the highest and most dangerous airport in the world that drops hundreds of feet off a cliff at the end of the runway (see picture below).
It would be another week until we were able to catch a flight out and make it home.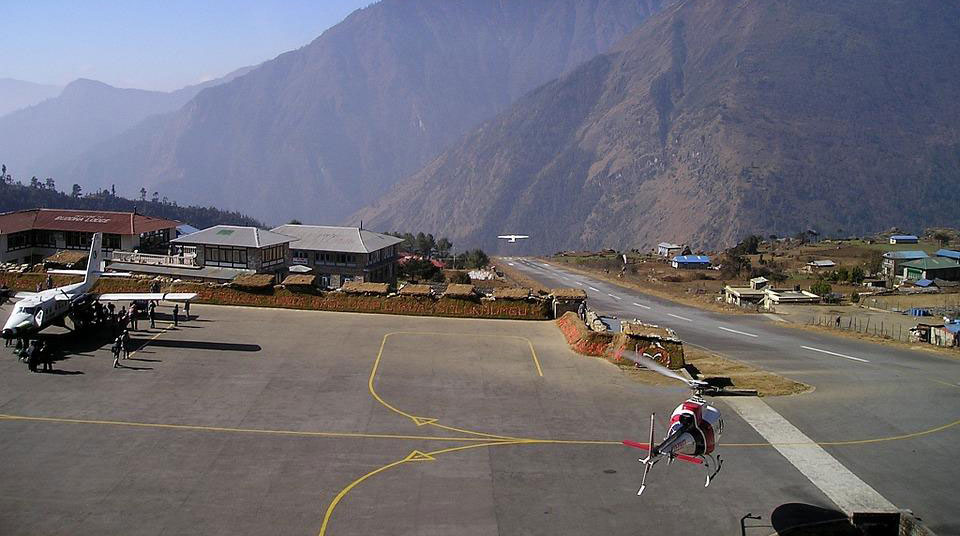 It was a life-changing experience that will live with me forever. The devastation, selfishness, and corruption of some people that I encountered will not be forgotten. However, the kindness of those people who put others first in such a situation has shaped my life. How is it that I was able to just up and leave, but the kind people of Nepal had to go back to broken villages?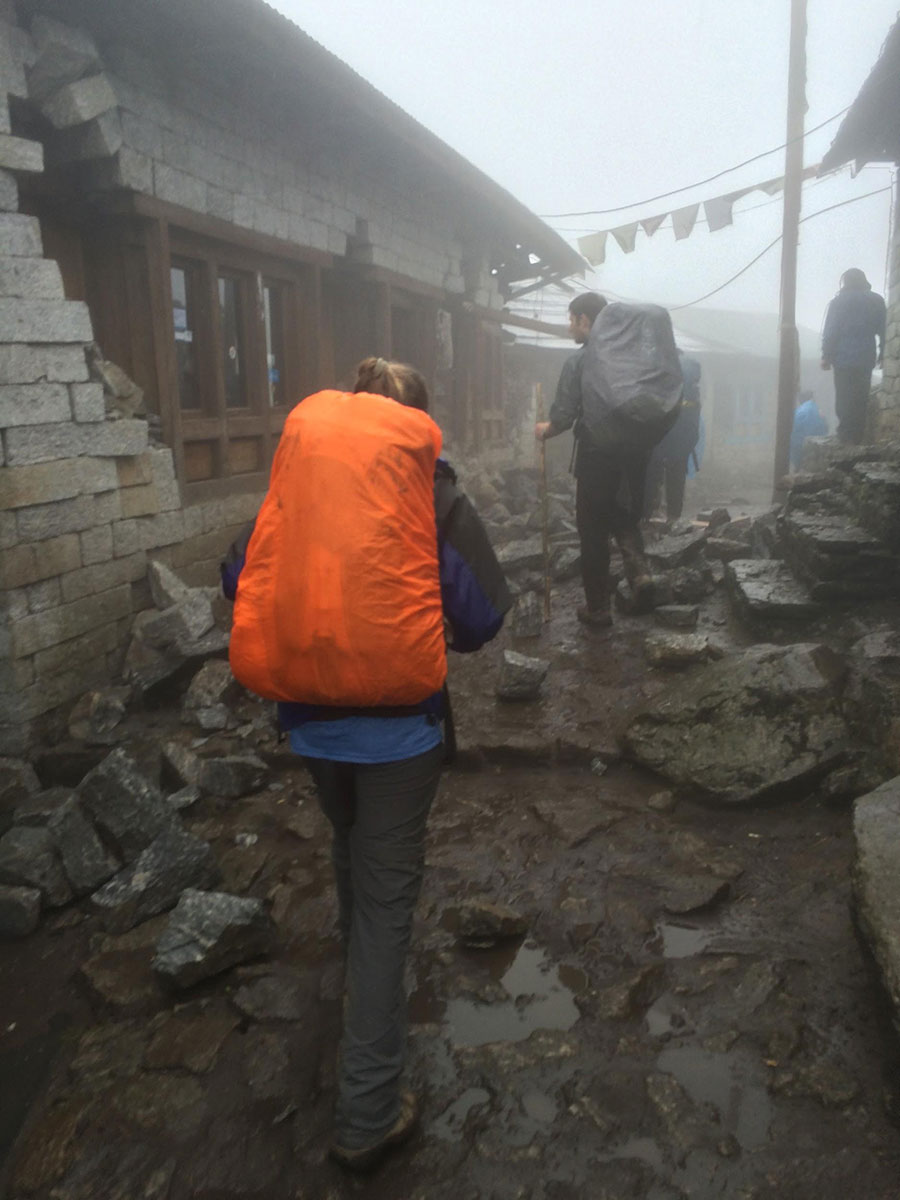 When I got home from Nepal, most people thought I was done traveling. But actually my experience had the opposite effect on me: I was inspired to travel more. I realized that experiencing and connecting with other cultures is the best way to grow as a human being.
A few weeks later, I travel hacked my way to a round trip flight from NYC to Stockholm for $210. Off I went with Ellie — again. There wasn't an earthquake in Sweden, but given how cold it was there, earthquakes suddenly didn't seem so bad!
That trip led us to Stockholm, Northern Sweden, Paris, London, Brussels, Amsterdam, and London.
That's when the wheels started turning in my head. I figured I could combine flight alerts and help others see the world — all with a social mission.
Dollar Flight Club allows me to do what I love, so I'm rolling with it. The response has been amazing so far!
What did it take to get the service up and running?
The business is all built around email. Email is not only how I provide value to current subscribers (and what they pay for), but also how I market to and acquire new subscribers.
I knew that revenue growth would ultimately be determined by my ability to build efficient infrastructure behind the service to optimize for freemium list growth and convert more and more customers to premium subscriptions. I have a full-time job and another side gig, and I'm also in the process of training for an Ironman 70.3 triathlon that takes place this November in Mexico (if anyone wants to join!), so efficiency was key.
Here's my advice for anyone reading this that may have a business idea: Build a landing page as fast as you can and launch it to get some some initial data so that you can A/B test right away.
One of the biggest mistakes I made was taking too long to launch. I tried to make everything perfect before the idea was 100% validated. Without any initial data, how can you improve?
When I set out to build Dollar Flight Club, my initial goals were as follows:
Build an attractive landing page. I knew I needed to portray an experience that people do not want to miss out on.

Provide an outstanding user experience. People lose interest pretty fast. I knew it would be important to answer questions as fast as possible and be genuinely helpful as soon as people signed up.

Nurture freemium members with value. For those who don't convert to paying customers right away, I knew it would be important to show them value in order to get them to upgrade. The goal was to get an idea of how long it takes to convert customers from free to premium: one month, three months, one year?

Find creative ways to drive traffic. Having a healthy pipeline of people coming into the nurture sequence is important. If you have some background in sales or marketing, it's all about being predictable with a pipeline, since that leads to revenue. Without a solid pipeline, you can't count on anything. (Stay tuned: There's more to come on how I drove traffic.)
Bootstrapping a startup means doing most everything by yourself. I built the website super inexpensively without working with contractors or engineers. The cost to get the service up and running was very reasonable.
Using the right tools has made this approach easier than expected. Currently, I use:
Instapage to build and manage the site - $60/month

MailChimp to manage the email list - $60/month (free up to 2,500 subscribers)

Stripe to process payments online - 2.9% + 30¢ per successful card charge

Zapier to automate some tasks within MailChimp, like moving subscribers from one list to another when they upgrade - Free

Hotjar to see how people are moving through the funnel or where they get stuck with a goal of optimizing for higher conversion rates - Free
Pro tip: All of these tools play nicely with each other, which is super convenient!
My advice for aspiring entrepreneurs is to try and make everything as simple as possible from the very beginning. This allows you to focus on moving the needle towards that "north star" you're chasing.
You mentioned finding creative ways to drive traffic to fuel subscriber growth. How have you attracted users and grown the Dollar Flight Club subscriber base?
From the very beginning, I knew that I would need to hustle to get those first 200 paying customers. With travel being a huge buzzword and alerts sent straight to subscribers' inboxes, it's easy for members to share with friends. When an awesome deal from me hits someone's inbox — like a $290 round-trip flight to Hawaii — they're going to forward that to a friend. Word-of-mouth really helps with traction!
I took to a guerrilla marketing play for the first month. From my background in the B2B space, I knew that you want to build processes that can scale in any business. However, when your company is operating in a bootstrapped state, you need to do things that don't scale early on until you gain some traction.
These efforts landed my first 200 or so customers and an article in Reader's Digest and Credit Walk, which generated hundreds of signups.
Here's what I did to start:
I joined tons of Facebook groups that were travel-focused. People are always looking to travel and connect with like-minded people. I joined a bunch of Facebook groups just to be super helpful by posting tips and answering questions. A few times a week, I would post a flight deal or credit card tip with a backlink to my site which would end up generating 30 signups to the list — and that's just for one Facebook group! This worked really well because I was able to target a group of engaged people interested in travel; I found my ideal customer! It goes to show just how important it is to figure out where your niche market is hanging out no matter what you're selling. Pro tip: Be super helpful to people and they will help you right back.
I hit social media hard. Travel deals and buzzwords abound in the travel space. Social media is the perfect tool to capitalize on this organic interest. People love to click on things and follow people who travel — if for no other reason than to live vicariously through them. I followed hundreds of people on Twitter and Instagram who enjoyed traveling. When they followed me back, I sent them a personal message inviting them to join Dollar Flight Club. This was great because I got a bunch of signups from it. But, perhaps more importantly, people also asked me questions. So I got some nice feedback by having one-on-one conversations with my target audience.
I hit 100 paying customers at the end of the first month, 200 paying customers at the end of month two, and recently passed 300 paying customers!
What was next? I knew scaling the Dollar Flight Club list was key. So I partnered with other brands and ran a sweepstakes. Giving away a free flight was a great way to find people who are interested in travel deals. This approach resulted in growing the list to 10,000 in just a few weeks with high-quality, relevant, and engaged subscribers that were my target audience.
I found that doing giveaways with social sharing was particularly beneficial. For the best results, give customers five extra entries if they follow you on Instagram, or four extra entries if they share the link on Facebook, for example. I'm using these tactics on the marketing side of things to build up my email list now.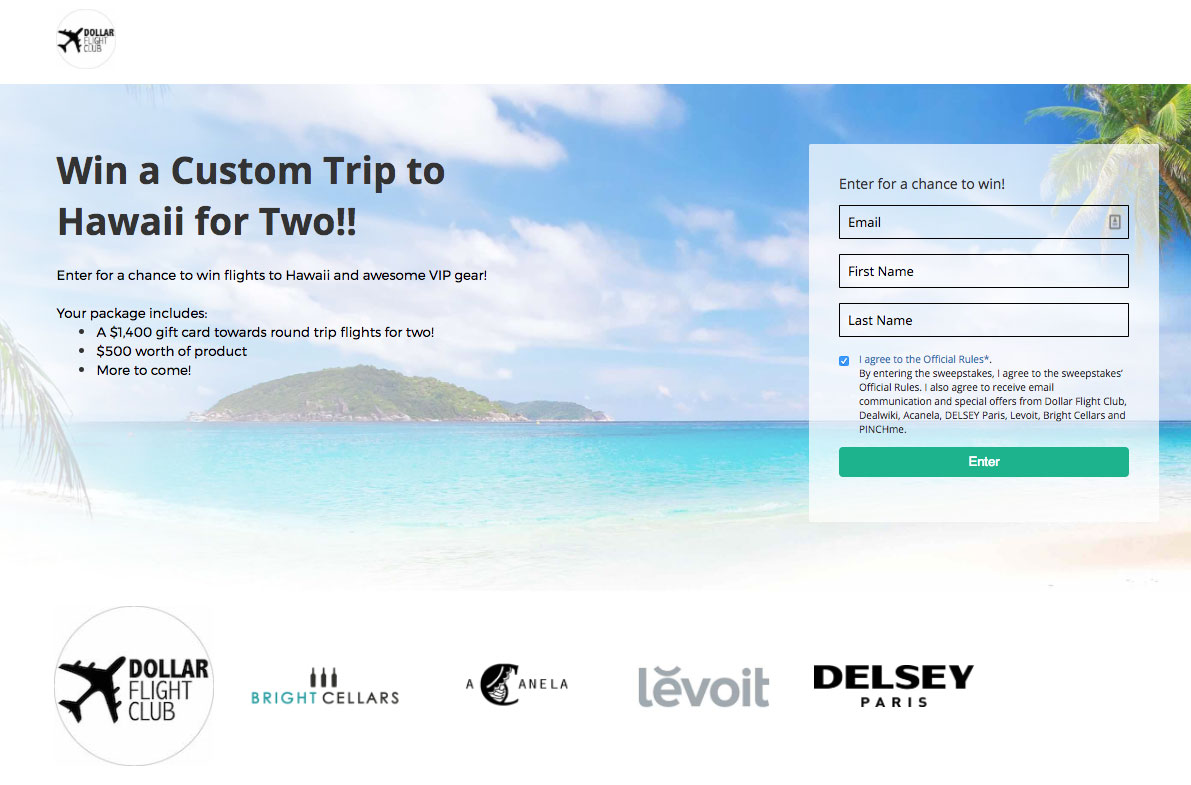 The key is finding your audience and then going after them any way you can. Try lots of channels until you find what works best for you.
You mentioned a free and premium membership. What's your business model, and how have you grown your revenue?
If you give away your service for free at the start, you'll never really get any indication of what it's worth to someone.
But at the same time, it's really hard to get someone to pay you right off the bat when you are a brand-new business. That's why I went with a freemium-premium approach when I launched the site.
I didn't want to price anyone out of the service. Instead, I wanted to give people various options to get an idea of what the service was worth until I had some data to base future pricing changes off of. (I'm still gathering said data.)
I launched the premium service with three tiers: $1/month, $9/month and $19/month, all with different features. The more expensive it gets, the more personalization you receive.
The premium service in general gives upgraded subscribers the following:
Premium members get 100% of the deals. Free members only get about 25% of the deals sent over to them. Become a premium subscriber to increase the chances you'll find a deal you want to take!

Premium members get to choose specific departure airports. Free members can only choose a region (e.g., west coast).

Premium members can choose dream destinations for me to search. It's all about personalization.

Premium members get all the deals first. They get the deals about 45 minutes before free members. They also get text alerts.
The difference between the three premium subscriptions are as follows:
The Globe Trotter gets you access to more deals than freemium subscribers.

The Avid Explorer lets you choose the airport of departure, rather than just your region. Also, it gets you credit card travel tips.

The Master Wanderer is the most personalized plan for those looking for the most hand held help with travel. These subscribers can choose their top five dream destinations for me to search for business and first class deals. And they can also get personal help looking for specific flights via email support.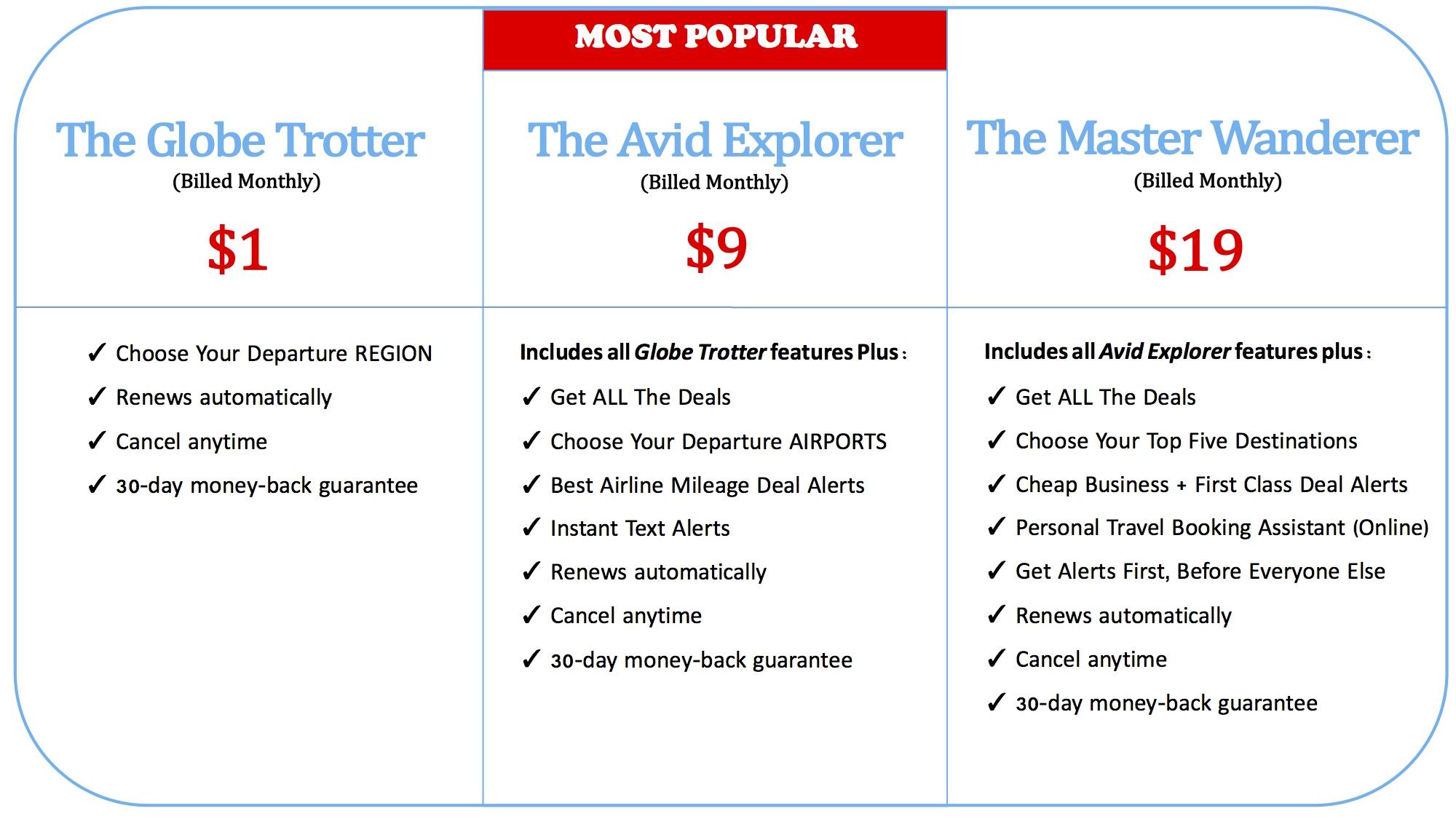 Having different subscription levels right off the bat allowed me to cover operating costs and also understand what the market is willing to pay. What I've found over the last few months is that people are willing to pay more for the service. That goes to show that A/B testing is crucial in any decision you make.
My goal is always to have people upgrade from the free list to the premium list. I try to make this happen across three channels.
When they enter their email address on the website. This only happens occasionally. People need to experience the service before they want to pay for more.

As part of the onboarding process. They get a separate email a few weeks after receiving initial alerts that provides info on the Premium plans. There's also a short sentence at the top and bottom of each email I send out which alerts free members about what they missed out on (e.g. "a $211 round trip to Cuba went to premium members this week").

Through affiliates. Gaining trust and reputation is huge in terms of building things up. Having people market for me with a backlink on their site (they get a few bucks each time someone signs up) works really well to get people to pay right away since they're being referred by someone or a website they trust.
Currently, I use Stripe for all payment processing. But, to start, I used MoonClerk which is essentially Stripe, but automates all the setup which I didn't know how to do at first.
What are your goals for the future? How do you get better? What do you add?
I have a ton of goals right now, but here are a few:
Build up the list of subscribers. The goal is 100,000 by the end of the year. I'm planning to get there with giveaways and PR to drive traffic.

Get better at talking to customers. To take my business to the next level, I really need to understand what they want and what they value.

Understand conversion metrics more thoroughly. I want to know exactly how long it takes a free member to convert to a paying customer and what the percentage is.

Reduce churn as much as possible. In a subscription service, churn is always your biggest concern. I need to focus on customer service to reduce churn and deliver value that is promised.

Enhance the website. As the site grows, i'd like to move things over to WordPress and build out the website more professionally, which will allow for some more flexibility on the back end.

Hire employee #1. I'm going to look to hire someone over the next two or three months as things continue to grow. (So if you know anyone interested or obsessed with travel who would be a good fit, let me know!)

Create more and more backlinks. Backlinks are super important for Google rankings. I'm going to continue to seek out PR opportunities to create backlinks to the website.

Help people save even more on travel and amass frequent flier points. I love it when people become part of the journey and find cheap flight tickets to the destinations they want to visit. I also love it when they are inspired to travel somewhere they haven't even thought of yet.

Publish customer success stories. I like to ask people to drop me a line when they book a flight. I want to start posting a few of our happy traveler stories on the website.
I've got a lot on my plate right now. But I can't wait to tackle it all.
What are the biggest challenges you've faced and obstacles you've overcome? If you had to start over, what would you do differently?
Organizing data in MailChimp has been an issue.
I have three plans and then a group of free members who flow from one plan to the next. To start, I was manually updating things. But that took so much time. Fortunately, I found Zapier and have used it to automate all the little things. This has saved me countless hours, allowing me to focus on higher-level issues.
MailChimp is great for small lists. But the segmentation workflows and ability to send the same email to multiple lists is not simple enough. I think in the near term I'll look to move to another email service as the list grows. When selecting your mailing list provider, take time to understand how it works and talk to people who use it before jumping in.
When the list was super small, I was searching for flights in fewer cities and countries. What worked for such a small list doesn't work for 50,000 subscribers. And it definitely won't work for an even bigger list, so I'll have to adjust get creative.
What have you found to be particularly helpful or advantageous in your venture so far?
There is just so much information out there about travel and so many websites available to use to search for flights that it's just way too overwhelming for the average person to do on their own. Email is simple and effective, and everyone uses it.
The nice thing about an email subscription service is that the product is the marketing material. And, at the same time, the marketing material is the product. By providing value to current customers, I am able to use those exact emails to send to free members to get them to upgrade to premium. I just add a blurb at the top telling them they missed a deal or explaining one of the other features.
My background is in economics. I don't have any coding background, which is why everything is super hacked together at the moment! However, I think it's important to make an effort to have everything as simple as possible while you're getting started. As you complicate things, you can easily get sidetracked or worried about small details that don't add up or get you to your goal or "north star."
My economics training really helped me think about condensing lots of information about flight alerts into a simple format. It's also helped me draft all the marketing emails. (Who knew all those hours spent writing my thesis on economic development would come into play here?)
And, of course, all those years racking up frequent flyer miles and hundreds of hours searching for cheap flights allowed me to help subscribers out in a relatively unique way.
At the moment, I work full time at Socedo, a B2B lead generation company based in Seattle. So I have a pretty solid understanding of the marketing space. Specifically, I've learned how to think about moving leads through a funnel, how to A/B test a marketing automation platform, how to understand conversion rates, and how to optimize opens/clicks. I've also learned how to build up an email list.
Altogether, this has made building out the emails and understanding all the metrics less time-consuming for me compared to someone with no exposure to the industry. However, building out the website wasn't something I knew how to do, so that was a challenge.
At the moment, I'm working on Dollar Flight Club in the early mornings before I go into the office, in the evenings, and on weekends.
Above all: If you need help, ask. Early on I tried to do everything by myself. Ask a developer friend to help with implementing Stripe if you need it. Use Fiverr for small projects like designing cover art or a logo. It's really cheap and the work those freelancers do is awesome.
What's your advice for indie hackers who are just starting out?
My first piece of advice is simple: Do something you really enjoy. It will be that much easier to work hard, stay up late, and take on the challenges that come with it.
Some other bits of advice:
A/B test. Use data to inform your decisions and increase your effectiveness. Don't go in blind. If you don't have a benchmark for conversion rates, traffic, and the like, how can you improve? A/B testing is particularly important for new companies.

Keep things simple. One thing I learned pretty fast was to stay focused on a specific niche before expanding. In other words, go deep before you go wide. Starting out, I opened up the list to people from any country in the world. But soon it was impossible to keep up. So I closed it down to customers in the US, Canada, and a few other countries. This made everything much more manageable.

Make people pay from the start. Figure out how to monetize from the outset. Otherwise, you won't learn much about the value you provide and about how prospects see you in the market. Monetize early and you may even generate significant revenue right off the bat. I was glad that I had people pay from the very beginning. Not only could I cover startup costs, it also gave me a ton of confidence. I'm still testing pricing quite a bit.

Always be testing. You can always improve your product, particularly when you're just starting out.

Engage with your customers. Talk to your first 20 paying customers and ask them questions. Early adopters are your fans and have tons of insight. They're your super consumers who can turn into brand evangelists. What you think is working or valuable might not be the case. Ask the people who are paying you what they think! That's what matters.
Where can we go to learn more?
Find us here:
If you have any questions for us at all, please leave a comment below and I'll be happy to get back to you ASAP. Thanks for taking the time to chat, Courtland, and thanks to all those reading!
Happy travels, Jesse
—
JesseNeugarten , Creator of Dollar Flight Club
Want to build your own business like Dollar Flight Club?
You should join the Indie Hackers community! 🤗
We're a few thousand founders helping each other build profitable businesses and side projects. Come share what you're working on and get feedback from your peers.
Not ready to get started on your product yet? No problem. The community is a great place to meet people, learn, and get your feet wet. Feel free to just browse!
—
Courtland Allen , Indie Hackers founder