How My Professional Poker Skills Helped Me Grow My Agency
Hello! What's your background, and what are you working on?
I'm Jon Brody, CEO and co-founder of Ladder. We're a growth agency that combines machine learning and a recommendation engine to execute growth strategies for businesses that increase their ROI.
I started my career as a professional poker player and went on to found two startups prior to Ladder. Now I'm helping solve growth for companies by removing guesswork from the process. We've spent over $50,000,000 growing hundreds of businesses, from venture-backed startups to Fortune 500 corporations.
Since our launch in 2014, we've grown Ladder to $200,000 in monthly recurring revenue.
What motivated you to get started with Ladder?
After playing poker and building two startups, I quickly saw that growth was being treated as a very inexact science. The traditional approach to marketing simply didn't work in the year 2014. Marketers were more likely to rely on what worked in the past or what they heard worked second-hand, but that never led to any creative and proactive marketing testing.
So our goal became to build a process, methodology, and technology suite that would enable us as marketers to grow companies scientifically, running hypothesis-driven tests even with incomplete data on our hands.
The idea for Ladder was to replicate that process at scale with businesses of all sizes, and the Ladder Planner, our tech platform, enables us to do just that. Combining machine learning, strategy, and execution, we can then use the Planner to find the right combination of winning tactics for any business case.
What went into building the initial product?
Initially, building our suite of marketing planning tools (the Ladder Planner) was a 2.5 person effort — a CTO, myself, and a freelance designer. We spent 3 months building out the initial release of our platform, which we began using internally.
In another 3 months, we had a full version 2.0 that we tested and continued using internally. Eventually, we began testing it out with clients. The next quarter, we took all the feedback we got from clients, customers, and our strategists to iterate and expand on what had at that point been a minimum viable product.
My co-founder Michael Taylor took the reins as Ladder's Chief Product Officer, working with our CTO to build on the feedback we got from clients and Ladder's strategists. We eventually recruited an additional full-stack engineer and a QA engineer to take the Planner to the next level, which we built using NodeJS and Angular.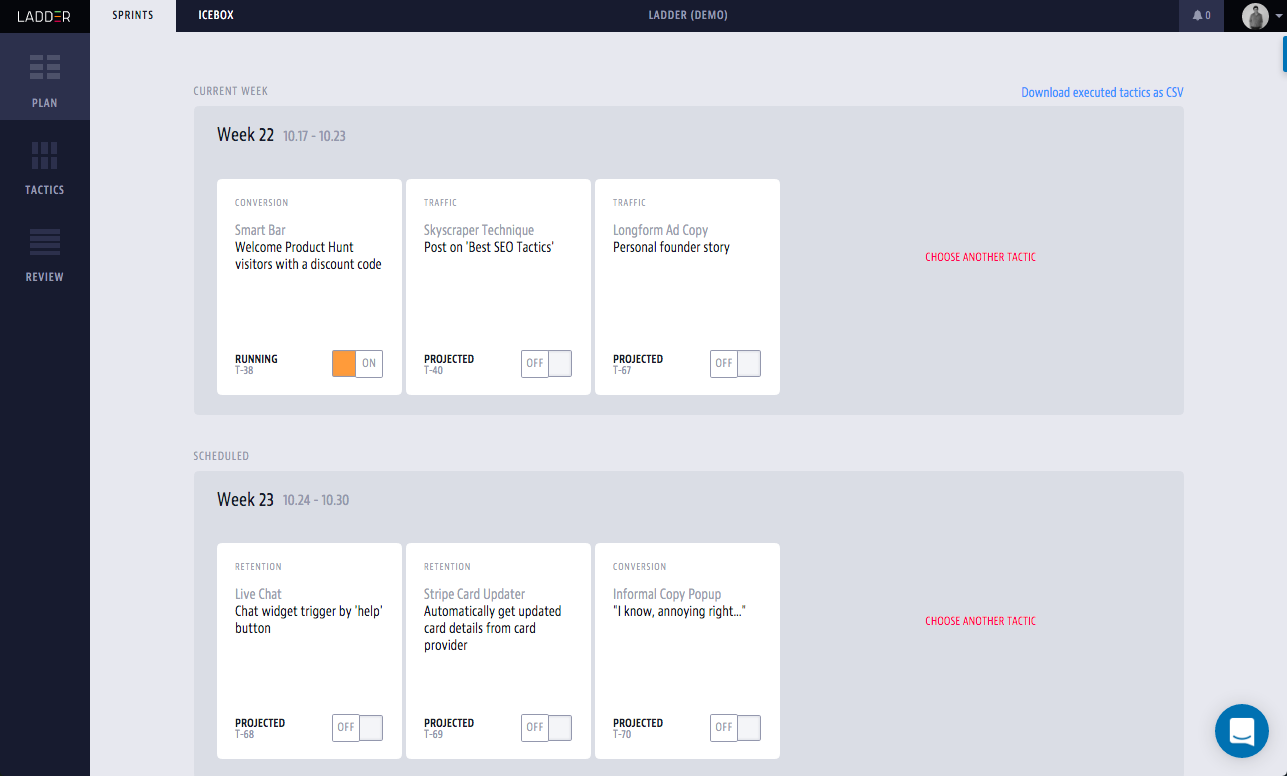 The Ladder Planner
How have you attracted users and grown Ladder?
Referral --> different funnels online (content + per-per-click advertising) using our own methodology and technology.
Our initial growth strategy was purely based on referrals. We've had strong relationships with big marketing agencies like BBH as well as devevelopment and design shops that want to partner with us as a value-add for their clients. Our first few clients came in through that relationship with BBH, where we could test our newly designed process and methodology.
It worked well at first, but as with any growth process, it required tweaking and adaptation over time to different business cases as we grew and took on more clients. We refined the way we grow businesses, created a repeatable and scalable hiring process for new strategists, and are now rapidly expanding Ladder in the US and UK markets.
We took that success in referral growth to hire a content marketer (who is now our marketing director) and begin eating our own medicine. We're applying the process, methodology, and technology platform that work so well for growing our clients to growing Ladder, building out different digital channels, from content to PPC (pay-per-click advertising) to organic and beyond, to attract more clients to Ladder.
Our biggest growth channels as a result are:
PPC: in particular, we target the "growth hacking" and "B2B marketing" keywords
content: our blog is both driving leads and enriching our sales process
partnerships: with agencies and accelerators
We're writing about our marketing plan execution efforts regularly on our blog, and providing full transparency into the process.
What's your business model, and how have you grown your revenue?
Our business model is very similar to that of a SaaS company, even though we're a growth agency. We work on a fixed monthly retainer, providing clients with a set number of tests per month, a one-to-one relationship with a dedicated strategist, and support from internal design and copywriting teams. We also provide senior-level support and direction via our growth strategy and client services directors.
Revenue growth for us (and really for any business) has relied heavily on bringing in new clients and increasing retention with current clients. For that, we've built out a marketing team, empowered our strategy team with technology, budget, and support needed to serve our clients, and brought on a client services director to build smooth client relationships.
My one message to entrepreneurs looking for revenue growth: don't forget about your current users/clients/customers. The natural reaction to growth is to look outwards for newer, bigger, and better deals. But this has to be balanced out with retention efforts, because you're otherwise churning at an alarming rate and hurting your growth potential.
We provide our clients with a 25% performance guarantee — we'll guarantee that 25% of tests we run will be successful, or we provide additional tests for the month. This performance guarantee comes from the confidence we've developed in our process and methodology, that allows us to have an average marketing test success rate north of 40% (vs. the 10-15% industry average).
What are your goals for the future, and how do you plan to accomplish them?
On the product front, we recently introduced working machine learning algorithms into the Ladder Planner. They help us prioritize and enrich our database of marketing tactics to make monthly strategy more scientific and ROI-driven for our clients.
For the future, we're looking at evolving those machine learning algorithms so they allow our strategy team to be even more accurate in picking the right tactics. Our current performance vs market, we want to increase that delta in 2017.
Internally, we're continuing to expand our own efficiency in demand generation and marketing/sales funnel growth the same way we would for a client. 2017 is the time for us to scale up the biggest winners like we would for a client.
We've quadrupled in size between 2015 and 2016, and we're set to more than double this year, and our plan for the future is to keep that rate of doubling or better.
The biggest roadblock along the way will be our fast growth. When you're growing so quickly, the biggest issues crop up around cash flow, especially if you aren't raising large rounds of funding. Exponential growth + capital resource requirements are our biggest challenges that we're looking at navigating this year.
If you had to start over, what would you do differently?
Instead of waiting almost a year to build out our own full digital funnel (marketing and sales), I'd do that from day one. The benefits are clear and evident now, but at the time it was about prioritization — we were growing quickly through referrals and didn't think that we'd need marketing and sales for a while.
But referrals are only so scalable given our model. Charging a fixed monthly retainer rather than charging high fees based on performance means that we can only expect a set amount of revenue per month. The goal is to grow faster, and there's only so far we can go every month off referrals — we'd need to invest in marketing ourselves instead, which is exactly what we did starting Q3 2016.
I would also be more ruthless in time management of our senior team and founders. Here's a major lesson I've learned: every meeting you take with someone who you don't have full confidence will drive value for you is an hour of your time lost talking to someone that would. Time is your most valuable resource as an indie hacker, founder, CEO, etc... And time is extremely finite.
What were your biggest advantages? Was anything particularly helpful?
My background as a former professional poker player was a huge advantage in the way I think about performance marketing. The two disciplines are very similar to one another, in that you're playing with incomplete data but still need to make smart, data-driven decisions in order to grow your bottom line. In poker, you assess your opponents, gather data on them, and act on those assessments, iterating your approach based on what tactics work best. The same goes for performance marketing.
Beyond poker, I've also previously launched two products successfuly with relatively minimal resources, and once we decided Ladder would build its own suite of marketing planning tools, I had the prior expertise to drive the project from idea to execution. As a result, we went to market very quickly by effectively building out the core team that would develop and design the Ladder Planner.
What's your advice for indie hackers who are just starting out?
One of the biggest mistakes you could make early on is not charging immediately for whatever it is you're building and selling.
My biggest tip would be that before you start building or do anything for that matter, always start with the question of, "What's the actual problem?" Make sure everything you do is held against that litmus test. You'll have a guiding north star for your business if you keep that question top of mind.
Where can we go to learn more?
Thanks for reading! If you have any questions, feel free to leave them in the comments section below.
—
Jonathan Brody , Creator of Ladder
Want to build your own business like Ladder?
You should join the Indie Hackers community! 🤗
We're a few thousand founders helping each other build profitable businesses and side projects. Come share what you're working on and get feedback from your peers.
Not ready to get started on your product yet? No problem. The community is a great place to meet people, learn, and get your feet wet. Feel free to just browse!
—
Courtland Allen , Indie Hackers founder