How Reinventing Spreadsheets Got Me to 4K Customers in Under 1 Year
Hello! What's your background, and what are you working on?
Hello, I'm Rachit Khator, founder and CEO of Stackby.com. Stackby is a next-generation spreadsheet, designed for makers and creators to build their own apps.
It combines the best of spreadsheets, databases, and APIs in a single flexible platform and empowers non-technical people to build their own tools for their lives and work. It's real-time, collaborative and has the ability to connect columns to popular third party services to pull information automatically.
From individuals, to SMB teams, to marketing agencies, to non-profits, many different types of user use Stackby to organize their data and work.
We've grown to over 3,500 paying customers from 150+ countries in the last 10 months.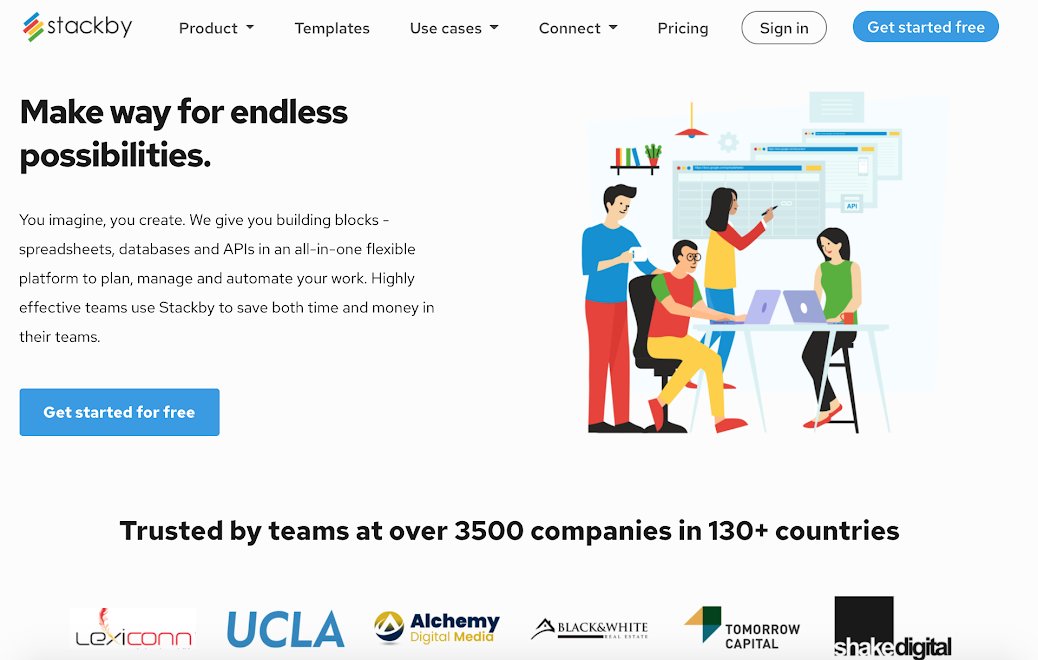 In one sentence, why should people read this article?
It's a story of grit and determination, that proves you don't have to be in Silicon Valley to build a global startup... you can be from a Tier-II city in a developing country!
What motivated you to get started with Stackby.com?
I was working at a Fortune 500 company in the US, as part of their venture capital group. I was constantly embroiled with spreadsheets to manage our workflows and it became cumbersome in our team.
As I was looking for tools, I realized that there are either vertical tools that solve a specific problem or there's project management and CRM software. And neither of which gives you much ability to customize for your needs.
After speaking with over 100 professionals in my network, one major pain-point emerged: most people relied on spreadsheets, given their ease of use, and they struggled to organize their data in a single place.
So I did a quick pivot from building a deal-management software for investment professionals to building an easy-to-use platform for anyone to build their own software.
With that ambitious idea and some early validation on the side, I quit my corporate job in the US in 2018 and moved back to India to start Stackby.
What went into building the initial product?
Building a simple product for the masses is a very difficult thing to do.
After moving back to India all we had was a plan on paper, an early architectural design, and an incomplete prototype.
The first challenge was to assemble a solid product team in a Tier-II city in India where there was no tech ecosystem. Our city, Surat, is known for its diamonds and textile industry; there was no real product tech startup that came out of the city in its otherwise rich history.
With patience and perseverance, we got a couple of engineers to begin working on the product and then slowly built out the team as we continued to make progress. The team had to realize the product vision, early on despite all the adversities.
All in all, it took us over two years of heads-down work to build a product and launch it to the world.
And I went from making a comfortable six figure salary from my corporate job in the US to almost a $0 bank balance while doing this.
Luckily, we found few mentors and great team members along the way that continued with the vision.
You quit a high-paying job to go all-in on Stackby. What made you feel so ready to quit your job?
There were a couple of events actually. I always wanted to have a tech startup. But the fact was that my corporate job responsibilities were growing, and I was even offered a higher salary and promotion the day before I quit.
That triggered me to take the leap. I thought if not now, then never.
It was a tough decision to quit a well paying job, sell everything I owned (including giving up my first car), and move countries to do a startup.
What did the stakes look like for you? What would it have meant if you failed?
The stakes were always high. I depleted almost all my savings (after paying my student debt) to do the startup.
Failure is big in India, it's not at all like in the US where failure means experience. In India, it's not looked as positively. So failure would have been awful.
What's your tech stack?
We're on state-of-the-art Javascript frameworks, primarily using both React in front end and Node.js on the back end.
That stack remained the same over time, as we knew from the beginning how we wanted to build this. A few challenges came in terms of performance and scalability, and it took a lot of time and effort to get it right. It was not easy and so took us a couple of years of sweat and tears.
We continue to optimize the platform and have just gotten better over time.
How have you attracted users and grown Stackby.com?
We knew from day one that we needed a mass launch, given that we're a horizontal product.
Initially, we soft-launched our product at the RISE conference in Hong Kong in July 2019, touted as Asia's largest technology conference. We acquired our first 10 paying customers only through word of mouth, and really working to acquire customers.
After that we partnered with AppSumo and launched the product globally in January 2020. That's where we hit real growth. Along the way, our journey was also covered by a reputed media tech media publication YourStory.
We also did some other strategic partnerships, like with Startup India, and continued on the momentum to getting users.
We started with less than 1,000 users in Dec 2019, grew to 5K users by March 2020, and then to over 25K users by September 2020. We also grew our Stackby community on Facebook and Slack groups from less than 100 to over 1300 in nine months.
Given we're an API-first platform, we continued to grow our native integrations and added from 15 apps in January 2020 to over 40 apps in October 2020.
In 2020, we also added over 70 new click-to-use templates in our template gallery to over 120 now and continued building new content on our blog and YouTube channel.
One thing we learned in the process was that we were trying to do a lot of things together and eventually struggled to make it the best. We realized the hard way that the most important metric to success is focus. And that's what drives us forward.
What's your business model, and how have you grown your revenue?
Our business model is a typical freemium model. Users come to the website, take a free trial, and then subscribe to one of our standard paid plans or one of our special offers on their workspaces.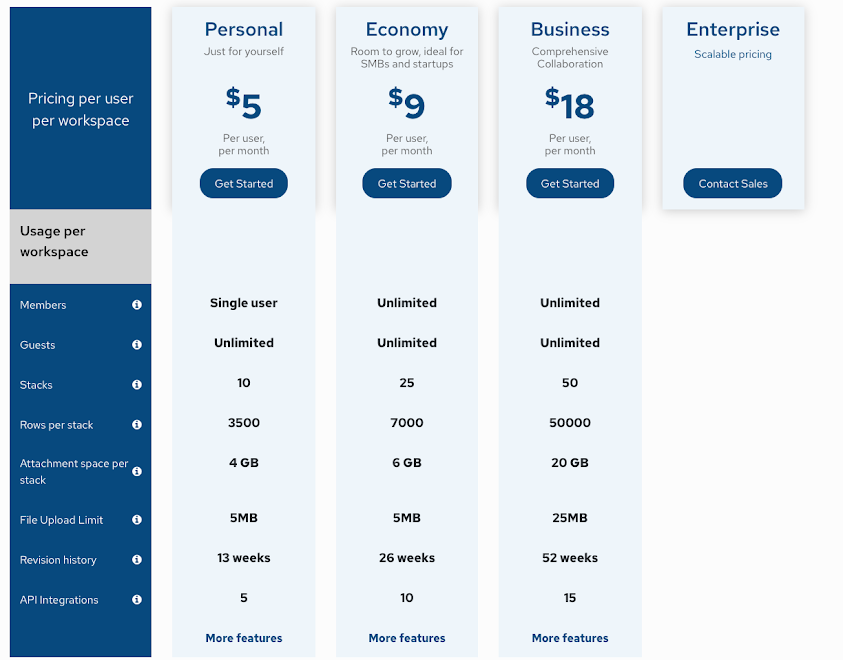 As teams derive more value over time, we upsell them with more users and more workspaces (with more databases), and that continues to grow.
We tweaked our pricing from lifetime to limited-time annual and recurring. This was as our product maturity grew and we continued to add more features, integrations, and use-cases.
We track all the product metrics and continue to improve our onboarding, activation, and retention metrics by making the experience seamless.
Data is important when you're building a product-first company. Without the data, you'll never find the needle in the haystack and that is the biggest pitfall for product entrepreneurs.
What are your goals for the future?
Our immediate goal is to get to 100K users and $1M in annual run rate (we're almost halfway there) in the next six months to a year.
We continue to hire and build a solid distributed team on all fronts, product, engineering, customer success, and growth. We're all working remotely now, and continue to do so in the near future.
We're staying lean, and aim to do more with less. It's been in our DNA from day zero. This approach leads us to focus on right things and double down when we get traction.
What are the biggest challenges you've faced and obstacles you've overcome?
The biggest challenge I faced was underestimating our product launch.
While our team worked countless hours and had sleepless nights, we underestimated when we could launch by over six months. As I said good things take time to build!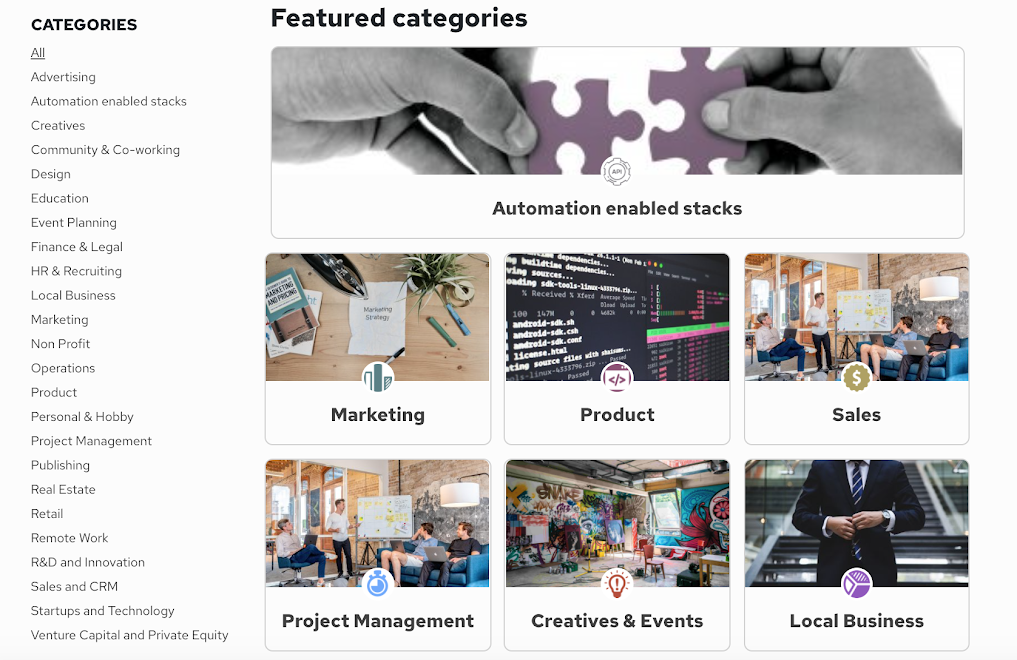 We learned that patience is a virtue that every single founder needs to have. Don't let your underestimation of your goals pin you down. Keep your head down, and keep working till you get to your first milestone.
As they say, overnight success is 10 years in the making.
Have you found anything particularly helpful or advantageous?
Actually, the pandemic was advantageous to our business. More people started looking for software that would help them work remotely, digitize their processes, automate their work, and collaborate with their team. And Stackby is right in the middle of that!
Another trend that helped was the whole new world of no-code software and tools that makers started to work on. We realized this early on and released our Developer API, so non-technical folks can utilize the API and use Stackby as a lightweight back-end database.
We also integrated with Zapier and Integromat, so stackers can connect Stackby to over 2000+ apps to automate their end to end workflows. Our users (who we fondly call 'Stackers') continued to build and share amazing automation workflows to power their business.
You mentioned that the pandemic was actually advantageous to you. Will you tell me more about how COVID-19 has impacted your business?
We're a remote work software, so COVID just helped accelerate adoption amongst all sorts of businesses, now willing to digitize their data and processes.
Also the fact that we're also a no-code tool, also helped the cause during the last one year. More and more entrepreneurs turned makers loved the fact that software is easy to use and highly customizable for their business.
What's your advice for indie hackers who are just starting out?
Place does not matter. Your intent does.
Lot of entrepreneurs feel that they don't have the right ecosystem around them to get started, so they give up on their dreams. But if I can build a global startup from a Tier-II city in India, you can do it too.
Some books that helped me in both my product and personal journey:
Where can we go to learn more?
You can give Stackby a try at Stackby.com and continue to use it for free :)
When we have interesting things to share on productivity, remote work, automation and no-code, we post it on our blog and make videos to post on YouTube.
You can also join our global stacker community on Facebook, and follow our blurbs on Twitter.
I can personally be reached via LinkedIn.
If anyone has any questions about our journey, please feel free to ask in comments. We will try to answer any questions in the best way possible. Thank you to Halden Ingwersen for encouraging me to write.
—
Rachit Khator , Founder of Stackby
Want to build your own business like Stackby?
You should join the Indie Hackers community! 🤗
We're a few thousand founders helping each other build profitable businesses and side projects. Come share what you're working on and get feedback from your peers.
Not ready to get started on your product yet? No problem. The community is a great place to meet people, learn, and get your feet wet. Feel free to just browse!
—
Courtland Allen , Indie Hackers founder