How We Saved Australians $100K by Working Evenings for Three Months
Hello! What's your background, and what are you working on?
Hi there! I'm Shawnjit Singh. I'm a co-founder of GroceryGetter, an app that allows you to compare grocery prices and the cheapest groceries you need from individual supermarkets delivered to your front door for a low fee.
I had zero experience in the technology sector when we first started the business, and had to learn everything and adapt along the way.
I was working in financial services and had started 2 other businesses in the Automotive sector, one of which had also received nationwide television coverage.
GroceryGetter now has over 20,000 users in Australia and has helped Australians save over $100,000 just 5 months after our launch. We were also featured on Nationwide News in late July.
What motivated you to get started with GroceryGetter?
While shopping at my local supermarket, I picked up a box of cereal that was retailing for $7.40. Being vaguely aware of supermarket ads, I wondered if this box of cereal was discounted at a competitor's store.
When I got home, I went straight to the computer and searched for the price of the cereal at a competitor and it was $3.75. I could have saved over 3 dollars on a single item alone had I compared prices.
I then began building out your average household list. Meat, cereals, recipe bases, and sauces, among many other items, were included in this basket of 30 items. By making a basket comparison between the two major supermarket chains I realized there was a 30% savings by purchasing each item from the cheapest supermarket.
At this point, I needed to find out if this was a product people wanted. So I grabbed paper, pen, and a clipboard, and walked right into my nearest grocery store. I started surveying customers about their shopping behaviors and asking them if they would use a service that would show them the cheapest prices of items in supermarkets close by.
With amazing in-store feedback, I took to SurveyMonkey to cross-reference the qualitative results I had at scale. Once again, many people said they'd love to see such a product on the market and 30% were willing to pay $1 a week to use such an app.
With this information in hand, I knew I had to find a co-founder who could help bring this dream to life.
What went into building the initial product?
When you've got an idea, building the initial product never seems difficult at first. However, the deeper you begin to dig, the harder you realize it is.
I'd found a co-founder and he agreed to join the revolution. We started by building a landing page and spammed it all over Facebook. This resulted in 3,000 leads from people who were interested in being part of our MVP.
From there, we began obtaining all individual products that were for sale at either supermarket chain, but in order to give the customer visibility on the prices of similar products we had to match them.
The tiring process of matching 40,000 products with one another was a painful one. Luckily, it was a task that only needed to be carried out once for the bulk of supermarket products. We worked on it for 3-4 hours each night after dinner and we had it done in just under 3 months.
The next step was to build a front end that users would interact with. In my mind I envisioned a suggested shopping list concept through which users would begin typing in an item name and suggestions would pop up below.
While this sounded good in theory, it was not as great in execution. Users did not appear to like it and our search algorithm turned up the right results less than 10% of the time.
It took 3-4 months of consistency between the two co-founders and about $1,000 in leveraging offshore talent to get us to MVP launch.
How have you attracted users and grown GroceryGetter?
We built a landing page prior to releasing the MVP, which attracted over 3,000 e-mails. On launch day, we sent out an email to all on the list and let them know GroceryGetter was live. This enabled us to get a head start on our product, with over 1,000 downloads in the first 24 hours.
From there, we started to get user feedback fast. We realized that there were a fair amount of usability changes we had to make prior to scaling the app any further.
We took a break from advertising and simply let the App Store do its thing. During this time, it was hard seeing growth slow down from 100 downloads a day, to 50 and then to 11. Luckily, though, we only took 2 months to bring the App Experience up to par with users' expectations.
On June 1, 2018, we released version 2 of GroceryGetter. This was created in conjunction with a professional UI/UX designer and customer feedback. In preparation for this release I reached out to local newspapers who took us up on the offer and wrote a piece about GroceryGetter.
A week later, the piece in the local newspaper was published. This drove a negligible amount of downloads but what came next was even better.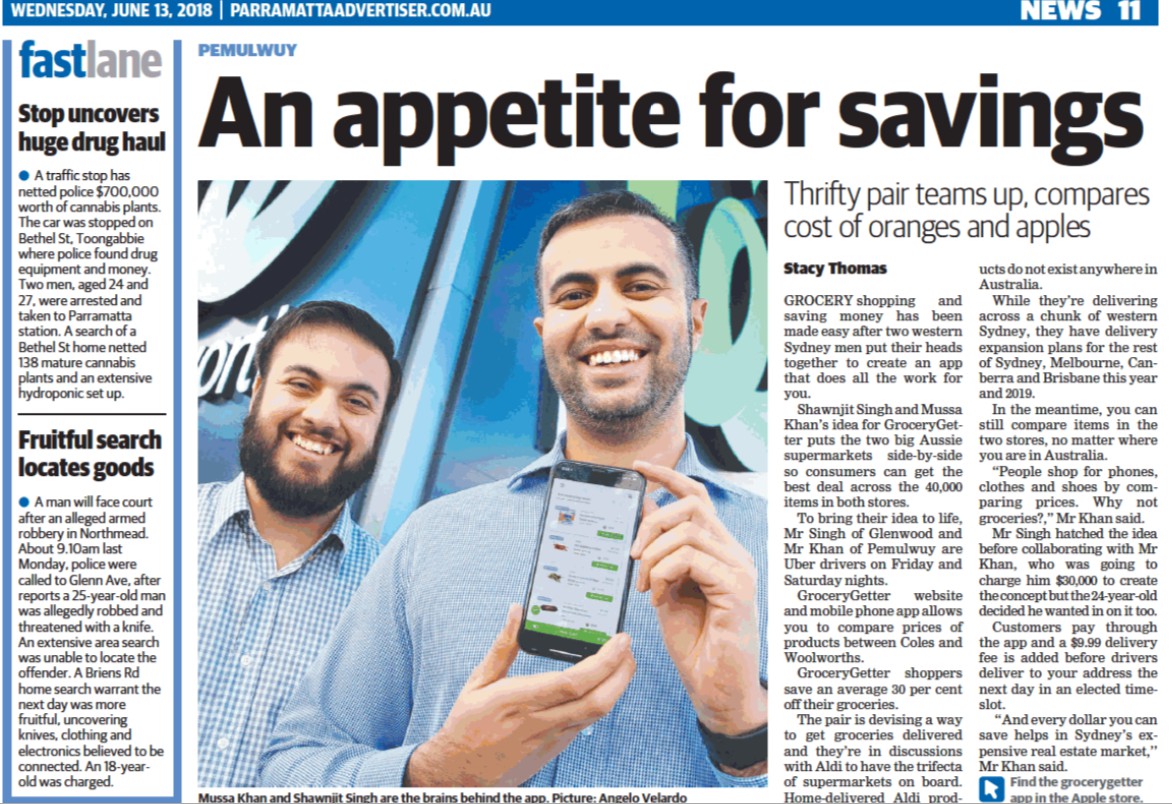 During the day we received a call from Channel Nine, one of the largest networks in Australia. They pitched us a Prime Time slot on their A Current Affair program which would be shown nationwide. At the time, we felt like we weren't ready and requested they wait a month.
That month was one of the most stressful moments of our lives. We were rushing against time to build a customer experience we would be ready to showcase to the 1 million viewers of A Current Affair. Exactly 4 weeks later, we were on live television.
We had a large influx of users onto our site within a 15 minute window. This was too heavy for our Android app and it crashed. It was back up soon after, but unfortunately the influx of users had steadily slowed.
Besides the experience above, here are some of the smaller things we did that brought in a consistent trickle of downloads:
Facebook spamming: Don't underestimate the power of local buy/sell pages and other forms of community on Facebook. I used my Mum's account to sign up to Mums' groups in the area and posted GroceryGetter onto those groups.
Partnerships: I approached a developer of an app that allows you to see specials in supermarkets but are not able to order. Through honest conversation, he offered a text link to GroceryGetter from his app providing us with a sustainable & recurring customer channel.
Blog development: This is crucial to developing an organic flow of traffic to your website. By writing articles on topics aligned with your product you will get organic search traffic to your website.
What's your business model, and how have you grown your revenue?
GroceryGetter has a fairly simple business model. We seek to make money in a few ways:
Charging a delivery fee and providing supermarket delivery from multiple grocers to your front door.
Making a margin from products charged through partnerships with various supermarket chains.
Data analytics and trends from grocery purchases on an aggregated level (i.e. Are consumers price-sensitive about milk? If so, how much?).
As a startup we aren't profitable at the moment but have completed over 100 grocery deliveries to our beloved customers here in Sydney, Australia.
We use Stripe as our payment gateway and they've been lightning fast in identifying fraudulent payments. We once had a customer who was using multiple cards and placing orders that were fraudulent but Stripe rejected every one of them prior to us delivering groceries to the customer.
Our revenue is still growing as we expand our marketing efforts and utilize multiple channels to acquire new customers.
For those looking to create a business, my advice would be to familiarize yourself with your business model and get intimate with it. It's always likely that you'll be able to find customers but you need to do so at a cost that's profitable to you in the long run. You do not want to be running a loss-making business without heavy investment from investors.
What are your goals for the future?
Our goals are to constantly develop and iterate the product based on customer feedback. Currently, customers are asking for the ability to filter results by cheapest unit price and sort by brand.
From a traffic perspective, we want to build sustainable streams of traffic to our App Store listing and website through the following:
Blog partnerships
App partnerships
News and blog articles
Competitions and giveaways via various Facebook groups
We would like to start generating revenue from the business that would cover wages. Operating as a bootstrapped enterprise has meant making sacrifices. Reaching a level where we could take salaries but choosing to reinvest those in the business is a goal we aim to achieve in the next 6 months.
What are the biggest challenges you've faced and obstacles you've overcome? If you had to start over, what would you do differently?
I would have had a more involved UI/UX freelancer for the first iteration of the app.
Being fearful of my own choices is also another downfall. My gut usually arrives at a rational conclusion pretty quickly and it was that way with being on television, when I felt we were not as ready we could have been. Once the dust settled, though, I began to understand we had given it our best shot.
In the future, though, I would hire a publicist to manage relationships between television networks and the like as those are big ticket items that take up a lot of time.
Have you found anything particularly helpful or advantageous?
Talking. Networking.
In Sydney there is a large startup community. Hell, we even have a whole building dedicated to it: the Sydney Startup Hub.
There are over 2,000 startups located in one building, swarming with investors and the like. Being able to socialize with people who have done it before and taking their advice helps clear your head and put a lot into perspective. Do you take investments now? Do you take them later? How many users should you have?
One of the best decisions we made was to spam Facebook groups for our initial userbase. This allowed us to get our name in front of our target demographic for next to nothing.
Running your own business requires you to have consistent dedication. I find this is best when I implement a solid routine. Currently I wake up at 5 a.m. and begin my day in the gym before having a healthy breakfast and heading into the office. This allows me to carry out a productive day and spend 10 hours a day in the office without blinking.
What's your advice for indie hackers who are just starting out?
One: Just do it.
We can give ourselves many excuses as to why we haven't taken the plunge on our idea or started that business we have been talking about for the last few years. However, we won't know how well it'll do until we get started. Small steps lead to big things.
Two: Be ready to learn.
Starting your own business is the greatest education you'll ever have. You need to wear more than one hat while running the show. Customer Support, Marketing, Product Development, Publicist, Hiring Manager... the list goes on. It all falls on you and the small team that you have.
Three: Read.
My first recommendation would be Start With Why by Simon Sinek. Reading allows you to open up your mind to new horizons and learn from other people's journeys.
Where can we go to learn more?
Check us out at GroceryGetter.com.au.
If you have any questions, feel free to ask them in the comments section below.

—
GroceryGetter , Founder of GroceryGetter
Want to build your own business like GroceryGetter?
You should join the Indie Hackers community! 🤗
We're a few thousand founders helping each other build profitable businesses and side projects. Come share what you're working on and get feedback from your peers.
Not ready to get started on your product yet? No problem. The community is a great place to meet people, learn, and get your feet wet. Feel free to just browse!
—
Courtland Allen , Indie Hackers founder