Scott's Cheap Flights: From Small Side Project to Booming Business
Courtland
I'm excited to be interviewing both of you at the same time! Can you tell us about yourselves and what you're working on?
Like so many humanities majors, I had no idea what I wanted to do with my political science degree. But I knew my writing skills were decent, so after graduating I found myself in Washington DC, working as a political journalist.
For the next five years I jetted around the country, racking up many thousands of frequent flyer miles and sparking an interest in the underground world of travel hacking. That love of cheap travel soon manifested itself as Scott's Cheap Flights.
My entrepreneurial path was an exceptionally unplanned, if not entirely serendipitous, one.
My background is quite the opposite of Scott's. I've always intended to own a business and have been working towards that goal for years. In college I studied finance, had online marketing clients, and surrounded myself with entrepreneurs while trying to start businesses.
By the time our paths crossed, I had a wide range of experience in many aspects of online business. Although being a jack of all trades isn't always useful, I believe it is essential when building a business with no funding.
Scott's Cheap Flights is a freemium email-based subscription service where Scott (and now a small team of other flight searchers) spend 12+ hours each day searching for extremely cheap fares. Think $350 roundtrip flights to Paris, or $400 roundtrip flights to Japan. When we come across one of those great fares, we email it out to subscribers with instructions on how to book, when it's available, how long we think the deal will last, and other info.
Approximately 600,000 people around the world subscribe to Scott's Cheap Flights. We search for cheap flights departing from almost anywhere: USA, Canada, Australia, New Zealand, Europe, Asia, the Middle East, Latin America, and the Caribbean. In addition to the obvious desire for cheap flights, people use Scott's Cheap Flights as a flight concierge to notify them immediately, because the best deals don't last very long, sometimes as little as a few hours.
Today we have 15 people on the team and generate more than $3 million in annual revenue. Most of the team members live in different countries, and only a few of us have ever met face-to-face.
Courtland
What's the story behind how you guys started Scott's Cheap Flights?
In late 2013, I found the best deal I've ever gotten in my life: nonstop from New York City to Milan for $130 roundtrip. Milan wasn't even on my radar as a travel destination, but who among us can say no to $130 roundtrip flights to Europe?
When I got back, coworker after coworker asked me to let them know next time I found a fare like that so they could get in on it, too. So rather than try to remember each person I was supposed to alert, I decided to start a simple MailChimp email list instead so I could alert everyone at once. Scott's Cheap Flights was born.
For the next 18 months it was just a small side-hobby that slowly grew from a few dozen friends to hundreds. When it hit 5,000 subscribers, I realized it was time to turn Scott's Cheap Flights from a hobby into a for-profit startup. For the next six months it was a side-hustle to my day-job as a freelance journalist, but by early 2016 it was generating enough revenue to warrant spending full-time on it.
I didn't have a business or entrepreneurial background, but was lucky to meet my business partner whose strengths complemented mine perfectly. I handled writing and flight searching, he handled business development and related behind-the-scenes matters.
In 2015 I sold everything, moved away from San Diego, and decided to backpack Europe for a couple months. I was a year out of college and felt that if I didn't travel now I wouldn't have the opportunity to do so for a long time. I didn't have any source of income at the time so I needed to do this trip as cheaply as possible.
So, I bought a $2 e-book on Amazon to learn how to find cheap flights. There was a link in that book to sign up for cheap flight emails. I saw a few deals hit my inbox, but I needed a flight ASAP, so I took what I learned in the book and found the cheapest flight I could to Europe.
A few months later after I came back I was building some travel websites while also helping one of my friends grow his business (also featured here on Indie Hackers). I received an email from Scott saying he's going to start charging $2/month to get a premium version of the deal emails.
I bought a couple subscriptions to give away to my followers, and this is how Scott and I first connected. After a couple of months and a few phone calls, Scott and I decided to partner up in November of 2015. We had never met in person at this point, but we made a great team due to our unique skillsets.
Courtland
What went into building up the service after Brian joined?
From its outset, Scott's Cheap Flights had a very 21st-century startup vibe. My business partner and I connected online, and never met face-to-face for the first 12 months. Our expenses were next to nothing — no offices, no self-made software, no expensive engineers. Just lots of SaaS's and existing plugins. Even today, 95% of the company is our email host (ActiveCampaign), our website (self-built), and our payment processor (Stripe).
Because we've been able to stay so lean, it's allowed us to take chances and devote ourselves to the business without risking our own financial well-being. It also meant that we never had any need for seed or venture capital funding, and could reject those offers when they came, preserving all the equity and decision-making power for ourselves.
One other key to our early growth was that we kept the focus narrow. We didn't broaden the scope to include hotels, cruises, package vacations, or selling the flights ourselves. We kept everything tight and only did what we do well: find cheap flights.
When Scott and I joined forces, he already had the initial product built. There was a landing page on Scott's e-book website and we sent emails with MailChimp. I recreated the landing page in Instapage using principles that would increase conversions. This worked for a few months before we made the decision to start treating this as more of a business and less of a side-hustle.
In April of 2016 we officially announced ScottsCheapFlights.com after building out the website in Wordpress, moving our emails to ActiveCampaign, and Scott and I going full-time on the business. This is also when we made our first hire and decided to start investing in customer service to free up our time to focus on other parts of the business.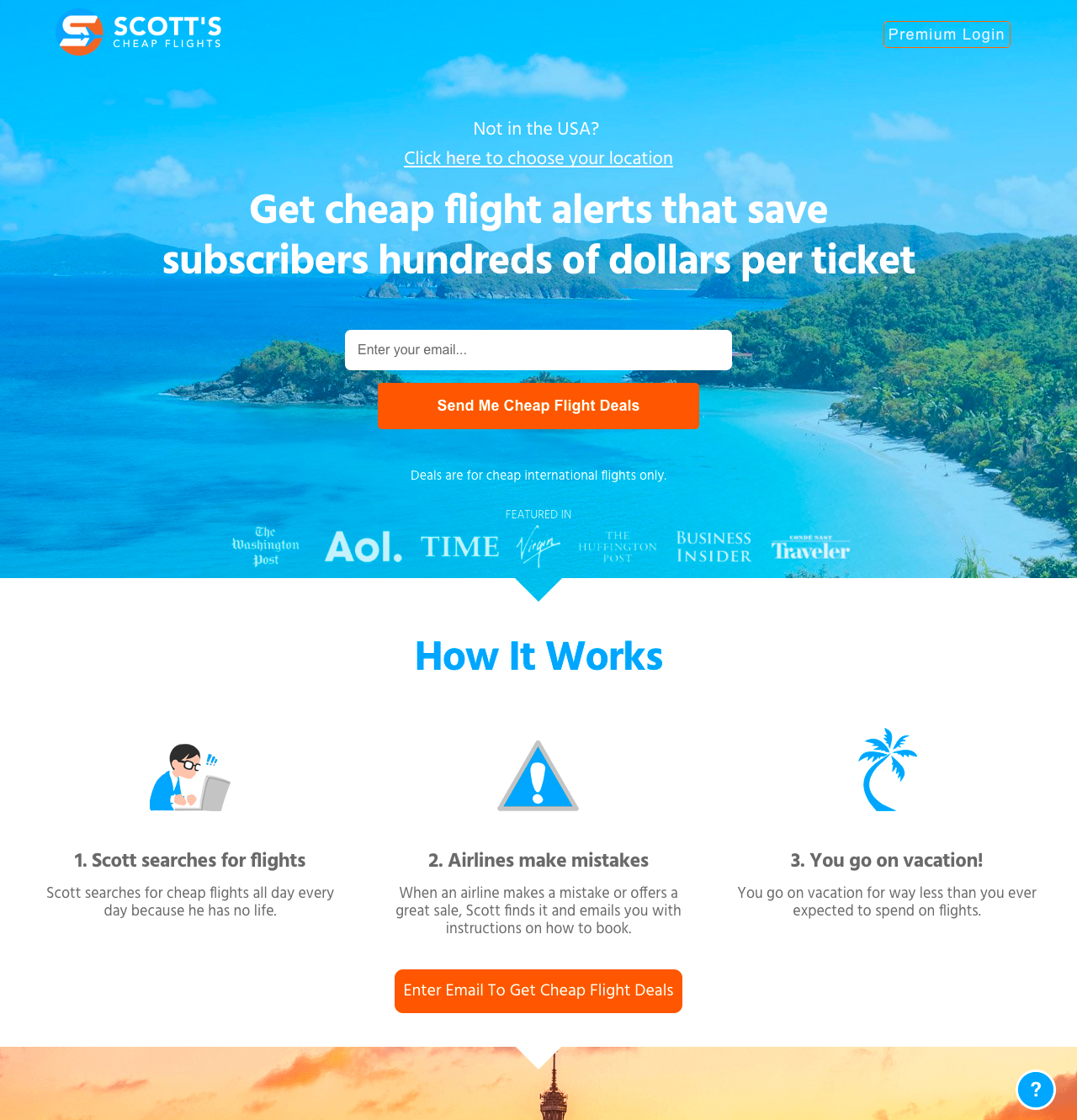 Courtland
How did you find users and grow your subscriber base?
Early on, word spread from a few dozen friends to about 300 subscribers or so, but what really skyrocketed things was when I posted on Facebook about a big round-the-world trip I was about to take. A friend of mine who worked at Business Insider flagged it for a colleague, who wound up writing an article that went viral. The article included a link to my rinkydink email list, and literally overnight it went from 300 subscribers to 5,000.
Getting those early subscribers was equal parts skill and luck. I worked hard for years to get good at finding cheap flights and learn various travel hacks, and then of course got lucky that the Business Insider article was written and went viral.
Beyond that, I've found that having a good product is necessary but not sufficient. After all, no amount of marketing can convince people to recommend bad products. But given that we had a product people liked, we went all-in on customer service.
Whereas from most companies people are happy to get a response within 48 hours, we tried to get back to everyone within 4 hours, if not a few minutes after they emailed.
We launched the premium service at a super-low price point — $2/month — and included extensive money-back guarantees so no potential early adopters would be deterred by price. And instead of putting money into ads, we put money into hiring customer support folks instead.
This focus on customer satisfaction paid huge dividends. Even today, 44% of subscribers to Scott's Cheap Flights found out about it from word of mouth. People don't trust ads; people trust their friends.
In addition, employing a freemium model gives you a ready-made audience of people you can much more easily convince to become paying customers. After all, it's much easier to convince someone already using your service to pay for additional features than it is to convince someone who's not even familiar with your service that it's useful, much less that it's worth paying for. It's what works so well for companies like Slack and Spotify.
Finally, list-building contests giving away something good (in our case, free flights) are your friend. Especially constructing a giveaway that incentivizes sharing is one of the best way to reach new customers.
I like to think of growing an online business in three different parts: (1) acquisition, (2) conversion, and (3) product experience. We want all of these to be great, but when we were starting out and had such a small team, it was very difficult to dedicate time to everything at once.
I found us improving each of these over time. After we got one part of the business to an adequate level, we'd switch gears to the next one, and so on. This process never ends, but as we grow we have the ability to dedicate more resources to each part and improve at a faster rate.
Acquisition — On the acquisition side, we luckily were working with something that people love to talk about: travel. Word of mouth has been huge for us since day one and continues to be our number one source of new subscribers. There were three channels that we found were best for getting more people to talk about Scott's Cheap Flights: media, Reddit, and viral giveaways. There's quite a bit of luck involved in finding traction with the media and Reddit, but viral giveaways are great for getting your current subscribers to spread the word.
Conversion — Getting someone to the website is great, but unfortunately the reality is that the majority of people will leave and never come back. The freemium model is ideal for this because all we really need from a potential user is their email address. So our job is to build enough trust, reduce any possible friction, and make it as easy as possible for them to sign up. Once they've signed up we can start providing value and introduce the subscriber to our premium service.
In order to achieve this we turned the home page into a landing page. We stripped away anything that potentially distracted the user from signing up. No menu up top, no social share buttons, and one consistent call-to-action throughout the entire page.
Then we add in everything that will help them make a decision on whether or not the service is right for them. This includes a clear value proposition at the top, a "featured in" section to boost credibility, multiple testimonials, past deals we've sent out, etc. This has worked extremely well. Depending on the channel we're seeing 30-40% of new visitors sign up for the free emails.
Product experience — Once someone signs up, they need to get value out of the service fairly quickly or else they'll lose interest. This is a bit tough with flight deals because we never know when they're going to pop up, but Scott has always done an excellent job of consistently finding these deals. Also, the service has always had a very personal feel to it, so we've invested in talented customer support people to make sure our subscribers have a great experience.
Once more people spreading the word about Scott's Cheap Flights and we had a solid conversion rate, we started spending more time on improving the product, especially for our paying customers. We receive emails every day with ideas on how to improve the service, and we're now at a place where we can invest in the people to make many of those ideas a reality.
Courtland
You both mentioned freemium. Can you talk about how your business model works in more detail, and how you've grown your revenue?
One of the most difficult things to do for startups is convince someone who's never heard of your business to pay for it. So rather than try to surmount that hurdle right from the start, we opted for a freemium model. This allows subscribers to sign up for free, try it out, and then if they like it and want more, there's the option to pay for additional content and features.
There are a number of upgraded features that premium subscribers get:
Every deal is sent to the premium list, whereas just one of every three goes to the free list.
Premium subscribers can choose which specific airports they want alerts for; free subscribers choose entire regions like the northeast or west coast for alerts.
Premium subscribers also get text message alerts, no ads, and their alerts are sent 30 minutes before free subscribers.
We're not pushy about the premium list, perhaps to a fault. The only real promotion we do is to put a little note or two in the free emails to let subscribers know about the types of deals they missed out on. We're trying to hit the right balance of not scaring off free users by bombarding them with upgrade requests, while also making sure that those free subscribers who might want more know about the premium option.
Over the life of the company the proportion of premium subscribers has held fairly steady around 10-12%, so we know that for every 10 new free subscribers we bring in, 1 of those will become a paying member.
Our monthly revenue is currently around $320,000. Our non-labor expenses, currently under $10,000, are almost entirely for web and email hosting, as well as various software. The premium subscription plans are $15 every 3 months, $25 every 6 months, or $39 every 12 months. All but a tiny fraction of the business's revenue (currently around $3 million annually) comes from premium subscription fees.
Right now we only use Stripe as our payment processor. We used PayPal for a while, but it doesn't play as nice with other plugins, so we phased it out for new customers.
One surprising piece of advice is that price increases are your friend. At first it was scary to increase prices… though the fear was tempered by the fact that we kept people grandfathered on their original plans.
But we noticed an unexpected twist:
During the 48 hours preceding the scheduled price increase, sales skyrocketed. It was a eureka moment. Nothing like an impending price increase to nudge fence-sitters into upgrading now rather than putting off the decision. Plus with a built-in audience of free subscribers, we had a group of people much easier to upgrade.
Finally, the free emails all include teasers of what free subscribers missed out on. "Free subscribers missed out on $382 nonstop roundtrip flights to Paris this week. Upgrade to premium to receive all the deals." FOMO is a powerful upgrade tool.
Courtland
So what are your goals now? How do you improve the service and grow revenue from here?
In addition to growing our user base, our goal for the next six months is to significantly improve the user experience. Without divulging too much of our plans, we're working hard to build out a few new features to allow customers to better track cheap flights, customize more which deals they receive, and better interact with other subscribers. Hopefully an improved user experience will increase the number of new subscribers wanting to upgrade.
We used to keep track of how much money we've saved subscribers and estimate about $20 million USD in savings so far. Although we don't have precise data, it goes without saying that one of our goals continues to be saving subscribers as much money as possible.
From a company perspective, we'd like to exceed one million subscribers by the end of 2017, something we're currently on pace for.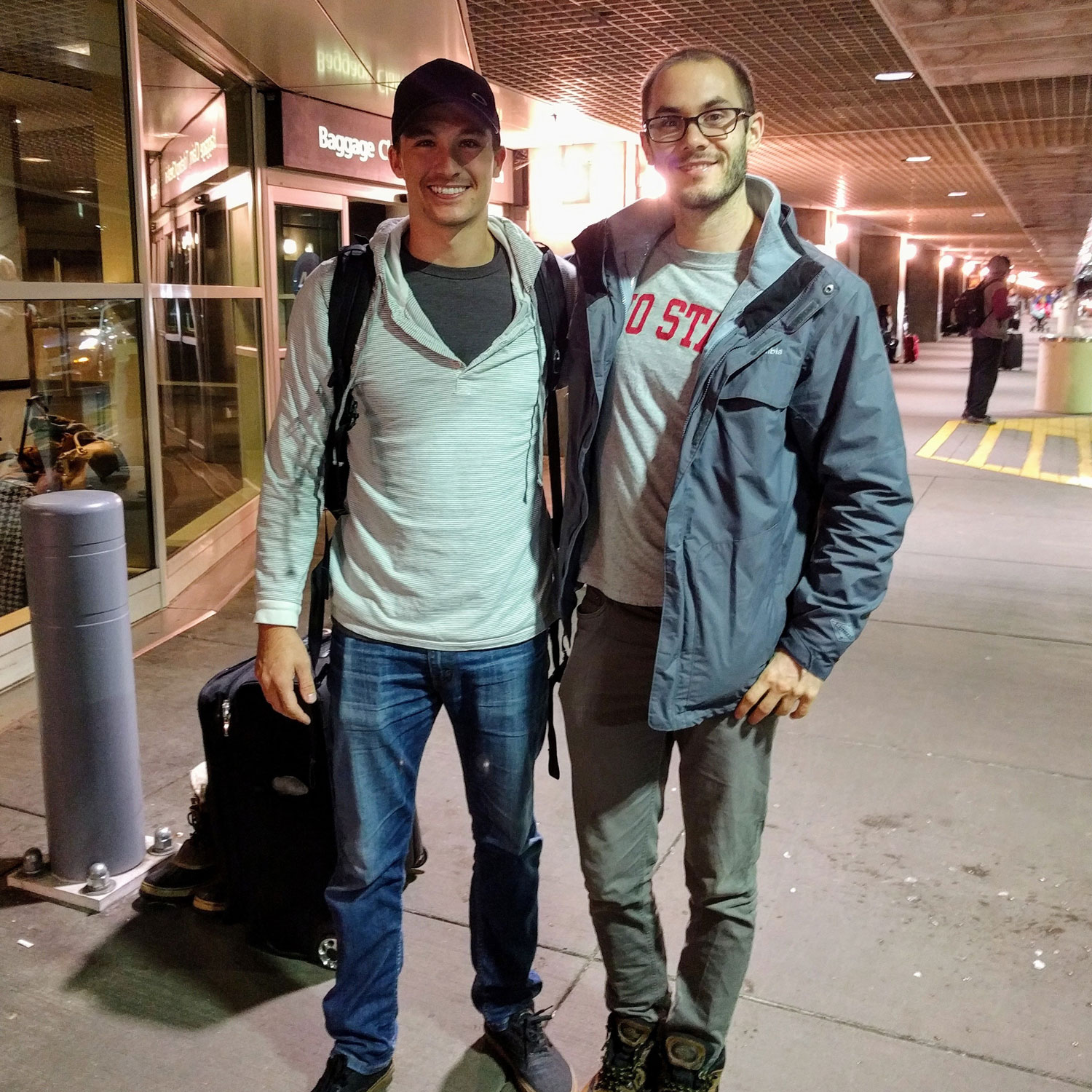 Scott and Brian worked together for a year and made over $1M before meeting in person.
Courtland
What are the biggest challenges you've faced? Would you change anything if you had to go back and do it all over?
Mostly challenges related to user growth. What works for a 5,000 person email list doesn't work as well for a 50,000 person email list, and certainly not for a 500,000 strong list. We've had to switch email carriers, upgrade our server capacity beyond what I ever thought would be necessary, and be very careful when sending out emails to the majority of the list at once. If I had to do it over, I'd spend more on server upgrades earlier. Saving a few bucks at the expense of customer experience was short-sighted.
The other main challenge has been hiring new people. First, as with any new hire, there's a fear of the unknown, not having any assurance that this person you've never known before will be competent. What makes it doubly difficult in our case is it's a unique industry; it's not as though there are many people whose resume includes a background in cheap flight hunting.
In addition, there was a hesitancy on my part to want to spend money on new hires. The reason why I was never much good at poker was because I had trouble thinking of poker chips as just chips; I always thought of it as money, and so I acted too conservatively. It's the same with business revenue. It's been hard for me to think of it as anything other than spending personal money.
If I could go back I'd probably start hiring more folks, especially developers, earlier on. Of course, it's far easier to say that seeing what business revenue has become today — a year ago, there was no guarantee. If Scott's Cheap Flights had gone belly-up, I would have regretted reinvesting most business profit rather than helping out my bank account.
Almost every bit of success we had, additional feature we added, or promotion strategy we tried came with a unique challenge. One moment we're excited about a huge influx of traffic and the next moment we're scrambling because the site crashed.
Our mindset from the beginning was to invest as little as possible back into the business. This means every time we wanted to make a change or try something new it would be up to me to find a creative way to get it done. I loved this part of what we built, and it was also the most challenging. Finding unorthodox ways to use plugins and automations to accomplish what we needed became my forte.
Looking back, I think we got stuck in this mentality a bit too long and could have hired more people sooner than we did. It was difficult for us to flip that switch, but once we did we definitely saw the benefits. We've tripled our team size since the beginning of the year and are working on some really exciting projects right now.
Courtland
Can you elaborate a bit on your email marketing tools, and also your approach for writing copy for your emails?
We've only ever used two email clients, MailChimp and ActiveCampaign. We switched to ActiveCampaign because it was better able to handle the volume of emails we send on a daily basis (typically over 500,000), but for most companies that aren't sending anywhere near that volume I think either one works just fine.
We actually don't do a ton of A/B testing or worry much about open and click rates, and here's why: Our revenue model is subscription based. We don't take any commissions or have any ads in the premium emails. Our only incentive is to keep premium subscribers happy.
As a result, we purposefully write our subject lines in a way to include as much relevant information as possible, rather than writing it in a clickbait-y way that would juice our open rates, but likely lead to a worse customer experience.
In short, our approach is more focused on maximizing subscriber satisfaction (and trusting that will pay off in the long-term) rather than short-term metrics.
Courtland
What have your biggest advantages been throughout your journey?
First, my background in journalism. I never would have suspected journalism skills were transferrable to other industries, but it makes a lot of sense in retrospect. Good writing skills, thinking in headlines, understanding how to frame a wide array of information and make it compelling, and a background knowledge in how stories (or flight deals) go viral.
In addition, having a strong sense of what fares are good versus less good, knowing how to search for fares quickly, and being willing to put in the hours and be by my computer nearly all waking hours has helped the quality of the product.
Luck was undoubtedly a factor, as I believe it is with any entrepreneurial success. For us, the biggest piece of luck is that in the past few years, international flights have been the cheapest they have ever been. So when a subscriber whose trip to Paris two years ago cost $1,000 per person suddenly receives an alert from Scott's Cheap Flights about $400 flights to Paris, that subscriber is going to be excited, and that appreciation rubs off onto us. After all, if Scott's Cheap Flights were operating in a time of record high airfares, we probably would have a fraction of the subscribers we currently do.
In some ways, though, we took advantage of good timing. With the decline of formal travel agencies and the rise of online booking sites like Expedia, people have never had more information about airfares and been less sure about what to buy. After all, it's incredibly easy to get overwhelmed when buying airfare. What's a good price for this route? Is that a good airline? How far in advance should I buy? Are prices going to drop if I wait a few months? A few days? A few hours?
Unless you're an expert, airfare is a confusing, opaque realm. The result is the demand for a 21st century type of travel agent. We try to be that concierge, spending the 12+ hours a day on Google Flights so subscribers don't have to, finding those hidden gems and letting customers know so they can book them before they disappear.
Personally, my wide range of previous experience in online marketing was a huge benefit. Combine that with my unhealthy habit of consuming caffeine and staring at my computer screen until I can figure out a solution to a problem and there was almost nothing I couldn't come up with an answer for.
Another advantage was our complementary skillsets. Scott is excellent at finding deals and being the face of the company while I could make things work behind the scenes.
In addition, I'd say being a remote team, although it has its challenges, has been a huge advantage for us from the start. Besides the obvious benefits such as saving on office expenses, we are also able to attract talented people to join the team irrespective of where they live. This ensures we find the best person for the job rather than settling for someone based on their proximity to an office.
Working remotely inherently means you have to be good at getting work done even when no one is watching you. By hiring people that are comfortable working remotely we've been able to put a lot of trust in the team without much oversight on our end.
Courtland
What's your advice for indie hackers who are just starting out?
Two main pieces of advice:
First, Reddit is an incredibly powerful resource. In addition to learning on r/entrepreneur and r/startups, the sheer volume of people on Reddit is astounding. We've had a few successful AMAs, both in r/IAmA and r/entrepreneur, that have made the front page. You can't just go start pimping your business though, you need to contribute to the community — we donate our time to help Redditors search for cheap flights, for example — and only subtly mention your business.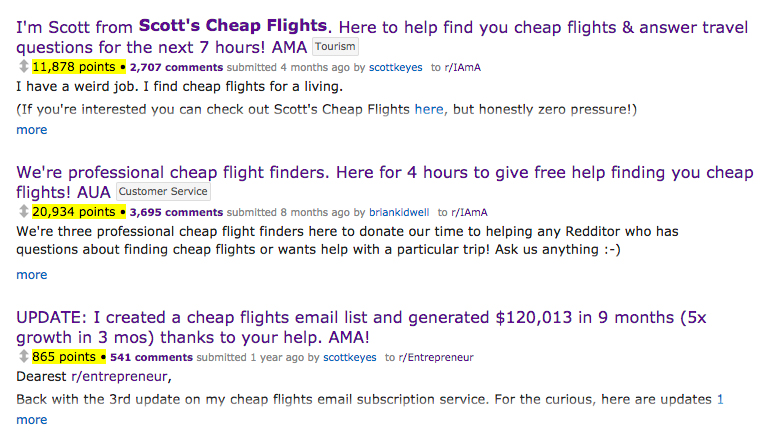 Second, it's a mistake to try to do too much too early. Far better to focus on a core product and improve upon it. One-stop shops are overrated, and even where they exist, they're typically built one small feature at a time over years.
Just because people like other cheap travel items — hotels, cruises, etc. — doesn't mean the business would've done better if we'd encompassed those features early on. To the contrary, the cheap flights feature would've suffered, people would've been far less likely to recommend it, and we'd likely be a lot smaller than we are today.
Here are a few things that helped me:
Lower your expenses. Expenses are a killer when you're bootstrapping a business. Both personally and from a business perspective. For me this meant selling everything and moving to Southeast Asia for a year to live cheaply. For the business it meant finding creative solutions rather than hiring more people. With lower expenses you can focus more of your time on the business rather than on trying to pay your bills.
Luck plays a larger role than most of us like to believe. Scott and I never thought this would turn into what it is today as quickly as it has. It's easy to piece it together looking back as if there were a step-by-step plan, but in fact there was a lot of luck involved. The thing about luck is you must have a strong skillset before luck can do its thing. Get good at something and start working on projects you're excited about.
Lastly, work on something you enjoy. I love what we do and am excited to talk about it with anyone I meet. I have found that the more I enjoy what I do, the easier it is to put in the time and get the work done.
Courtland
Where can we go to learn more?
facebook.com/ScottsCheapFlights
instagram.com/ScottsCheapFlights
If you've got any questions, leave a comment below and we'll try to get it answered for ya!
—
briankidwell , Creator of Scott's Cheap Flights
Want to build your own business like Scott's Cheap Flights?
You should join the Indie Hackers community! 🤗
We're a few thousand founders helping each other build profitable businesses and side projects. Come share what you're working on and get feedback from your peers.
Not ready to get started on your product yet? No problem. The community is a great place to meet people, learn, and get your feet wet. Feel free to just browse!
—
Courtland Allen , Indie Hackers founder