Using a Multifaceted Marketing Strategy to Grow to $960/mo
Hello! What's your background, and what are you working on?
Hey! I'm James Rose, and I do way too many things. Our latest product, Content Snare, helps web designers get content from clients.
We also run a web development business (Aktura Technology), a Stripe bookkeeping product (Silver Siphon), and an older desktop software product I'm kind of ashamed to mention.
Right out of university, I went into control systems engineering, which is basically another way of saying "industrial programming." It's a different kind of programming where you make machinery operate automatically, and create interfaces for people to control and monitor that equipment.
After a few years, I learned about internet marketing by chance. This was when people were making a ton of awful websites and optimizing their search engine rankings to make money from ad revenue.
At the time, most software in that space sucked. Over lunch with my now-business partner Mark, we decided we'd make something better. So, into the SEO industry we went.
After slogging away at that for a few years, we began using the web skills we'd learned to create websites and help with SEO for local clients. The intention was always to get back into software, as it's what we love. We figured by serving lots of different clients, we'd find another problem that needed solving.
It took a few years, but I eventually stumbled onto an idea. While looking for ways to improve and automate our web design processes, there were a couple of major issues. That was 9 months ago. We've only recently finished beta, and we've already reached $1,000 in monthly revenue.
What motivated you to get started with Content Snare?
It started in a totally different place than where it ended up — with the briefing process for websites. I wanted a better way to work out what a client wanted on their website.
I'd previously read a lot about idea validation. One of the most important parts was the importance of talking to potential users before wasting time on development.
Turning to various online communities and my local network of web designers, I lined up around 15 phone calls and meetings. We covered their process from start to finish, being careful not to ask leading questions about my idea. We dug in deep on any pain points or frustrations they had. It turned out that almost all of them had a serious issue with getting content from clients.
So just like that, the briefing tool was thrown out, and the idea for Content Snare stuck. Running a web design business, I knew how tedious this process was. It was fairly logical to simply sit down, focus and come up with some ideas on how to make some software to fix it.
At this point I threw up a landing page in 90 minutes. We started building an email list through existing networks, like LinkedIn and Facebook. When the email list hit around 250, I created a basic payment page. It allowed people to get a heavy discount by signing up for a year in advance. This allowed us to see if people would actually sign up. 25 of them did, which brought in our first $1,250. With a 10% conversion from email to a product that didn't even exist, it seemed fairly well-validated.
What went into building the initial product?
Our existing business was in software development, which helped kick-start the project. First, the income allowed us to fund development. Second, the expertise was already there. Our developers were already vetted.
At this point we were pretty confident the idea would fly, thanks to the pre-sales, email list, and feedback we were getting. That made us comfortable spending more than we normally would on an MVP. (In hindsight, I think we went a bit too far and spent more than we should have. We certainly could have cut back on a lot of things.)
Before development, we engaged a UX designer to create wireframes, followed by designs. This was really important — it made development easier by allowing the developers to see what was required. It also provided the first mockups we used to pre-sell the product.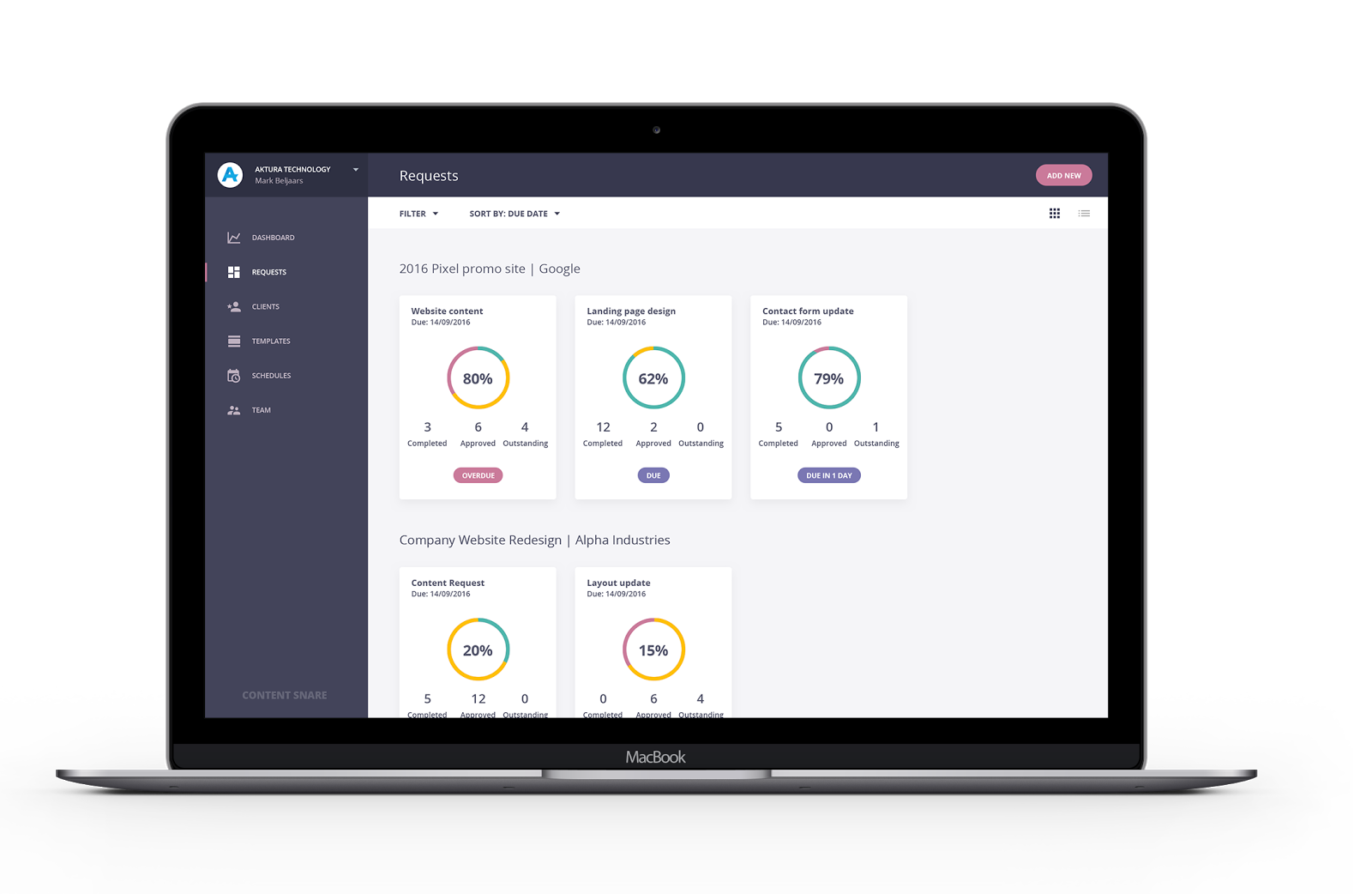 We already had a giant spreadsheet of features, some original and others that had come out of the interviews and from talking to people on Facebook. So at this point we sat down and selected which would make the cut for MVP, keeping it realistic within the timeframe.
For the minimum feature set, we tried to isolate things that would directly improve one of the pain points we were aiming to solve. These were clients who provided content in strange formats and across tons of emails, and who had to constantly follow up on these emails to get content. So based on this customer need, for example, a potential feature to export the content directly into a website didn't make the cut for MVP.
Our team consisted mostly of Ruby on Rails developers, and we wanted to create a single-page app with Angular 2. So in the beginning there was a bit of time required to gain new skills. But the guys took on the challenge and did an awesome job over the 6-7 months of initial development (about two months longer than the original target).
This period was pretty brutal, trying to balance our existing business with development and building the pre-launch list. We had to work a lot to keep everything moving along, but it was pretty exciting to build a new product and see the community grow. That kept us moving.
How have you attracted users and grown Content Snare?
Since long before launch, Facebook has been by far the biggest thing for Content Snare. This has been a combination of:
Paid ads
Getting involved in other groups
Building our own group
For around six months in the lead-up to the launch, we wrote a bunch of blog posts. These were long, high-quality, and genuinely-helpful posts for our target audience of web designers, which made it easy for them to share in groups and get discussion going. They received a lot of thanks, and made people aware of Content Snare. I'd post in two or three key groups every week, as well as helping out people where I could, totally unrelated to our product.
Once we had our own audience, we funneled them into a new Facebook group aimed at web designers looking to grow their business. This wasn't a group for our product, just a place where our target audience could go to get advice.
Through these groups and Twitter I began engaging with influencers in our space. Several of them had podcasts. The first podcast intervew I landed was a total accident. After a couple of tweets, I was asked to come on to WP Innovator. It went so well that podcasts became part of our strategy. Once you've been on two or three of them, you can use the content as social proof to be interviewed on still more.
Since then, there've been six or seven interviews which have been amazing at getting Content Snare out there. It's hard to put exact numbers on this, as most of the traffic comes in as 'direct' in Google Analytics. But after every interview went live, there was always an influx of people typing podcast names into the "How did you hear about us" form.
We also ran a giveaway which went so much better than I'd expected. The giveaway asked people to share their special link to unlock a few product-related rewards. These were things like:
Beta invites/early access
two- or three-month free accounts
Lifetime discounts for those who invited the most people
This strategy exploded. Content Snare began appearing in tons of groups for web designers, on Twitter, and even on a few email lists.

Facebook ads were also a core strategy. We created ads for blog posts to get people to the site. Then we re-targeted those visitors so they'd come back and sign up. This was fairly low-budget at around $10 a day to get a slow trickle of new signups. We emailed the giveaway out to all new signups as well, so they'd be encouraged to share.
Finally, we noticed some people looking for "[competitor name] alternative", so we created a few website pages for these keywords. One of them drives a slow trickle of signups, but most don't. We're in a space that most people aren't looking for, so SEO has been pretty difficult and hard to justify.
In hindsight, creating the community has been the best thing. It's helped us come up with blog topics based around common questions, drive the giveaway, and build brand recognition among web designers.
What's your business model, and how have you grown your revenue?
These are still the very early days for Content Snare, so for now our model is really simple. It's a typical SaaS monthly subscription, based on the number of open "requests" a user has. A request usually represents a website, so the more open requests, the bigger the agency.
The only variation to this was the initial pre-launch, which sold a 12-month plan at a heavy discount.
We built the payment system with ChargeBee. We'd learned from our previous software that it can be a real pain to build something custom right out of the gate. It was just easier to build in an existing system that would handle coupons, dunning, upgrades, pro-ration, and all that stuff you just shouldn't have to think about early on.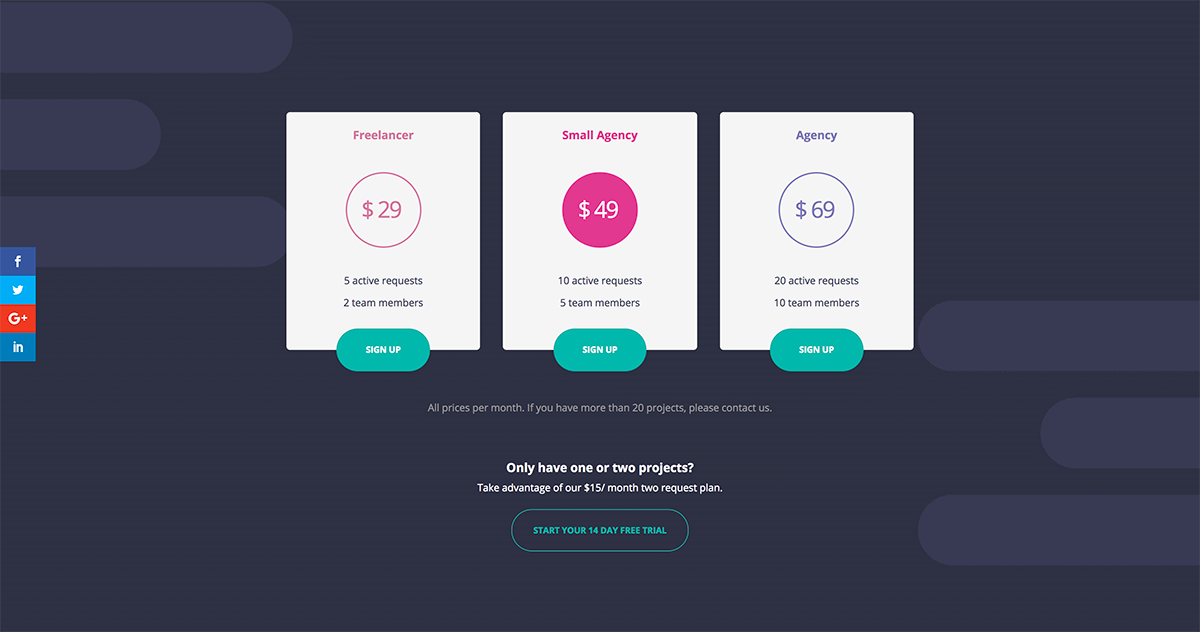 We've just passed $1,000 in monthly recurring revenue, mostly from our existing subscriber base. If I'm being honest, it's a bit lower than I expected. We had a lot of users report that while they loved the tool, they didn't have an active project to use it on. That means we'll need a nurturing campaign to keep us top of mind for when the time comes.
Growing a business is never easy. Despite having solid validation, solving a real pain point and getting great feedback from users, the growth still hasn't been what I expected. That could just be that I was unrealistic, or there are things we need to work on. Or both.
What are your goals for the future?
Our major goal is to make Content Snare a core tool for 2,500 web designers. But before that, the most important thing is to get it to a revenue that allows us to focus completely on this product.
We're just about to run a series of tests on marketing channels from the famous Traction book. Once we've found one that works well for Content Snare, we'll focus on that.
Ideally we could bring in help to run these tests for us, but our revenue isn't really at a point which allows that yet.
I'll continue to grow the group, write posts, and go on podcasts, as these have been instrumental so far.
Integrations with tools like WordPress and Zapier will be a big thing for the product, so that's an important goal as well.
What are the biggest challenges you've faced and obstacles you've overcome?
The biggest challenge is finding time in the day to do everything. Reading Traction has helped a lot with this. I have a tendency to try to do everything simultaneously, and Traction forced me to pick a few things to dig in on.
There haven't really been any serious issues yet. There's been lots of stuff that seemed serious in my mind, but those turned out to be overreactions. Things like finding competitors, hearing from an unrealistic user, or worrying about growth. Our last product ran into a lot of walls, so it's been a nice change so far.
Everything has come down to small, gradual improvements, like adding an email sequence to drive people to our group and blog. Or working on support articles to help people understand how to use the product. Or recording videos for users. Or writing new copy to convert more visitors to trial signups.
There's a lot to do!
Have you found anything particularly helpful or advantageous?
By far, the Facebook group has been the best thing so far. It's helped give us a good understanding of our audience, the language they use, and the questions they ask. This feeds back into marketing, content, SEO, and copy.
For getting the product right, the initial interviews were also incredibly important. We would have built a completely different product if those calls hadn't happened.
For building the audience, getting involved in places where they already hung out has driven the most website traffic. These are things like podcasts, other Facebook groups, and blogs. While this isn't some magic shortcut, it's significantly easier than building from scratch.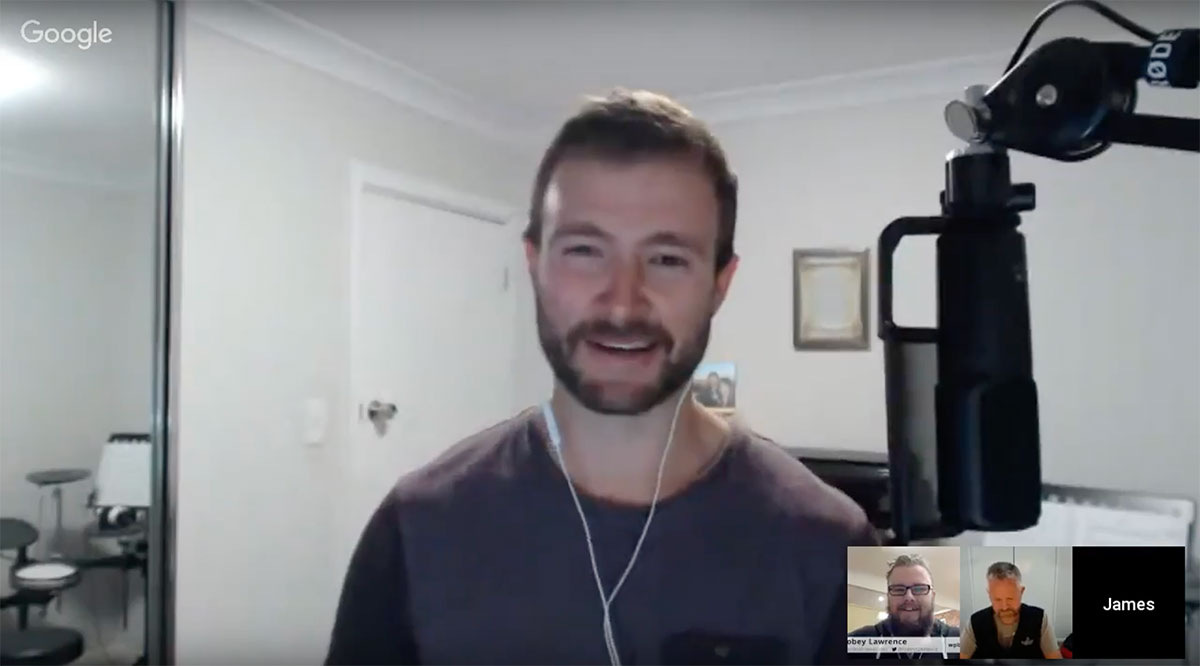 For help, it's always good to have somewhere you can go to ask questions and get help. I'm in several online business groups full of people willing to answer questions on marketing, tools, and whatever else is a challenge at the time.
Listening to podcasts like Startups For The Rest of Us can help generate ideas and keep you motivated.
What's your advice for indie hackers who are just starting out?
If you're a programmer, you're going to need to learn or outsource copywriting and marketing. Both online and in the local startup scene, I see so many businesses with really bad websites or copy. I went from being an engineer to being a programmer. It took years for me to unlearn writing about features and technical stuff, and learning how to write benefit-driven copy (which I'm still only average at). It probably would've been easier to outsource that.
The biggest thing I've learned is that even if you do everything "right" and everything looks like you're set to explode, it still takes a long time to build a business. We had a decent pre-launch list and pre-sales, and we had hundreds of people talking about our product and sharing it everywhere... and it's still been a slow, steady race.
My favorite business books are:
Where can we go to learn more?
Content Snare can be found at contentsnare.com. You can follow me on Twitter or check out the Content Snare blog & Facebook Group.
—
jimmyrose , Creator of Content Snare
Want to build your own business like Content Snare?
You should join the Indie Hackers community! 🤗
We're a few thousand founders helping each other build profitable businesses and side projects. Come share what you're working on and get feedback from your peers.
Not ready to get started on your product yet? No problem. The community is a great place to meet people, learn, and get your feet wet. Feel free to just browse!
—
Courtland Allen , Indie Hackers founder