If clicking on the 'Publish' button is the end of content distribution, then you're wasting the true potential of content assets.
Here's how you can 10x your content reach with a distribution strategy: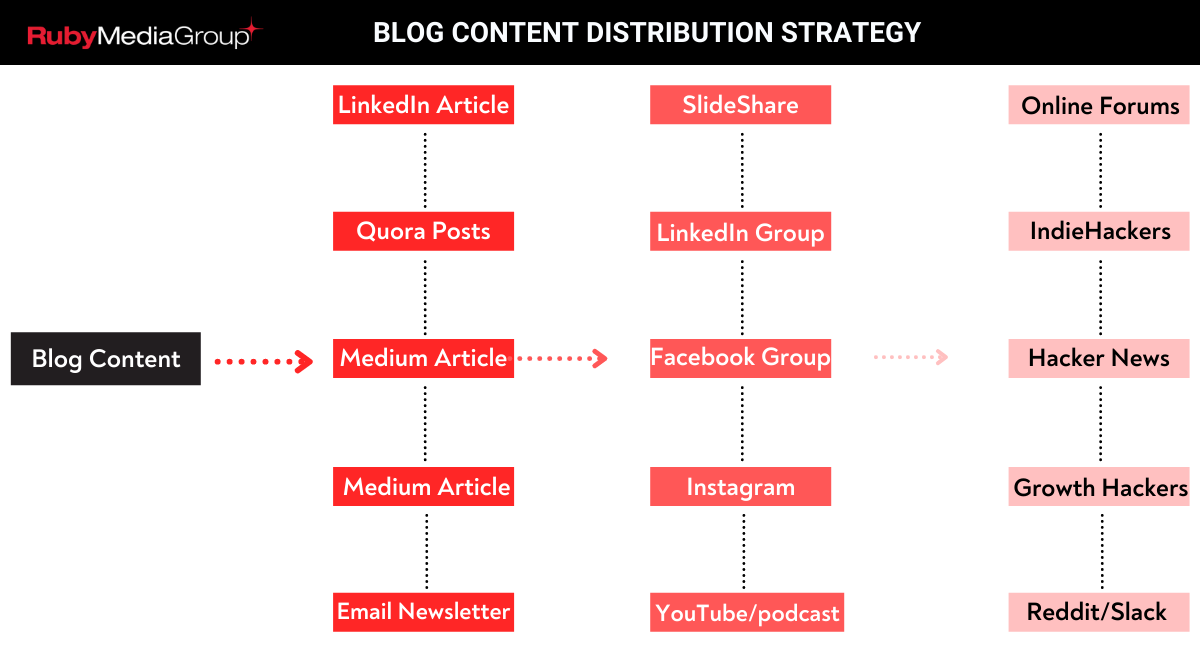 1/ Immediate distribution
There are various places where you can share your article to reach a new and relevant audience.
These platforms are →
Medium posts (Import the article and get a canonical tag to the original piece)
Quora posts (Share the article link with relevant tag)

LinkedIn article (Publish your content as a LinkedIn article. To drive people from LinkedIn to your site, add something like "read the complete article here.")
2/ Expand your blog article
Repurposing is not a copy-paste method to distribute content from one channel to another. You need to expand the content.
Turn the article into a Slideshare presentation:
It's not necessary to make your presentation text-heavy. Add charts, visuals, graphs to do storytelling with your content.
Create micro-content
Surely, your blog post will have multiple sub-topics covered. Consider each sub-topics into a separate social media post.
FB, LinkedIn groups
Whether B2B or B2C, you may find your ideal customer hanging out on LinkedIn or Fb groups. Don't just share the link to the article.
Instead, let them know how this content is going to make their life easier.
3/Make the extra effort
Social media isn't the only place where your audience is spending time. For example, if you're into startups, businesses, there are valuable communities such as Indiehackers, Hacker News, and more.
To find these communities, type 'Top [your niche] communities.'
This will show you all the possible places to distribute your content and generate ROI for your business.
That's all.
👉 Read The Ultimate Guide On Content Repurposing
P.S This content is Originally posted in RubyMediaGroup as a contributor quote.