Hi all - I'm creating a cozy #BuildingInPublic group to gather like-minded builders who want to learn & build & share together. 🔥🔥
Some of you know that I launched the Building in Public Definite Guide a month ago and it was pretty well-received (2,100 readers in 3 days).
I've met a ton of amazing entrepreneurs & builders, and I appreciate the positive notes and feedback everyone has been giving me. From the conversations, I learned that:
🍏 A lot of people want to build and share!
🍏 They learn a lot from the guide, but they need more: rhythm, feedback, support
🍏 These things they cannot get from reading
Last 2 weeks I've been thinking about how else I can help
1️⃣ Create an accountability system
2️⃣ Foster a small learning environment
3️⃣ Offer structured guideline, feedback, and tips to builders
So I'm creating a free system 🏅 & a beta group (limit to 16pax) 🏋️‍♀️
This is what I have in mind so far: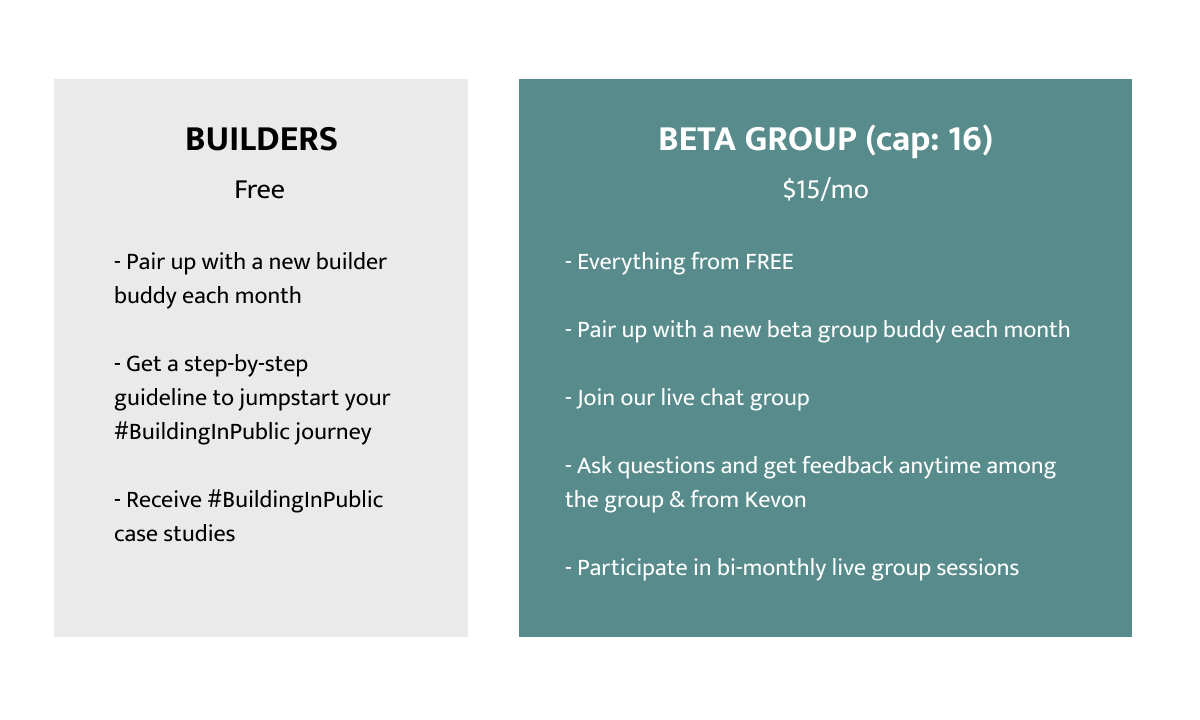 The beta group will be more like a community than a cohort-based course because in full transparency: 1) my guide is the course & 2) I have a newborn and I want to be open about what I can offer to the group & 3) This idea will evolve, that's also what I want to explore with this group
If this sounds like something you'd like to be part of (either free or beta group), fill in this form (link below) to let me know. I'll be in touch 💪 Thank you.
Curious? https://forms.gle/Ftz8fg1pGtuTmd9z7
Any thoughts? Happy to chat more!
---
UPDATE:
1 - It is clear that many are interested in a private support group to hold each other accountable and to help each other improve.
​
2 - If I'm creating a paid support group, my expectation of myself is very high. I want to provide the right guideline, lots of feedback, and foster the best learning environment. Yet, reflecting on how I have to get up every night to take care of my newborn, that'd be unrealistic and also unprofessional on my part during this period.
​
3 - That being said, the best way for me to help the group will be:
I want to create a free Twitter chat group for the dedicated builders who believe in #BuildingInPublic. We will keep it small for now. In the group, we will do everything what a support group does: share resources, ask questions, give feedback, motivate one another, etc. Send me a message on Twitter to join
I'll make it a regular section on my weekly newsletter, Sunday Beam, to include #BuildingInPublic examples and case studies. This way we can all learn continuously. Join the newsletter here