Over the past six years I've led growth marketing at two venture-backed startups (Series B, C), and I've talked to countless founders and operators.
Important growth fundamentals often get missed.
I recently posted an essay called "Where does growth begin?" to try and spell out a few of these fundamentals. Here's a link to the piece.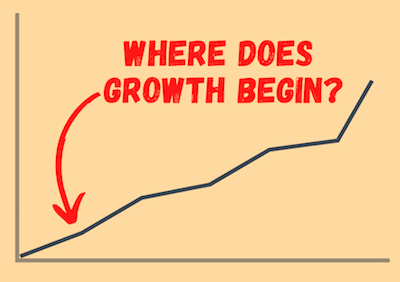 In this essay, I try to answer some basic questions like:
What does growth actually mean?
Do we get too caught up thinking about it early on, when we should be focused on survival?
How do we achieve a balance between survival and growth?
How can you leverage data from the early "hand to hand" stage to improve market positioning and achieve sustainable growth?
I include examples about early stage customer acquisition from some of my favorite entrepreneurs, like my friend Nathan Resnick from Sourcify and Bubble Hotels.
If you check out the piece and want to drop questions/comments/feedback below, I'm going to stick around and respond to every one.
And if you're looking for a single takeaway, it's that when a startup tries to grow before it's ready to grow, it could lead to an over-emphasis on optics over reality, and even the death of your startup. Here's what I call characteristics of growth-readiness:
Paying customers. A significant number of happy, paying customers.
Signs of life on your website. Low thousands of monthly unique website visitors (preferably earned, but paid works too) that aren't bouncing, with at least some coming through as qualified leads, however you define a qualified lead (add to cart, checkout, signup, demo booked, etc.), even if the conversion rate is very low.
Funnel benchmarks. Your conversion rates should have some level of statistical significance, so that you can identify opportunities for improvement, make changes, and effectively measure the impact of those changes.
Confidence around market demand for your product, and around your market positioning (even if it's constantly evolving).
Ideas for marketing channels and tactics that can scale your top of funnel.
An efficient sales process to close new deals (even if it's just one or two people and a lightweight CRM)