Procrastination is a big issue for a large number of people out there.
Putting off your work to some other time is the worst thing you can do to yourself. I know how ugly it can get from personal experience.
I remember the time when I used to plan out the entire day and yet nothing would get accomplished in the end. So I began researching new ways to overcome this issue but turns out that the internet is too big and you can easily lose track.
That's why I want to share with you guys the tested-and-tried methods that have worked for me incredibly!
I know your mind is saying -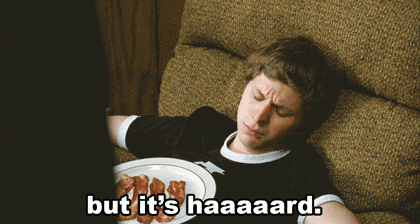 Don't worry, I will explain you ideas in the easiest way possible that will get you up and executing on them after reading it. ❤️
Method 1 - Pomodoro Method
Set the timer for 25 minutes and focus on the work at hand ONLY. Once the time's up, take a short break for 5min. You can continue this cycle as long as it works of you. After 4 rounds of 25 minute work sprints, you can take a longer break as well.
Method 2 - 2-minute rule
This is actually a really good method to try out right away. Seriously, like immediately. When you are jotting down your tasks, just ask yourself if a certain will require 2 minutes or fewer. If yes, do it right away and don't add it to your task list because your mind will keep procrastinating that one little thing until the end of the day!
Method 3 - The Next Hour
There are many people who try planning their whole day but it doesn't work for them. That's why I love this method.
You can start the day by writing a list of what you plan to do in the next hour. In this way, you can keep adding tasks on hourly basis so the list is constantly filled up with things for you to do and you don't have to worry about long, lists full of tasks that intimidate you.
Conclusion
Now that you have these three ideas in front of you, I really want you guys to give it a try. Don't just read, actually TRY!
I am super passionate about productivity so I really hope that you see the positive impact these methods can have on your lives.
Don't spend too much time researching tools and ways to execute. You can get started with some thing as simple as pen and paper.
If you want to use apps to solve this issue, you can also use my free to use productivity tool- Brutask (https://brutask.com/) to assist you.
But remember,
Don't procrastinate, keep executing! 💖