Hola everyone,
How you all doing ?! Hope good.
So... a month ago we posted this post on our poor conversion...
We took action
Firstly, We asked the IH community and we got a lot great answers but, personally, I took one to myself and improved it. (The one from @fromtheexchange)
We decided to make huuuge changes, we started from our landing page and built 3 different landing pages and put them on A/B testing.
Design
A.- Features/benefits design landing page, SAAS style.
B.- Main product first, features/benefits aside
C.- Same as B but rebranded 100%%
See a tweet with A and B:
This is more or less the actual design, C:
The product
The feedback was great from the IH community, and we thought that we should provide more value so, we decided to overhaul all our templates and we are converting the most popular to UI KITs.
And we already feel the difference.
The pricing
While doing this, we were under a sales campaign that wasn't really working and because now we have UI Kits we changed the pricing, what and who we offer what.
Teams:
Up to 5 seats
18 Templates + updates
UI Kits Huge value
HTML & Next.js
Figma files
Flexible license
Priority Support
Freelancers:
17 Templates + updates
HTML & Next.js
Figma files
Flexible license
Hobby:
17 Templates
HTML & Next.js
Flexible license
Following up, the pricing page was also redesigned. Instead to go from low to high we went from high to low on the tiers...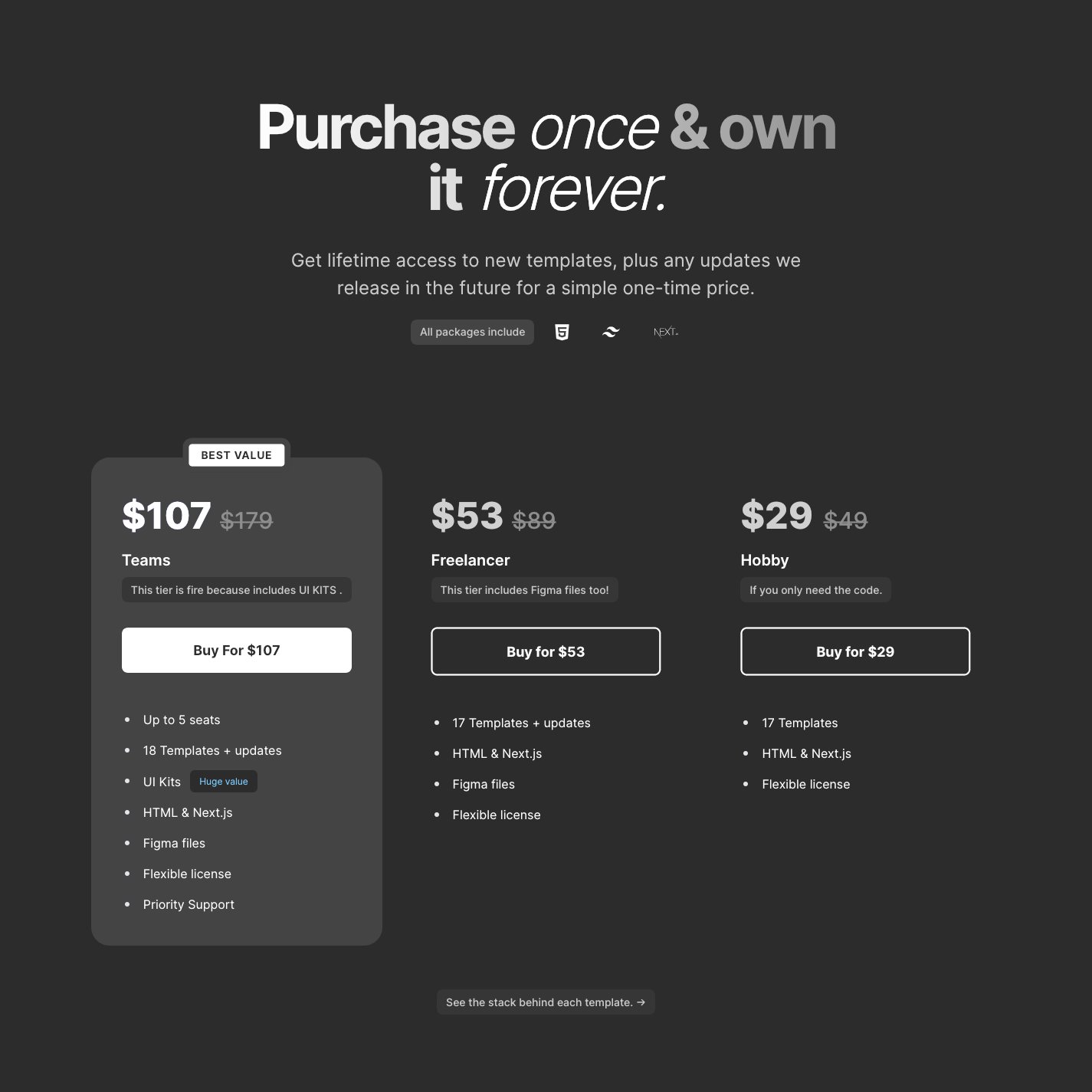 The design
Personally, I had always thought that when we had dark mode was selling pretty good, not like to buy a palace, but the sales were there.
Said and done, it became dark and raw, with personality.
Underneath you can see the landing page with all the templates, then the other page is the features, which is short, but is explains all of it straight away.


We are an open startup sharing our growth on a newsletter, we send issue sporadically, only when we feel is time to tell something about our learnings.
You can subs here:
and follow us on twitter if you fancy:
Gabriel:https://twitter.com/g_perales
Mike:https://twitter.com/Mike_Andreuzza
We are also an open startup and we have a page where you can follow all of it.
Have a great day