This year, 2020, I really started to take Youtube seriously and experiment with various different types of videos.
Last year (2019), I "officially" started Youtube, but only made 2 videos throughout the entire year (great success) 😅
This year, I already published 16 videos and 3 of them stood out.
I am here to share those lessons with you.
Fitbod Video
The first realization came when I noticed that my Fitbod video is taking off.
At the time of writing, this is one of my most viewed videos to date, with over 5,000 views and as you can see from the image above – realtime activity is not slowing down.
By the end of the year, this video will probably hit 10,000 views.
In case you are wondering, here is the video I am talking about: https://www.youtube.com/watch?v=3pcfRrjG8KA
Lessons
Youtube search (SEO) is THE WAY to grow your channel. The selection of the right keywords will either "make or break" the video.

People apparently like to see "app reviews" and me just showing my phone, instead of myself.
Spotify Video
As Fitbod app review was a great success by my standards, I thought that maybe app reviews is going to be my channels niche.
I actually made a post on IH asking if this would even be a thing and to my surprise, got a lot of positive feedback.
So, I decided to put this to the test.
I chose Spotify app, as this is one of my most used apps, I love it and figured it would make a great video, not to mention Spotify keyword is highly popular.
Here is the final video 👉 https://www.youtube.com/watch?v=ark_WasDDsQ
And it worked!! 🥳
First, I did improve the video quality a lot. I had a new microphone, I bought another light and actually once and for all figured out a cool set-up.
This is how it looks behind the scenes 👇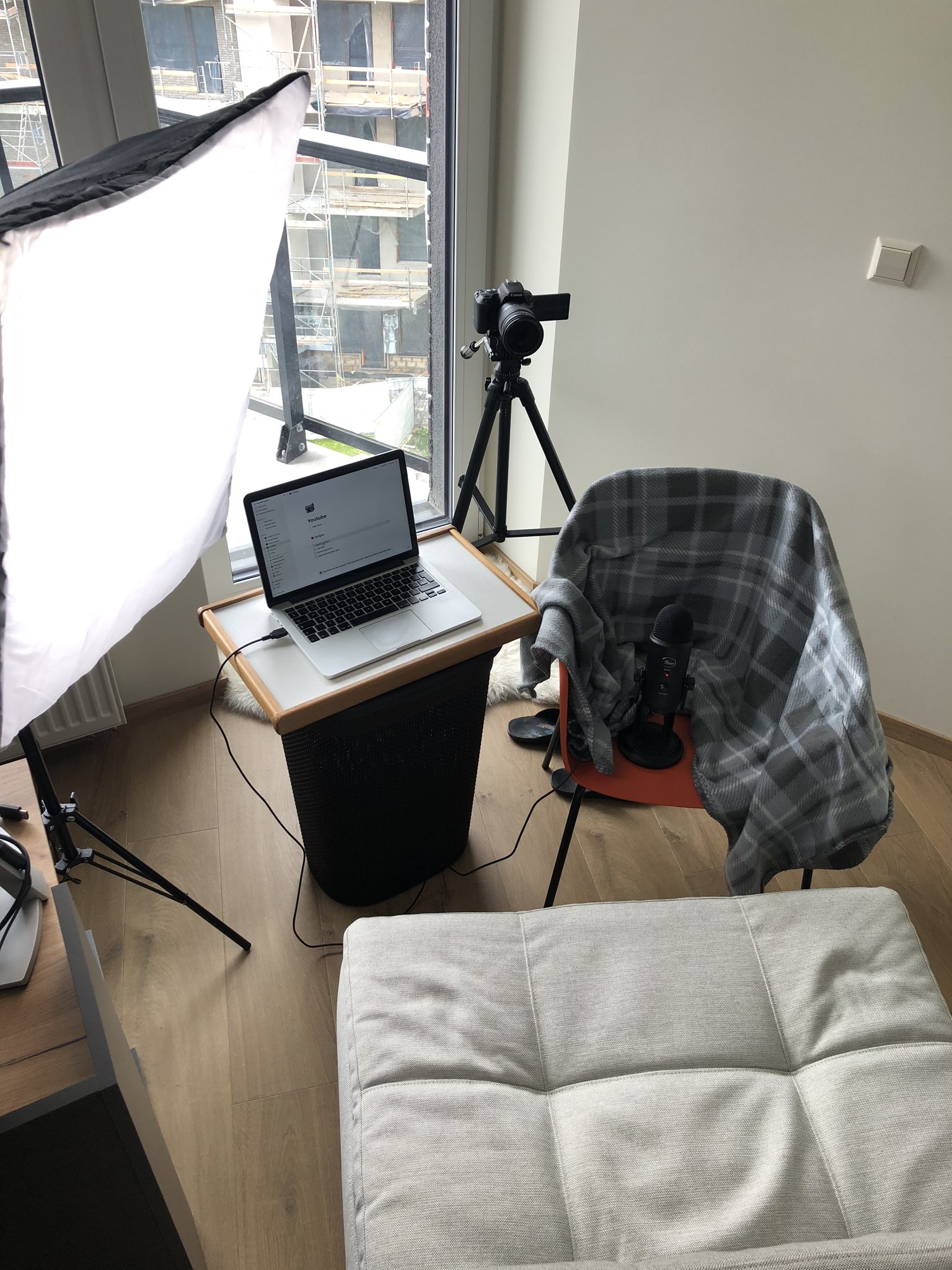 Second, I was actually proud of this video – it turned out really great!
Third, once I made the thumbnail, I thought that can be my "signature" and if you check out my Youtube videos after that, you can see the pattern repeating.
Besides all of that, analytics also showed some really promising results.
People were watching and enjoying the video according to my Youtube analytics.
The video is ranking high for few keywords and brining in around 40 views per 48 hours – this video will soon hit 1,000 and it seems it's only accelerating.
Lessons
Production quality matters for keeping the viewers watching.

Choosing the right keyword AND making the thumbnail that stands out for that specific keyword is crucial. Example: if all videos for the keyword "X" have a black background, maybe you can try to stand out with an orange background.
Revolut Video
This video taught me one more lesson 👉 https://www.youtube.com/watch?v=5YZFuaH4pN4
People love when everything is straight to the point – no BS, just pure information!
In Youtube, there is a metric called "relative audience retention"
Here is a full explanation:
"It shows your video's ability to retain viewers during playback by comparing it to all YouTube videos of similar length."
From what I heard, this is one of the most important metrics to look out for. If your video is doing better than other videos, there is a higher chance you will rank higher on Youtube, your videos will be recommended more, etc.
Basically – all the good stuff will come.
And if you look at the graph of the Revolut video – it's the best one I have seen so far 👇
I have also included timestamps (this is a new feature on Youtube), which I think also helped, as the video is quite long, but people were able to click on the information they actually want to see.
Lessons
Cut the BS, make shorter videos if necessary – only present what's the most important. CUT, CUT, CUT!

A great structure of the video is important to keep them watching.
---
The full and original post is on my blog, so if you want more details or screenshots, you can check out the Big Youtube Journey post.