Hey IH!
Last week, I pre-launched my very first course, CSS for JavaScript Developers. I just closed down preorders, and I'm thrilled to report that the course has made over half a million dollars: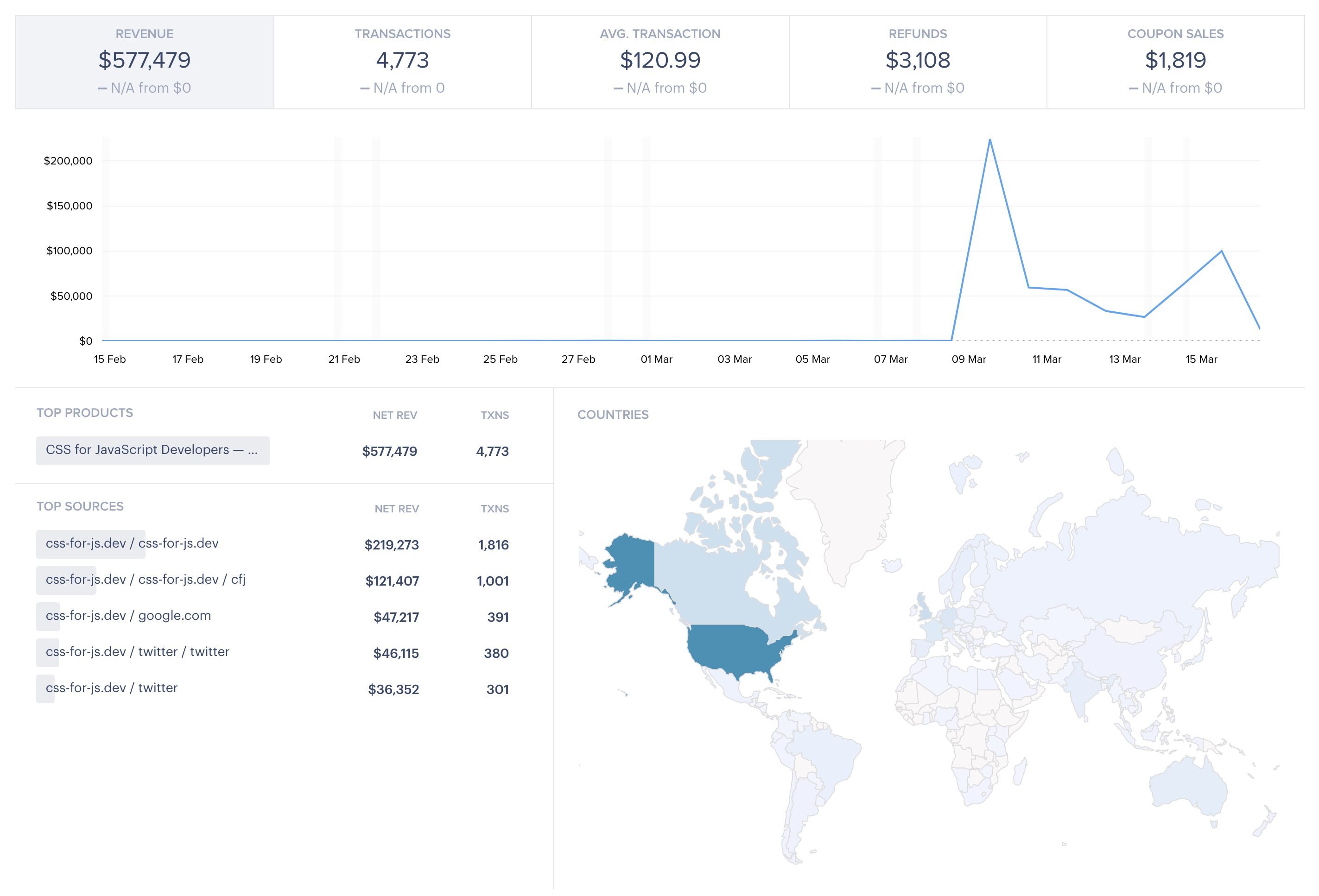 The backstory / product
CSS for JavaScript Developers is a course aimed to help intermediate JavaScript framework developers (React, Vue, Angular) solidify their CSS skills.
It's a work-in-progress; this was an "Early Access" launch, which means that folks who purchased are able to access the content, but only about 50% of the course is completed. I hope to launch the course in full by September of this year.
I started working on this course in August of last year, after a repetitive stress injury led to me leaving my job. I had a pretty profound realization that helped me "take the plunge" and pursue this indie-hacking thing full-time. For the past 7-8 months, I've been working full-time on my course (and my blog, joshwcomeau.com).
The course is a bit hard to describe. It's not a video course, though it's on track to have >100 videos. It uses 5 different media types:
Interactive articles
Videos
Exercises (short challenges in-browser)
Workshops (larger real-world projects)
Mini-games
I built my own course platform to support this, a move which easily doubled the development time, but allowed me to create something truly special and unlike other courses on the market.
The launch
I decided to keep registration open for 1 week: from Wednesday, March 10th until yesterday (Tuesday, March 16th). This wasn't a marketing tactic, though I did learn about scarcity and how it could be useful; I primarily wanted to make sure I would be able to focus the bulk of my attention from now until September on finishing the course. Having new students onboarding every day would have made that more challenging.
The course launched at USD$129 + tax. This is a special "Early Access" price; I expect to sell the full course for USD$349, though I'll also be supporting Purchasing Power Parity (region-based pricing) and tiers (starting, likely, from $129).
I launched on Twitter (where I have 31k followers) and to my email lists (~28k subscribers). For what it's worth, both of these numbers have grown quite a lot over the past year: in January 2020, I had ~10k followers and ~1k email subscribers. And I spent a few months that year unable to work because of an injury. Happy to talk more about this process!
I had hoped to sell about 380 copies, for ~50k USD. That number would have been validating, an encouraging sign that I wasn't being dumb by quitting my job (Staff Software Engineer at Gatsby Inc, earning $165k USD a year). The fact that it hit 10x my goal is absolutely ridiculous and I don't know how to process it 😅
The launch was chaotic and stressful; I built my own platform, and it had bugs. The first 48 hours were spent bouncing between fixing bugs and trying (unsuccessfully) to keep up with support requests. I feel awful knowing that many people paid for the course, but weren't able to access it for 24h+. I'm still dealing with a couple curious issues, but overall I know my platform is way more robust than it was.
AMA
I've learned so much over this past week, and would be happy to share whatever I can to be helpful! Ask any questions you'd like about the launch, the numbers, etc.