Exploding Topics scours the internet to find emerging trends before they take off.
Here are four of the latest developments, along with some insights and analysis to help you take advantage.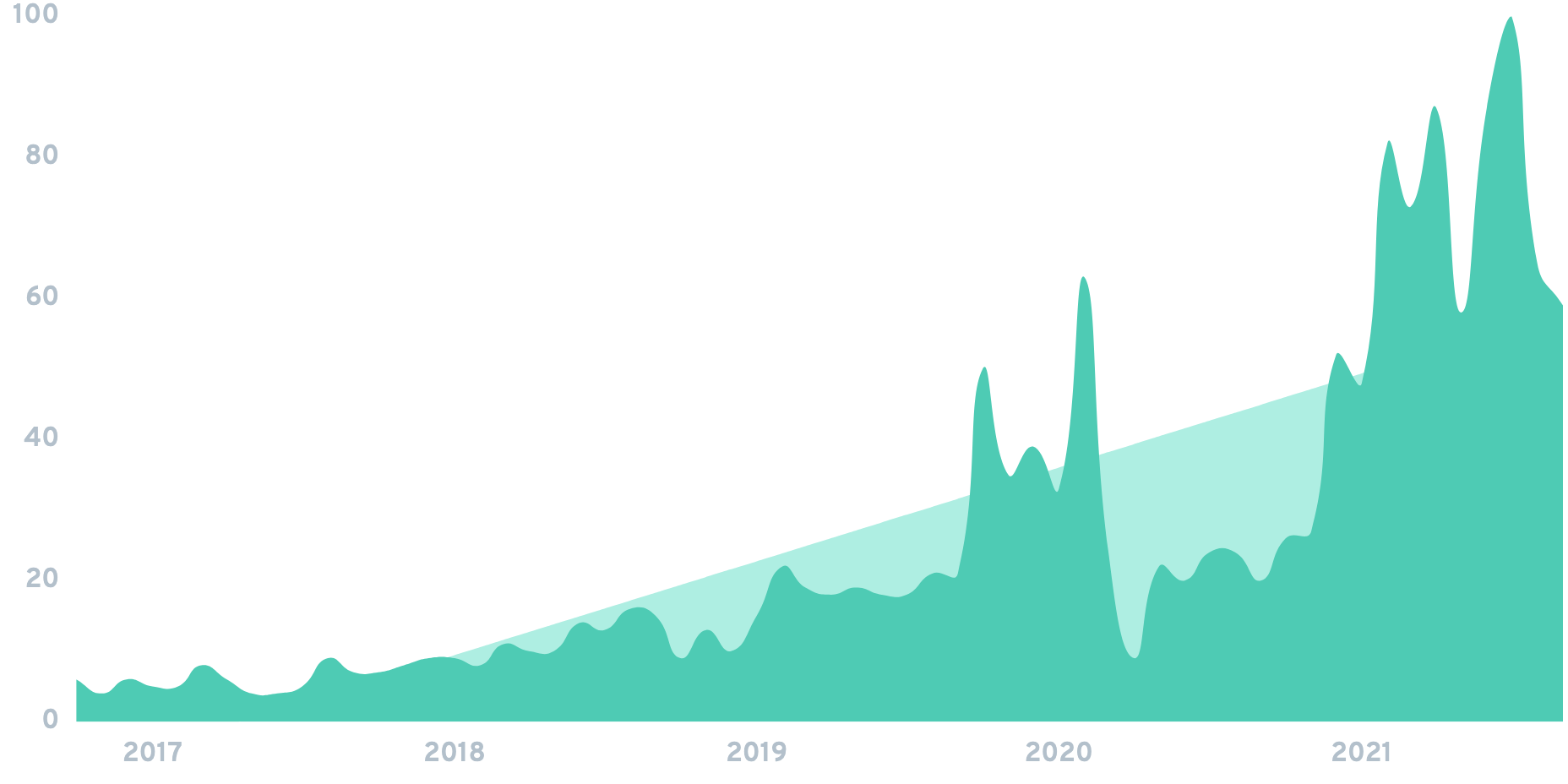 A rage room is a bookable venue where people can release pent-up anger by smashing up household electronics and other objects.
The first rage room opened in Japan in 2008.
Smash Therapy is a New York based rage room. The experience routinely attracted 750 customers per month prior to the onset of COVID-19. Pre-pandemic, 3000 lb+ of electronics were destroyed every week.
And searches for the category have shot back up again post COVID. In fact, there are now 49.5K searches per month for rage rooms — significantly higher than pre-pandemic levels.
What's next:
Rage rooms are part of the natural stress relief meta trend.
According to the American Psychological Association, 67% of US adults suffered increased stress over the course of the pandemic.
And 3 in 5 Americans are "overwhelmed" by the number of issues facing the country.
In contrast to the "smash therapy" offered by rage rooms, Insight Timer provides guided sleep, meditation and yoga. The app boasts 467K reviews across the iOS and Android app stores averaging 4.9 stars.
Insight Timer's customer retention is 5x better than competitor Calm. And the app accounts for 63% of all time spent on meditation apps in the US.
Other topics to watch in the meta trend include jade combs, CBD gummies and shatavari.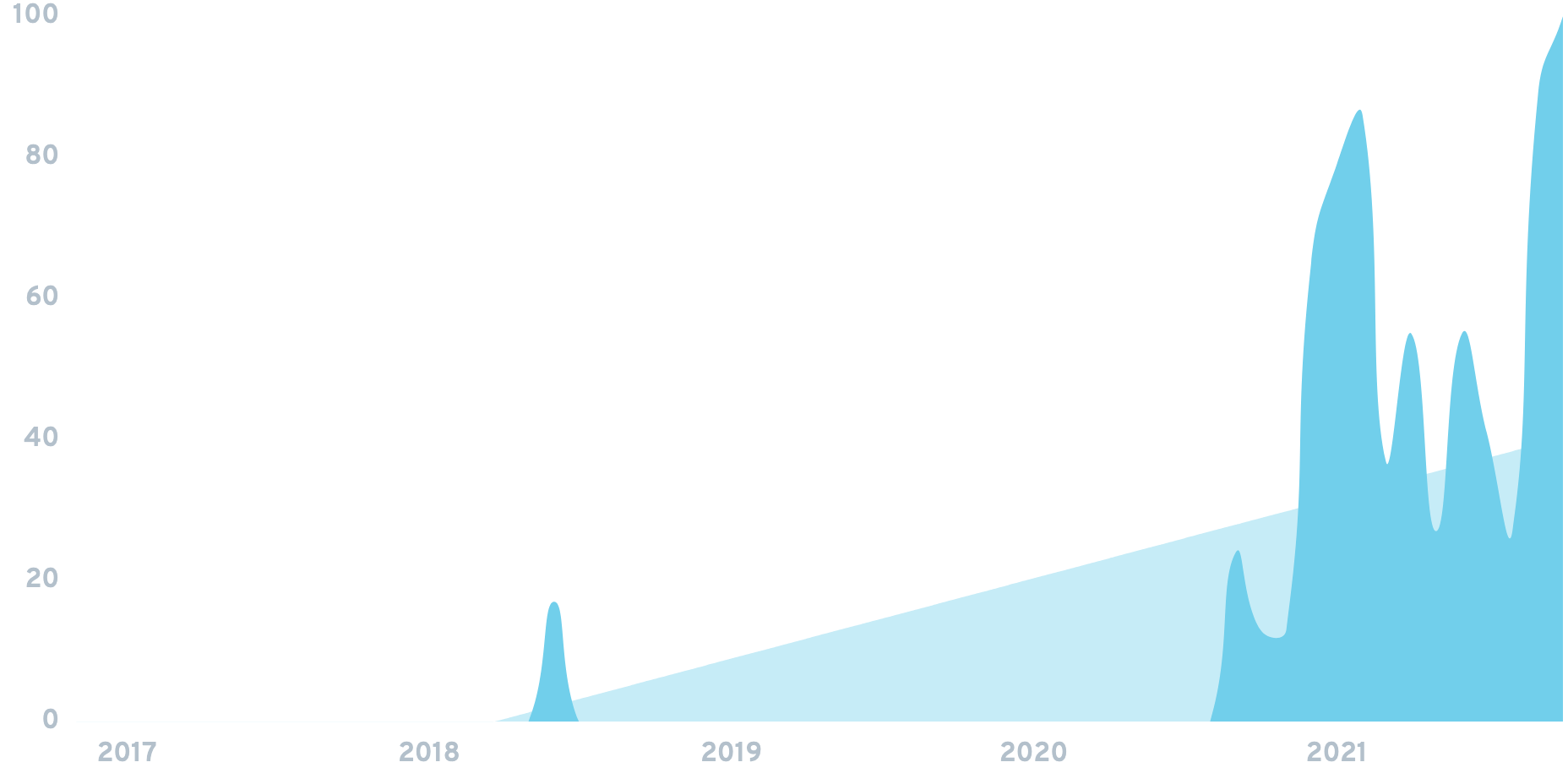 Searches for Copysmith have spiked since we last covered it, so we thought we'd take another look at this exploding topic.
Copysmith is an AI-powered copywriting tool.
The startup attracted 1500 users from Product Hunt when it launched 12 months ago. And has seen consistent user growth since. (Which led to a $10M seed round in May).
GPT-3, the deep learning language model that powers Copysmith, has 175 billion parameters. It has been fed roughly 570GB of text data scraped from the Internet.
What's Next:
Copysmith is part of the "GPT-3 powered tools" meta trend.
Other fast-growing startups enabled by GPT-3 include:
Snazzy for Google ads, taglines, and landing page copy.
Persado, another copywriting tool, has been adopted by JPMorgan Chase. And has reported consistently better click through rates than human-produced ad copy, sometimes up to 450% higher.
OthersideAI for email. The GPT-3 powered app automatically converts bullet point summaries into professional emails in the user's writing style.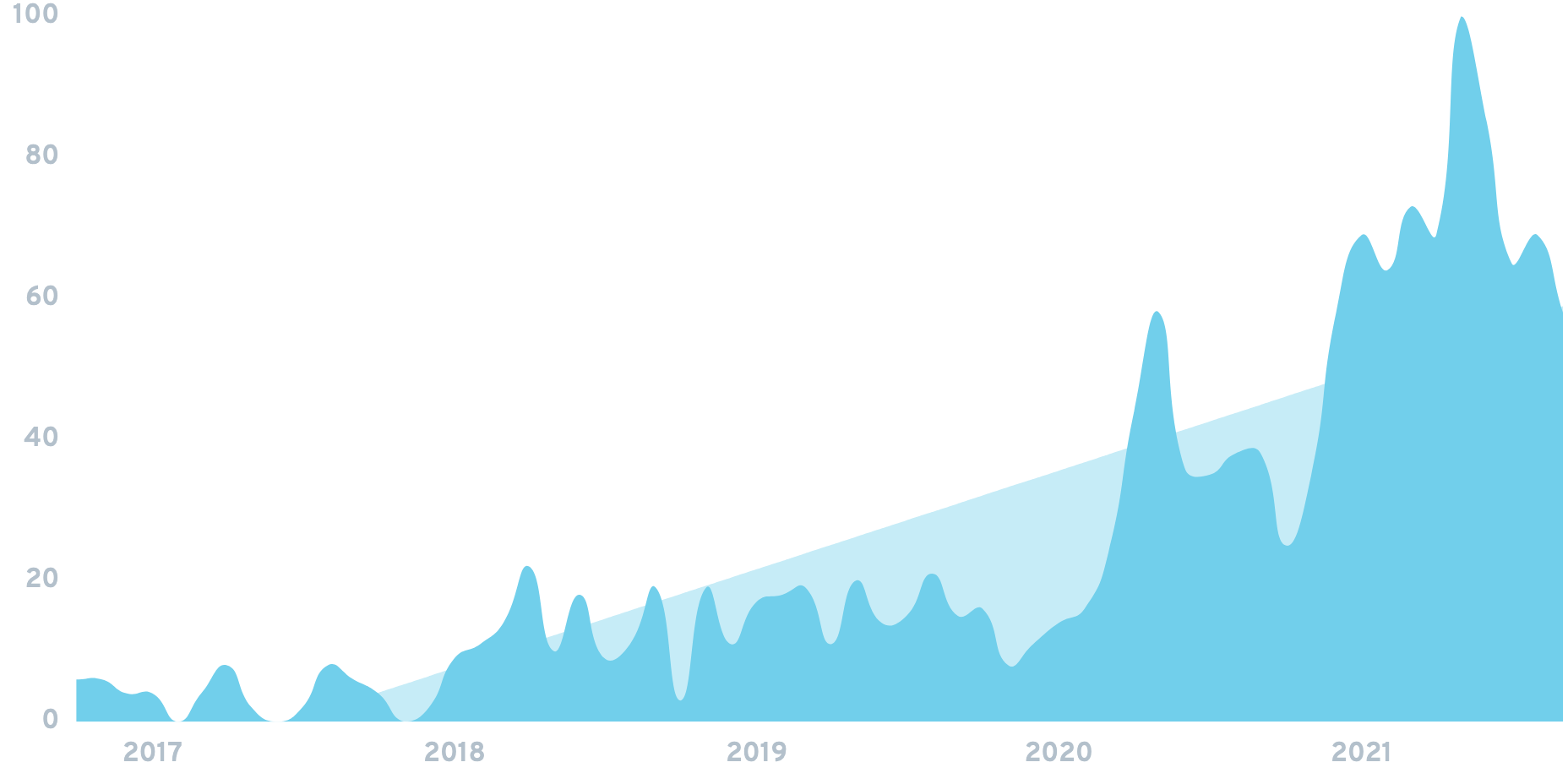 Rice water shampoo is made with water produced from straining rice.
The practice of washing hair with rice water is 1000+ years old. It is believed that the inositol found in rice water helps repair and protect damaged hair.
Given the simplicity of the production process, rice water shampoo is often homemade. Royal Herbal Organics has generated 9.8K sales on Etsy, specializing in artisan rice shampoo.
More commercial players also offer rice water shampoo. Mielle has more than 853K Instagram followers, and is stocked in 100K retail locations across the US.
Amazon sales of their rice water hair milk generate approximately $1.67K per month (AmzScout). The startup added more than 40K new customers and made "millions" of sales during its anniversary promotion event, which coincided with the launch of the rice water collection.
Uhuru Naturals is another brand to enjoy success with rice water for hair. Per AmzScout, their pH-balanced fermented rice water makes an estimated $10.25K in monthly Amazon sales.
What's next:
Rice water shampoo is part of the food-based beauty meta trend.
69% of US consumers either already buy organic beauty products or want to start doing so. And food-based products are a growing part of the sector.
Bybi sells multiple products that follow a food-based formula (e.g. strawberry seed oil).
Co-founders Eslie Rutterford and Dominika Minarovic released a book of 100 "recipes" for the skin, many of which feature ingredients typically used in food.
And Bybi raised a $7M Series A round in December last year. The brand has grown 200% year over year since launch.
Other fast-growing brands in the meta trend include Glow Recipe, Juice Beauty and Irene Forte.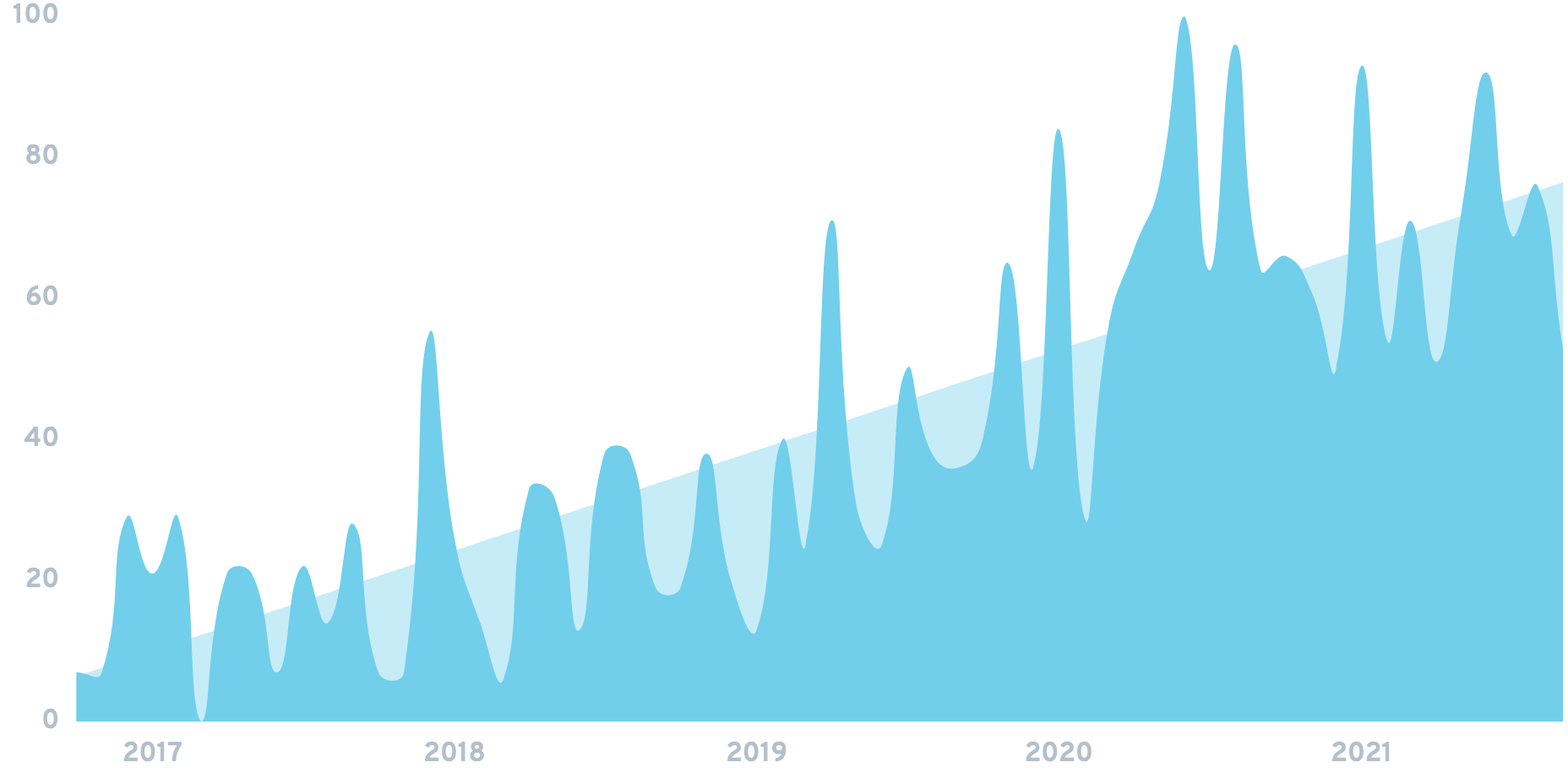 Avocado oil spray is a type of plant-based cooking spray pressed from avocado pulp.
Avocado oil is touted for having the highest smoke point among all cooking oils (roughly 470°F).
By comparison, many other commonly used oils have notably lower smoke points, including olive oil (374–405°F) and canola oil (400°F).
Sales of avocado oil have experienced double-digit growth over the past few years (one of the few oil categories with significant growth).
Avocado oil has a forecasted CAGR of 6.5% through 2024, reaching an estimated market size of $1.1B (Market Research Future).
One of the major brands in this category, Chosen Foods (which makes a wide range of avocado-based products, including cooking oils, sprays, and mayo), has seen a 40% of CAGR over the past 3 years.
And Trader Joe's recently introduced avocado spray oil from its own private label brand.
Growing brands that sell avocado oil spray also include Thrive Market, Primal Kitchen, and La Tourangelle.
What's next:
Avocado spray oil is a part of the alternative oils meta trend.
Other less commonly used oils on track to achieve significant growth include hemp oil, grapeseed oil, sesame oil, and pumpkin seed oil.
Besides standard cooking oil, which typically uses a single ingredient, we're also seeing an increasing number of oil blends hit the market.
For example, New Zealand-based Cocavo built a specialist brand by combining coconut and avocado oil, along with flavors like lime, ginger, turmeric, and chili. Cocavo generates a reported $1.1M in annual revenue.
---
Get next week's trends in your inbox
---