Bootstrappers everywhere know at least one universal truth: no users, no product. Every startup's immediate goals upon launching is to drive users to it. There are hundreds, maybe thousands, of articles about how drive traffic Cracking the code to get the right users is a tough job—you need to figure out your target audience, the right channel to reach them, place your product in an interesting way and make it enticing for users to land on your product.
But what do you do when you have successfully attracted traffic from relevant users to your website... and still don't see sign-ups? After building our product and generating some attention, we ran into this problem too. However, after some soul-searching and significant experimenting, we were able to overcome it. In this article, we'll share with you the entire process that we went through to improve engagement and jump the hurdle of sluggish sign-ups.
Internal and external review of the situation
The fact that you have been able to get the right traffic to your website reflects that your users find the idea or concept of your website interesting. So, kudos to you on that! If you are still unable to drive sign-ups, you need to do a couple of things.
1. Start by reviewing your website
First, analyze your product by running it through Google Lighthouse. This tool reviews your website on all best practices. Ensure that your product is adherent to those.
Apart from missing the mark on best practices, research shows that a user decides whether they like your website within the first 15 seconds of landing on the website. So, if you see a high bounce rate on your website, it is indicative of a poorly structured website.
The following problems might explain why your users are bouncing off your site, despite being interested in your product:
They're unable to understand your offering clearly.

While your broad idea might be interesting, the users can't find enough information to give them more context to take some action. Be clear about what you are trying to achieve and also your value proposition to the users—this should also be easy to find and understand. In the guise of making a beautiful website, don't include distracting elements. Rather, design the website to support the content, making it a pleasant experience for the user.

They're unsure of the action needed by them.

Even if the user likes your concept and understands your product offering, they might be unclear about the next step needed on their part. The call-to-action might not be accessible, or the color of the button might not contrast enough to catch the user's attention. Redesign these aspects to make your website action-focused.

They find the website of below-par quality.

Trust needs to be established with a user when they visits your website. This is derived through a slickly designed website, high-quality content, and fast loading (among other parameters). However, the main aspect that is often missing is showcasing your achievements— product reviews, press mentions, Product Hunt upvotes, etc.
2. Interact with the relevant audience
As a founder, you can only do so much personally in the crusade against pain points. While reviewing your website in great detail is very useful, the best insights will always be offered by your users. Reach out to your target audience and just request them to review your product without being promotional about it.
Too much of user research before the launch of the product can be a waste of time and effort, but getting perspective from your users once the product is live is priceless. Not only can you sort out problems with your current product, but these conversations can also be fuel for future product features.
Build alternate forms of engagement
If the above points are sorted, alternate methods of engagement on the page should be explored. Even though sign-ups have become easier with social logins, it still is a significant effort and commitment by the user. Encouraging them to take smaller steps through easier engagement modes can be a solution. Below are some ways:
1. Live chat and bot
Your users are not going to give your product undivided attention and hence are likely to miss even obvious call-to-actions. To avoid losing such individuals to drop-offs, add a live chat to your website - it gives them the option to reach out to you and also you an opportunity to approach them. Therefore, not only are their manifest questions answered, you can preempt some of the latent doubts that they might have and address them too.
The chat can be triggered based on specific user action as well as inaction. This gives your users direction to complete your desired action and also for you to collect their email id.
In addition to a support personnel monitoring chats, it also makes sense to deploy a bot on your website which disseminates and gathers information from the users. This helps in cases of constrained manpower, but also to keep the users engaged after working hours. This video by Hubspot explains how such a conversational bot can be set up while talking about the best practices while setting such chat flows.
2. Social hooks
As mentioned earlier, trust needs to be established with your users to get improved levels of engagement. Other than the usual methods of showcasing your achievements, your social following can also make a case for you.
Further, it gives another action outlet to the user. Even if you are not able to immediately convince the user to a sign-up, receiving their social media approval gives you the ability to retarget them in the future. Also, this forms a virtuous cycle—as more users engage with the social hooks, the increased social likes motivate more users to do so.

This could be executed by showing prominent icons of popular social media platforms for the users to follow, particularly in the first screen itself. Other options include having these in the footer or on the left-hand side of your website.
3. Pop-up forms
Do you also create great content in terms of blogs, e-books, videos, etc? Attract users not only via your product, but also by using these forms of content by using pop-up forms. These forms can be formatted in various beautiful ways and also on multiple user actions. Further, you can customize these pop-ups based on the current page the user is on so that contextual updates are provided to him/her.
Also, you can market the latest features and offers to users in the pop-ups, being totally unencumbered from having to redesign your current pages to reflect the same. Thereafter, since you will collect their email IDs through the forms, send them newsletters with awesome content and offers to eventually convince them to sign-up on your platform.
4. Exit Intent pop-up
While this can be grouped with pop-up forms, it deserves a separate mention. These kinds of forms allow you to convince the user one last time by detecting when they are about to drop-off from your website.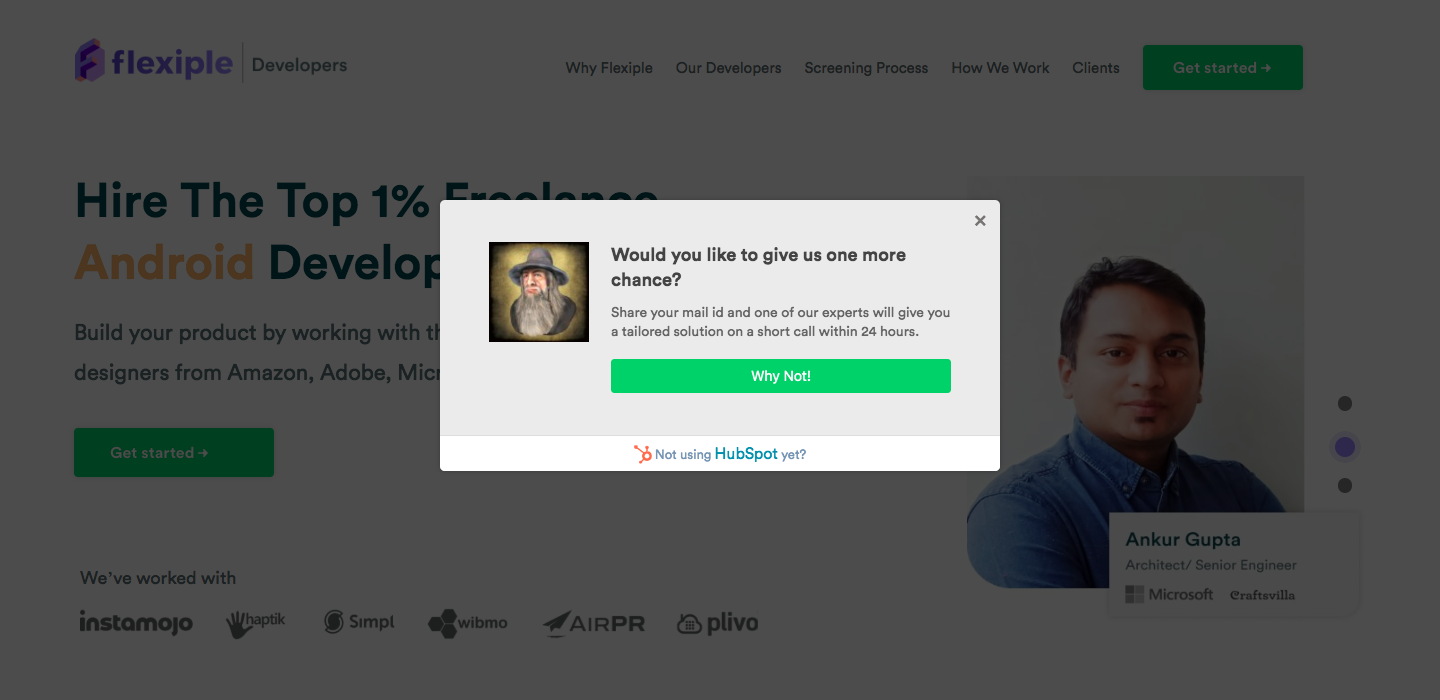 Make a pitch to your customer and, if possible, offer a personalized call if it makes financial sense to do so. However, It is key to not overuse this pop-up. They should be used only on certain pages and on users who have arrived from certain sources (ie. paid ads). Subjecting all your users to such a pop-up would be an absolute irritant.
4. Other widgets
Are your most engaging features still to be released? Make your landing page more interactive by adding various interesting widgets that are relevant and useful to the audience on your website.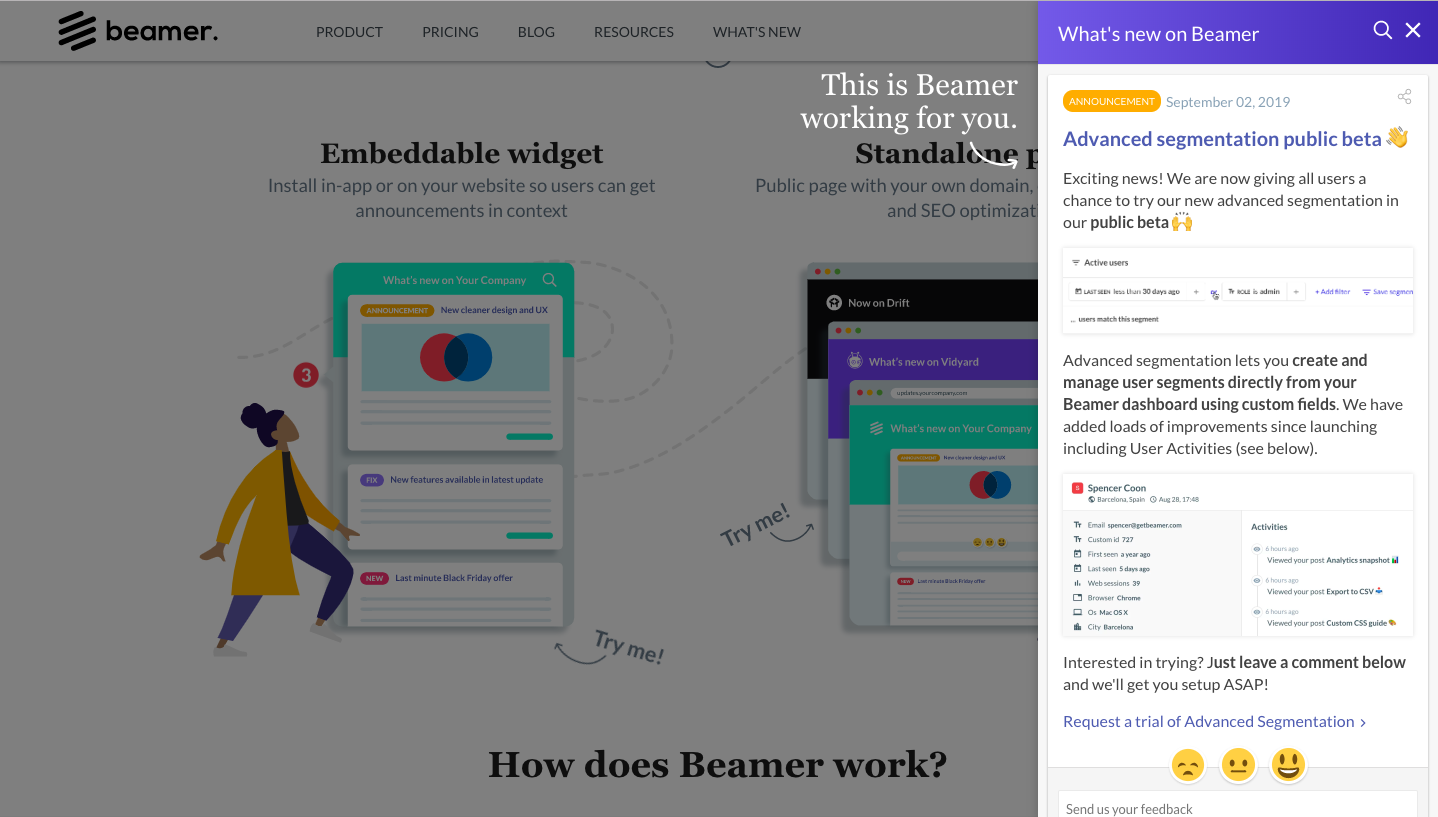 Companies such as Powr or even Hotjar offer widgets out of the box that can be easily integrated with your website. Powr includes widgets for polls, forms, hit counters, etc. Another product, Beamer, provides a drawer embed which enables you to share the latest updates of your product with users, while also allowing them to comment and share feedback.
Conclusion
Building a product is only part of solving the problem of bouncing visitors—ensuring users engage on it is also extremely critical. The tips above should offer a good starting point to maximize interaction and engagement on your platform. Hope we see you out there in the wild, snagging users and bootstrapping like a boss.