The conversation that led me to create Hey Marketers started out like this: "So, basically we're trying to figure out how to find someone like you."
The founder of a SaaS company was just about to hire their first marketer, and he asked if he could pick my brain about my role, my day-to-day, and how to find someone similar to me who could balance both strategy and execution in a small, lean business. I told him about everything I had on my plate as the Head of Growth for Baremetrics, how I managed to juggle it all, and what my best practices were, and then we brainstormed where he should post the job for the best reach.
Fortunately, there are a lot of great resources for employers these days and many great places to post jobs, whether your need is broad or niche — big sites like LinkedIn, Glassdoor, ZipRecruiter, and Indeed, and tech-specific sites like AngelList, Product Hunt, and Y Combinator. There's even remote-only sites like We Work Remotely, Remote OK, and Remotive.
Yet with all this specificity, nothing seemed positioned to serve the marketing community. Most job boards in the tech community are very product-focused, and the founder wasn't sure how well their job posting would reach the marketers they wanted.
This founder knew that great candidates were out there, and had the budget and the motivation to find them. He just needed means. Job boards are a booming business these days, so I figured — why not? I decided to build something.
The idea was simple enough: create a job board specifically for marketers looking for in-office and remote marketing jobs in tech, SaaS, and e-commerce.
Figuring out how to build a job board
I felt confident about the marketing side of things, but needed to figure out how to explore actually building out the job site.
I started out by looking at some of the turnkey solutions. Then I thought about WordPress and job board plugins. Then I thought about just starting with an email list and a landing page. But nothing really fit my vision or offered the flexibility I wanted to deliver on some important details.
And then I remembered a tweet Ben Tossell had shared on Twitter. It was a gif showing a new tutorial for a job board using Webflow and a few other no-code tools. I've been a Webflow super fan for years and knew that I could probably pull something off from scratch myself, but that it would take a bit longer than if I had a little help.
So I reached out to Ben and, after a quick Twitter exchange, he generously gifted me a MakerPad membership for free!
You never know what you'll get if you just take a chance and reach out, ask a question, build a relationship, etc. The worst that can happen is someone says no and you either move on or figure out how to get a different result the next time around. Even though I hadn't started working on anything yet, this development kicked my motivation into overdrive and I knew it was all going to come together.
Getting to work
After following the MakerPad tutorial, I started to tweak, personalize, and style the resulting platform to give it a life of its own. The instructions were fairly straightforward. Webflow is the actual job board, a Typeform is embedded into a page of Webflow to capture job postings, the Typeform sends the data to Google Sheets, and then a Zap sends it from Google Sheets to the Webflow CMS. If you're nifty with Webflow and Zapier, all it takes to master is a little patience and some trial and error to sort through the nuances.
Job boards have the classic "the chicken or the egg" conundrum since traffic and job postings are interdependent. But in most cases, every marketplace model starts with the supply side, whether it's filled artificially or for real. So I began backfilling the site with open jobs from the previous three weeks. Many employers only have a hiring window of four to six weeks and I figured that, by the time I launched, the oldest jobs would be just about to expire. One-by-one, completely manually, I entered over 100 jobs into the Webflow CMS.
And just like that, I had a functioning job board!
Now to find a domain. I did a little brainstorming and used Launchaco to check which names and domains were available until I settled I something that I liked.
Next up: brand development. I've used quite a few logo generators over the years but Looka has remained my go-to. Looka delivers a great pack of brand assets, including multiple versions of your logo, colors, and fonts.
I decided that I wanted something a bit off the beaten path and looked at sites like Mailchimp and Postmark for inspiration. Yellow stands out like a sore thumb (in a good way), especially among startup sites and branding, so I figured a yellow color scheme would be the best way to make a splash.
And just like that, I had a brand: Hey Marketers. It only took a couple of hours — it's not perfect and it'll evolve, but it'll get the job done.
They say that half of your time on a project is spent on the "last 10%." There's a temptation to nitpick and want everything to be perfect when you launch. Fight the temptation! The reality is that it's never going to be perfect and that, most times, good is good enough. Don't let perfection be the enemy of progress. Just ship it!
All that was left to do at this point was to incorporate my new logo and branding into the job board. Webflow makes this incredibly easy as you can apply global rules to components and easily change the style of classes so you only have to make a change once for it to apply to the rest of the site.
Building some extra features
While I didn't have to, I decided I wanted to launch with a little more than the bare bones and added few extra features to the site:
A "Resources Library" full of hand-selected books, podcasts, guides, and other sites
A blog to feature some of my own stories as well as those from other marketers
Marketing job description templates
Ben Tossell also has a tutorial for making a directory of sorts that allows you to display items in a grid and filter by category. I compiled all my favorite books, podcasts, guides, and other sites into the CMS and then built out the resources page where it would be stored.
The blog was fairly simple, as I knew I wanted to get something bare-bones out and worry about making it more sophisticated later. It basically just had to capture email addresses and display each post for it to be the minimum viable solution. And the same with the job descriptions. In fact, it was quite literally a copy and paste from the blog.
Creating each job description was the most labor-intensive part of it all. I decided on a basic structure for each one and then had to go source the template for each one. Again, they're not perfect, but they're good enough. I could come back and make these great another time. For now, I needed to keep moving forward.
Preparing for launch
One thing I've learned is that if you don't want to do it, you should probably do it. Being uncomfortable means you're growing. If it makes you scared, try it.
I announced that I was working on a new project on Twitter. It wasn't even a launch, I was actually just looking for help in getting more job postings. But the word spread and, before I knew it, I had people coming to the site and using it!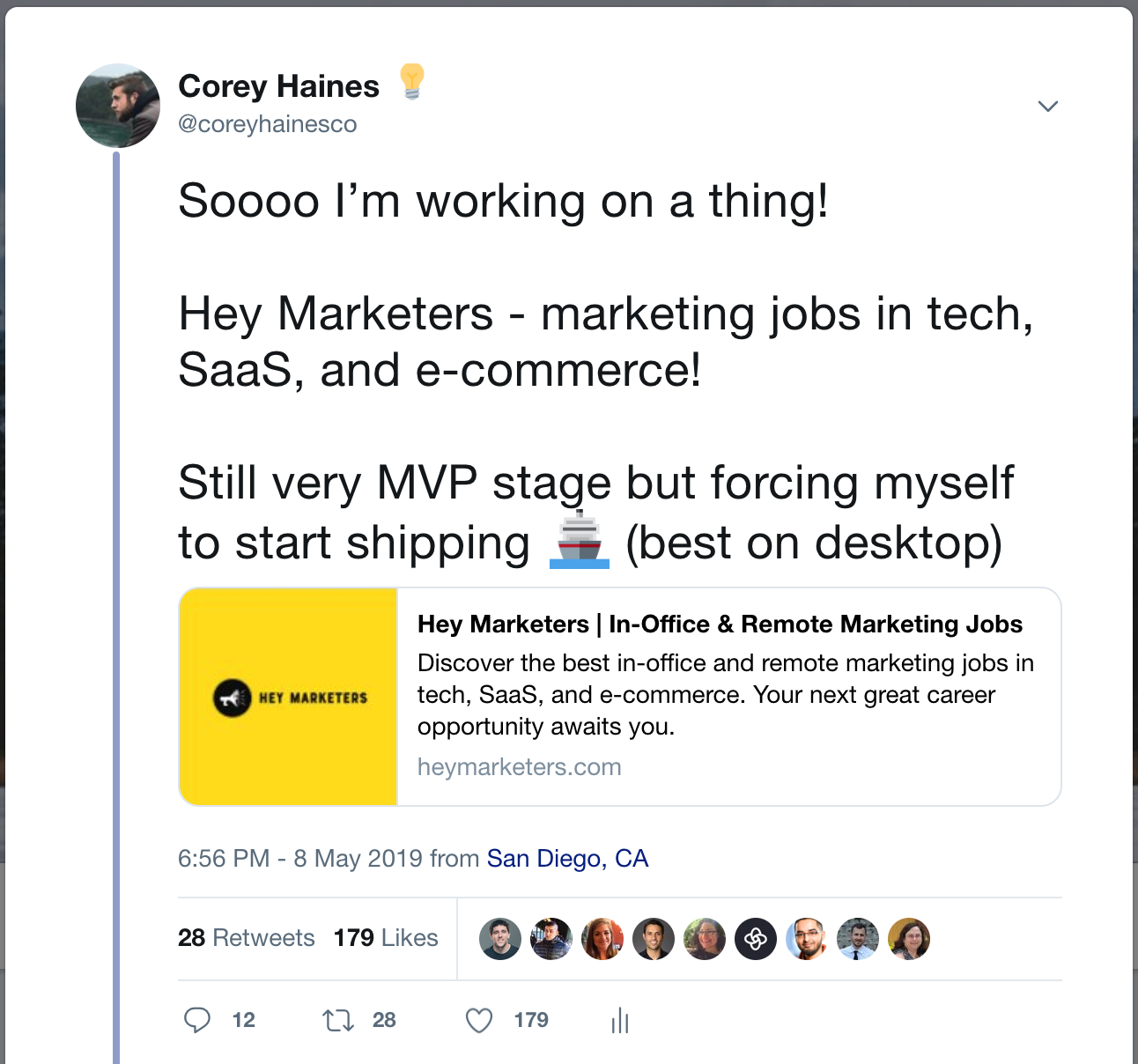 This tweet alone had an incredible amount of reach — more than I expected.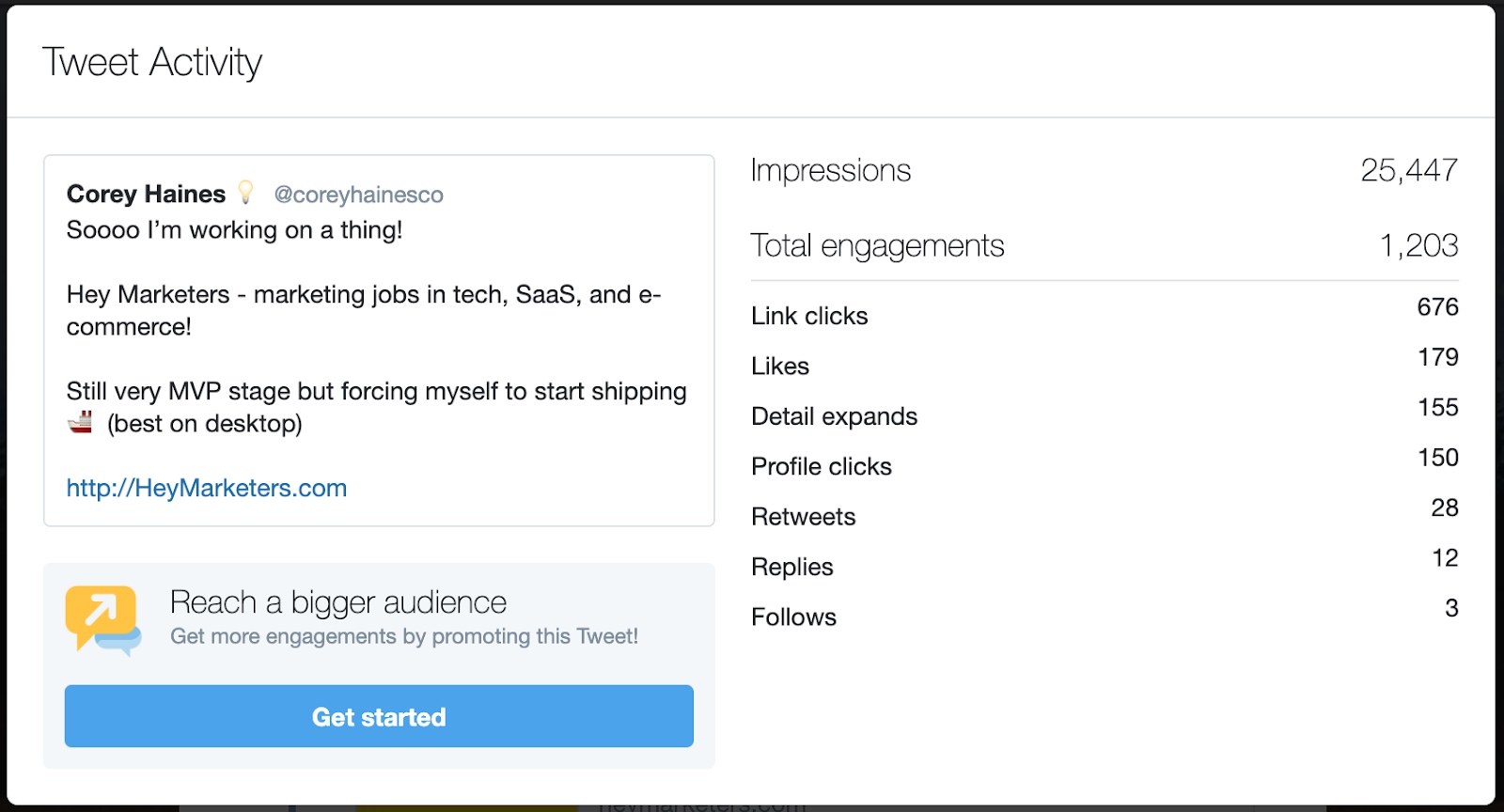 And while it's certainly not much, it's still a considerable amount for an accidental announcement.

From there, I added a few more jobs and resources, made the finishing touches, and then started planning for the launch.
Speaking from previous experience, I think Product Hunt is a great way to launch a new project. If you can manage to get an initial boost and be one of the top products of the day early in the day, it gives you a head start over many other products vying for votes and can produce a lot of organic reach that you wouldn't have otherwise achieved. I highly recommend reading Product Hunt's own How to Launch on Product Hunt guide. There are some right ways to launch on Product Hunt, and many wrong ways.
After planning out what I was going to say, collecting screenshots, and then creating a plan for the day, I fought to stay awake until midnight to upload to Product Hunt — except I fell asleep! I'd had an extra early morning and then also spent the evening playing basketball for a few hours with some friends and didn't get home until around 11 p.m. I was in bed waiting to push the submit button when I fell asleep.
I encourage you to learn from my mistakes: don't try to launch a product in bed because you might fall asleep.
Launch day
The next morning I woke up around 6:30 a.m. and immediately got to work, at this point having realized that I had fallen asleep and was a bit behind. I could've waited another day but I decided to just ship it and do my best to make up for the lost time. I got it up on Product Hunt, posted to Twitter around 7:30 a.m., emailed a few friends and founders, and then got work at my real job.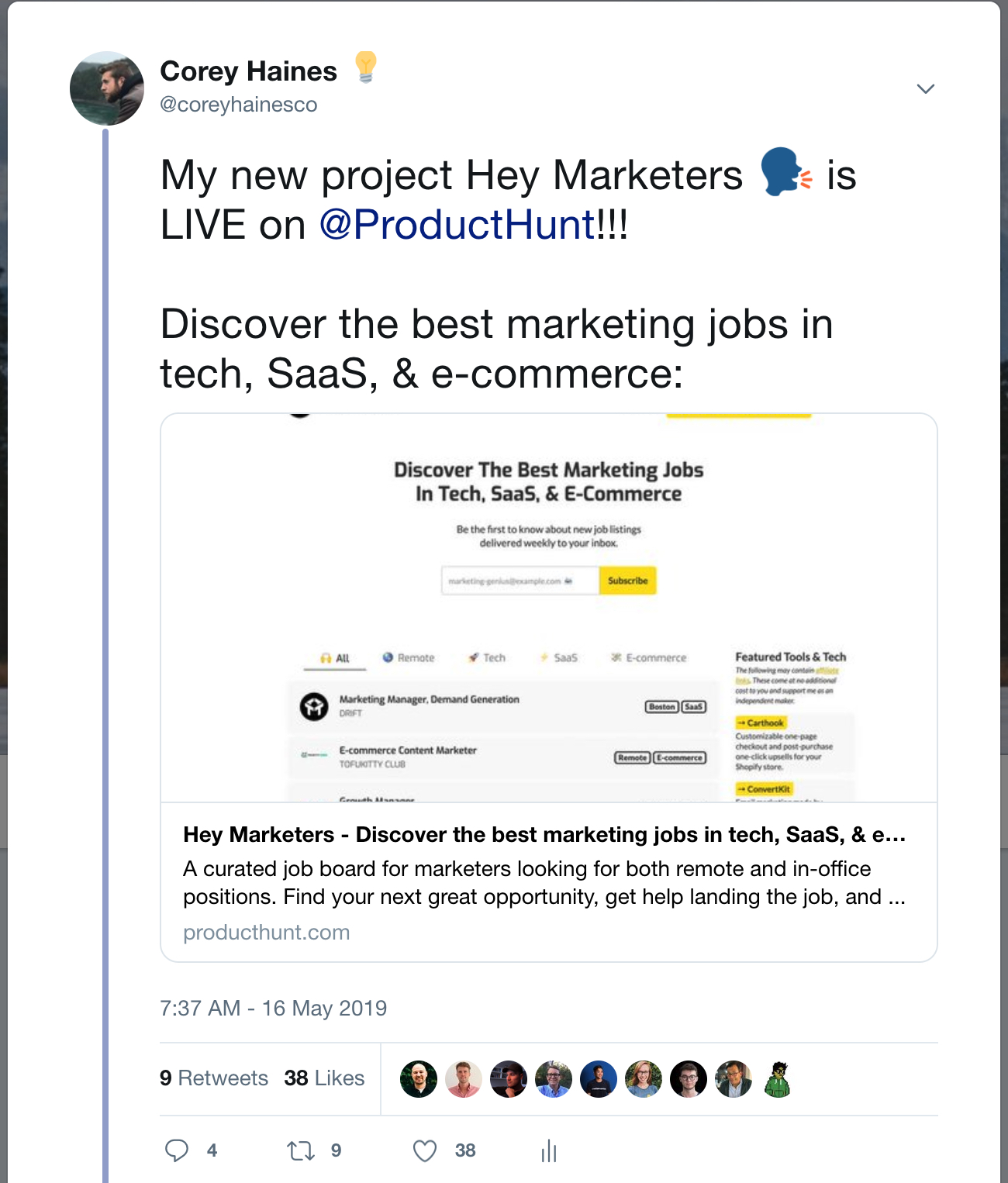 Not as large of a reach but still happy with the response!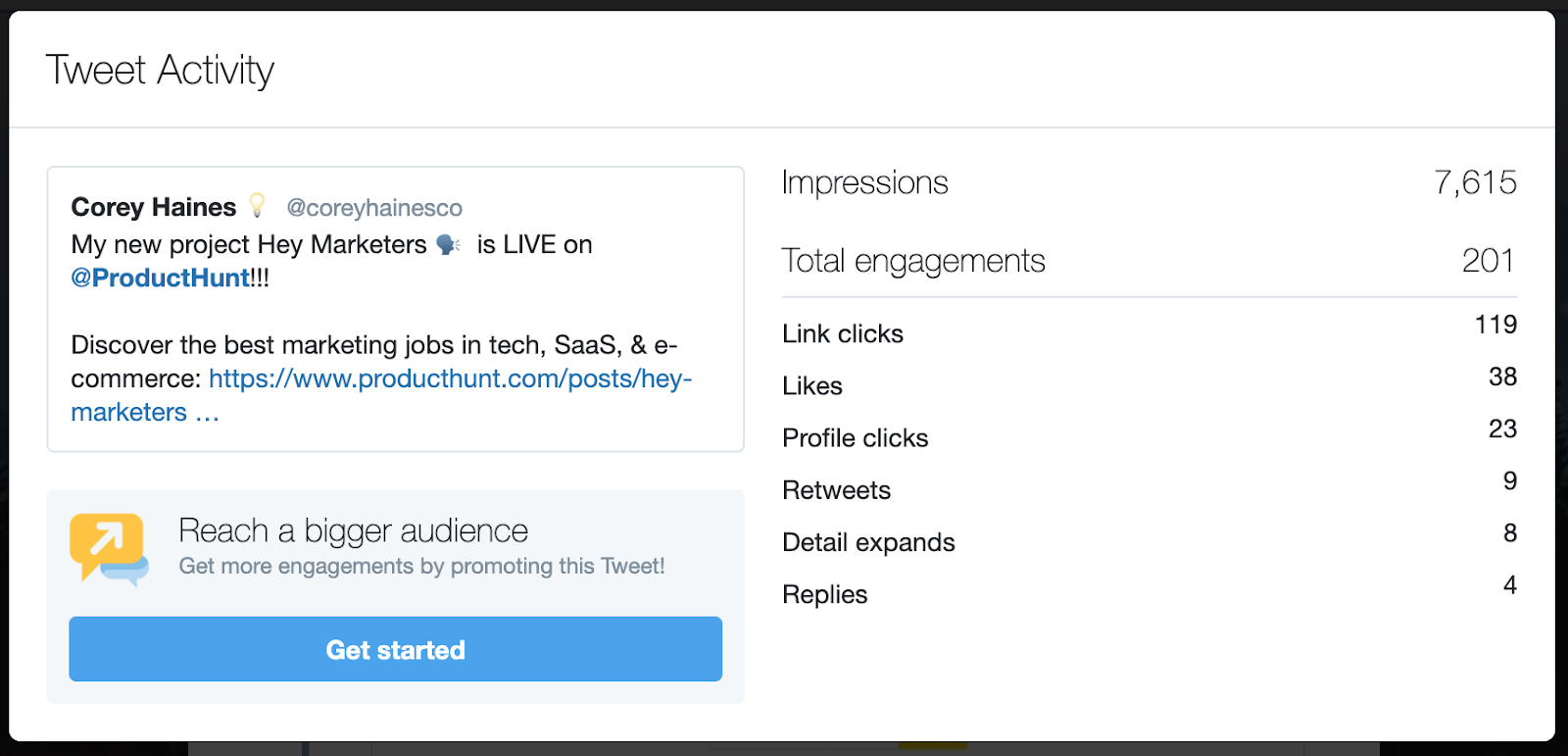 And a decent amount of traffic to the site.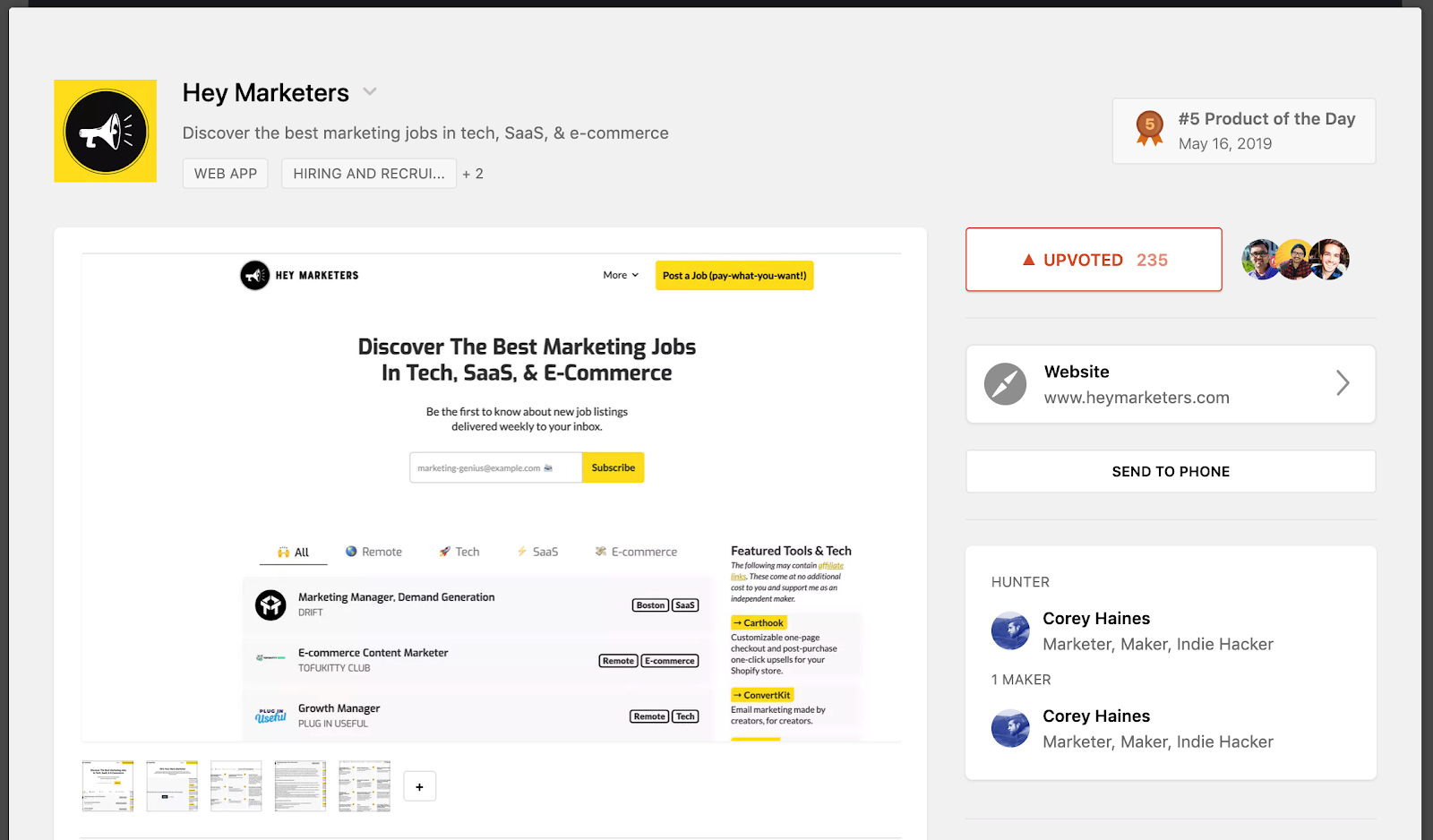 Getting my first sales
Since launching, Hey Marketers is profitable and turning out to be a nice revenue stream. The business model is rather simple: companies pay a fee to post their job opening to the site.
As of this writing, I'm using a pay-what-you-want pricing model to post a job. Pay as little as $1, or as much as $500! This has given me great data to go off of initially and, I think, is also fair since it's a new site. But within the next couple of months, I'll need to pick a starting point and slowly increase from there. I may also introduce annual subscriptions to post as many jobs as you'd like.
The site is still new and there aren't many marketing channels to post a job yet, so most sales have been a product of my own personal outreach rather than someone organically posting a job themselves. I usually start by finding the hiring manager of whoever posted a job and then using an email finder tool like Hunter to send an email asking if they'd be interested in posting to my site.
Replying to tweets that announce a job posting has also proven to be effective.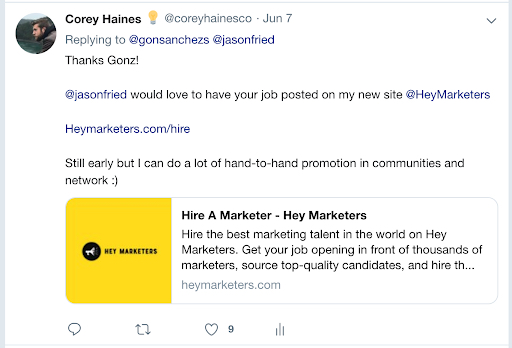 Like I said before, you'll be surprised by what can happen when you put in just a little effort and face any fears of rejection head-on.
The path forward
So far, I couldn't be happier with how Hey Marketers has turned out.
Conception to launch took only around three weeks, but the time I spent on it within those three weeks was very sporadic. I'd estimate that I spent 20-30 hours total. It's still very much a side project and will continue to be. I've managed to do it all on nights, weekends, and some brief early mornings, and plan to continue that routine indefinitely.
My single biggest challenge will continue to be marketing, as with 99% of projects out there. SEO is my main focus so I'll be aggressively pushing out new content, building links, and optimizing pages as much as I can. The product itself will continue to evolve as well. But for now, I'll continue to get more jobs on the site, spread the word to marketers, and help marketers find their next great career opportunity in tech, SaaS, and e-commerce.