We launched on AppSumo with a 93% discount on OWOX BI. We had been preparing for a month and a half without any step-by-step description of what we had to do to succeed. We interviewed a few companies who had made it all the way through, but still, we were thirsty for explanations.
After our AppSumo launch, Maria Bocheva, the Business Development Executive at OWOX BI, decided to share a full guide on how to efficiently prepare your application, set up your campaign, and present your product on AppSumo.
Our goal for our AppSumo launch
OWOX is a B2B SaaS company that develops OWOX BI, a personal marketing analyst that can forecast sales plan performance with the help of AI algorithms.
As 20K users run our product in Eastern Europe every day, we decided to enter the US market. The AppSumo platform was one of the best candidates for this aim. Its audience includes users from the United States, Canada, UK, and Spain whose attention we wanted to attract.
We didn't want to achieve pure profit from sales, but we wanted to get feedback and questions from other markets. We understood that AppSumo users are the earliest adopters in the North American and European markets. They follow all the hottest trends and try to get the best bargains.
How does AppSumo work?
AppSumo is a popular website that regularly offers big sales on online services and digital products. The subscriber base is approximately 1 million, and AppSumo performs super segmentation based on subscribers' engagement and website behavior. AppSumo's large number of affiliate websites and partners helps it reach more than 50 million people. And the cherry on top is 500K AppSumo followers on social media. All these benefits make collaboration with this platform more than promising.
The main task of AppSumo is to promote sales, and there are thousands of companies offering their products and services. That's why AppSumo has a long waiting list. You can present your product for review here, but this is where we get to...
Tip #1 Make sure you're presented by someone who has already successfully launched on AppSumo.
If you aren't, you'll wait a couple of months for an answer.
After your request is approved and you've filled out the forms with information about your product/service, the AppSumo team will prepare a simple landing page about your product and will make a video that clearly explains your product's value.
Also, be prepared to sign a waiver saying you won't use other discount services for a one-year period. That's how AppSumo maintains its exclusivity.
On AppSumo, users buy a promo code (discount coupon) that activates your product.
If users don't get what they expect or realize they don't need your product, they can refund the promo code within 60 days of purchase. So after a customer buys your service through AppSumo, you still have to get them to use your product, deliver true value, and show off your app's functionality.
AppSumo takes a fee for sales, but if your product looks promising, take a look at...
Tip #2 Negotiate better terms with AppSumo.
Two months after AppSumo receives the last payment for your discount code (which gives time for refunds), they'll transfer you the amount you earned on the platform during the campaign.
But When should your company go with AppSumo?
Tip #3 AppSumo users always look for social proof of products on resources they trust.
You've already met your audience on Product Hunt or other platforms.
Your company has a great English-speaking team with deep product and marketing knowledge.
Your website and product are stable and won't go down under the traffic wave from Sumo-lings.
Your product doesn't have a narrow focus and can be useful to a great number of users.
Tip #4 Niche products can try to take AppSumo by assault too, but the results may be poor considering the efforts required to sell the idea.
Your product is easy to understand and to explain, and its value is quite obvious. You can pack all the meaning into a one to three minute elevator pitch.
Your product is simple to install and use. Any user can test all the functionality without blasting tech support with questions and calls for help. If your interface is perplexing and stuffed with bugs, users will likely be disappointed and return the coupon before they discover all the tricks of your product. It's easier to wait until you have a better product.
You have a high-quality knowledge base. This will help you deliver value fast and upsell the new features of your product.
Your cost of goods sold (COGS) lets you create an attractive discount for a lifelong or long-term subscription.
You're ready to wait up to three months after the start of the AppSumo campaign to get paid.
We checked off most points on this list, and after comparing the potential profits and risks, decided to launch our product on AppSumo. Now, let's go through all our adventures from the preparation to the payback.
Stage 1: Preparation
Bonus: Check out an inspiring presentation from Vadym Nehay, CEO of Depositphotos, about his company's experience on AppSumo.
Preparing for the interview. At this stage, you should prepare answers to questions such as:
What category does your product belong to?
Design
Analytics
Education
Marketing/SEO
Advertising
Developer
WordPress
Customer relationship
Website tools
Small business tools
Productivity
Entrepreneur
How would you describe your product?
What are five reasons why customers love you and your product?
What are the key benefits of your product and why are you beating your competitors?
What success stories and case studies display the practical sense and profit of your product?
What's your offer?
Decide on your offer:
lifelong product access,
premium plan access for three years,
access to an online Facebook marketing course (containing three hours of videos and seven PDF checklists),
a 215-page web design for beginners book.
Example: We sold the lifelong OWOX BI Basic plan subscription for $49 (instead of $720 per year).
How much does your service cost for a non-Appsumo customer?
How much will you charge for your product on AppSumo?
To form the price, you should consider the following factors:
Cost of goods sold (COGS)
The possibility to transfer the acquired customers to a more expensive plan
The so-called Sumo-lings audience anticipation
After we set the price, we started to monitor the following metrics: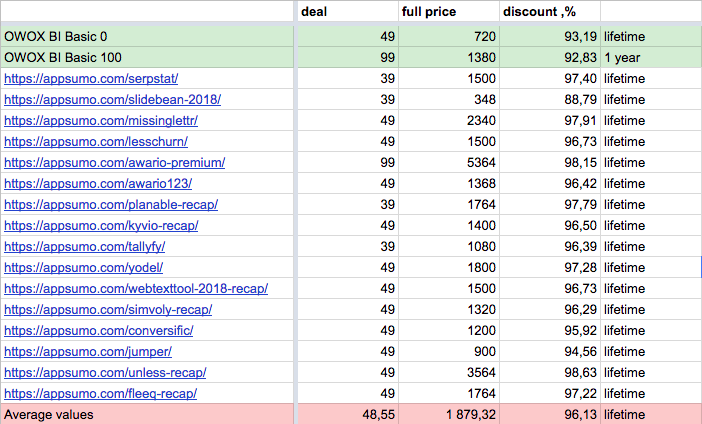 What will you consider a success? Acquiring new customers? Getting a certain amount of website traffic? Collecting feedback? It's important to understand that AppSumo is aimed at being profitable.
Is your team ready to launch on AppSumo?
The planned launch date is typically set for three to four months after the interview date. This allows all teams to get prepared. Here's what you should be looking for to decide if your team is ready:
Campaign duration. Maybe you'll be asked to generate 20K promo codes and launch the campaign for two weeks with the condition that if the codes are sold out sooner, the campaign will be stopped. Or you'll get an offer to continue the campaign for an additional month if sales go on but promo codes are still available. All these conditions will be discussed on a case by case basis.
If you aren't a U.S. based startup: how many English-speaking technical and project support staff do you have? Additionally, you should consider working evening and night shifts. AppSumo must be sure that during the promotion your employees will be available 24/7 in all time zones.
Write down the names and contact info of your employees involved in the campaign:
Content managers
Sales department
Technical support
Legal and financial support
You'll need to add this information in the AppSumo Slack channel:
AppSumo uses Slack for fast communication with your team and to help companies connected with AppSumo meet each other to share feedback and experience.
Tip #6 Use Slack to ask questions to those who have already launched on AppSumo and discuss complexities and how to defeat them.
Negotiations influence your launch the most. It's important to be represented by a person with good English who will make a brilliant impression from the first meeting to the end of the deal with an AppSumo representative. Typically, the first call lasts 40 minutes, during which you'll discuss your answers to the questions we've mentioned above. (Keep in mind that this is our own list of preparation questions, not an official list of questions from AppSumo.)
After that, if you apply by way of a recommendation from another company who has already launched on AppSumo, you'll be asked to fill out an application form as anyone who applies. Here's what we wrote in our application.
After submitting your application, the longest, most laborious, and most important stage starts. There are several areas to work over: marketing, technical preparation of the website, landings and promo codes, creation of a knowledge base and FAQ, and preparation of your support team. Let's see your to-do list for each area.
Marketing
Create a chart describing how and when you'll interact with Sumo-lings. Do you plan to reach all customers with this campaign? (Doing so may lead to monetary losses, because your current customers may transfer to cheaper AppSumo plan.) How will you inform your audience about the campaign (listings, partner posts, advertisements)? How will you distribute this content during the campaign?
We registered on listing sites (techbargains.com, offers.com, bensbargains.com, couponchief.com), set up remarketing campaigns for non-paying users and users originating on AppSumo, and created email announcements.
Make sure you prepare all visual materials beforehand: for the landing, mailings, retargeting campaigns, users' personal accounts, social media posts for partners and your pages, etc. Create a list of success stories and case studies that will be used for promotion. To help the AppSumo team prepare their part of the content, you need to have a call with their content production team.
The AppSumo content production team will prepare a video for your AppSumo landing page. Show your demo during the call and answer the same questions you answered during the preparation stage. Also, you should give access to your product or to a sandbox so the AppSumo team can make a screencast. Before publishing this video on the channel/page, AppSumo will send it to you for approval so you can fix any inaccuracies. You can find videos of releases on the AppSumo channel.
AppSumo writers prepare all content for the landing. Be sure they see customers' feedback on G2 and Capterra. These websites with reviews and recommendations are considered reliable by most users, and they increase trust in your brand. Show a few of these reviews on your landing: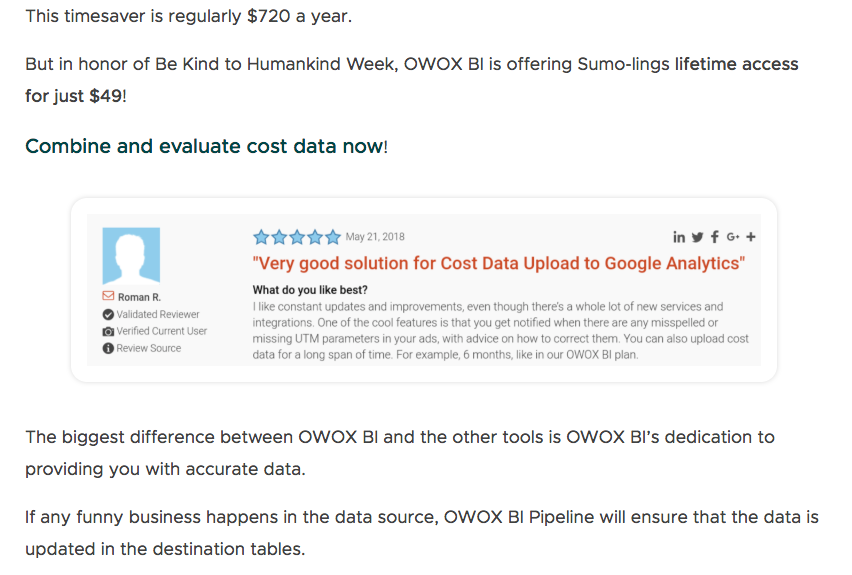 After content negotiations are done, AppSumo will work over your project for one or two weeks and present you a draft to get feedback.
Here's a checklist of what you need to prepare during this time.
Company video. Create a welcome video for your landing (like Serpstat did) and a first email (see our example). This will help you get closer to the audience and appear friendlier. The video might be a screencast of the product with comments or an appeal by the company founder, product manager, or another employee.
Landing. Prepare a landing for users who have already bought an AppSumo coupon. You don't need to sell on that page, so keep the Sumo-lings style and add jokes, references to Taco, and a feeling of the once-in-a-lifetime deal.
Trigger emails for Sumo-lings. Create a communication strategy for users coming from AppSumo. For example:
Send hello emails with a guide for new users who have already activated a license in your product.
Send an onboarding email a few days after users activate a license to help them deal with possible complexities when they first start using the product.
Send upsell emails. These emails can wait at least two months after the campaign ends. But you should think over how they'll work with other emails in the communication strategy.
Feedback and reviews on G2 and Capterra. Use these platforms to prove your reliability and service quality. But beware: if all reviews were given in two weeks by your employees, no one will believe you. Prepare this part beforehand, ask loyal customers, and add a simple and clear description of your company.
Offer for those who missed your promotion. There will definitely be people who miss your promotion. Think over whether you'll be ready to sell at the same price when the campaign is over. And if not, what will be the price?
Webinar featuring AppSumo (optional). Sometimes, the AppSumo team suggests holding a Q&A webinar on their platform for you to show your product and answer questions. You should choose two English-speaking specialists to participate. One will present and the other will answer questions in chat. If you're limited in your resources, you can leave everything to one person who will answer questions from the chat at the end of the webinar. Auxiliary support for the webinar, from invitations to reminders, AppSumo takes care of themselves. Here's a recording of our webinar with AppSumo.
Knowledge base for the project. Even if you have a deep knowledge base, create a separate guide for new users from AppSumo. It will help them move through the funnel smoothly and not push the support team too hard. Here's an example of the OWOX BI guide.
FAQ for support. Think over adapting this list for customers from AppSumo. We received the following questions that weren't in our typical FAQ:
How does the AppSumo plan differ from your Basic plan?
How many Google Analytics and advertising accounts can I use with my AppSumo subscription?
Can I use the trial and return to my AppSumo plan after that?
Add answers to these questions to your FAQ to save time for both customers and your support team.
Feature request page. Be ready for people who ask about features you don't have. This is a great way to expose market needs, but you must filter attentively: who proposed that? What company is he/she from? Is this your target client? When we get similar questions about unreleased features, we ask users to vote (if a feature was published) or to leave the request for a feature on a page like this. You don't have to create a page just like this one, but paying attention to feedback is a must.
Product development roadmap. AppSumo users may ask you about features you're planning to implement in the future because they're buying lifelong access to the product. That's why it's very important for your support team to know your development plans. Making them public is ideal. Some Sumo-lings may buy a product for a feature that's only planned for development in the next quarter or two.
Technical readiness
You need to generate 20K unique promo codes for your project. Users must be able to just enter your website, enter the promo code, and use the product. You mustn't ask for a credit card or for additional actions to activate the product. A few of the promo codes you send to the AppSumo team are for testing and the rest are for users.
Promo codes have no certain requirements, but we tested each with wordsafety.com because our first implementation gave us a random code with some potentially unpleasant connotations.
Check the promo codes in your interface. We overthought this part, and users who were coming to the website and entering the billing page to check preferences saw this:

This doesn't look like a purchasable AppSumo subscription but rather like a free Basic plan. So we had a shower of questions and complaints in Intercom. Avoid such behavior and think over your entire messaging at each stage of the customer funnel.
Check your website capacity. AppSumo has enough reach that you should prepare your website architecture for a big load of visitors beforehand.
If your funnel is too complicated, be ready for lots of returns and not so happy reviews. In the ideal case, after entering the promo on AppSumo's landing, the user gets into the project/product where it's clear what to do next. If you use some kind of onboarding tool, don't forget to set it up according to the AppSumo scenario.
Schedule for fixing urgent bugs. If your product is still raw and you have no QA or automatic tests, this will be critical. You'll need a person who can urgently fix bugs in the middle of the night. AppSumo users typically come to the website from evening to morning, and they won't wait 12 hours till you fix something — it's easier to get a refund. We were sure of our product's readiness and didn't prepare a bug fixing schedule, but some errors appeared anyway. Luckily, they weren't too serious.
What should the program and technical teams prepare?
Intercom tags. These are very useful. For example, you can use the #AppSumo tag for those who ask about the AppSumo campaign. This will help you customize messages for customers.
Set your flexibility limits. Sometimes, your customers will have a few minor wishes or preferences. If you set your limits of customer service and know for sure where you're ready to meet your customers halfway, you'll be ready to answer customers and save time and resources on team coordination.
Manual for solving technical problems. Create an instruction manual that will help your technical support team collect all bug reports in one stack. This preparation will help you collect technical feedback correctly and pass it to the developer team.
Sales
Release time. Our promotion started at 7 AM PST on August 29. If we had a chance to start on AppSumo one more time, we would start as soon as possible, at midnight, as lots of Sumo-lings are from the East Coast. By the time morning comes to the West Coast, you'll have your first purchases and reviews.
Repeating emails. The AppSumo team sends emails in stages, starting with the most loyal audience to test your product and then moving to the rest of the base. During the campaign, AppSumo sends emails mentioning your product a few times. Find out more about the email schedule and be ready for increased activity on those days.
Promotion continuation. AppSumo can propose to prolong the promotion if everything goes well and promo codes are still available. If this happens, don't forget to inform your team and update their workload.
Development on the go. Prepare for edits and development while the campaign is in progress — for example, creating a plan comparison or developing some features. We created this document that was posted on Intercom to make the differences between the two plans clear for Sumo-lings.
Support. Each of our AppSumo shifts consisted of one salesperson to answer questions/reviews on AppSumo, one employee from technical or project support to solve problems in Slack/Intercom and by email, and one SMM manager to track mentions on social media and other platforms. Our workload looked like this:

The time overlap is needed to discuss difficult customer interactions, bugs, etc. To tell the truth, we were ready for a bigger rush, which is why we rebuilt our workload on the go because there was no reason to stay up all night when one person could do everything alone.
Subscriber reviews. Don't forget to thank people for their feedback and work with objections. We had one situation when a customer wrote us a good review, but he had only one previous purchase on AppSumo (as displayed in his profile). So the AppSumo team blocked the review considering it a fake, but it was real. Here's what reviews look like on the official company page on AppSumo: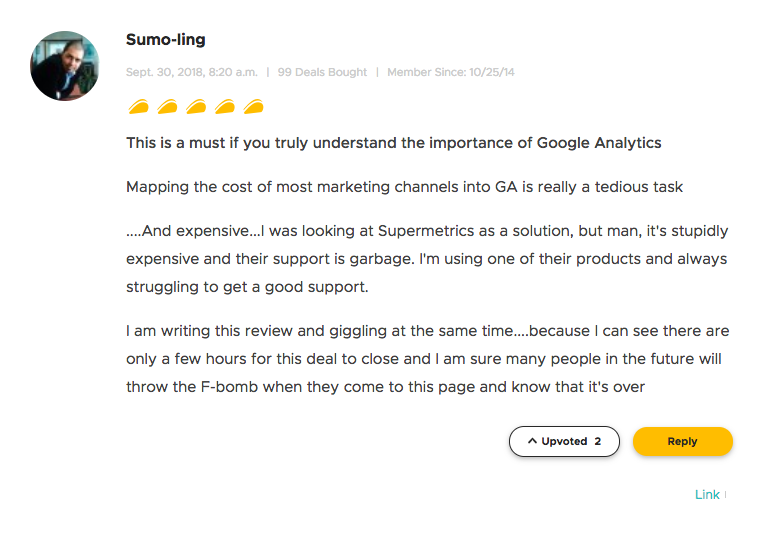 Dashboard with sales statistics. During the campaign, you'll have access to the AppSumo dashboard with sales and returns presented day by day: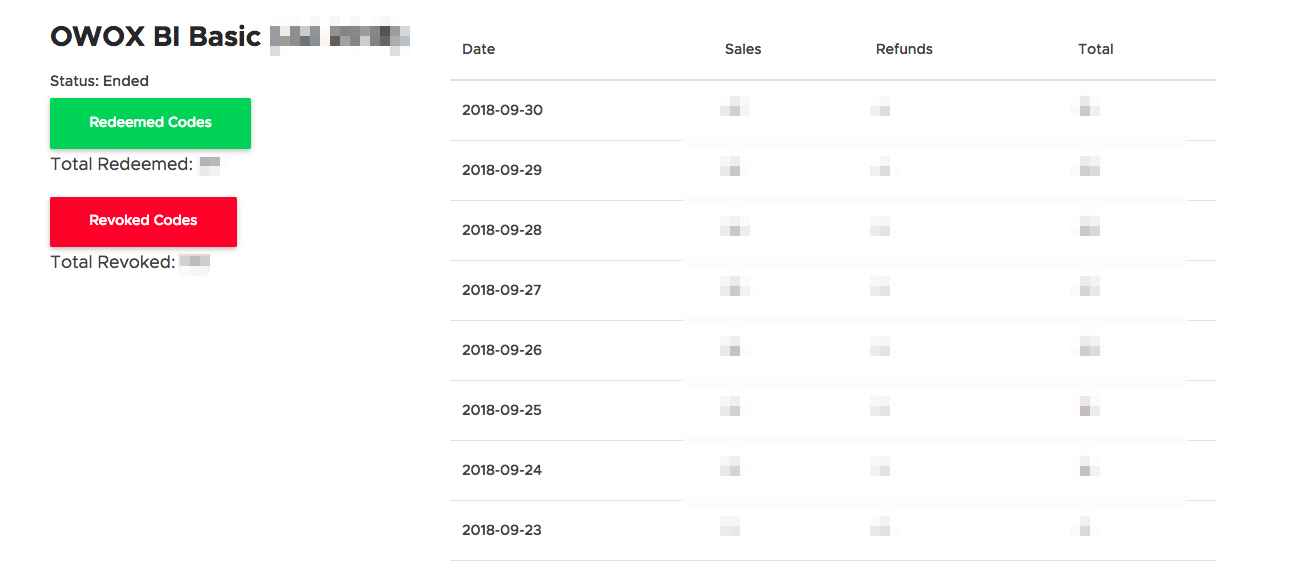 Use it to stay relevant. If you see that returns start to rise, it may be because there's an error or there are problems with support. Check it out immediately. Also, you can estimate your approximate revenue from the campaign.
Analyze customer activities. We analyzed the customer journey through the funnel based on raw data collected in Google BigQuery. This helped us understand where users ran into challenges, how they used the product, and where they spent most of their time. And we worked with segments needed our help, smoothing their experience and solving their troubles immediately.
When the campaign is over...
Education. To make your base achieved from the AppSumo campaign work, you need to discover more about your new customers and educate them on how to work with your product. This will help you get even more positive reviews and ideas for features. This established communication can get users to subscribe to a more expensive plan in the future.
Find out where your audience comes from. We did this with raw data gathered in Google BigQuery. We created different offers scheduled for each time zone.
Prepare the promo scenario for upselling:
Start to sell an upgrade plan not earlier than the subscription return date. Otherwise, customers may feel pressure and get angry, so they'll just return the promo code.
Leave customers the possibility to return to the old lifelong plan if they aren't satisfied with the upsell plan. This method should improve conversions.
Get money. Two months after the last payment for a discount code, the AppSumo team will send you your earnings.
What would we do differently next time?
Prepare a landing page explaining the differences between the standard Basic plan and the AppSumo plan beforehand. For many Sumo-lings, it wasn't clear. To make it more transparent, we had to make a comparison document on the go.
Think over how to get customers to buy a few promo codes. For example, you might motivate them to buy more than one promo code to get the right to access the upsell features faster than other customers.
Add information about benefits for agencies that want to make money off the product. AppSumo is a land where a lot of agency representatives live, and if you can make them each buy a promo code for each of their clients, you can get additional income.
Make the AppSumo offer disadvantageous for current customers. If you don't, you risk losing regular paying customers. Or you can make the offer win-win: make the AppSumo offer even more profitable and attractive for current customers, but only if they buy it and stay on that same plan.
Make an agreement with influencers about promo distribution on Quora, Reddit, and Twitter beforehand.
Pay attention to educational materials to make the product's value more visible. We should have made a video course, e-book, and report templates specifically for those who bought an AppSumo subscription.
Move the project team's Q&A guide straight to the landing page and into the user guide. This will help you decrease the number of messages to support.
Simplify the product. Your product must be clearly understandable for the user, not only for the specialist. If your product is really cool but complicated, it will be troublesome to sell it.
Typical causes of campaign failure:
The product is too complicated, there's no clear explanation, and it doesn't solve any real problem for the audience.
Poor knowledge base. If you have a poorly constructed help guide in English or it doesn't answer the most important questions, it can scare customers away.
Slow support on the website or chat. If you don't provide support in time, you risk losing customers. Americans are ready to forgive bugs but not indifferent service. In some other parts of the world, people typically want a perfect product; support is not so important.
The pricing doesn't work. If there's no difference between the standard plan for non-AppSumo user and AppSumo proposition, users will doubt the benefit of using promo codes.
High COGS. Maybe you'll sell a lot of promo codes, but if you don't calculate the campaign profitability from the very beginning, you might not make any profit.
Downsides of an AppSumo campaign
Paid audience loss. Even if you haven't promoted in your market, your audience will find out about your promotion anyway. Somebody will post in groups or Telegram channels and, voilà — some percentage of your current paid customers will transfer to the AppSumo plan.
Your standard plans can lose value for your audience. It's possible, but not guaranteed.
The results
We got nearly 1,000 sales, bringing us $50,000 in revenue. Considering our product's narrow focus and the complexities of setting it up, we can assume this result was good.
Sales dynamics: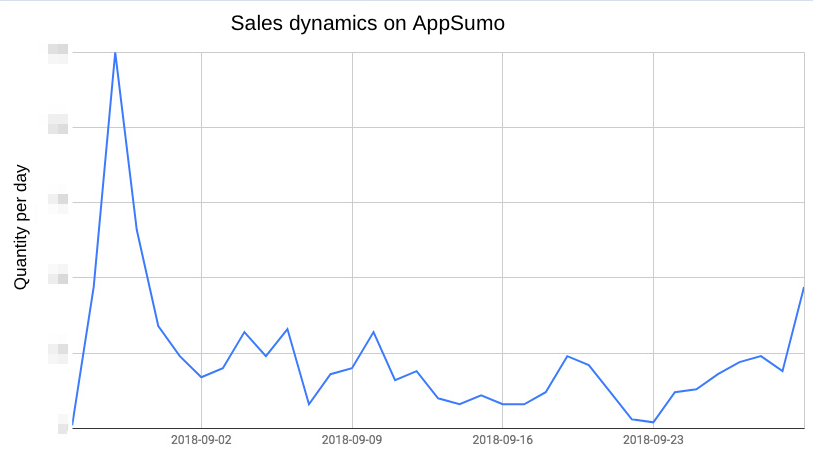 New customers by country: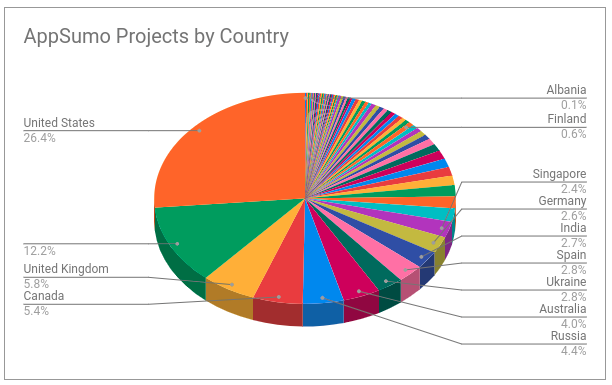 50 questions from users, 8 reviews, and 295 shares on Facebook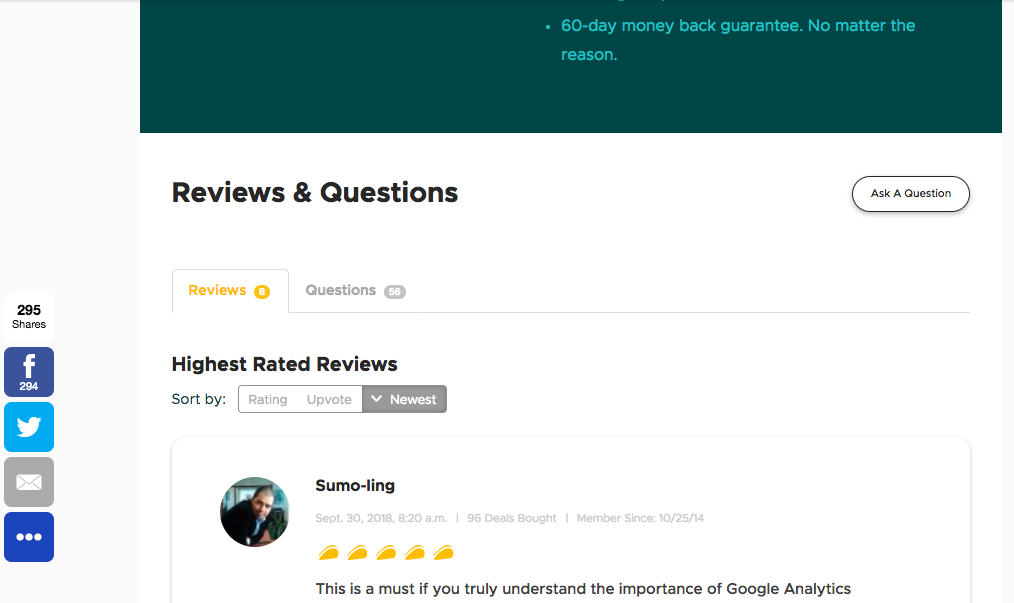 All in all, the AppSumo launch gave us:
A base of nominally paid clients from the US and some other English-speaking countries
These are smart customers who understand the value of the system, ask challenging questions, and give feedback and requests for cool features. It's possible to build true relationships with them and conduct product interviews. Besides, they have a high potential for upselling.
**High-quality usage statistics
**We can't complain that we didn't have usage statistics before. But now we have enough data to segment customers by language and understand how cultural differences influence the user journey.
Brand awareness. Leads may find your website and see comments and reviews, which is extremely important for the US market.
User feedback. Each review shows how active the Sumo-ling is and how many deals they've purchased. Sumo-lings are experts on certain market segments and will always compare your product with others. These comments are very useful to find your strengths and weaknesses.
Experience we can apply to future launches on other platforms:

StackSocial
Mighty Deals
Inkydeals
Greendeals
Dealjumbo
BitsDuJour
Webmaster-Deals
DealFuel
We hope you'll consider our experience and that your launch will bring you success. If you liked this deep dive into AppSumo How-to, leave a comment for us below. If you have your own tips,, we'd love to hear them as well!