I have some good news and some bad news.
Let's start with the bad news to get it over with first: no matter how well-established your company is or how skilled a businessperson you are, ensuring that everything that will make your business successful gets done—and gets done well—is a huge challenge. Especially in a startup, where resources are tight and everything falls on your shoulders, getting things done can be extremely difficult.
But here's the good news: you don't have to figure out tedious and complicated issues like business processes and workflow methodologies by yourself. There's a wide range of project management tools available to entrepreneurs that can help you keep track of everything you've got going on. And here's some bonus good news: most of those tools are free for single users and small teams, especially if all you really need to do is keep track of due dates and assigned tasks.
In this post, I'll take a look at some of the best easy-to-use project management tools for startups on the market that will help you keep track of everything you need to get done.
The 5 best project management tools for startups that want to get organized
The systems I'm recommending were developed by companies that built and used them during their own startup journeys, so you can rest assured they address real pain points. I'll take a look at some of the features in each tool that startups can really use and give you some information about how much each tool costs.
1. Jira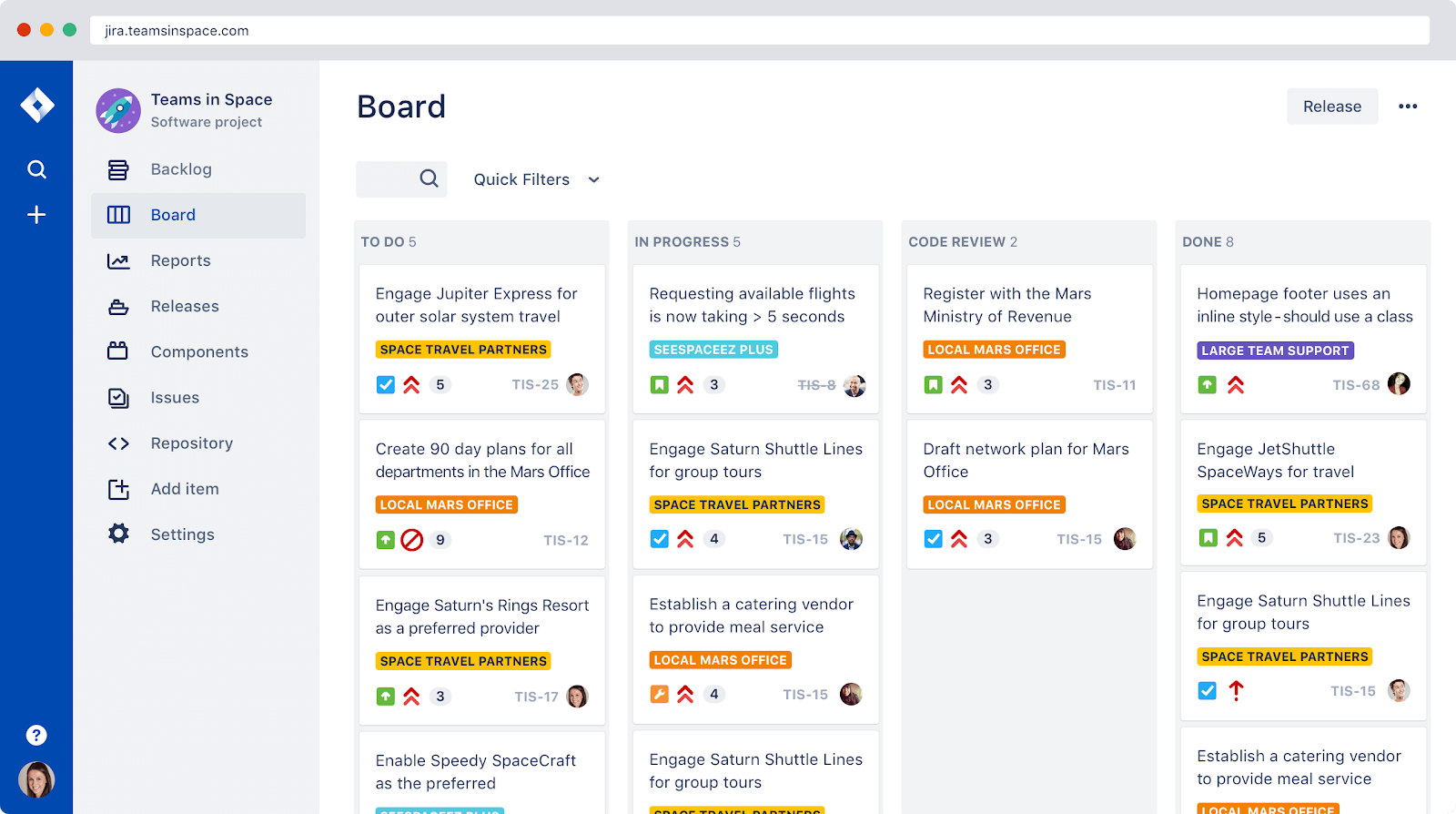 Jira Software is an Agile project management tool that supports any Agile methodology, be it Scrum, kanban, or your own unique twist on an effective workflow. From Agile boards to reports, you can plan, track, and manage all your Agile software development projects from a single tool. Using any supported project management framework—or your own custom method of getting things done, Jira can help your team release higher quality software, faster.
Plans for Jira start at $10 per month (for 10 users or fewer), so you'll be able to keep track of your work while still keeping your operating costs under budget.
2. Trello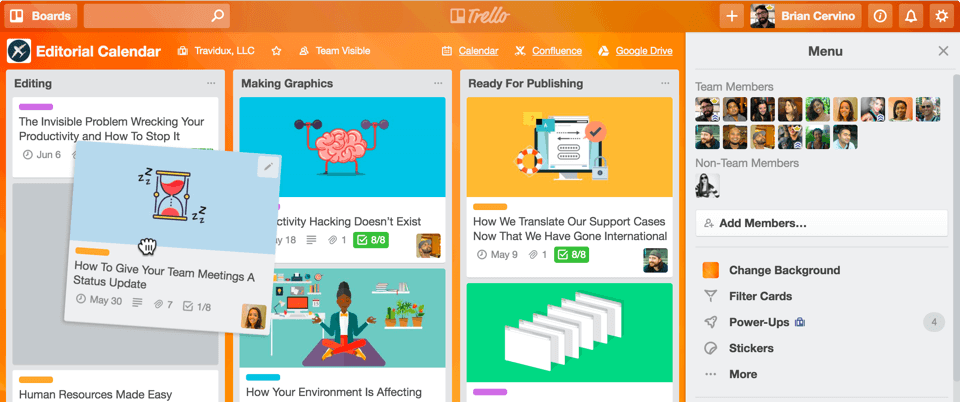 Trello is a visual tool that helps teams collaborate on any project. Using its kanban boards, you can drag and drop tasks and create a custom workflow leading up to your end goal. It's particularly useful for design and development agencies that can use its boards to track website design and software development projects.
The intuitive nature of dragging and dropping your tasks between work phases makes Trello easy to use. Plus, you can continue to use programs you're already familiar with, like Slack and Google Docs, to add pictures, texts, documents, and many other attachments and components to tasks so everything project-related is in one place.
"The simplicity of Trello is what originally attracted me to it. It's a tool that allows us to manage multiple projects at a time, keeping the entire team on the same page," says Dan Skaggs, founder of One Thing Marketing.
If you limit your number of team boards to 10, Trello is free to use. If you've got lots of team projects going on, you can upgrade to unlimited boards and more functionality, for just $10 per user, per month.
3. Asana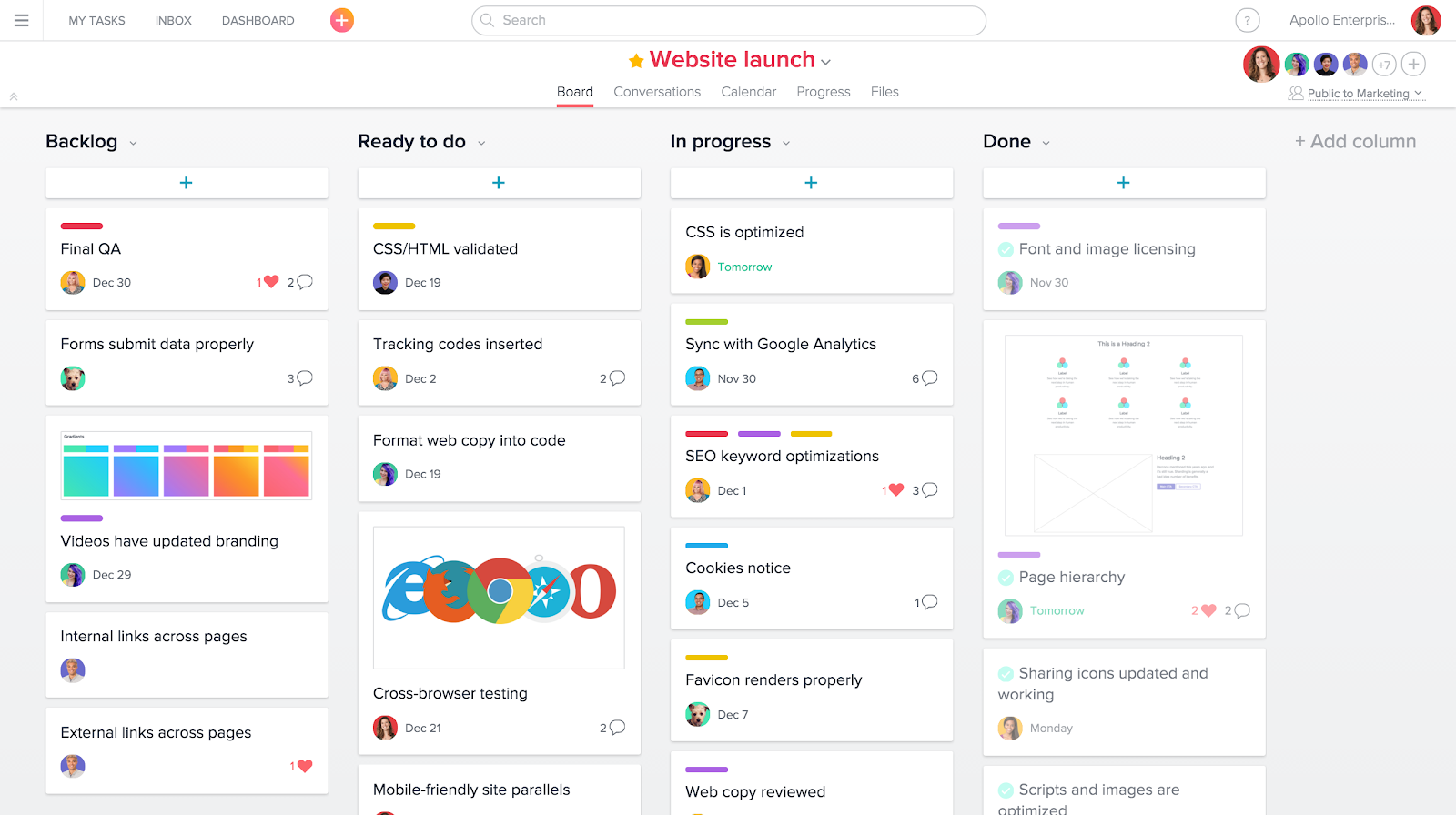 Asana helps you track your work easily. It's a great fit for organizations that already have their workflow down and are looking for a slick program to manage it from. It's a more advanced task management tool that's extremely integration-rich, but it's still easy to use. Its long list of features paired with its intuitive design makes it suitable for teams of all sizes.
Asana allows you to quickly switch from a list view to a calendar or board view. This flexibility helps you and your team members organize tasks by important metrics like due date and priority. Asana also allows you to send an email to create a new task, which is helpful for those always on the go. If you receive an email that needs to be addressed, simply forward it to Asana, and a new task will automatically be created.
Bring emails, files, tickets, and more into Asana with over 100 integrations to choose from, so you can see everything in one place.
Asana's Basic plan is free to use. Its Premium plan, which includes more features and access to priority support, starts at $9 per user, per month.
4. Teamwork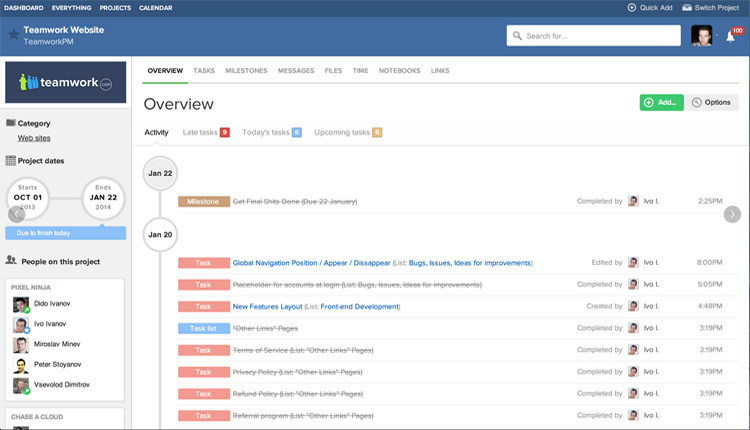 Teamwork's platform helps your team plan projects, collaborate throughout the process, and access real-time progress reports. One of the key distinctions of Teamwork is its central file management system where users can access all of their files, attachments, and comments from a central location. You can also make use of is the email integration feature which allows communications to occur simultaneously via email, in addition to allowing users to set tasks using their emails.
Small teams (five users or fewer) can use Teamwork for free. Plans for teams with five users or more start at $9 per user, per month.
5. Smartsheet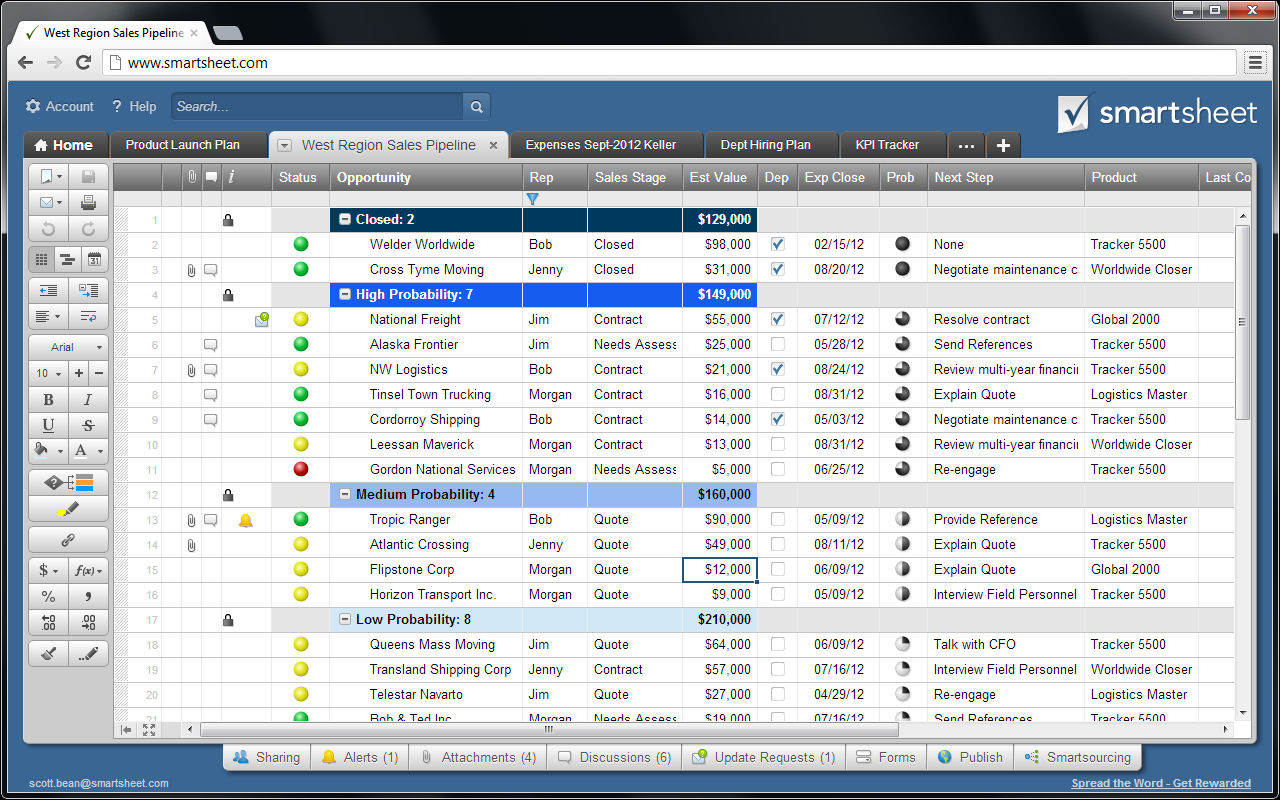 Smartsheet is designed to unleash the benefits of greater work agility and collaboration by providing a powerful platform for organizations to plan, capture, manage, automate, and report on work. If you already know how to use Google Sheets or Excel, you and your team will be comfortable using Smartsheet's spreadsheet-based program in no time.
Smartsheet integrates with Google Docs, MS Outlook, Azure, Office, Salesforce, Onedrive, Box, Jira, Evernote and many others tools you might already be using.
Smartsheet starts at $14 per month for individual users and bumps up to $25 per user, per month for business plans.
Get your workload under control...while you still can
I have some good news and bad news again.
The bad news: the more work your business takes on, the more projects you're going to have to keep track of. At first, you might be fine managing every new project via your special system of sticky notes and paper clips. But sooner or later, that system will become harder to manage with the addition of more and more projects, contracts, or product orders.
The good news: more work—whether it's in the form of more contracts, customers, or clients—means you're probably doing something right. And there's a project management tool out there that can help you keep all your ongoing business activities organized, no matter what your workflow is.
So get a headstart in organizing your projects effectively before your business becomes too successful for you to handle.
Originally published on Ezetech Blog and shared with Indie Hackers Community.