Bootstrapping to $12,000/mo as a Non-Technical Founder
Hello! What's your background, and what are you working on?
Hi! I'm Rodolphe, founder of Remotive. We help tech professionals land remote jobs.
I'm not a typical Indie Hacker; I can't code and I'm not building a SaaS! :) Yet here I am, running a "side project turned full-time gig".
I'm a 31-year-old who lives in Paris, France. I was lucky to join Google fresh out of college. Most of my colleagues worked on Ads-related products. Not me. They had me sell Gmail to companies. I still remember part of my pitch: "…technology good enough to work from anywhere!" That really resonated with me.
A couple of years later, I discovered Buffer, a startup where everyone works remotely. I loved their approach and vibe. I ended up becoming their Director of Operations, helping Buffer hire and grow. My friends kept asking, "How did you land a cool remote job? How can we do the same?" I started Remotive to answer this question back in 2014. Today, I work on Remotive full time and support myself!
What motivated you to get started with Remotive.io?
I love side projects. Tumblrs, newsletters, blogs, startup weekends… None of my previous projects had traction, but with each one, I learned a ton.
In 2014, I decided to answer that question my friends kept asking about how to land a great remote job. I had plenty of experience by then, and it felt like something I could easily speak to.
So I blogged about it. My colleagues shared the post on social media and the timing was just right. Tons of people were curious about remote work, since NomadList had come out a few months earlier. Yet few people had worked remotely before. My article went viral on Medium, so I added a free MailChimp capture form and collected 100+ emails. One month later, I launched Remotive as "a newsletter on Remote Work" on Product Hunt, and we were #1 on launch day!
This happened while I was working at Buffer. (They publish salaries — I was making over $100k/yr.) It's important to mention because I loved my (remote) job and didn't feel the urge to quit. I balanced my job and Remotive as a side project for two years before resigning.
Looking back, Remotive gathered a lot of interest but didn't have explosive growth. It was very gradual. Also, I was making enough that I didn't need Remotive to turn a profit. I had no intention to go full time back when I started it. It was just a side project.
What went into building the initial product?
My MVP was my original Medium post, so that was where I started out. Writing is a multi-step process. I always invite five to ten people I trust to review my drafts. Once I'm happy, I pick a title and illustrations I feel fit best. Each article takes me one or two full days. Some articles do well, others don't.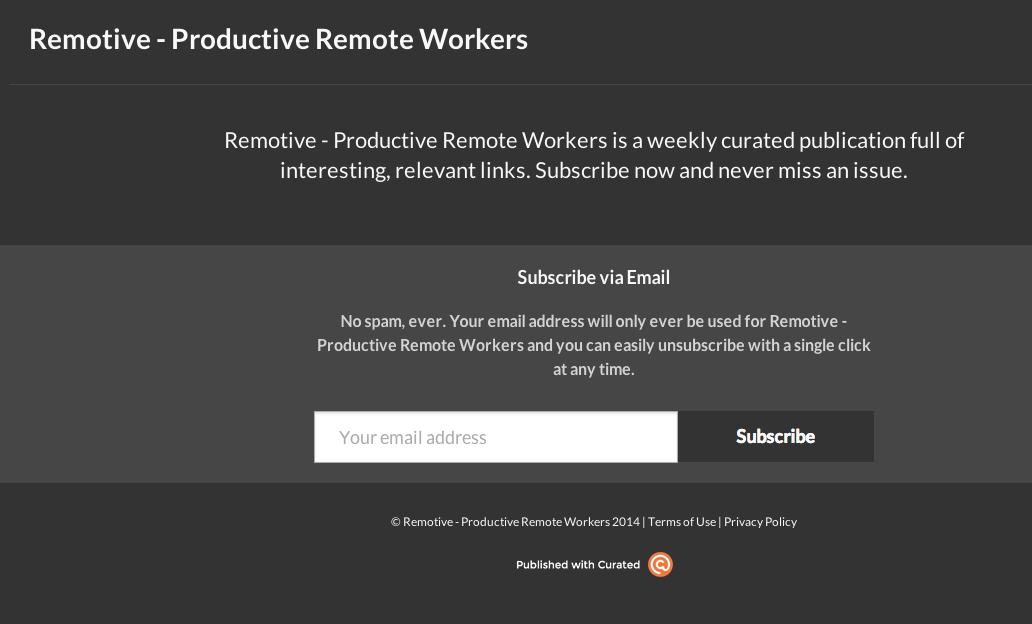 For the first two years, the only thing I did was to curate articles on remote work. My friend Jeremy Benaim created a landing page for the project. It displayed a picture and captured emails. That's all it did for a good two years.
Back then, I ran a weekly newsletter. Everything was collected in Feely and Pocket. I crafted it on Sundays and sent with Curated.co on Mondays. The entire thing took me two hours a week and was $100 per month. All the rest (admin, emailing) took another two hours a week.
I had a full-time job and a life, so half a day per week was the most time I could spend on a fun project. And most of the time, it was fun. Sometimes, I really didn't feel like sending the newsletter, because life happens. I stuck to it, though, and probably only missed sending it out once or twice in the past five years.
Little by little, I added different parts to the project. It grew slowly over the years. Tons of people helped me along the way with feedback and thoughts: Joel Gascoigne and Leo Widrich from Buffer, Brian Lovin, Hiten Shah, and a few others.
All of our growth happened through word of mouth. Here's what took us from 0 to 25,000 subscribers in about three years:
No Ads, we relied on Social Media. Working at Buffer taught me a lot about sharing on social media. Also, Remotive was frequently promoted by Buffer and its employees.

Our initial growth strategy was "go all-in on Product Hunt". It worked. Over the years, we had five PH launches, launching in 2014 was way easier than in 2019. Reddit didn't really work for us, Hacker News was alright.
Here are three articles sharing how we got from 0 to 5,000 email subscribers:
Goodwill. People could see Remotive was a newsletter I was running on the side. So I got a ton of help, shares and retweets from people working in tech. My content was shared far and wide and often recommended.

Later on, we grew by spreadsheet. That means creating a shared spreadsheet that (we hoped) would become viral. We created dozens, a few of them still do well over three years later. My rationale is that data is king and people want direct access to data. So, let them have spreadsheets!
Content. Today, we focus on content. I blog, but we also do cartoons and I share things on social media. Remotive's Twitter has 16k follower and our LinkedIn presence is taking off.
We tried side-project marketing with little success. Those projects tend to be very time-consuming.

What's your business model, and how have you grown your revenue?
Here's a timeline to better understand Remotive:
2014-2016: Remotive was a side gig, I worked full time. Remotive made little money (Launched Newsletter Ads and Job Board).
2017-2018: Remotive was a part-time gig. Remotive made around $60k/yr (Launched Community)
2019-today: On Remotive full-time, getting paid! 💰CTO joined part-time. (Launched Companies and Leadership)
At the end of 2016, I realized I could probably make over $50k in 2017 through Remotive along with consulting and severance. That was enough, so I left my job. Earlier in my journey, I had resigned from Google cold-turkey without any income prospect. This time, I wanted to ensure there would be "some" money.
I built Remotive with a diversified revenue approach. Resilience and "Antifragility", as Nassim Taleb puts it, feels critical in this project. No one client should be so big that we should gamble our business on them. My goal is to have separate sources of revenue and clients. If one part of the project crashes, other parts of the project should take over. Today, nearly all payments go through Stripe, and we have our own built-in invoicing tool.
| | |
| --- | --- |
| Year | Revenue |
| '14 | 500 |
| '15 | 5500 |
| '16 | 27181 |
| '17 | 65128 |
| '18 | 72255 |
| '19 | 125000 |
Here's how Remotive makes money today:
Newsletter Ads: We charge businesses $850 to get in front of 25k remote workers. We vet advertisers, only one Ad per email & two newsletters/month.
Job board: Remote startups place Job Ads with us, paying $299-$448 for a 30-day feature. This is our main source of revenue.
Community: Our Slack community is a virtual co-working space for remote workers. Currently 1,300+ members. Priced $149/lifetime access or $99/yr
Companies: We offer remote employer branding services, promoting remote startups. Packages start at $799/mo. Enquire anytime ;)
Leadership: A private Discourse where leaders of remote teams network and share. Approved applicants pay $25/mo or $250/yr.
Misc: On and off special deals, such as display deals, courses, partnerships, etc.
Expenses are limited to about $2,000/mo on professional services and SaaS. Not accounting for travel, ad hoc professional services and gear. Could be lower, could be higher. Overall, we value convenience over savings. Getting part-time help on operations was our best decision of the year! That way, I can focus on growth, and new business.
We registered in France, where taxes and bureaucracy keep us on our toes. However, I'm proud to be registered and pay taxes locally. Atlas from Stripe looks great, but I want my tax dollars to pay for social services where I live (France), not in Delaware.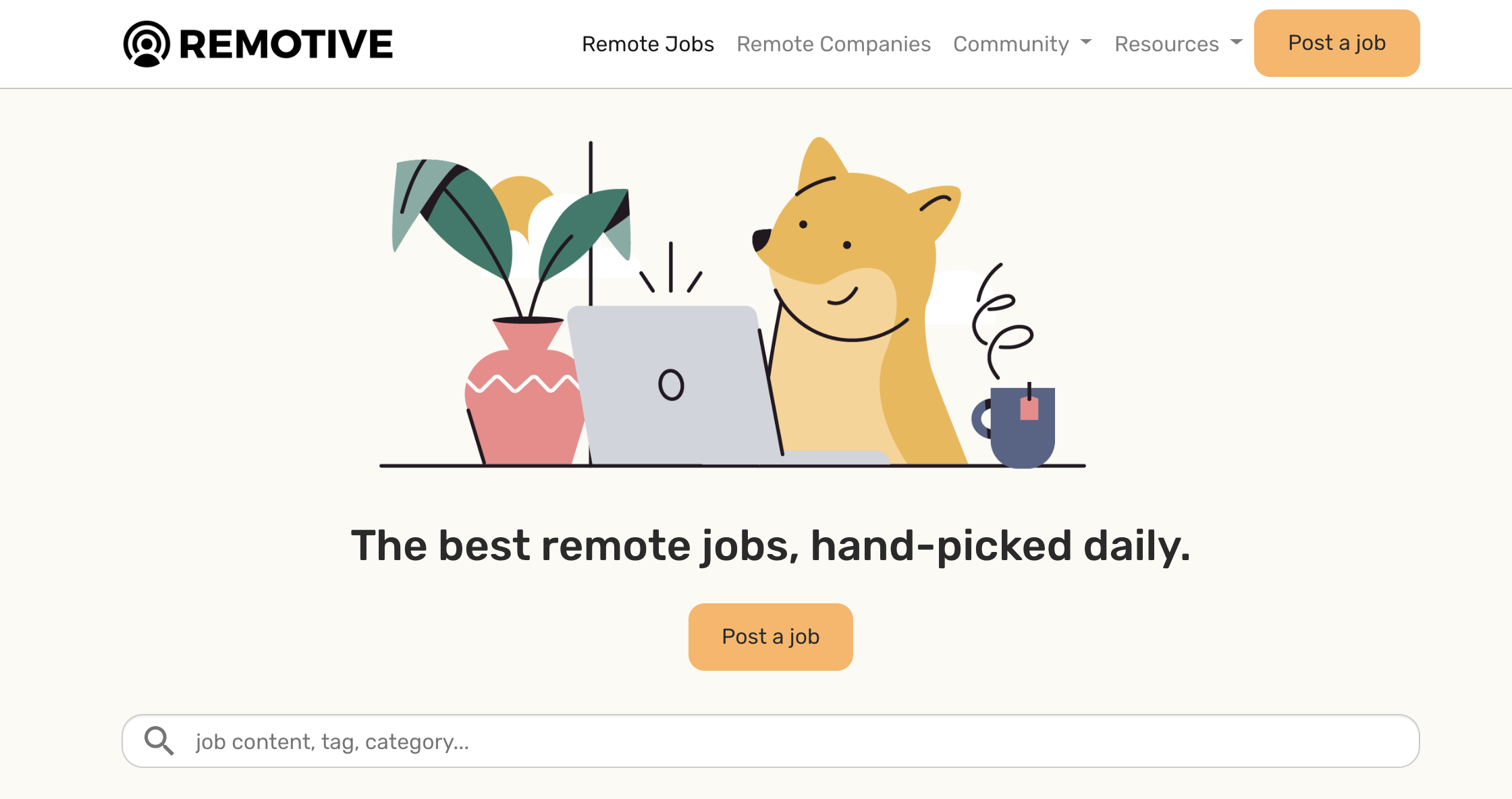 What are your goals for the future?
Up until 2019, Remotive was a lifestyle business. My only goal was to make enough so that I could have more free time, Tim Ferriss style. For instance, I spent a year and a half in 2017-2018 writing a novel in French. That was awesome. I made enough to support myself and only look after Remotive 10hrs/week.
Several people emailed me saying Remotive helped them land a remote job, which was a life-changing moment for them. It's rewarding to hear someone say they're going to have more family time and disposable income!
In 2019, it all changed and became a real business. My CTO and I rebuilt it all from the ground-up. Today, our goal is to surface the best remote jobs. That's why we hand-pick EVERY remote job we share. We're bullish on online remote communities and remote employer branding. We'll spend 2020 executing on this. Also, we need to improve in SEO. We received over ten emails from folks interested in acquiring Remotive this year but didn't entertain any. We focus on executing.
Beyond that, we'd love to build a SaaS targeted to SMBs (remote or not) to help with recruitment. We're aware that current services may reach a local maximum within a year or so, as we deal with a competitive and limited market (more on this below). I feel like it's about time we go SaaS-based, considering what we learned :)
If you had to start over, what would you do differently?
In 2020, remote work is a crowded market. Tons of people are competing for very few quality remote jobs. Over twenty job boards are fighting for a Total Addressable Market of max. 3,000 companies hiring remote workers. I wouldn't recommend entering it today without serious leverage/differentiator. If we didn't have multiple sources of income, we would have folded already!
Another example: I wouldn't build an entire business on a Slack community in 2020. I shared more on Startups working on remote work here
From a revenue standpoint, I miss SaaS. Only 20% of our business is recurring, the rest is predictable yet fluctuates each month. Another question I keep asking myself is "what would happen if I stopped working on it?" I'm not always sure that additional efforts bring in more revenue.
I've also been thinking about my own expectations. Choosing the indie hackers way means I try not to compare myself with teams who raised crazy amounts. Remotive doesn't have traction. It's just being helpful for enough people to make it a small business. And that's alright.
Have you found anything particularly helpful or advantageous?
Yes! I'm a Derek Sivers advocate. He once wrote, "Maybe what's obvious to you is amazing to someone else." This simple sentence motivated me to be (and stay) in business. That's not enough by itself though. You also need to go after a large enough market. Read "Selling stuff on the beach" written by fellow indie hacker Justin Jackson.
Having leverage matters (knowledge, network, capital, tech). Naval's tweetstorm on "How to get Rich" is on point. I worked hard and had a healthy dose of luck in the process.
What's your advice for indie hackers who are just starting out?
Know your burn. 🔥
Meaning, know what your living expenses are. You may not make that much through ramen-profitability but consulting and freelancing helps (especially recurring gigs with limited involvement). That's how Basecamp got started! If you don't know how much you need, it's unlikely you'll ever quit. Getting a handle on your finances is key.
Monetize early. 💵
I passed on several monetisation opportunities because I wasn't mature or comfortable enough to take people's money. Monetize early if you can!
Pay yourself first. 🤑
You may want to buy Ads or get fancy SaaS. If you can't pay yourself first, don't do it! You're your best investment. Find workarounds and be resourceful, always pay yourself first.
Invest your best hours in yourself. ⏰
I invest my best hours in the project I enjoy most. I'm a morning person, so I worked on my project first before clocking in at work.
Team up selectively. 💪
Find others who work on a project with similar ambition and time commitment, going as a team makes it fun. Don't lose sleep comparing yourself to teams who raised $40m. They have a boss, you don't. TechCrunch is the GQ of Tech, they publish aspirational content, setting unrealistic standards.
Celebrate more. 🎉
Made your first $1k as an IH? Go to the restaurant and treat yourself and your loved ones. IH'ers always look to improve, which is great, but we don't celebrate enough. You don't know what tomorrow may bring: when you can, treat yourself. Make your journey special :)
Where can we go to learn more?
Find me on Twitter, my DMs are open! Remotive is on Twitter as well. I also share content on Remotive's website or blog :)
—
Rodolphe Dutel , Founder of Remotive.io
Want to build your own business like Remotive.io?
You should join the Indie Hackers community! 🤗
We're a few thousand founders helping each other build profitable businesses and side projects. Come share what you're working on and get feedback from your peers.
Not ready to get started on your product yet? No problem. The community is a great place to meet people, learn, and get your feet wet. Feel free to just browse!
—
Courtland Allen , Indie Hackers founder