Building a Tool to Help Me Focus, and How It Became My Third Business
Hello! What's your background, and what are you working on?
I'm Marvin Russell, an entrepreneur in Chicago. I've founded two startups that were both successfully acquired, the most recent being MySiteAuditor, a lead generation SaaS for digital marketing agencies. Within 24 months, $40K in MRR and a 12% growth rate drew a 7-figure offer that I couldn't refuse. I wanted to be able to say I was a millionaire, so I accepted a deal from SureSwift Capital.
Today, I'm working on Checkli, a passion project born out of necessity that somehow turned into startup number three. It was supposed to be a simple checklist tool that helped me organize my chaotic mind, but it turned into something very different and very valuable to thousands of people around the world.
If you're thinking Checkli is just another checklist tool, think again. What makes Checkli different are three unique sharing features that separate us from other checklist tools:
You can collaborate on a checklist for free, without logging in.
You can publish checklists in minutes that often outrank blog posts on Google.
You can assign and track recurring team checklists.
Checkli has always been a free tool, however, in 2018 we added our first paid features including advanced personalization options and tracking recurring team checklists. Fast forward to January of 2019, and Checkli now has:
80,000 visitors each month (55,000 unique)
Just under 1 million checklists made and shared
8 million tasks created
134,000+ copies of checklists made
202,000+ checklist PDFs downloaded
At only $2K MRR, we're still a long way from my $40K MRR days at MySiteAuditor, but I think we're on the right path.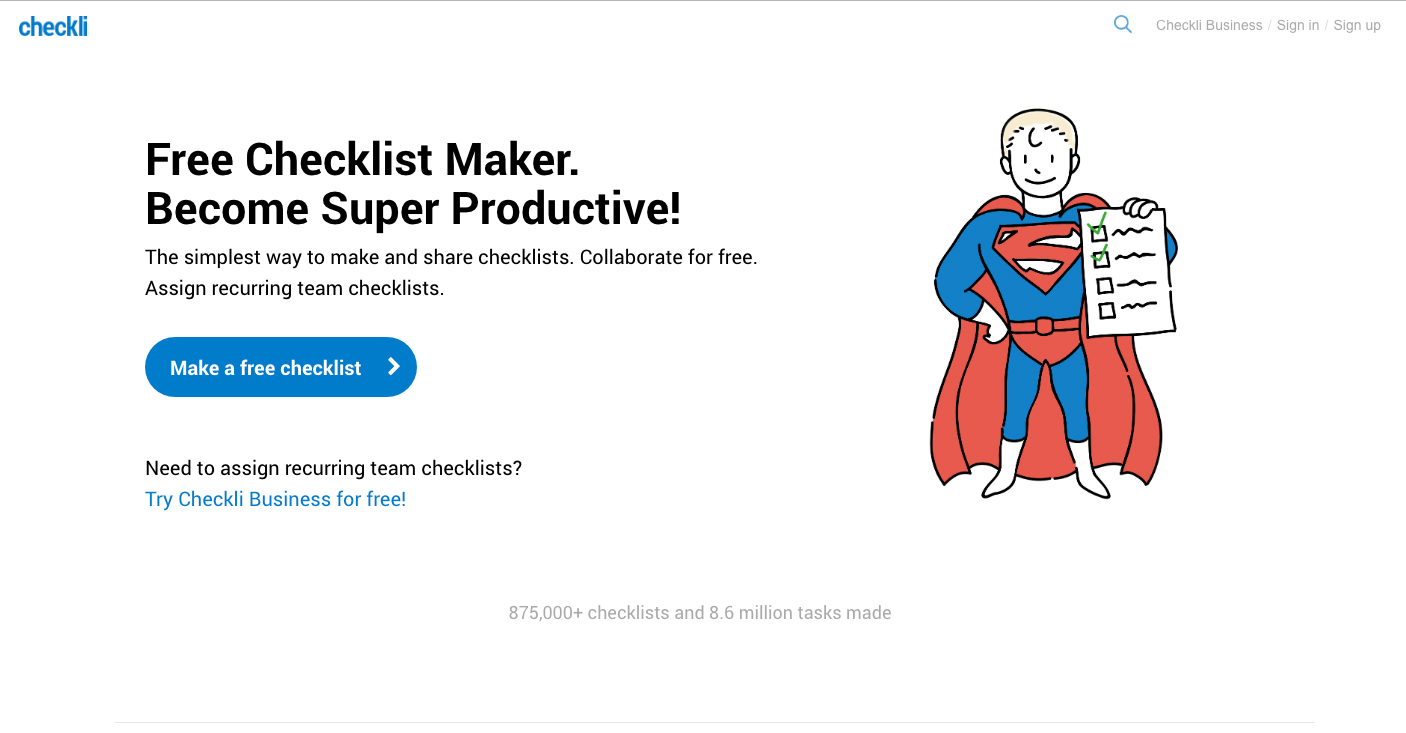 What motivated you to get started with Checkli?
Back in 2014, my first startup was acquired and I was quickly transitioning into my second startup, but a lifelong battle with ADHD and anxiety always made it difficult for me to focus. There were always a million things I had to do and wanted to do. My mind was pure chaos and I needed something to help me focus.
I passed on prescribed Ritalin and Adderall, and discovered my own home-made remedy: checklists. Checklists are an easy way to organize and remember everything in my head. The more checklists I made the less anxiety I felt.
At the time, the online checklist tools I found couldn't balance simplicity with basic features, so I built my own. Little did I know this would eventually turn into startup number three.
What went into building the initial product?
I wouldn't say I'm technical, but I can hang with all the technical jargon. I know what development costs in the US versus around the world so I went straight to Elance (now Upwork) and found thousands of developers from around the world who offered to build my vision of a more simple checklist tool for a few hundred dollars. In the meantime, I found a $10 domain that was perfect for my project, Checkli.com. (Pronounced: "check-lee").
I'm pretty good at photoshop, so I whipped up something super-simple and had a developer I hired from India code it up for under $400. It was super basic. You could add a title and tasks, and save the unique URL to work on the checklist later.
All told, the first iteration of Checkli was up and running within about 30 days for under $500.
Eventually, I noticed that Google Analytics was showing a few hundred people also using Checkli. Out of curiosity, I used Qualaroo, an in-app survey tool, to ask my users why they liked using Checkli. It was almost unanimous—everyone loved how simple it was. Then I asked how we could make Checkli better and got hundreds of suggestions. I couldn't help but act on them.
By this time, my developer from India was long gone, so I hired a second developer from China. This new developer had bad news. The backend was a mess, making it nearly impossible to scale and add features. This is the downside to not being technical in a tech-oriented field. You don't know what you don't know.
I decided to spend about $2,000 redoing the entire web app so I could eventually pay for new features. That $2,000 turned into $4,000, and $4,000 turned into $6,000. I slowly grew frustrated with the added costs, communication problems, and my lack of technical knowledge.
As traffic grew, so did all the suggestions and feature requests from happy users. As a result, I now had a new vision for Checkli. I wanted it to be different than all the other checklist tools out there, so I decided that I needed a local developer in Chicago to help me launch features like publishing and recurring checklists.
In 2017, using a $99 job ad on Built In Chicago, I found a local junior developer who wanted to be an entrepreneur and work on a startup. I incorporated Checkli LLC, took $50,000 from the sale of my last startup, and threw it in a bank account to pay for my new developer over the next year.
Off to the races!
How have you attracted users and grown Checkli?
I may not be a coder, but I'll put my self-taught digital marketing and SEO skills up against anyone in the industry. With the help of my new developer, I was able to apply all my SEO knowledge to the site, and add the interactive sharing features that would make Checkli stand out from every other checklist site out there.
As I said, I'm pretty good at SEO. Within months, Checkli was ranking #1 for difficult keywords like "checklist," "list maker," "free checklist maker," and many more. I then took my SEO knowledge and applied it to our free published checklists. We added SEO-friendly URLs, featured images, and more. After a few months of tweaking, many of our member-published checklists were starting to rank #1 on Google, and in Google's Featured Snippets. This has driven thousands of new daily visitors to our members' published checklists on Checkli.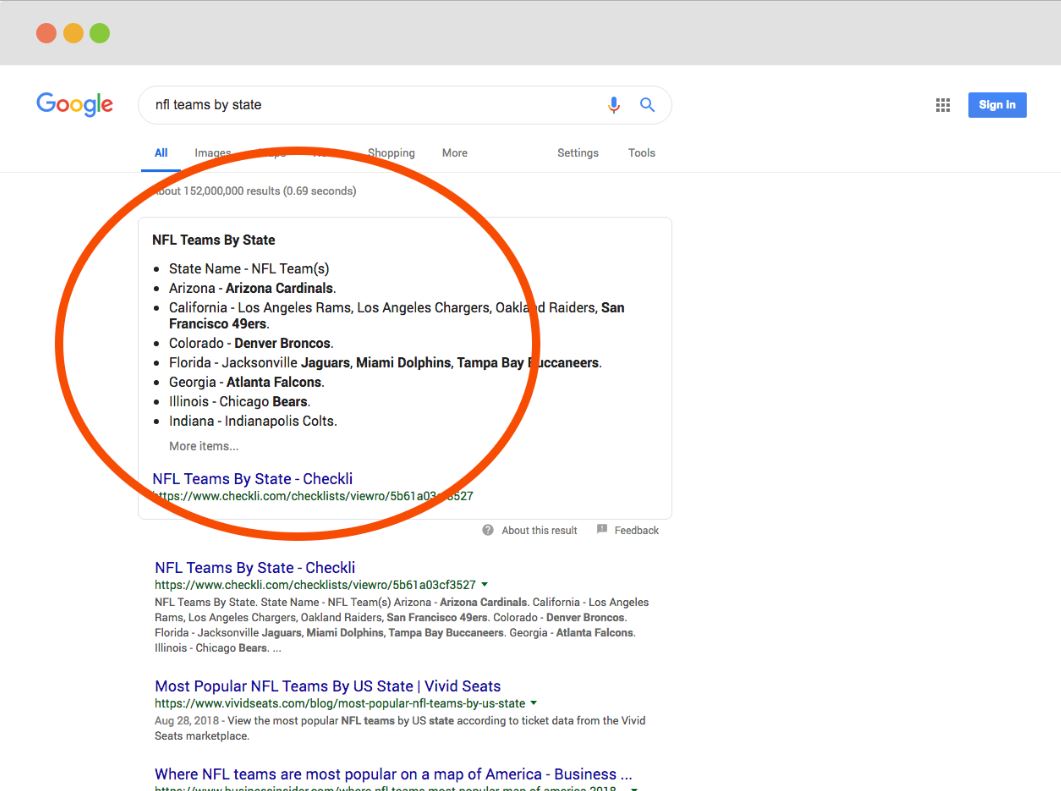 What's your business model, and how have you grown your revenue?
Checkli was always 100% free. However, in 2018, we converted to a freemium SaaS with two paid upgrade options, Checkli Personal and Checkli Business.
For a small yearly fee, Checkli Personal lets you create an account, save checklists, set task reminders and personalize unlimited checklists. For a little more, Checkli Business lets you invite, assign, and track recurring checklists that need to be completed over-and-over again. Remember the Qualaroo survey? This was one of the top suggestions we got.
Not only was it a big request from current users, but a while back, the head of HR for CVS reached out to me and asked if Checkli had a recurring checklist feature that could be used in 10,000 stores around the world. When the market tells you your product is something other than what you thought it was, listen. Don't argue. Don't fight it. Just listen.
Currently, we're using Stripe to accept payments, but I'm worried about churn from expired credit cards. As far as I know, Paypal never expires so we've been considering adding that as a payment option. Hopefully, this will help reduce churn.
My advice to other entrepreneurs is to get something up quickly and find out if people will pay for it. My recent startup success made me a little too cocky and I think I waited a little too long to add paid features. Free is nice, but per DJ Quick, "If it don't make dollars, it don't make sense."
The good news is that our overhead is next to nothing. My junior developer stopped taking pay in exchange for a small percentage of equity ownership in the company. To make ends meet, he spends a small amount of time freelancing on the side.
That's another valuable lesson I learned this past year. If you're going to hire someone to work on a startup, hire a like-minded entrepreneur who wants to work on a startup. Don't hire someone who runs to Corporate America at the first dip in the roller coaster.
What are your goals for the future?
Our next big goal is to launch a new iOS app. We have something basic up and running but it needs to be redone. Same story as above, just an iOS app instead. Remembering the lessons I learned about hiring entrepreneurs, I found a local team of mobile app developers who are also entrepreneurs wanting to work on a startup that actually has traffic and users. They saw the numbers, understood the potential and vision for Checkli, and decided to build our new iOS app in exchange for an equity stake.
Our new iOS app should be launching by in January of 2019.
What are the biggest challenges you've faced and obstacles you've overcome? If you had to start over, what would you do differently?
My biggest challenge has been feature creep. I've been tweaking, adding, and changing way too much. 2019 is the time to let Checkli grow on its own.
The trouble is that websites are never finished. Get your site up and running as soon as possible, because it will never be perfect and it will never be finished. Feature creep is like an addiction and the best cure is to admit you're an addict.
Have you found anything particularly helpful or advantageous?
I'm not much of a book reader because it's so hard for me to stay focused. However, one day I noticed that someone left a bright red book in my office. I saw it out of the corner of my eye. I think it was glowing. I could be wrong. Anyway, it was The Checklist Manifesto by Atul Gawande. It was a book full of case studies detailing how every industry, from healthcare to aviation, incorporated mandatory checklists in almost every process of their organization. In short, the book concluded that the amount of information and technology in today's world has far exceeded our brain's ability to remember it all, and that checklists are the ultimate and most essential plugin for the mind.
Blown away, I actually read the book twice. I highly recommend this book for all entrepreneurs or anyone who has difficulty focusing. A few short months after reading The Checklist Manifesto, I launched Checkli.
What's your advice for indie hackers who are just starting out?
The one thing that always sticks out in my mind is something Steve Jobs once said: "I'm convinced that about half of what separates successful entrepreneurs from the non-successful ones is pure perseverance."
Everyone is faced with big obstacles every single day. The thing that separates successful entrepreneurs from the rest is that we go over, around, or through big obstacles. We never make excuses. We never quit. We figure it out and keep going.
Where can we go to learn more?
The best way to learn more is to either make a free checklist or become a publisher (it's free) and share valuable checklists to grow your brand.
You can follow and connect with me on Twitter @marvinrussell. I'm always on. I'm happy to answer any questions below.
—

Marvin Russell , Founder of Checkli
Want to build your own business like Checkli?
You should join the Indie Hackers community! 🤗
We're a few thousand founders helping each other build profitable businesses and side projects. Come share what you're working on and get feedback from your peers.
Not ready to get started on your product yet? No problem. The community is a great place to meet people, learn, and get your feet wet. Feel free to just browse!
—

Courtland Allen , Indie Hackers founder