Building an Award-Winning Product With No Previous Business Experience
Hello! What's your background, and what are you working on?
Hello, my name is Ujwal Surampalli. I have a background in mechanical engineering, but have always loved programming. While I was still in university, I worked for a few blog companies doing some writing and helping them improve their search rankings, though at the time it was more of a hobby than something I considered as a career. I have always loved cars and tinkering with things and figuring out how everything works, so after I graduated I decided to pursue a master's in mechanical engineering at Rhine-Waal University in Germany.
I have since taken a sabbatical to work full time on InterviewBuddy, a service that aims to help people going through the (often nerve-wracking) interview process.
Throughout my time in university, I had to go through many rounds of interviews for potential jobs, and later, for entry into a master's program. Going through this process, I realized how much of a struggle it was for many of my classmates, despite their credentials and qualifications. Some of the smartest people I knew struggled to answer basic interview questions because they were nervous or had not properly prepared. Seeing this helped me understand that even the most qualified candidates need to practice and prepare for interviews, because qualifications mean nothing if you can't get past the interview!
InterviewBuddy simplifies the process of practicing for interviews by providing credible and highly experienced industry resources to practice with, who provide useful insight and tips for improvement.
As of September 2018, InterviewBuddy is making $500/month.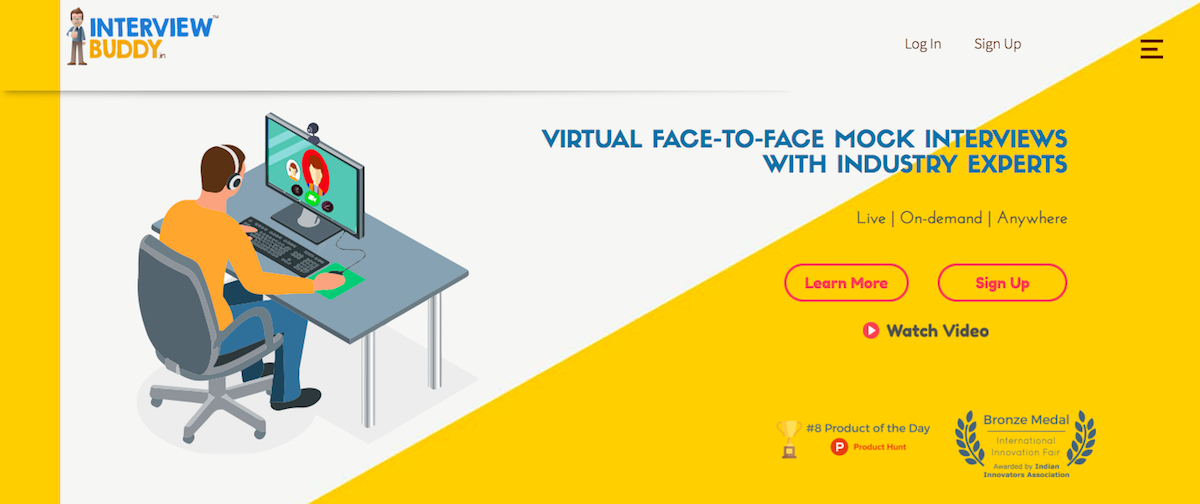 What motivated you to get started with InterviewBuddy?
The idea of InterviewBuddy struck me during my first campus recruitment interview with Wipro (an Indian IT company) during undergrad. My interviewer was pretty impressed with my profile and the way I performed in all the previous rounds, so he made me sit beside him while he interviewed three of my fellow batchmates. I saw my batchmates falter at answering simple, basic questions, and realized that even the most qualified candidates struggle with interviews.
This was a shock to me, since up until then I felt that my batchmates outmatched me in pretty much everything. Every batchmate of mine placed in the top ranks of the statewide engineering entrance test and had an average of 8+ GPA (on a scale of 10).
When I later started pursuing my master's in Germany, it became clear to me that facing interviews is a nightmare for candidates across the world. These first hand encounters laid the foundation for InterviewBuddy.
What went into building the initial product?
When I first started seriously working on InterviewBuddy, I don't think I fully grasped how big of a project it would become. I started to build a platform where I could connect candidates with experts in the fields that they were applying for, as well as general interview experts. I initially did the coding myself as a side project on the weekends and in between studies, but quickly realized that there was no way I'd be able to get it off the ground at the rate I was going. I considered using a software service provider to build the product for pay, but after doing some research, it became obvious that there was no way I could afford that on a student budget.
I took a step back and did some serious brainstorming to see how I could move forward. While being a student was essentially what was prohibiting me from fully engaging with the project, it occurred to me that, for a different kind of student, this project might actually be an amazing opportunity. So I began reaching out to a students at tech universities in India. While sifting through potential candidates to reach out to, I came across one student at the India Institute of Technology (the MIT of India) who seemed technically gifted and had an impressive portfolio of websites, so I invited him and his friend on as interns at InterviewBuddy. They accepted and built the MVP of the application, which was a great opportunity for them to get visibility, and a huge boost for me since they were from one of the most highly respected tech universities in India.
The MVP was great, but it still needed a lot of work to get it to where I wanted it to be. At this point I realized I needed commit — to bring on some more people and start building a real team. I brought this to my mentor, who is also at the India Institute of Technology, and he introduced me to some colleagues and friends that saw the potential in InterviewBuddy and were interested contributing. So we got to work!
How have you attracted users and grown InterviewBuddy?
Though I was incredibly grateful to have a team a of very qualified technical workers, virtually no one had any experience in marketing or growth. This is where my past blogging experience came in handy. I knew how to produce content and was familiar with search engine optimization (SEO), so I had an idea of how we should proceed.
We raised a small angel fund and applied that to increasing the platform's viability. I also ended up recruiting someone to help us explicitly with marketing. She was fresh out of university and only had a few months experience from an internship, but that was still light years ahead of what anyone else on the team brought to the marketing table. In the end, the SEO work is what paid off. A majority of our traffic comes to us organically through Google searches.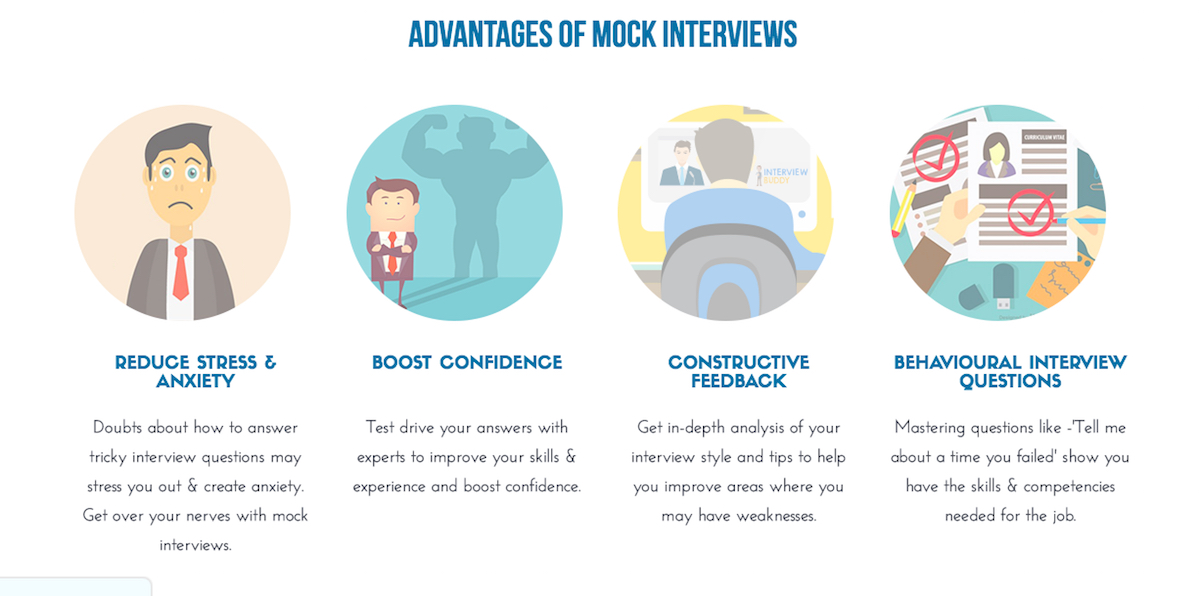 Our main users are students/recent grads and job changers. For students and grads, InterviewBuddy helps them better prepare for what might be their first interview and/or first job. Interviewing better right out of the gate will land you a better job, which will only help you in the log run. Getting a decent, well-paying job that lines up with all of your skillset and educational qualifications helps lay a solid jump-off point for raises, promotions, and future employment. Investing in preparation and nailing your first few interviews will also save you from spending months unemployed, watching your bank account drain while you struggle to crack the interview code.
For job changers, we focus on behavioural based situations, as the roles they may be moving into may be more dependent on the suitability of the candidate for the role and the company's work culture. Most job changers have at least a few years experience and are looking to scale their careers either working for bigger, more prestigious companies or moving into a higher role. These behaviorally based practice interviews can make a lot of difference, and help candidates to be better prepared when they land a job in a new senior, often managerial position.
What's your business model, and how have you grown your revenue?
InterviewBuddy is a cloud-based video interviewing platform connecting candidates with top notch industry experts from global companies on-demand, anywhere, to prepare and practice for interviewing in an environment that simulates a real-life job interview but without the pressure of a job on the line. The platform works on any device and requires no software to download or to install any plugins.
The candidate has the option to choose the type of the interview — either HR or technical — and then pick an available slot from the built-in online scheduler. Each candidate fills out a profile with a few details about their work and educational experience, and also does a short video introduction. The video introduction is an async video where the candidate responds to simple questions displayed on the screen. Each expert does an in-depth analysis of the candidate's profile and video introduction before the start of the session, and every session is personalized to suit the candidate's requirements and objectives.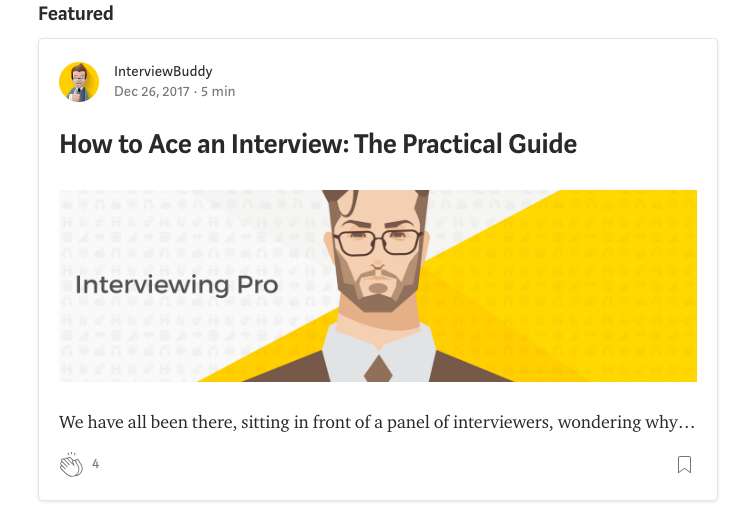 After the practice interview, the expert provides feedback for the candidate. The candidate also receives a comprehensive "Interview Performance Report" with different metrics on the candidate's performance and tips to improve upon their weaker areas. We also have an auto-record feature, which auto-records every session and is made available after the completion of the practice interview. Candidates can playback their practice sessions and watch themselves and the experts. This feature can be immensely helpful, since candidates can learn a lot about their idiosyncrasies and how they present through watching the videos, something that can be otherwise hard to do.
The platform also has a good repository of curated and handcrafted articles on interview etiquette, job search advice, and career management techniques for the candidates to browse and use to prepare.
We've three pricing options:
UNO – for one interview session
DUO – for two interview sessions
TRIO – for three interview sessions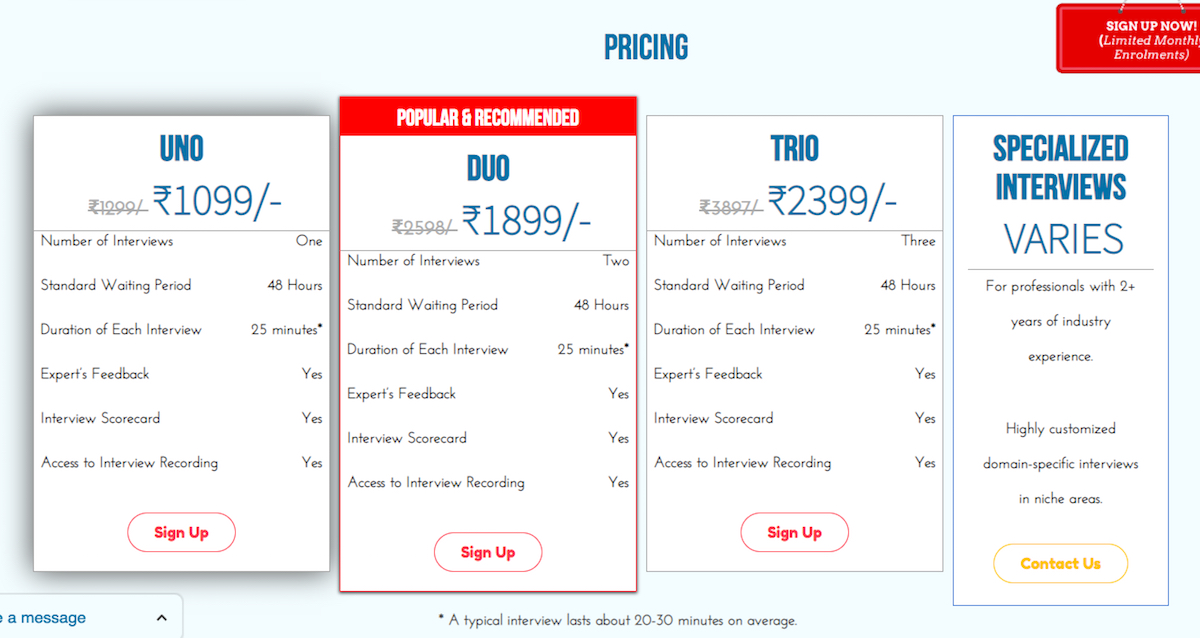 I think that our pricing is fair and doesn't burn a hole in the pocket, and these prices remain the same for both HR and technical interviews for candidates with 0-2 years of work experience.
Our major unique selling proposition, apart from our senior industry experts, happens to be offering custom Specialized Interviews in various domains. We have users for these niche sessions from countries like the USA, Ireland, Costa Rica, Mexico, Spain, Germany, Switzerland, Netherlands, Singapore, Indonesia, Malaysia, etc. We cover interview topics across a swathe of industries, including technology, engineering, banking/financial services, government service, general management, etc.
We also run monthly contests where we giveaway few expert-driven practice interviews for free, and offer offer free sessions to students from disadvantaged economic backgrounds.
What are your goals for the future?
Apart from the current B2C offering, we've just launched our B2B product in Hong Kong – InterviewBuddy Pro — an intelligent video recruitment platform for hiring and HR activities for corporate clients. We also have recently been shortlisted by the Government of Andhra Pradesh as the technology partner for their massive skill development initiatives. With our solution, we aim to become a trusted source for pre-screening domain specific candidates for companies to hire effectively and quickly, while also helping candidates be better prepared for their job interviews.
What are the biggest challenges you've faced and the obstacles you've overcome? If you had to start over, what would you do differently
Being a student, the first big hurdle was getting taken seriously. Without prior entrepreneurial experience, building connections and setting up the now stellar team was a challenge. Along the same lines, getting elite industry experts including VPs, CXOs, hiring managers, and technical recruiters from top companies and startups was an uphill climb.
I think it really comes down to the founders to be able to communicate their idea and their vision passionately and effectively in order to convince other people to come along for the ride. If you don't have that skill set, do everything you can to improve on it. Rejection is a given, and should be accepted (and even embraced) early on to avoid depression down the road.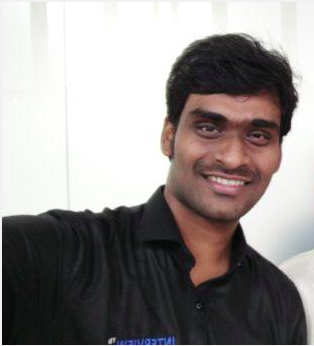 Where can we go to learn more?
Check out InterviewBuddy and InterviewBuddy Pro! You can also find me on Twitter @IntrvwBuddy. If you any questions, feel free to leave a comment below!
—
Ujwal Surampalli , Founder of InterviewBuddy
Want to build your own business like InterviewBuddy?
You should join the Indie Hackers community! 🤗
We're a few thousand founders helping each other build profitable businesses and side projects. Come share what you're working on and get feedback from your peers.
Not ready to get started on your product yet? No problem. The community is a great place to meet people, learn, and get your feet wet. Feel free to just browse!
—
Courtland Allen , Indie Hackers founder