Building and Growing an Innovative Carpool Business
Hello! What's your background, and what are you working on?
We're Rik Ganguly and Ari Iaccarino, and Ridj-it is an activity-based carpool platform.
Our users are mainly urbanites with a passion to supplement their city lives with hiking, kayaking, tubing, skiing, climbing, and other great adventures. Through carpooling we've connected the city to the outdoors for cheap, as well as bringing thousands of dollars in for small businesses through bridging the proximity and awareness gap between them and customers.
Rik conducts healthcare analytics, and Ari is a university and public school educator for ESL. Both of our backgrounds have lent to heavy involvement in community health and education, and Ridj-it is an expression of our philosophical and political standpoints that everyone should be able to access the outdoors and learning experiences in an affordable manner.
We do this profitably by capitalizing off of an existing culture while also creating a new one where city residents can say, "Oh yeah, I want to do something adventurous," and then come to Ridj-it. The company continues to grow our adventurer base and pool of small businesses who want to be a part of the platform.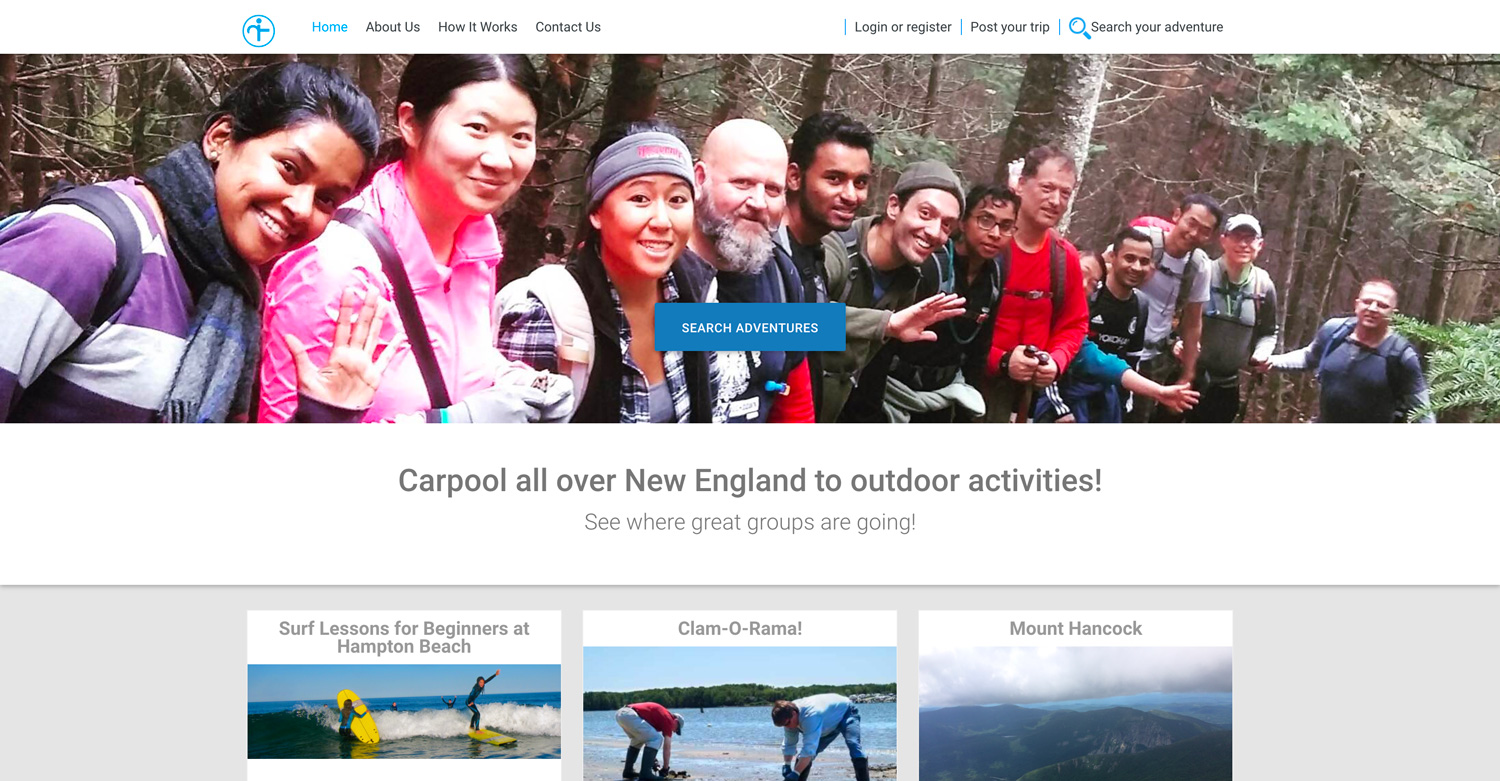 What motivated you to get started with Ridj-it?
Like any good business, Ridj-it was born out of our needs. Rik had a car but nobody to hike with, while Ari had no car and was ready to get out to the mountain. Luckily we were friends in college and became connected after Ari moved to Boston, but we each had other acquaintances who suffered from the same situation.
One day, as we reached the end of an eight-hour hike together at Franconia Ridge, Ari said, "Hey, are there any transportation services out here to get people from Boston?"
Rik was quiet for a second. Then he raised his head and responded, "No, there isn't. But we should make it happen."
And Ridj-it was born. We named it after our trip to Franconia Ridge, which is a collection of three mountains connected by, you guessed it, a ridge! And we hoped to do the same — connect people.
What went into building the initial product?
Initially we considered professional vans as the mechanism by which we wanted people to be transported, and we didn't even consider the idea of carpooling.
After some research (we contacted multiple companies with customized cases to figure out pricing), we found that cost was going to be automatically prohibitive. We also didn't feel like we could guarantee these businesses enough activity to warrant a route. We saw that a lot of outdoor-travel entities in New York City or D.C. offered transportation to outdoor adventures via van or bus, but the price was incredibly high for people outside of tech and other professional jobs.
So we conducted surveys at Boston University and other social groups to find out what people's price points were, and we settled on a model where, for example, you would be able to sign up for a five-hour roundtrip for $21, allowing enough time for entertainment and activities like hiking. (Spoiler alert: later, after providing a few hundred trips, we would validate this price. Many people have asked, "How do you even make any money?" We feel pretty good about that, because we're definitely making money while creating an affordable experience for members outside of high-paying professions.)
In true entrepreneurial fashion, we began Ridj-it with absolutely no outside funding, and continue to do so. No investment capital, loans, or financial assistance from family. In addition, we were both working full-time jobs and paying off student loans, rent, and all the other tedious and draining day-to-day expenses.
However, recently it got to a point where Ari had to quit his job teaching ESL in a high-poverty middle school in Chelsea, Massachusetts, so he could work full-time on Ridj-it, while Rik continues to do the hectic work of balancing his demanding professional obligations between his job and Ridj-it.
How have you attracted users and grown Ridj-it?
Luckily, our humble beginnings required little to no money, and this combined with the following two important questions led to our MVP and biggest growth hack:
How do we capitalize on an existing culture of carpooling?
How do we create a new carpooling culture?
Companies like Uber and Airbnb have created a lot of new culture, but we weren't at that point, so we decided to reach out to Meetup.com groups, colleges, and English language schools to capitalize on potential existing culture.
Needless to say, everyone turned us down, and we only got one phone call from a university that never followed up. We ran into two problems: The first was that schools already have their own activity offices. The second issue was that many of the Meetup groups already had their own culture, one mostly of middle-age people largely suspicious of a company trying to make money helping urbanites get to the same exact Meetup activities.
So here comes the hack: We paid $86 to create our own Meetup group, and we used a free supersaas.com calendar. In about a year we had 5,000 members in our Meetup. Our customer acquisition cost was next to nothing, and through the social platform there we've been able to direct our members to Ridj-it's website.
In addition to this Meetup group, we are also developing a partnership with the Greater Boston Convention and Visitors Bureau, and we're broadcasting on EventBrite, Bostinno, other Meetup groups. We've also spread through word-of-mouth, which led us to develop a custom outing for Harvard Law.
The Ridj-it website now has over 400 users, the majority of them female and heavily non-white, with about 30% of adventurers contributing to a majority of our activity. We've taken over 800 cars off the road this past year, and we've connected our community to over 30 local and regional businesses.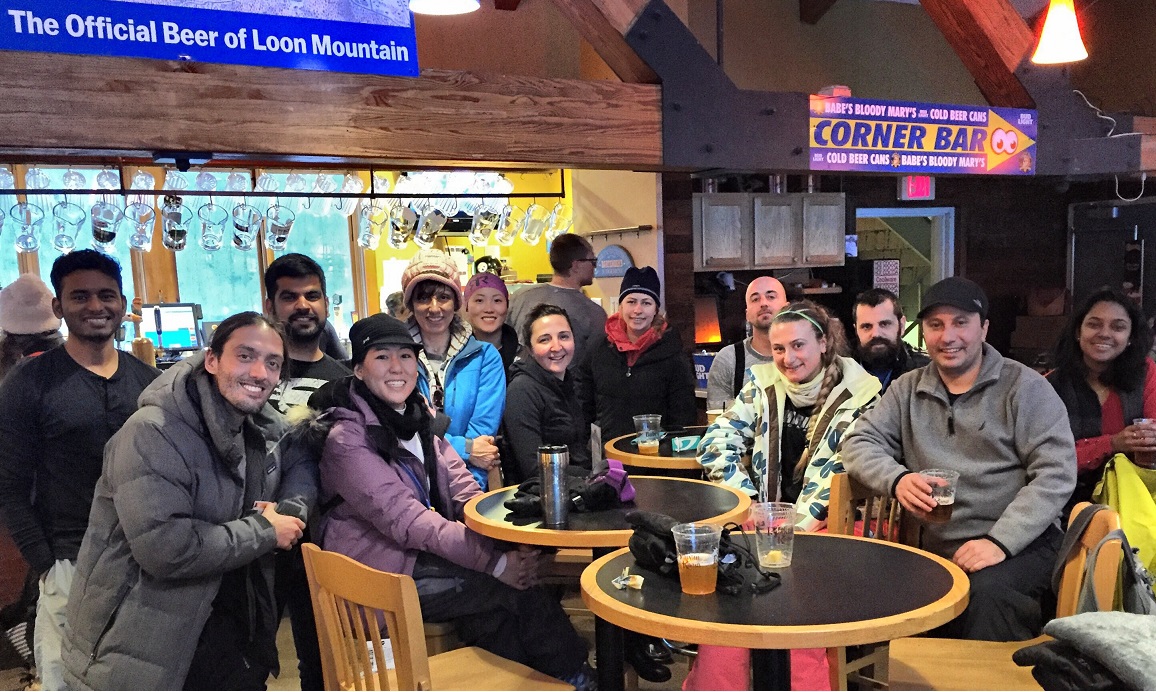 In terms of website traffic, only 800 active users are there, and we'll be the first to say that our website needs a tremendous amount of work. This is why we're confident in the quality of the service itself — you know you're doing something right when a shabby website still brings traffic.
As Ridj-it has grown, we've come to realize that at some point we won't be able to self-finance the company anymore. This is largely evident through our recent onboarding of another founder, Alex Nikitin. We're leveraging his expertise in development as well as his connections to Russia and the wealth of professional developers we're currently hiring from there.
The work is piling on, and we're now looking for funding so that all three of us can devote our time and energy to a service we really think will be a game-changer for not just the outdoor industry, but any venue outside of public transportation looking to increase and diversify its customer base.
What's your business model, and how have you grown your revenue?
Ridj-it's business model continues to change and grow with the company, but the basic revenue channels come from carpool fees (determined by distance from a Boston Metro T station to the destination, as well as the number of passengers in the car) and service charges from business ticket purchases, if applicable.
Drivers also pay a deposit to reduce the likelihood that they'll drop out. (The amount is refunded if they show up to drive.) We've found this to be effective in not only reducing no-shows, but also in subsidizing these trips if passengers have to rent a car.
Additionally, unlike Groupon, which requires businesses to offer steep discounts in order to broadcast themselves, we require very minor incentives for people to use our service and carpool. We have not charged businesses to highlight themselves on our marketing channels, and we're not sure if that type of revenue is in the cards.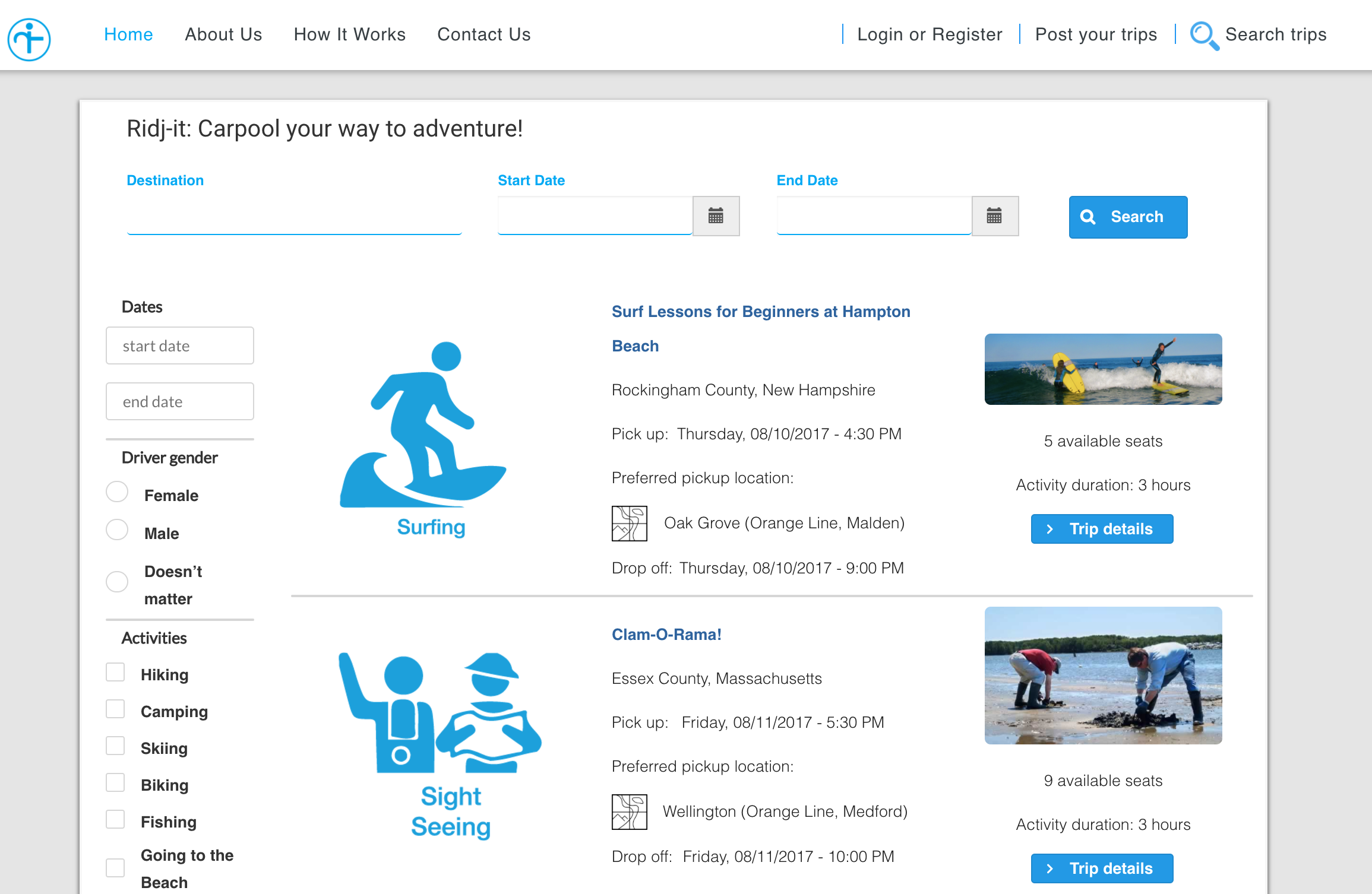 In the same vein as ski resorts and other outdoor entities, our revenue is dictated by the weather. The better the skies, the higher the revenue flies. But a small portion of our user base will continue to carpool to the outdoors even in below 0 temperatures.
Ridj-it has no control over the actual activity of our users, as we only connect adventurers together. But we hope to grow a culture where more people feel empowered to go outside with the right gear.
Compared to countries like Russia (Ari has spent time in lowland Siberia), our citizenry is truly unprepared for extensive time outside, because we don't have the right gear. We at Ridj-it see this as a great way to partner with clothing and gear-related businesses, which we also hope to see as a revenue-generator in the near future.
What are your goals for the future?
Ridj-it's goals for the next year are varied.
Our second city beyond Boston will be Washington D.C., which already has a culture of carpooling with strangers (beyond Uber and Lyft). Western Virginia's Shenandoah Valley is about the same distance to Washington D.C. as the White Mountains in New Hampshire are to Boston.
Additionally, we want to bring our service to a similar population demographic as Boston's: diverse post-college professionals seeking to supplement their city lives with the outdoors. The only platform change we'd need to make for D.C. would be to integrate their transit system into our website. Outside of that, all the components are there to make this enterprise scalable.
A further objective would be to expand the list of businesses and non-profits who use our platform. Right now our model bothers some in the community, because we're monetizing outdoor carpooling when it hasn't traditionally been something people have paid for.
Unfortunately, the status quo hasn't been inclusive to those without cars, people of color, or recent arrivals, and we aim to convince non-profits and other clubs like the Appalachian Mountain Club that partnering with us will only grow their own exposure in communities that don't otherwise have a face in these organizations. Most businesses already understand this and are willing to play ball to expand and diversify their customer base, but non-profits are harder to convince.
Ridj-it has undergone a drastic increase in overall activity — the number of users, the number and types of destinations, etc. — and we look to continue these trends. We draw a connection between the increased number of people we help get out of the city and the amount of money we make, so increased revenue means we're delivering on our mission to get more people outside.
Because we have a mission we believe transcends revenue and moves into the realm of public health, well-being, and community development, we'd like to see an uptick in publicity about Ridj-it. Honestly, our platform at its base is not complicated. (That said, setting up conditions that encourage users to behave cooperatively on the service is incredibly complex, and we look forward to optimizing this and sharing more about it.)
What are the biggest challenges you've faced and obstacles you've overcome?
One challenge we'll face is government regulation. Uber and Lyft have done an incredible job inflaming the ire of many in the transportation industry, and what Ridj-it continues to do is educate people that our drivers are regular people, not professional drivers. They'll be going to the destination anyways.
In the long run though we look forward to establishing routes with bussing as long as companies are willing to charge an affordable price.
Have you found anything particularly helpful or advantageous?
There are a few resources we've found to be incredibly helpful.
Budding enrepreneurs in particular should seek out pro bono legal services for entrepreneurs. These can generally be found at colleges and universities, but even though they mention they are open to the wider community, they tend to favor currently-enrolled students and won't necessarily work with you.
And that's what happened to us. The B.U. Entrepreneurship and Intellectual Property Law Clinic declined to help us because we weren't current students (even though both of us were recent graduates). Instead, the lead lawyer there passed us off to a separate tax lawyer. This was probably the best rejection we were ever handed, as this new lawyer helped us develop our LLC application, our operating agreement, and other legal and financial mechanisms. His work has benefited us tremendously.
We also use the services of New Leaf Legal, where they have given us incredible guidance to navigate legal issues associated with maintaining a business like ours. The manner in which they charge is simply more affordable for startups: they charge by the document, not by the hour.
Finally, the B.U. Buzz Lab set up weekend seminars where viciously-honest angel investors challenged our revenue model from the beginning, and continue to spur us on to become a true tech firm rather than another travel-planning entity.
In short, look to your local universities for possible resources that are generally free or low-cost.
Where can we go to learn more?
Honestly, there is so much to say that we invite interested readers to ask questions below so we can tell you more about Ridj-it and our experiences as budding entrepreneurs. Heck, you can even voice your concerns and suggestions! We're here to serve the community, so we want to hear from everyone. You can also find out more about us at the following links:
—

Ridj_it , Creator of Ridj-it
Want to build your own business like Ridj-it?
You should join the Indie Hackers community! 🤗
We're a few thousand founders helping each other build profitable businesses and side projects. Come share what you're working on and get feedback from your peers.
Not ready to get started on your product yet? No problem. The community is a great place to meet people, learn, and get your feet wet. Feel free to just browse!
—

Courtland Allen , Indie Hackers founder