Building and Launching a Search Engine for Geek Merchandise
Hello! What's your background, and what are you working on?
Hey, my name is Tim Osterbuhr, and together with my wife Friederike (Rika), I co-founded DiscoverGeek.com.
Rika and I were both born and raised in Germany. In 2013, we decided to move to the US to get our Bachelor's degrees. I have a "sort-off" technical background from a high school with a strong technology focus and from building websites/mobile apps for a few years. While in college, we tested different business ideas from personalized children's books to an online T-shirt store. We didn't really hit it big with any of those ideas, but the profits have been high enough to support us financially.
However, we now know that we were more passionate about the entrepreneurial journey than the actual businesses. Together, we decided that DiscoverGeek could be a great way to combine our e-commerce experience with a niche that we are deeply passionate about.
At its core, DiscoverGeek is a search engine for geeky merchandise. We curate products from various places, and all of them are hand-picked. There is only one simple rule, if we think the product stinks, we won't list it. Fortunately, people seem to really like the concept. We started working on the site in May 2017 and are averaging $930/month.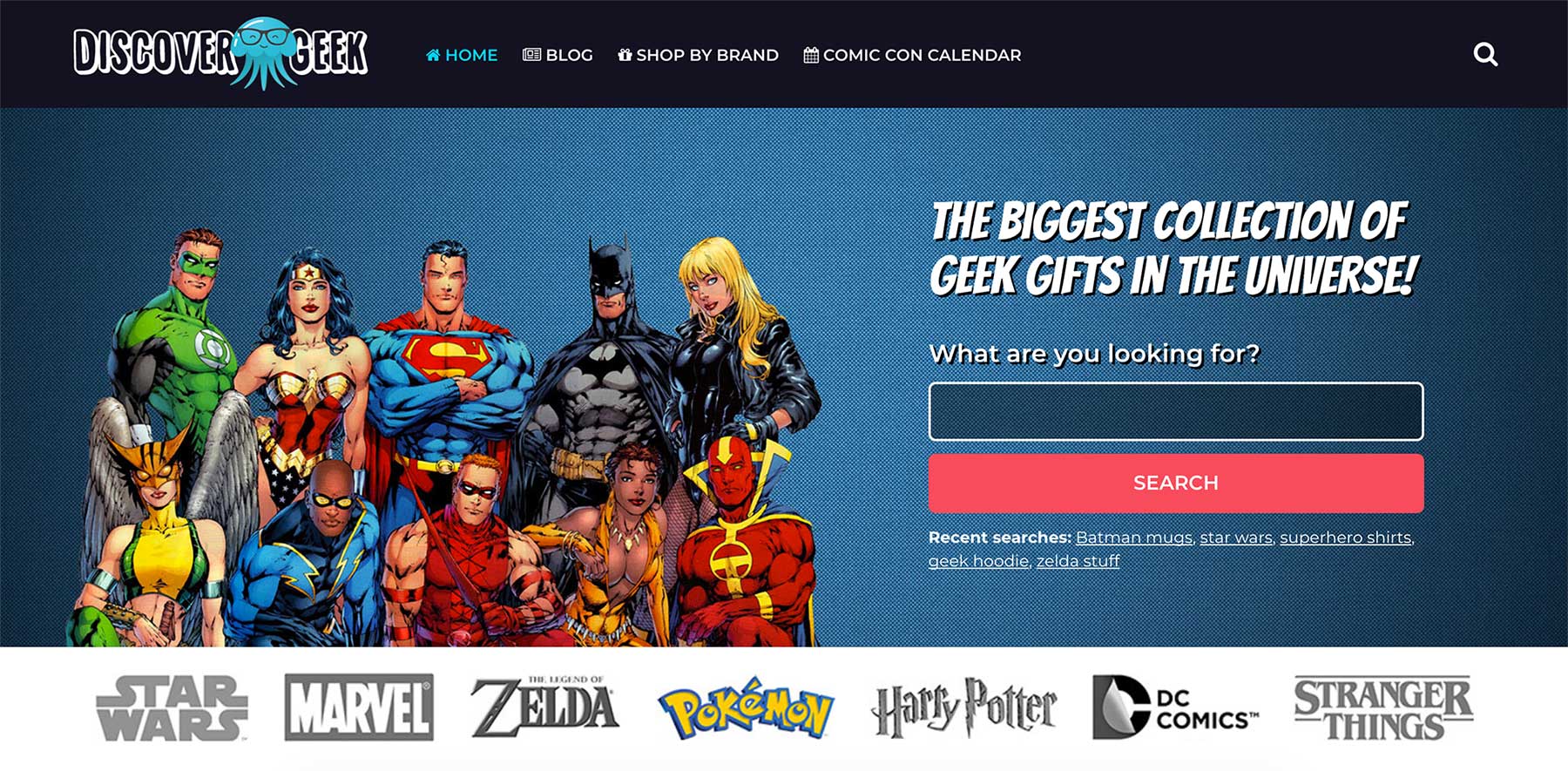 What motivated you to get started with DiscoverGeek?
We were running OtziShirts, an online shop for funny T-shirts, before the gurus hyped print-on-demand and the "get rich in 14-days with shirts" stuff. OtziShirts was doing great, many happy and repeat customers, but we couldn't really identify with the business. As die-hard geeks, we thought about ways to license T-shirt designs from franchises like Star Wars, Fallout, and Deadpool, but that turned out to be costly (very costly). Having the word "shirts" in your domain also doesn't really allow you to expand on product categories… lesson learned.
We took a step back and decided to start from the beginning. This time we would create a platform that would allow us to show all the products that we love, without the need to obtain licenses.
Rika and I thought about different concepts, but in the end decided on a simple search engine. We always had a terribly difficult time finding geeky gifts for each other and started all these "Wouldn't it be great if…" questions that in the end led to "Wouldn't it be great if we could create some sort of search engine for geeky products?"
What went into building the initial product?
Coming from an e-commerce background, we knew that Christmas would be our prime time. It was already May, and we'd created a simple six-month plan to try to hit the holiday season. If we could pull it off, we thought we could make at least $1,000 during November and December of our first year.
When I say the plan was simple, I mean it was really simple, napkin size simple.
Technology: Setting up the website and creating basic search capabilities
Content: Picking and adding products
Marketing: Getting visitors to the website
Technology
There was no way I would have had the time to build everything from the ground up. We looked at different content management systems before deciding on WordPress. I'm relatively familiar with PHP (the programming language that WordPress is written in), Rika could start with the content right away, and both of us had worked with WordPress in the past, so it was a no-brainer. While Rika focused on the content and product quality, a friend and I began working on the search engine. (Thanks, Jan Koch!)
Content
Because we wanted to scale the number of products as quickly as possible, Rika had a difficult time meeting the content demands by herself. After a lot of searching, we found Emma, an amazing writer from the UK. Emma now writes all of our blog posts. If you are into geeky stuff, her posts are really worth a read.
Marketing
We just picked two traffic channels and agreed to stick with them for the first six months. We figured that paid ads would be too expensive, so we decided on SEO and Pinterest. At that point, we did not have a clear strategy for either channel, nor did we know if our choices were good. The only thing we were sure about was that we didn't want to run around testing a new "method" every week.
One benefit of working on the technology and content at the same time was that neither of us had to wait for the other person. We were moving on all ends, and it helped us to make big jumps in number of visitors and revenue.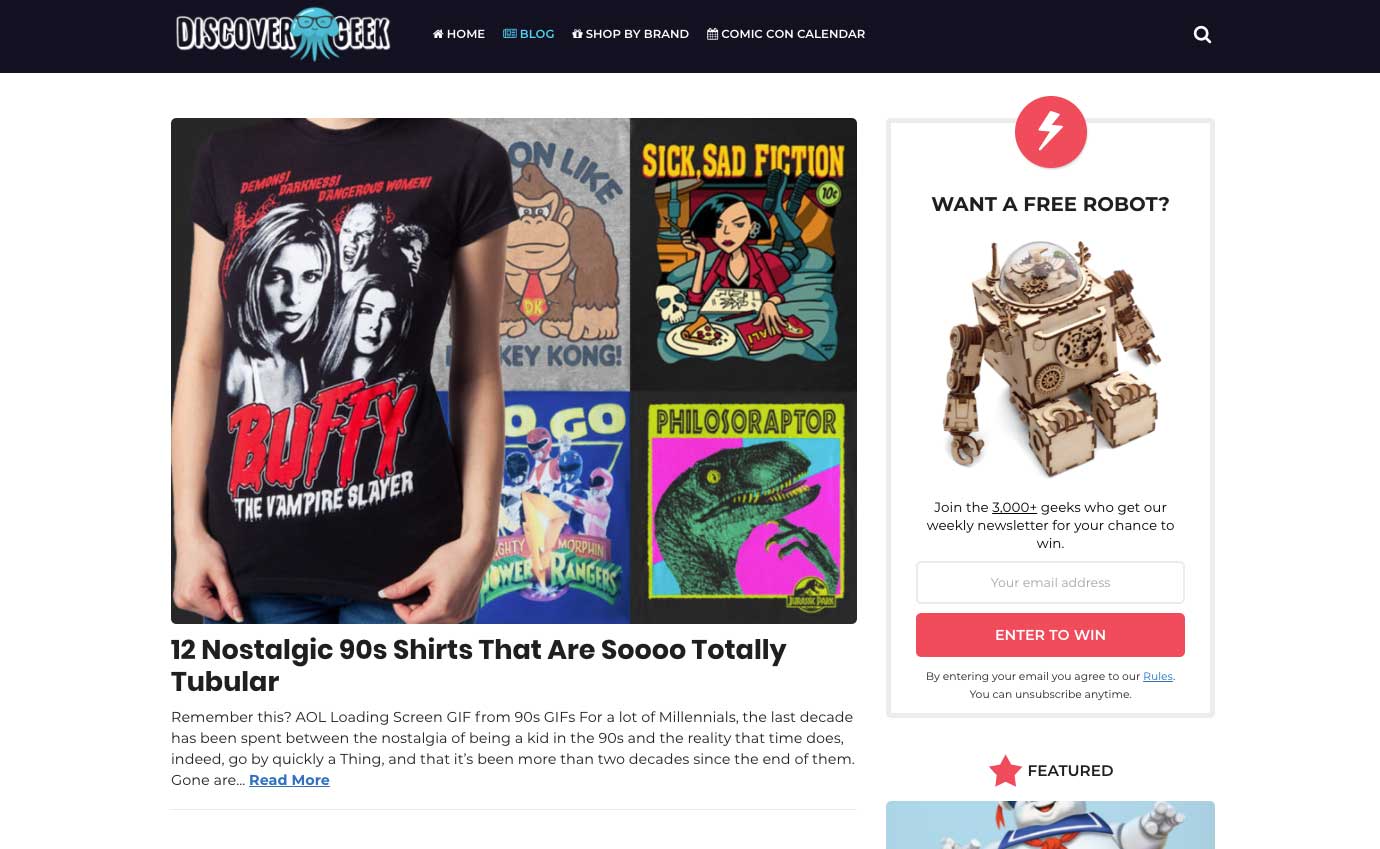 How have you attracted users and grown DiscoverGeek?
I didn't think it would be so difficult to stick to the stuff that we'd committed to. There are so many shiny things out there. I'm being targeted by Facebook ad experts who want to teach me how to run ads every day. Vaynerchukian entrepreneur porn yelling at me for not going all-in on Snapchat, Youtube, and the next big social revolution. It's a jungle out there!
When we got started with DiscoverGeek, Rika invested some time into Pinterest. Neither of us had used the platform, and it took a few weeks to see any results. Her strategy was simple:
Create a board for each franchise (e.g. Zelda, Pac-Man, …)
Add a nice main image featuring a few of the top products
Add all products we have for that franchise
Give a unique description + keywords to each of the products
Run a promoted pin on the main image of the group
Profit
After about two months of constantly doing this, we decided that the amount of work involved was just too much for us. Comparing the Pinterest conversion rate to Google was also not helping to keep our motivation high. For us, Pinterest converted at 1/4 of Google's traffic. In the end, we decided to reduce the amount of time we'd spend on that platform.
Even though we decided to make Google one of our primary focus channels, we knew that e-commerce and SEO often don't play very well together. Lots of products often mean very thin and repetitive content with basically no value for human readers. Nevertheless, we needed a lot of products to populate the search engine.
Based on our keyword analysis we theorized that instead of trying to rank for individual products, it could make more sense to focus on franchise + category posts. Listicles were a great fit and provided some advantages. First, content creation was much easier, because of the variety of products which helped avoid duplicate content. Second, the content variety made it much more interesting for readers. Third, we believe Google always prefers well-written long-form content vs two- to three-sentence product descriptions. To get an idea you can check out our Astronomy Gifts or Stranger Things Merchandise articles.
In the beginning, we focused on very low-competition keywords with ~1,000 monthly searches (based on Google's keyword planner). Our ranking in Google for a few of those keywords increased relatively quickly, and we started to see some initial results after about two months. At that time, Emma was producing a blog post every 48 hours. After about four months, we saw some early successes and decided to gradually try to rank for keywords that we determined would be a bit more difficult.
| | |
| --- | --- |
| Month | Visitors |
| Jun | 826 |
| Jul | 1331 |
| Aug | 2652 |
| Sep | 4605 |
| Oct | 8239 |
| Nov | 16438 |
| Dec | 18140 |
What's your business model, and how have you grown your revenue?
DiscoverGeek makes money through affiliate links. Each website we work with gives us a cut of the sale amount that we've generated by sending a customer their way. It doesn't matter if they buy the product we recommend or a different product. Our cut always depends on the affiliate partner and usually ranges from 4%-20% of the sale amount.
We generated our first few conversions in July, but nothing worth talking about. August was the first month that we cracked triple digits, and it was a great feeling. Until this point we still had doubts if we were on the right track, but when September came and we saw the numbers moving up, our motivation skyrocketed.
We've seen steady growth since, and we ended up having our best month (as expected) in December, with $2,712 in revenue. We were hoping to hit $1,000 during Christmas and are very excited that November/December combined generated almost four times our goal.
In the end, it is all about consistency. It really hurts when you create lots of content but don't see an immediate increase in traffic/revenue. SEO is like a marathon, not a sprint. It just takes time to move up the ranks in Google. Be realistic, and adjust your timeline from days/weeks to months.
| | |
| --- | --- |
| Month | Revenue |
| Aug | 146 |
| Sep | 253 |
| Oct | 350 |
| Nov | 1197 |
| Dec | 2712 |
What are your goals for the future?
There are many small goals, but we have three main goals going into 2018.
Our number one goal is to continue to grow. We are still investing heavily into new content and are constantly expanding the number of products that we feature. It is generally a bad idea to rely on a single traffic acquisition channel. For that reason, we are currently testing a few different ideas to expand the brand on social media and other platforms. We are also considering pushing content on our personal instagram accounts vs a "company" account and Rika has already seen some small successes.
Another goal is to increase our margin by adding a store to DiscoverGeek. We believe that we are in a pretty good position to start offering a few products in our own store. The past six months have shown us some items that sell surprisingly well, which is great when you are trying to decide which products to start with.
Our third and final goal is to expand our content into new categories. Product listicles are great, but there is a limited amount of popular franchises. Sooner or later we will run out of ideas, so we have to test other content. There will be different angles that we are testing, but you can already get an idea by looking at our Comic Con Map or Batman vs. Puppies articles.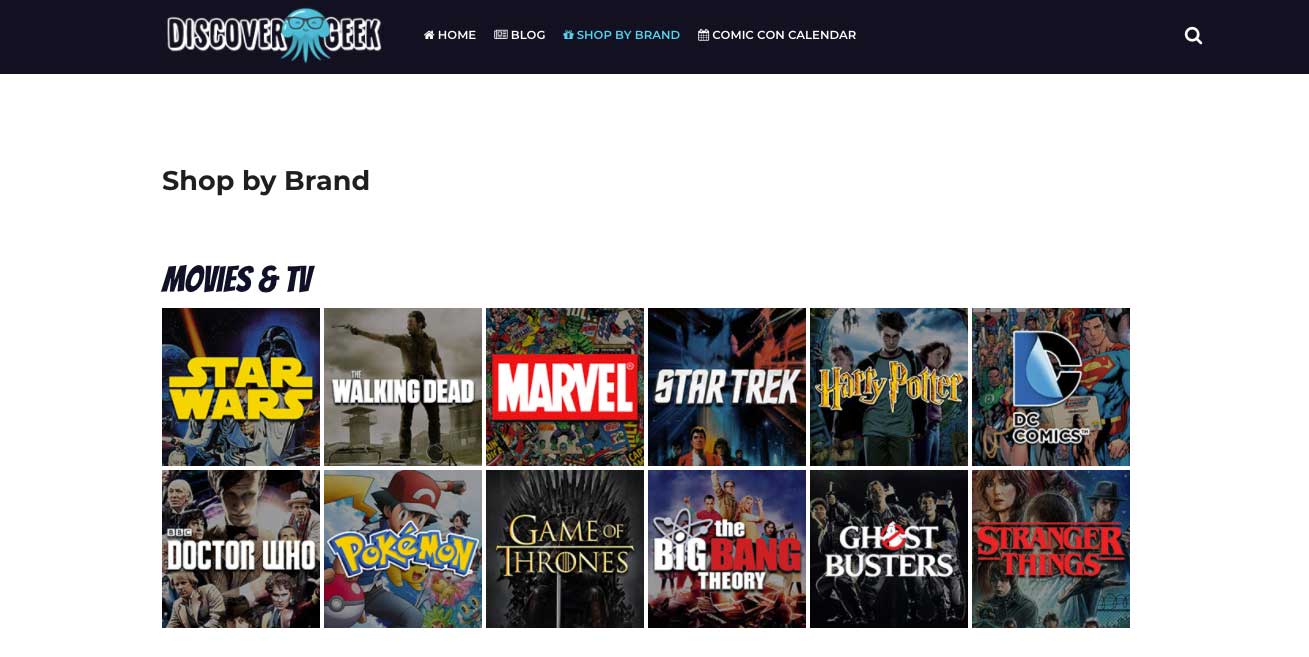 What are the biggest challenges you've faced and obstacles you've overcome?
When we started DiscoverGeek, our main areas of focus (picking products, generating content, and creating the search experience) were not in sync. Rika would pick products, Emma would write articles, and I would populate the search engine. This was a huge time killer, and we quickly realized that three people were doing the job of one.
Armed with this insight, I decided it would be a good idea to go back to the drawing board and change the way our backend works. Instead of manually adding the products to our search we now have multiple ways. Products can still be added individually or imported, but we also automatically pull all products from Emma's blog posts.
Another issue was to decide how we would rank products. When we started, there were no insights besides our own good or bad taste. Clicks on products are helpful, but as a young website you'll probably not generate enough data to see real trends.
One helpful way was to look at metrics of product pages that we are linking out to. You usually won't see any sales data, but there are certain public metrics that in aggregate give you a pretty good idea of what people think about items. Do people share it? Link to it? You get the idea. :-)
Finding good team members is really difficult. Finding a writer that fits the voice and spirit of your brand is close to impossible. Rika and I are by any measurable standard terribly slow writers. We knew that we needed to find someone who could help us produce high-quality content on a daily basis.
Fortunately, Fiverr came to the rescue… just kidding, you must never go there Simba.
Jokes aside, we pretty much searched on every platform we could think of. Including but not limited to Freelancer.com, Reddit, Textbroker, a few local places, and more. In the end we paid for over 20 test articles until we found Emma. I wish I had a better tip than really take the time to interview people and do test articles, but I don't.
Have you found anything particularly helpful or advantageous?
I think working on something you are super passionate about helps A LOT when it comes to day-to-day operations. When you have to do tedious tasks, your new site doesn't make much money and growth is slower than expected. It really helps to work on something you are genuinely interested in.
Even if DiscoverGeek is not some viral phenomenon that pays all our bills, and even if we're just browsing through the products ourselves, it's still a lot of fun for both of us.
It has been surprising to us that there weren't many husband-and-wife teams out there. Obviously, this is probably not going to work for everyone, but working with your spouse can be really awesome. If your partner shares the same journey, each of you understands why the other is working late, is annoyed, or needs a break. No more making sure that it looks like you are actually working when your partner comes home. ;-)
Overall, I think one important habit is being very organized. Hey! We are Germans after all — we were born with binders and boxes in our hands. It is great knowing what you should be working on and what you want to accomplish when you wake up. We are using NirvanaHQ, but honestly any solid/advanced to-do manager will probably do the job just as well.
What's your advice for indie hackers who are just starting out?
Patience. Most people don't drive a lot of traffic/revenue to a new project right away, unless they have very deep pockets. Don't give up too quickly if you don't see instant results. This is especially true if you focus on organic traffic.
Set reachable goals for yourself and your team. Instead of setting our Christmas goal at $1,000, we could have gone for $10k or even $100k. But would that have been realistic? You'll get frustrated REALLY quickly if your goals are way too high. By any means, shoot for the moon, we all want to be millionaires, but let's first get our project to $100/month, then $200/month…
Don't get sick. Many entrepreneurs, especially those working on their first idea, catch a severe Analysis Paralysis. Common symptoms include researching various competitors, marketing methods, and customer personas without actually taking any notes. Doing research is great, but set yourself a time limit and definitely take notes. By the way, this might be disappointing, but there probably won't be that one article/forum/mastermind that makes your business successful. Stop over-thinking.
Limit your exposure to entrepreneurship porn. You most likely don't listen to [fill in guru name] to learn anything actionable that you can apply to your business. You are probably listening to [fill in guru name], because it makes you feel good. Often times they share a lot of "you can do it too" fluff that motivates you for a few seconds, but leaves you without any real advice that you can apply to your own business. Some motivation here and there is nothing bad, just don't make yourself believe that by listening to these speakers you are putting work into your business. If you don't want to franchise a McDonald's, your business probably has its own set of rules that will make it successful. With the words of one of the most progressive thinkers of our generation, "Just Do It!" —Shia Labeouf
Where can we go to learn more?
Thanks for reading. Please don't hesitate to reach out if you have any questions or comments. We'd love to hear from you.
—

Tim Osterbuhr , Founder of DiscoverGeek
Want to build your own business like DiscoverGeek?
You should join the Indie Hackers community! 🤗
We're a few thousand founders helping each other build profitable businesses and side projects. Come share what you're working on and get feedback from your peers.
Not ready to get started on your product yet? No problem. The community is a great place to meet people, learn, and get your feet wet. Feel free to just browse!
—

Courtland Allen , Indie Hackers founder