Changing Business Models to Find Sustainable Growth
Hello! What's your background, and what are you working on?
Hi, my name is David and I am an active entrepreneur and enterprise educator at the University of Exeter. One of my businesses is called Paddle Logger.
It is worth noting that I don't have a coding or development background and that my career path has been varied. I started out as an academic researcher specializing in remote sensing; this involved measuring lake bed topographies and creating methods of data collection using drones, aircraft, and satellites. I chose this profession due to my love for working in lacustrine and marine environments. Now I am working at the university where I help students bring their business ideas to life.
Outside of work, I am a keen stand-up paddleboarder. I decided to start Paddle Logger out of sheer frustration because there wasn't a mobile GNSS tracking product out there for us paddlers. And it turned out that I wasn't the only one who felt this way; now there is a large community of paddlers all around the world using Paddle Logger to track their journeys on the water.
At its core, the app is a tracker and digital logbook built specifically for paddlers. We've kept the UI very simple and functional to ensure that people can focus on having an epic water adventure. We simply support their adventure by showing how far, fast, and where they have gone.
We've grown the app organically, first as a side hustle. In the past 18 months it has really flourished; we are making just shy of $2,000/month. But this kind of growth isn't sustainable when operating in a relatively niche market. We decided to scale by building new features and by moving to a freemium model. Paddle Logger now offers a limited feature set for free with different levels of paid subscription options.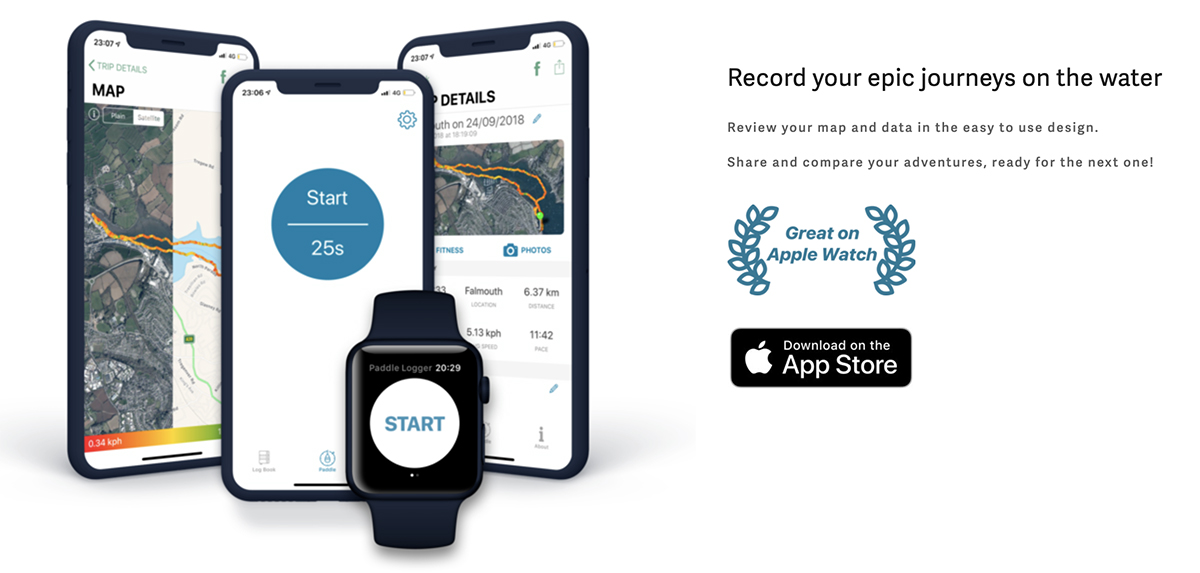 What motivated you to get started with Paddle Logger?
Frustration. No one cared enough about paddlers (at least not as much as cyclers) to build a product with us in mind. So I sketched out some ideas, mentioned it to a non-paddling friend, and asked whether I should try it out. His opinion was, "Why not? You will only regret it once you see someone else doing it." I think all entrepreneurs can identify with that.
He introduced me to a software developer friend of his and we started talking about the idea and how to build an MVP. From there, I bootstrapped and taught myself as much as I could about design, how to do market research, etc. I passed the coding tasks on to someone more knowledgeable. As it was just a side project, I initially thought it would make me a quick buck and provide some extra beer money. How wrong I was, and how much I have learned.
We launched an MMP into the market six months later. It was a super simple version that was basically a paid trial. As users signed up for our simple product they began asking for specific features, and so we built them. Through this constant communication with our early adopters, our product development was shaped by the market. I began to realize that there was a real market here, not only in stand-up paddling but also other water sports as well.
Cultivating this stable base of users that believed in and became an important part of Paddle Logger helped immensely, especially when things didn't run so smoothly.
What went into building the initial product?
My savings and a whole summer. Or at least that was the plan. All in all, it was about six months from ideation to the release of our very first version. I did everything myself (apart from the coding which was the only outlay). I was lucky enough to be introduced to an independent developer who not only helped get the product moving but was also able to teach me a lot about the industry. I, on the other hand, had to work around being a student at the time which was fine. I was spending most of my time on the beach anyway!
I had to teach myself UI/UX design starting with the basics, and that took a lot longer than expected. I had to get familiar with the architecture of Apple and learn how to use a new design tool: Sketch. Other skills required to launch an initial product (like sales and marketing) were very much learned on the job and by getting involved in the community.
Community is key to Paddle Logger. We agreed the release of v1 had to be super simple and super stable because we wanted to allow user feedback to drive the build of more complex features. We had a feature "hit-list" that we hoped to knock off, but that list would regularly change as users suggested many different features. We launched these updates labeled as "packs." For example, the "Speed Pack" included more information around paddle data.
Our belief has always been that design should be balanced, powerful functioning that can exist with limited user interaction. No one wants to drop their $1,000 phone in the water, but a lot of people head to the ocean to escape and get away from their ever-connected lives. So from a design perspective, we were always asking how we could provide a frictionless, efficient experience which allowed the user to take their device, start a trip, and then forget about it entirely until they got back to land. Even now every function we develop goes through this process. Simplicity is key for the user, and also informs a beautiful design.

What's your business model, and how have you grown your revenue?
We have recently changed our business model. We were offering Paddle Logger as a one-time fee service paid upfront. As our list of features grew, so did the upfront cost.
At our peak in 2018, we were hitting over $2,000/month. But due to technical requirements for new features, we decided to move to a subscription-based model. Now we offer a limited version of Paddle Logger for free with a paid option to access other advanced features. We are releasing another subscription level (at a different price point) for even more features. There will be a top-tier version that will allow the user to access every feature and function we ever build. Initially, we wanted to move to subscription-based to better build new features; but this model also ensures the business is sustainable and that we are able to continue to provide support for our current user base.
We have awarded Founder Status to all those users who purchased Paddle Logger upfront. They backed us when it was difficult, and to then make them immediately pay again seems like the wrong thing to do. Personally, I have experienced customer scenarios where companies have just deleted the support for their old version or started over with a new version without thinking to take their customers along on the journey.
A common theme you may notice while reading this is the importance of the Paddle Logger community — we remain loyal to them, just as we hope they do to us.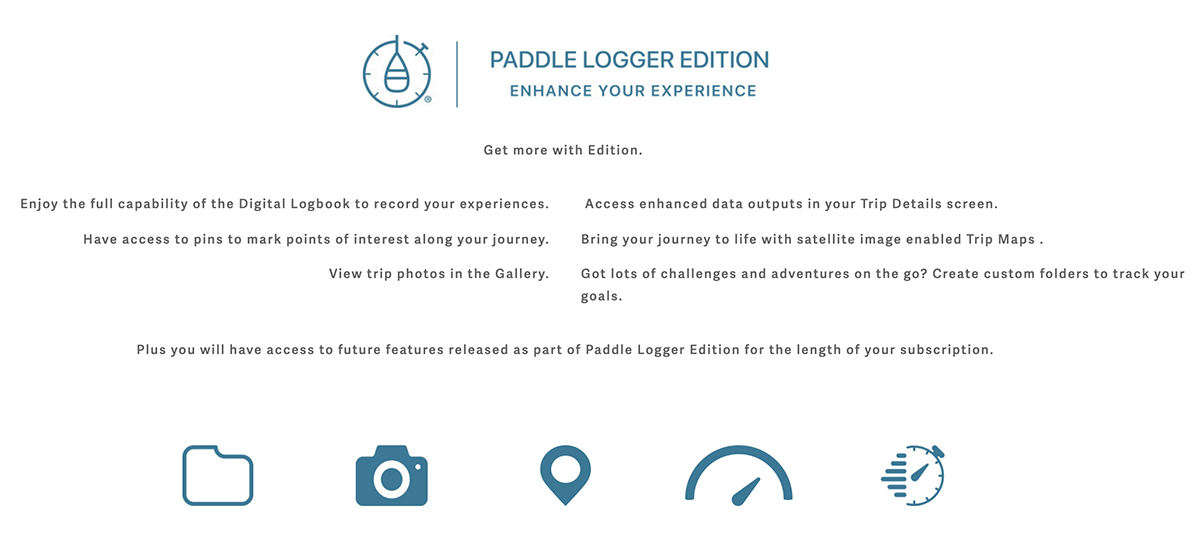 Currently we are turning over approximately $1,000/month, but that is growing. We are aiming to be back where we were (at our 2018 peak) within the next six to nine months, especially as we enter the beginning of the season. Paddlesports are seasonal and there are more people out on the water in the warm weather than there are in the cold. Therefore (as a northern-hemisphere company) we notice a drop-off in the winter months (October–January). From 2018–2019 we really focused on the Antipodean market and have tried to bring it in line with the rest of the year's monthly turnover.
What are your goals for the future?
In the near future we are introducing some new features and subscription levels. We recognize the need to attract new users while also increasing the in-app conversion rate from free to paid subscriptions. We have a goal to increase our revenue 10x by the end of the next financial year. This would allow us to continue to sustain the business and grow more rapidly the following year.
We've heard the app "tipping point" is at one million users; this presents an interesting challenge for us. We operate in a niche water sports/health and fitness market, so to hit the magic number we need to be very, very dominant in the marketplace. This is something that can require a large marketing budget, which as a small company we don't necessarily have. So we intend to face this user acquisition challenge through more creative marketing.
What are the biggest challenges you've faced and obstacles you've overcome? If you had to start over, what would you do differently?
This was one of my first entrepreneurial projects and the first one that I have spent any degree of serious time working on. In the beginning, I was learning as much about building a business as I was about the industry itself and the way it operates.
If I were to start again, I would do everything more efficiently, innovate more rapidly, and better market myself and the business to new users as well as the industry. Recently I co-founded a completely new brand and brought the final product to market in just over a year on a budget of less than $1,000. I utilized the skills I learned from creating Paddle Logger to build this new brand.
It has to be said with any entrepreneurial journey that there are ups and downs. A particular low point was when the app went through a period of instability, and it went on for a while. I was dealing with a high volume of customer complaints that at times could be very aggressive. We eventually set a hard deadline to close up shop (or at least I did in my head) if we didn't start to see a light at the end of the tunnel. That would have been a massive mistake.
Less than a year later we entered our most financially successful period of growth and secured a number of project grants for new features. It was a real lesson in resilience; I realized that sometimes in order to make a project work it takes a lot of persistence.
Have you found anything particularly helpful or advantageous?
Speaking to people. I have found the entrepreneurial world to be very open. People who have gone before are usually happy to offer advice. The worst that can happen is they ignore you or say no. I myself am all about asking questions and paying it forward where I can help others.
Our market is unique. We launched when stand-up paddleboarding was really beginning to take off as an entry-level paddlesport. We saw the potential grow as people on holiday were paddleboarding at resorts and then become regular paddlers. A large percentage of paddleboarders go to mass participation events (and these are still growing). We are not far off from seeing it as an Olympic sport. Because I am also a SUPer this is the one market I can easily identify with and access. But our total market is for all paddlesports, which is comparably huge across the world.
One of the biggest things that helped me as an entrepreneur was the SETsquared Programme that I participated in a few years ago. During this three day, SpaceTech-specific course, every aspect of my business was challenged. I came out with a fresh perspective of what building a brand was all about. After being introduced to the concept of the Golden Circle (Simon Sinek) and how brands have successfully leveraged it, I took that knowledge and applied it to Paddle Logger, including how we do business and market ourselves.
What's your advice for indie hackers who are just starting out?
Don't ask, don't get.
Find your why.
Talk to people. Get opinions and advice.
Put your idea aside and become an expert in the problem first.
Be open to changing your solution to better fit the problem.
If you are just starting to map out an idea I recommend Strategyzer, a Business Model Canvas. It is a quick way to create a plan to test your solution and assumptions of the market.
Where can we go to learn more?
You can find more information on Paddle Logger at https://paddlelogger.com/, or head straight to the App Store and download Paddle Logger and help us get to one million users! Find us on Instagram @paddlelogger and you can find my adventures and links to my other businesses @pldave.
Thanks for reading and if you have any advice or opinions on any of the problems I have listed above or general tips, we would love to hear from you!
—
David Walker , Founder of Paddle Logger
Want to build your own business like Paddle Logger?
You should join the Indie Hackers community! 🤗
We're a few thousand founders helping each other build profitable businesses and side projects. Come share what you're working on and get feedback from your peers.
Not ready to get started on your product yet? No problem. The community is a great place to meet people, learn, and get your feet wet. Feel free to just browse!
—
Courtland Allen , Indie Hackers founder